Two weeks after Ben Brantley savaged his show in The New York Times, Barry Weissler, co-producer of Annie Get Your Gun, called from the Peninsula Beverly Hills Hotel in Beverly Hills to say that in the grand scheme of things, it really didn't matter too much. The New York Times' chief drama critic had called Mr. Weissler's revival of the Irving Berlin musical, starring Bernadette Peters, an "acrid smog." Mr. Brantley added that the show "had the effect of a late show in Las Vegas or Atlantic City performed by a worn-out cast that is more than ready to go home."
Not to worry, Mr. Weissler: Apparently, on Broadway in 1999, acrid smog is where the money is.
Despite the review, Annie Get Your Gun had net receipts of $537,000 for the week of March 1 and filled the theater to 92 percent of capacity. And Mr. Weissler, who with his wife, Fran, has gained a reputation as being Broadway's cheapest and canniest producer for staging shows like Chicago and Grease, sounded as cool as a cuke. "Brantley can say or do whatever he wants. He's not going to stop us from being a hit," Mr. Weissler said, with some snip in his voice. "We're got over 7 million now, and it's growing by leaps and bounds." Mr. Weissler paused for a moment, speaking of the millions of dollars of advance sales. "Who knows, if he'd given us a rave, maybe we'd have 8 million by now."
Three days later, Bernadette Peters, Tom Wopat and the rest of the cast of Annie Get Your Gun gathered on a Manhattan soundstage, belted out "There's No Business Like Show Business," and filmed a television commercial to be broadcast in the metropolitan region. Then the Weisslers' stripped the one money quote from Mr. Brantley's review–extolling Ms. Peters' performance–and made it the most prominent line of their full-page ad in the Arts and Leisure section of the Sunday New York Times.
The Weisslers–like an increasing number of Broadway producers–have found a way to make the ultimate end run around the critics. They are finding that it's perfectly O.K. to acknowledge the critic like a smelly, uninvited guest, and just hope it goes away. Thanks to a shifting demographic for Broadway shows, an increasing dependance on theatrical tour revenues, the waning relevance of the print medium, and a widening gulf between the tastes of Broadway patrons and critics, theater criticism is rapidly becoming a vestige of a time when dinosaurs, and Frank Rich, ruled the earth.
Mr. Brantley doesn't exactly have a record of sinking shows. Scanning down West 42nd Street, here's a sample of his blurbs that producers could, but won't, be pasting on marquees soon.
The Scarlet Pimpernel (first, unrevised production): "If it's pulse-racing suspense and derring-do you're after, you would be better off watching tourists crossing against the light in Times Square!" (It's now at 544 performances.)
Ragtime: "Has the aura of something assembled by corporate committee!" (Now at 474 performances.)
The Sound of Music: "The same old cup of treacle!" (Now at 413 performances.)
Jekyll and Hyde: "Leaden, solemnly campy …" (Now at 776 performances.)
Footloose: "Flavorless marshmallow of a musical!" (Now at 157 performances.)
Fosse: "Oddly affectless evening of dance!" (Now at 61 performances.)
Those are shows that somehow outmaneuvered The New York Times to become hits. In 1975, the Times critic closed Home Sweet Homer, a big musical Odyssey with Yul Brynner in one night. These days, the producers just sell the show to tourists right above the heads of the critics. For every noble Electra, there are three Titanics, a show battered by critics but deemed unsinkable after it won the Tony–and whose producers taunted The Times right from the stage when they won. Titanic is finally floating away, but somehow, in a business written off hundreds of times, the business of putting on shows couldn't be healthier. The 1997-98 Broadway season was the fattest ever. Even Footloose, destroyed by almost every critic in town but–featured on TV in the Macy's Thanksgiving Day Parade, packs 'em in … now and then.
Tracy Paulenoff, a 14-year-old girl from Briarcliff Manor, N.Y., went to see Footloose with her friend, who had gotten tickets as a Hanukkah gift. Despite being trounced by The Times, "it looked pretty full from where we were sitting."
Ms. Paulenoff said she enjoyed the musical's message of "you know, like freedom of speech and expression." She knew four of the songs from camp–"Let's Hear It for the Boy," "I Need a Hero," "Footloose" and a fourth whose title she couldn't recall.
"There were all these girls in the balcony– they were really getting into it," she said. "After each song they were screaming."
Don't mention Ben Brantley to Tracy Paulenoff.
According to Roy Gabay, general manager of Wit and Side Man, Mr. Brantley, though highly competent, has not emerged as a dominant figure in the way Mr. Rich had. "Before, if Frank Rich liked it or didn't like it, that was it. The second string was considered so much lower," he said. "Now if a press agent calls you and says, 'Oh, Ben's coming, or [Times second string critic] Peter [Marks] is coming,' you'd never say, damn, we're only getting Peter, whereas before if you didn't get Frank, you would." In fact, Mr. Marks has shown himself capable of making a play from his second-string position–his rave review for Electra practically single-handedly made it an unanticipated, money-making hit.
"In the case of Frank Rich, he was a very intelligent writer who built a following of theatergoers, but nobody in the marketplace at this time has that. There is no one critic in New York at the present time who can convince those that go to the theater that it's his taste they want," said Jim Freydberg, who produced the musical Big , a colossal financial disaster, and who is now co-producing the Off-Broadway success, Hedwig and the Angry Inch . "In London," he said, "there's no one paper, and in a sense, that's what's happening here. People have become more dependent on people telling them, rather than reading, that they should see something."
Mr. Brantley's apparent disregard for Broadway audiences has not made him a lot of friends in the ranks of Broadway professionals. In an Arts and Leisure package extolling British theater on Feb. 21, Mr. Brantley stated, "For the most part on Broadway [the audiences] go anesthetized, they leave anesthetized, and they don't want anything that's going to interrupt their anesthesia."
"This is supposed to be the first-string drama critic for The New York Times ?" said an executive at a large theatrical ad agency. "Is he no longer content to vilify the plays he sees, but now those of us who sit in the dark with him?"
And in a Friday, March 12, culture editorial in The Wall Street Journal, "Broadway, PC," the paper took book rewriter Peter Stone to task for his "extensive efforts at political correctness" in his review of Annie Get Your Gun. Then The Journal did something that never would have happened under Frank Rich or Brooks Atkinson–it chided The New York Times' power as the one-stop arbiter of theater taste.
"In recent years," The Journal wrote, "The Times' power to break shows has been called increasingly into question. Annie may prove the final refutation." Liz Smith, in a lather, rode in with a rope as if to avenge Annie Oakley herself with a lynching . "Sometimes," she wrote, "one would like to take … Ben Brantley, string him up in Shubert Alley and just let the fellow hang there watching the rest of us enjoy the theater."
Ms. Smith's populist implication–theater is something to be enjoyed, not deconstructed– is reflective of the larger trend pervading Broadway theater for the last decade. The theater, once an urbane event for which people would put on ties and stoles, be intellectually challenged, and behave differently than their hoi polloi brethren at the movie houses, has become no more than a Times Square tourist trap, where busloads of lumpy outliers in schnauzer-embroidered sweatshirts and stretch pants sit back and expect to enjoy the ride. In other words, in a Disneyland–partly really owned by Disney!–theme park where people spend 75 bucks to get in the door, there is no tolerance for a critic like Mr. Brantley, who would stand up and say the ride sucks.
Mr. Brantley spoke to the spot he was in. "If you write a review on no uncertain terms, they call you a butcher," he said wearily. "If you write a review that is measured, they call you a wimp. If you think about it too much, you'll go crazy."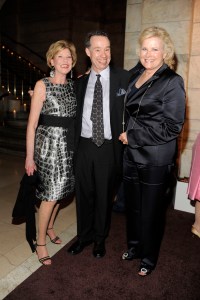 But Jed Bernstein, president of the League of American Theaters and Producers, said that newspapers in general, not just The Times , are losing their sway. "The power of a review, particularly a print review that has a life span of a day, is diminished," he said. "Marketing efforts are daily and will continue long after the review."
Take The Scarlet Pimpernel , the Frank Wildhorn musical panned by Mr. Brantley in 1997 in The Times . Mr. Wildhorn, a Texan pop songwriter turned musical composer, writes garish, schmaltzy scores that make Andrew Lloyd Webber's seem understated. The same week that Mr. Brantley's review was printed, a compact disk sampler of Mr. Wildhorn's songs was enclosed in every copy of The New York Times . One and a half years later, The Scarlet Pimpernel continues its run at the Minskoff Theater.
The critic was trumped by free stuff in his own paper.
But it is Jekyll and Hyde , a previous Wildhorn concoction that most illustrates Broadway's new imperviousness to The Times and criticism in general. Mr. Brantley called it a "leaden, solemnly campy musical" when it opened in New York. But the show was already a hit. Jekyll and Hyde had warmed up with a pre-New York road tour, two cast albums that together had sold 250,000 copies–Mr. Wildhorn is also an executive at Atlantic Records, which released the compact disks. A geeky platoon of "Jekkies" took in the show numerous times. Marketing made sure that Jekyll and Hyde could withstand any amount of bad press.
Next month, a third Wildhorn musical, a revue called The Civil War , will open, making Mr. Wildhorn the first composer in two decades to have three Broadway shows running concurrently. The Civil War has been working out the kinks in New Haven since mid-February. The reviews were mixed, and the producers have anticipated Mr. Brantley will be tagging the show even harder once it lands in New York. Last fall, Mr. Wildhorn released a "concept album" featuring middle-of-the-road stars like Hootie and the Blowfish singing his Civil War ballads.
"We're hoping for good reviews," said Rocco Landesman, whose Jujamcyn Theaters is co-producing the show. "But if we don't get them, we won't be closing up shop. With any musical, you want to have enough money in reserve to get your case out to the public at large."
Manhattanites, the core of The Times ' readership, account for little of the business on Broadway, which explains for many shows' armor. An audience survey found that in 1997, Manhattan residents accounted for only 12 percent of Broadway attendance; 37.9 percent came from other states, and 12.9 percent came from other countries. "Do you think that a Japanese tourist gives a fuck what The New York Times has to say?" asked one theater critic. "They just want to see Grease ."
And for many producers, New York has become less important to the success of their shows. Last year, Broadway-generated shows grossed $1.4 billion. A full two-thirds of that came from road tours. Broadway runs, said entertainment lawyer John Breglio, give road shows the imprimatur of Broadway. "You now have producers willing to run shows on Broadway even at a loss long enough to establish the credibility of the show for the road. That's where they'll make more money." "Broadway" (as in "live in the Tulsa Centrum, the long-running Broadway smash …") has become branded like Coke or Barney.
According to Steven Baruch, co-producer of the upcoming British import The Weir and the musical Smokey Joe's Cafe –which continues to thrive four years after The Times dismissed it–the climate of large theatrical production companies like Pace Theatrical Group, the Dodgers Productions and the Walt Disney Company have the resources to weather a critical storm.
"Whoever's producting a show with a reserve of an ample amount of funds can hang on through bad reviews," he said. "We always knew that Smokey Joe's was about word-of-mouth and we just had to wait for that."
Mr. Brantley is not the first Times critic to have his power questioned. Mr. Rich always took pains to question his own power. "I don't close shows, producers close shows," he said famously.
The flap copy of Mr. Rich's book, Hot Seat , however, makes reference to his most famous epithet, the Butcher of Broadway, a title, presumably, he can live with. And the legendary producer Robert Whitehead, who staged the great majority of Arthur Miller's plays, remembers what it felt like to be panned by Mr. Rich.
"I always got the impression that if he didn't review something well, Frank felt like it wasn't wise for the show to stay around." Mr. Whitehead has his own feelings about the present roster of Times reviewers. "I like Peter. I feel I know where I am with Peter. Now Brantley– they let him go on too long, and I lose interest. It's like he's doing his baccalaureate."
Judging from Mr. Brantley's review of Annie Get Your Gun , the critic has tired of the sissy appellation, "Gentle Ben." Mr. Weissler, whose 1994 revival of Grease was panned by almost every paper in New York but went on to become the longest-running revival in Broadway history, remembers Mr. Brantley's review to be one of the kinder. "Ben actually bent over backwards to say nice things about it." So why call Annie Get Your Gun an "acrid smog"? Does he think it was personal? "It seemed that way, didn't it," said Mr. Weissler.
But faced with the marketing juggernaut launched by today's producers, how could Ben Brantley's lone review compete with the money dumped into Broadway shows to make sure that the buses from New Jersey and the boys from Brazil keep coming back and the show must go on?
Back to Tracy Paulenoff, the 14-year-old from Briarcliff Manor. At the end of Footloose , she stood up and clapped, and felt thoroughly satisfied with her evening. "I would definitely recommend it to friends," she said.
She may find herself in a blurb.