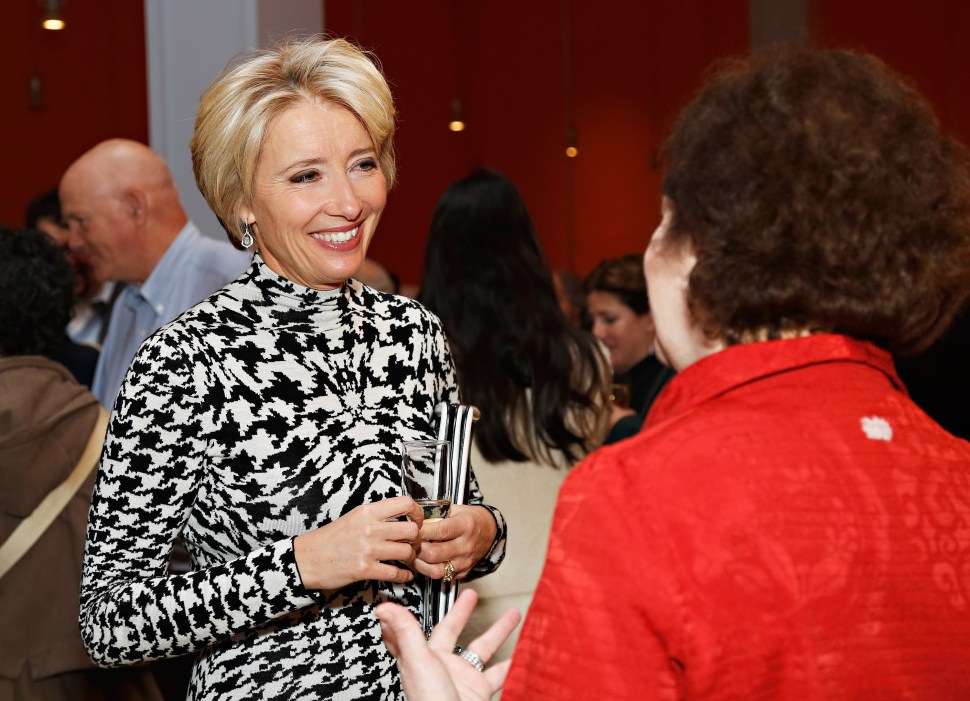 After 22 years at The New York Times and too many bylines to count, film critic Janet Maslin is quitting. "I know this sounds impetuous," she said on Sept. 20, just before going off to screenings for the New York Film Festival. "But I've known this wasn't working for me and I didn't want to blow a fuse."
Ms. Maslin was the newspaper's second-string critic from 1977-1993, playing the wisecracking kid sister to the poker-faced Vincent Canby in those years. Now, after six years in the No. 1 job, she sounded a little burned out. "I just turned 50," she said. "That may have had some-thing to do with it. Ever heard of the phrase 'midlife crisis'?"
As a critic, Ms. Maslin was generous and tart and rarely mean. She often writes as someone in love with the whole experience of moviegoing. Over the years she has fallen hard for big Hollywood presences like Clint Eastwood, Steven Spielberg, James Cameron and Julia Roberts. Of Titanic, a movie dismissed as sentimental trash by her more monastic colleagues, Ms. Maslin wrote, in naming it the best film of 1997: "Here are state-of-the-art showmanship in the service of bold storytelling, and glamour, tragedy, action and romance that fully capture the imagination. Here, too, is the lovely old hokum on which Hollywood's mystique was founded." One of the few movies to get her ire up in recent years was Gummo, a grainy 1997 film by independent upstart Harmony Korine: "October is early, but not too early to acknowledge Harmony Korine's Gummo as the worst film of the year," she wrote. "No conceivable competition will match the sourness, cynicism and pretension of Mr. Korine's debut feature."
Ms. Maslin said she'll continue to write reviews for The Times until the end of the year. After that, she'll be spending more time with her husband, the novelist and literary scion, Benjamin Cheever, and their two sons, at their home in upstate New York. "I have no plans to write a book," she said. "I have no plans to write a screenplay. I want to see what it's like when the dust settles."
She said the death of her father last year may have had something to do with her decision. "I have felt not my best in the last year," she said. "And I have felt very different about workaholism since my father died."
Ms. Maslin is the fourth veteran Times baby boomer with star quality to opt out of a high-visibility job in recent years. She follows in the footsteps of ex-restaurant critic Ruth Reichl, who left earlier this year to be editor of Condé Nast Publications' Gourmet magazine; Anna Quindlen, who left the Times Op-ed page in 1995 to write best-selling literary novels from her Hoboken brownstone; and Frank Rich, who quit as Times drama critic in 1993 before stopping in for a cup of coffee at the Op-ed page on his way toward becoming an at-home memoirist and occasional Times essayist.
"We've talked a lot in recent years about how difficult it is to have a life and have the kind of jobs we had," said Ms. Quindlen. "And it's not always easy to have kids, too: The Cannes festival was a nightmare. It almost always fell on Mother's Day. Her husband and two kids would come to our house. That was horrible for her."
---

Before she got into the business of writing about film, Ms. Maslin was a math major at the University of Rochester, and then a rock critic for the Boston Phoenix. In the early 70's, she ran around with Mr. Spielberg–"That was a fluky situation," she said.

---
Times executive editor Joseph Lelyveld said, "I'm very sad about it. I can understand it, because I know what a stressful job it is. I'm a Janet Maslin fan." He added that he hasn't given up hope of talking her into staying at the paper in some capacity. He has already offered her a job writing about books, which didn't seem to excite her.
Mr. Lelyveld added that he spent the weekend of Sept. 17 reading "a lot of movie reviews" but "so far we haven't contacted anybody." He said there are candidates both inside and outside the paper. Times sources put forth Stephen Holden, the second-string movie reviewer, as well as TV critic and sometime-novelist Caryn James as inside contenders.
Recently, Ms. Maslin had dropped the ingenue act and allowed a bit of grumpiness to creep into her voice. "When the movie's mission is defined in terms of corporate goals and tie-in opportunities, the audience's role is reduced to simply showing up," she wrote back in May. But despite her distaste for hype and marketing, she still went to bat for George Lucas and his Star Wars: Episode I–The Phantom Menace : "Mr. Lucas still champions wondrous visions over bleak ones and sustains his love of escapist fun," she wrote. "There's no better tour guide for a trip to other worlds. Bon voyage."
"People like to read slams," Ms. Maslin said. "The more I knew about it, the more I knew all the work that went into it–even something like Jar Jar Binks–the harder it was to blow off. I didn't have the mean gene anymore. So I guess that puts me pretty out of step."
This past summer, Ms. Maslin also found herself virtually alone among New York critics in hailing Stanley Kubrick's Eyes Wide Shut as a great film. "There is consolation for having to read the words `The End' on the posthumous work of Mr. Kubrick: This astonishing last film is a spellbinding addition to the Kubrick canon," she wrote.
Ms. Maslin was unapologetic about that. She respects a movie that is a self-conscious work of art, rather than part of a corporate marketing plan. "The movie business is changing in a way that I'm not sure I would have enjoyed," she said. "I'm still somebody who would rather watch Eyes Wide Shut than The Thomas Crown Affair … Something like Austin Powers , you didn't even need a movie. A movie's an option."
Before she got into the business of writing about film, Ms. Maslin was a math major at the University of Rochester, and then a rock critic for the Boston Phoenix. In the early 70's, she ran around with Mr. Spielberg–"That was a fluky situation," she said of her brief romance or friendship or whatever it was–and fell in love with such movies as David Lean's Lawrence of Arabia and Martin Scorsese's Taxi Driver. "Most of the movies I loved then would have a hard time getting released now," she said. Her first job as a regular film critic was at Newsweek , where she lasted a couple years before moving on to The Times. She leaves sounding a bit fed up. "I do think that movies are less interesting to write about than they used to be," Ms. Maslin said. "Movies are made for people who are ready for commercials in the middle of them."
Since The Times freed up its writers from the bonds of print and allowed them to make spectacles of themselves on TV, Ms. Maslin has been a charming guest on Charlie Rose from time to time. While she was firm in saying she had no plans, there is a certain film critic, a bit on the hefty side, a critic who also loved Eyes Wide Shut and is looking for a permanent partner …
Maslin & Ebert , anyone?
It's denouement time for Story. The literary magazine is owned by F&W Publications, a Cincinnati-based trade publisher, and F&W is about to be sold–so farewell, Story .
The magazine was founded in 1931 and published J.D. Salinger, Truman Capote, Carson McCullers and Joseph Heller in its glory days. It went out of business in the early 60's and was revived by editor Lois Rosenthal in 1989. Recently, Story launched the careers of short-story hotshots Nathan Englander and Junot Díaz. The last issue is scheduled for December.
"Doing a literary magazine was not the way to make money," said Ms. Rosenthal. "I was calling myself the love child of the company." It leeched off the circulation and art departments of the larger company, which publishes such magazines as Writer's Digest , I.D. and Popular Woodworking.
"Lois did a remarkably good job of looking for and publishing new talent," said former Esquire fiction editor Will Blythe, who was on the Story editorial board until it was disbanded last year. For the most part, with its Joyce Carol Oates and Barry Lopez stories, it was solid, non-outré stuff. "I don't think people thought of it as Between C and D ," he added. "It didn't reek of heroin."
But what it did have was money and Ms. Rosenthal's somewhat eccentric commitment. "She was kind of the Mabel Dodge of the literary magazine scene," said Mr. Blythe. "She wanted to be a star maker, and she was pretty good at it."
F&W Publications itself is run by Ms. Rosenthal's husband, Richard. "We considered doing it on our own outside the company. But Story receives 20,000 manuscripts a year," Ms. Rosenthal said. She didn't have the energy to do it without the company's resources. "My husband is 66, and I'm just 60," she added.
There will be a party at Gotham Book Mart for the 10th anniversary issue of the magazine on Sept. 27.