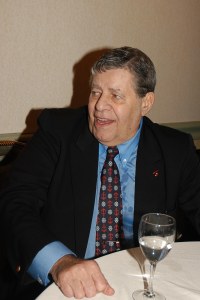 Anybody who knows anything about Jerry Lewis knew the moment would come. It was about a half hour into his sold-out motivational speech at Congregation Rodeph Shalom on West 81st Street, and Mr. Lewis-unaided by notes or the stricture of any discernible order in the things he talked about-swiveled his neck to hear the question being shouted out from the third row at the opposite end of the stage. By the time he was interrupted, he'd already uttered nine of the evening's 30-odd " wondehful s." A few minutes earlier, Mr. Lewis had made it through the story of the time he'd rushed to the bedside of a kid with muscular dystrophy, who, upon his hero's arrival, said, "Jerry, I'm feeling a little tired. Can I rest now?" Mr. Lewis choked out the words, "Of course, sweetheart." At this point in the story, the boy closed his eyes and died. A few in the audience snuffled un-self-consciously.
Then Mr. Lewis was walking to the other end of the stage, squinting, cupping his hand to his 75-year-old show-business ear, trying to hear the question that half the auditorium, blessed with better hearing, had already heard.
"The Day the Clown Cried," the man, who appeared to be a shaggy blond about 30, bellowed up at him from 10 feet away. He was talking, of course, about the unreleased 1972 film that became emblematic of Mr. Lewis' 13-Percodan-a-day downfall years. It was the last film he would make for more than a decade. In it, Jerry Lewis played a circus clown in a Nazi concentration camp, entertaining Jewish prisoners before they were delivered to their execution. That was not a particularly happy time for Jerry Lewis.
Jerry Lewis straightened up, took a step back and narrowed his eyes. "Yeah, what about it?" he said. "I've heard that it might come out," the man called back. Jerry Lewis took a breath. "Well, let me tell you something," he said gingerly, "and this is only because sometimes we recognize an attitude that might be different than people you care about."
"Exactly," the man said.
"Right," Jerry Lewis said, fixing the man with a heavy-lidded, increasingly lethal stare. There was a moment of silence. "None of your goddamned business!" he shouted, and stiffly strode back to the safety of a cheap wooden podium affixed with a sticker from the Learning Annex. He picked up his can of caffeine-free Coke and took a monster swig, while also drinking in his first deafening ovation of the evening. A rotund woman wearing a crown made out of yellow ping-pong balls imprinted with smiley faces cheered. Jerry Lewis looked out over the audience, smiled, and gave the crowd of 700 a robust O.K. sign.
In spite of the evening's previous Oprah-isms, it was as though he wanted to reassure them that Bad Jerry was still in there, but in check, in control and safely away from the deep end. A good chunk of the audience-solidly white and middle-aged, sporting a surprising number of sequined berets and baseball caps-watched him worshipfully.
People say that Jerry Lewis is a changed man. To people of a certain age who do not remember his early movies, the smoking, stalking Jerry Lewis of the 70's and 80's M.D.A. telethons is a pretty scary character, carrying with him the sort of dark psychic impact of an uncle who shows up at Thanksgiving in a cloud of cologne, handing out $50 bills to all the kids, but by day's end is yelling at the dog in the backyard, chasing it with a shovel.
Jerry Lewis, being Jerry Lewis, didn't remark on the oddity of being a guy who admits that, at one point in the 70's, he had the barrel of a gun in his mouth, and yet is still instructing others in how to talk to their kids, how hugging heals, how a crank call a day keeps the doctor away. But Desperately Despondent Jerry, just like now-ancient Monkey-Boy Jerry and Percodan-Jerry, was one of the Jerrys of yore, before the new, improved old codger. Call him Nearly-Zen Jerry.
He's certainly changed physically. When he walked out on the stage in his rose-colored shirt, unbuttoned, double-breasted pinstripe suit and patent leather shoes, there was no doubt it was him. He still has those gold aviators, that black hair (though he doesn't appear to sop it with Brylcreem anymore), and he still walks with the Jerry swagger, a weightiness offset by the odd rolling of his left hand, with that strangely fey turned-out pinky that seems, every time he swings his arm, to be trying to escape his body. But he's heftier, especially compared to the 20-year-old photo that accompanied his Learning Annex course listing. The weight seems to have settled strangely on the sides of his face, around his ears, giving him the aspect of a grandfatherly python mustering the attack mode one last time.
But more than any physical deterioration that arrives with age, Jerry Lewis has changed mentally. After a heart attack, prostate cancer and a nasty bout of viral meningitis two years ago, many think that Jerry must have found his own mug face-to-face with death's, and it scared the bejeesus out of him. If Jerry Lewis has had Seven Ages in his career-the Dean years; the Paramount boy-auteurist years; the pill-addled years of financial and spiritual ruin; the Scorsese-directed resurrection of The King of Comedy ; his reacceptance as the Tony Bennett of yuks; and finally, The Nutty Professor franchise being taken over by Eddie Murphy—just where exactly is Jerry Lewis now? Jerry Lewis, who for years represented one of Hollywood's darkest souls, seems hell-bent on a redemption that necessitates revisiting his past and cleaning it up, and recasting himself in his dotage as the kind of guy who thinks there's nothing more amusing than cleaning up baby shit and building sand castles. But maybe Jerry Lewis has not really changed all that much. Maybe just his focus has changed: He used to obsess about being Darryl F. Zanuck, control freak and autocrat. Now he seems obsessed with being a softer, more philosophic comedian-pre-Jerry-atric, a kind of Jewish Bill Cosby.
For the new Jerry Lewis, here, apparently, is where the Learning Annex brand of motivational speaking comes in. The organization's literature promised that "in this unforgettable evening, you'll have the rare opportunity to get to know Jerry Lewis the man," a rarity only mildly offset when Mr. Lewis proudly announced that it was his 646th such speaking engagement. The literature also promised that Mr. Lewis would be addressing, among other things, "making the tough decisions" and "learning from success and difficulty."
But it quickly became apparent that Jerry Lewis was not doling out any peppy, Tony Robbins–style self-improvement, but rather sweating through a three-hour lesson on how you too can be a better Jerry Lewis, mixed, naturally, with a healthy dollop of Jerry-ana. ("Time magazine printed the 10 most recognizable people on the planet three years ago," he said. "No. 5 was the Pope, and Jerry Lewis tied! And it was wondehful .")
"I'm just-oh, I'm such a pain in the ass," Jerry Lewis said.
Mr. Lewis was knee-deep in one of several monologues about his 9-year-old daughter, Danielle, the product of his 1983 marriage to his second wife, SanDee. Mr. Lewis was extolling the joys of fatherhood and cautioning parents not to say things to infants like "I wish you were never born." "You get Jeffrey Dahmer from that little kid!" he exhorted. (Mr. Lewis did mention his six sons from a previous marriage to Patti Lewis once, but not that the youngest, Joseph, had sold a Jerry Dearest-style account of family abuse to the National Enquirer in 1989.) He had gotten breathy, and his eyes were moist. "I'm always kissin' her. I took her to New York last month, just she and I-no Mommy," he said. "We had our date. I said to her, 'You're going to put on white gloves, cute little black patent-leather shoes, a gorgeous dress, a hat and a cape, and we're going to walk together in Central Park."
The audience emitted a delighted sigh.
"So we come to New York, check in at the Waldorf," he said, "and we're walking in the park the next morning, and I can't contain my limbs! My joints, that should be moving like this as a normal person, they were locked up-I couldn't move! The ecstasy of having her holding my hand!" Jerry Lewis, in full revival-tent mode, was grabbing at the imaginary love swelling in his legs, his arms, looking stricken to the point that it appeared he was in the midst of yet another heart attack. But he bounced back; the love angina passed.
Even though Mr. Lewis spent a good deal of his lecture time extolling the virtues of random acts of kindness, including kissing other men for the hell of it, hugging strangers and just telling people "I love you," he seemed a bit discomfited, and stood silently for a moment, after a curly-haired, middle-aged woman in the front row asked if she might lay a smacker on his lips. "I save those kisses for my daughter and my wife," he explained, not unkindly. But he proceeded to grow frustrated that he had lost his place.
"So now I don't know where the hell I am," he said. "Where was I?" Mr. Lewis discovered where he'd been, then proceeded to amend his previous statements about loving absolutely everybody, which seemed to mean that the mad kisser down in front was the kind of loony the crowd might want to steer clear of. "People in general, on the whole, are terrific," he said, "But you find one or two who are ill-mannered, that don't particularly care, are ignorant, and they just will spoil a room of 100 people." The woman in front appeared so clearly crushed that it seemed she might never, ever be the same again. "Was it me ?" she could be seen mouthing to her female companion.
"If I hear about a man who's sick in a hospital," Mr. Lewis went on, "I swear to God, in under 90 seconds I've changed that man's life. 'Hi, it's Jerry Lewis. I hear you're not feeling well. You O.K.? ….' And the man's life has changed in a microsecond. In the next few months, all he's going to do is to tell his friends and the guys at the plant that he got a call." And there were points when Mr. Lewis' stories strained credulity.
He said that when he comes to New York, just to cut himself up, he likes to jump on board city buses as they're picking up passengers and, from the front, yell in his "Hey Laa-aady!" voice, "I'm a famous Jew! You know me?" and quickly jump off. John F. Kennedy, he said, had pleaded with him not to go out on the stump for his 1960 campaign, which elicited a few initial laughs and seemed, perhaps, to be leading up to Mr. Lewis' first self-deprecating moment of the night. But he continued. "I said, 'Gee, I didn't think that I was going to be that bad, Jack.' He said, 'No, no, no, you'd be wonderful for me, but you'd not be wonderful for yourself. Come Labor Day and you have to turn to an entire audience of people for help, you can't have 50 percent of them turning you down because you went with the Democrat," he said. Several in the crowd nodded.
Anybody who has ever seen the first live telecast of his 1963 ABC variety show, during which Mr. Lewis nearly jumped over his desk to throttle a producer, might find it even more hard to swallow Mr. Lewis' mini-anger-management seminar. "My philosophy is," he announced, "if you think it's easy to get rage, it's a hundred times easier to get … silly !" Mr. Lewis elaborated, apparently drawing on some personal experience as a retail shopper: "How many times have you wanted to say to somebody, 'You hold your finger up to me once more and I will blow your face off with a bazooka?'" The crowd murmured. "You're not going to be as annoyed with the lazy sales girl at Kmart if you seek your own personal esteem," he said, "and if you recognize that you're better than her because you recognize your value. We should feel sympathy for her."
Mr. Lewis said that at one point, rather than get angry, he had 3,000 cards printed with sayings like "I love you anyway" that he planned to give out to people who had infuriated him in traffic. But then he had trouble finding the right card: "I couldn't get the card I needed because they're all over the seat. It never worked! I'm stuck with 3,000 cards." Jokingly, he suggested that if he couldn't find the appropriate card, he could always "kill their dog." See what I meant about the uncle with the $50 bill? "Is it hot in here?" Mr. Lewis asked the audience. It really wasn't too bad. "I'm schvitzing."
Mr. Lewis pulled at the body of his jacket, fanning himself, and revealed a bib-shaped sweat ring stretching from his neck to his belly that could have passed for a gunshot wound. "Good spirits," Jerry Lewis said, quoting Albert Einstein, "have always encountered violent opposition from mediocre minds." He repeated the quote like an incantation, like an epitaph.
"Good … spirits … have … always … encountered … violent … opposition … from … mediocre … minds!"
"Albert Einstein," he said, "saw the incompetence factor, the corporate factor, the Ayn Rand factor. You get a bunch of people in a corner like robots, get 'em to do what you want! You've got industry! You've got this. You've got that. And all of a sudden they're accusing her of Communism, and she was just a very great, marvelous, wonderful, talented lady that knew the human condition to the core and to the very marrow of her bones, and that people meant something." Was that Ayn Rand in The Ladies' Man , or Kathleen Freeman?
Jerry Lewis was tired, you could tell.
Without the aid of notes, he had made a few unwise choices, like positioning a string of Polack jokes right before reciting his acceptance speech for his 1977 Nobel Prize nomination. The talk of his aching bones of love were gone. He was talking about Dean and Frank and Sammy. "Nobody knew them better than I," he recalled. He told about hoisting little Sammy Davis Jr. aloft and thanking the NAACP for the award. And maybe "retard" wasn't the best word to use.
Jerry Lewis began winding down the clock with questions as Stephen Schragis, the Learning Annex booker, hoofed around the audience with the microphone. A man ran up onstage and showed him the smiling Jerry Lewis cartoon head tattooed on his arm. A woman up front said she'd never speak harshly to her child again. Mr. Lewis jumped offstage and put his arms around a tearful, and attractive, single mother. And just as the goodwill and warmth were beginning to turn the hall into a warm, gooey, Jerry-healing place, a woman with distressed blond hair in the center aisle got hold of the mike. She had a thick Russian accent, seemed petrified, and spoke with difficulty. "I cannot believe I am talking to you now," she exclaimed.
Try as she might, she couldn't quite get all the elements of her story—a sister, a kid with cerebral palsy and a trip from Russia 22 years ago-together coherently. "I cannot believe I am talking to you," was all she could get out.
"O.K.!" Mr. Lewis said.
She tried again, and couldn't manage to make sense.
"Lady," Jerry Lewis said, in the voice. She pressed on. "Laa-aady! Laa-aady!" he was shrieking, motioning for the Learning Annex's Mr. Schragis to take away the mike. There was a smattering of applause, but the woman sat down, looking like she'd just been sucker-punched.
Jerry Lewis told the audience to return to their seats so he could finish up. They did. He finished 10 minutes ahead of schedule.