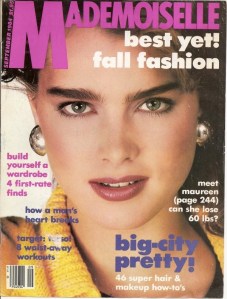 What caused Mademoiselle, the Jan Brady of Condé Nast, to finally crumple?
Blame Jane Pratt. When it was closed on Oct. 1, the once comparatively thoughtful Mademoiselle, edited by British import Mandi Norwood, was still trying to mimic the informal, breaking-the-fourth-wall voice that Ms. Pratt minted over a decade ago at Sassy–a voice that Ms. Pratt successfully mellowed into the pages of Fairchild's Jane, now flourishing under Advance Publications, Condé Nast's parent.
But Mademoiselle, founded in 1935 and acquired from Street & Smith by Sam Newhouse in 1959, could never really make the transition from white-gloved authority to "sister girlfriend." In the post-post-feminist era of product shots, shameless frivolity and frank sexual patter, there was no need for the smart magazine it once was, and no need for another airheaded one.
"The secret is that nobody really knew what to do with Mademoiselle," said Elizabeth Crow, Ms. Norwood's predecessor, who ushered the magazine through a brief period of profitability in the late 1990's and now is editorial director of the women's-health division at Rodale Press.
"I really ran out of concepts, and I don't think [Condé Nast editorial director]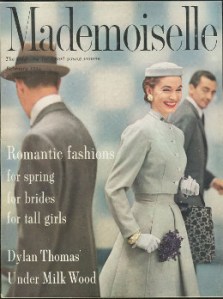 James [Truman] had one, either. And I think they're really excited about Lucky."
Indeed, as Mademoiselle faltered in recent years, losing advertising and revenue, Lucky, Condé Nast's start-up shopping manual, seemed to emerge as Mr. Truman's pet project, with shiny hype, including a television advertising campaign.
Lucky, it was clear, was to define what women's magazines were becoming, what was coveted, what made money. And Lucky's editor? Ms. Pratt's old employee, Sassy alumna Kim France.
One needed only to glance at Mr. Truman's schedule to see how priorities had shifted. On the evening of Sept. 10, Mr. Truman appeared alongside Ms. France at Housing Works Thrift Shop on 23rd Street for a Lucky-sponsored charity event. Three weeks later, on Monday, Oct. 1, he was next to a teary-eyed Ms. Norwood in Mademoiselle's 17th-floor office to help deliver the bad news to her staff about the fate of the 1.1 million–circulation publication.
Mr. Truman said he was "grateful" for all the hard work that they had done and that it "was a difficult decision that had to be made," said Condé Nast spokeswoman Maurie Perl, who insisted that the Mademoiselle decision had nothing to do with Lucky.
(Calls to Mr. Truman, Ms. France, Ms. Norwood and Condé Nast chairman S.I. Newhouse were referred to Ms. Perl.)
Adding to the threats from Jane and Lucky, Mademoiselle was consistently being out- Mademoiselle'd by Hearst's peppier, more innovative Marie Claire. Glenda Bailey, now the editor of Harper's Bazaar, showed that a coarser and self-consciously wacky women's magazine could be turned into a profitable business.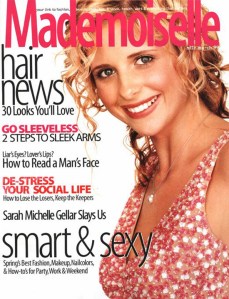 Launched in the U.S. in 1994 and taken over by Ms. Bailey in 1996, Marie Claire evolved into a start-up wonder, reaching a circulation of 950,000 and ad revenue of $89 million by the end of 2000.
Mademoiselle's legacy is mostly obfuscated by the magazine's irredeemably flighty dying days. It had long since ceased to publish fiction, but the title leaves behind quite a literary legacy of troubled feminine souls trying to find their voice in this world. Most famously there was Sylvia Plath, who mined her guest editorship there for The Bell Jar, but let's not forget Joyce Carol Oates (featured with Ms. Plath in a 1976 anthology of Mademoiselle prize fiction), Susan Minot, Anne Lamott (did book criticism when they still ran it), Caroline Knapp and Elizabeth Wurtzel. In 1993, David Sedaris' byline appeared under a piece about housecleaning. Plumb the archives a bit further, back to 1991, and you've got Maureen Dowd on "Everything But Sex: The New Office Affair." ("It not only makes you want to work longer, it also stirs the creative juices because you want to show off for the other person and let them see what you can really do.")
Positioned for a while as the smart college girl's magazine, Mademoiselle had a kind of winsome, career-girl energy in the 1980's-more approachable than Vogue, less practical than Glamour-under Amy Levin Cooper (wife of GQ 's Art).
Then came the lethal wave of Sassy-fication.
Gabé Doppelt put hollow-eyed gamines on the cover with lines like "Cool Clothes from Kmart." At one point, Mademoiselle teamed up with its doomed compadre, Details, for a sex survey. (Closed by Condé Nast, Details relaunched under Fairchild.) When Ms. Crow took over in 1994, her mandate was to steer things back to mass marketability. She put Claudia Schiffer on the cover along with "Love Now!" in a flowery script.
Mademoiselle was no longer a bible for the independent woman, perhaps because it seemed women no longer needed to be enjoined to be independent.
"Glamour at that point was the man-hater's bible," said Ms. Crow. "The quintessential old-time Glamour cover line was 'How to Fight Off the Rapist You Know.' We were cleaned-up but sexy; then Cosmo sort of scrubbed herself down and Glamour got sort of sexy, at which point there was nowhere for Millie to really go."
Ms. Crow was using the retro nickname that the magazine was somewhat desperately begging for toward the end, like a teenager trying to be popular.
Ms. Crow said that she thought the smart thing for S.I. Newhouse to do would be to shelve Mademoiselle for a couple of years, then reintroduce it under "someone really strong and charismatic." Someone in the mold of … Jane Pratt.
"Jane Pratt was the first-ever celebrity editor," she said. "We all thought we were celebs-we really weren't. Jane is idiosyncratic and eccentric, and you can be that if you're not too big. Mademoiselle was too big to be edgy or sexy, so it really was squeezed. It was like shuffling a deck of cards."