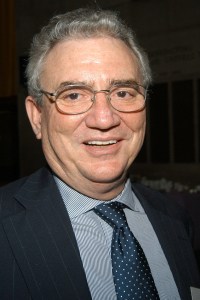 At 10:31 a.m. on June 5, staffers at The New York Times received an e-mail announcing a 10:30 a.m. meeting in the main part of the news room, near the national desk where the Pulitzer Prize winners are usually announced. But as reporters and editors made their way into the building, there was a noise that is different than the usual one around the third floor at 229 West 43rd Street, a sound that reporters are attuned to hear: the sound of news.
Waiting there were executive editor Howell Raines, the subject of so much controversy since–five weeks to the day before–reporter Jayson Blair, groomed in Mr. Raines' regime, resigned after having savaged the paper with serial incidents of journalistic vandalism. Mr. Raines' wife, Krystyna Anna Stachowiak was there. So was managing editor Gerald Boyd, and his wife.
Mr. Raines got up and stood at the microphone and began to talk. It wasn't working. "Turn it on!" some reporters yelled.
"This is the last time I will stand here before you," Howell Raines said.
Within minutes it all rolled out. The 66-year-old Joseph Lelyveld, Mr. Raines told the room, who retired as executive editor in 2001 to make way for Mr. Raines, would return to the New York Times to take over as interim executive editor.
Managing editor Gerald Boyd, who in recent days toured the newsroom, desk-to-desk, with Mr. Raines to consolidate support, was stepping down.
Watching him were Arthur Sulzberger, Jr., the publisher of the newspaper, and his father, Arthur Ochs Sulzberger, once a boyish publisher like his son, now a patriarchal 77-year old. And one could only imagine–and someday we'll know–what was going on in their minds.
"Let me put it this way," said one source at the Times. "I think you have to be very deep into the place to really be able to offer good judgments on these kinds of issues. I don't think being a board member or a family member would give you a sufficiently good feeling for a lot of these issues to be the decision maker."
In other words, the weight for the decision fell upon Arthur Sulzberger Jr., and nobody–not the Sulzberger family nor many second-guessers around them–were in a position to understand the Mr. Sulzberger Jr.'s thinking: "This is what the chairman of the company is paid to figure out. I think he was right not to get rid of Howell the day after Jayson Blair, and to try to fix it. Because Howell is a very very talented journalist. But I think he"–Mr. Sulzberger–"was also right to recognize that it couldn't be fixed."
And finally, it was Arthur Sulzberger Jr.'s dilemma. Mr. Raines had made himself an untenable executive editor for the New York Times, not so much because of Blair affair, but because of the weakness of his position after the scandal. "Howell ruled by fear," said one not-very-sympathetic Times watcher. "And when he wasn't strong enough to rule by fear anymore, he couldn't rule."
There haven't been many cited instances of Mr. Raines actually ruling by fear. But the perception of the atmosphere within the paper–inherited by him or made by him–is that the Raines years, both of them, were unpleasant.
When Arthur Sulzberger Jr. went down to Washington to find out whether the bureau hated Mr. Raines so much that the rest of his time was impossible, the answer was: yes.
According to several Times sources familiar with the situation, in Mr. Sulzberger's visit to the Washington bureau Tuesday June 3, he was asked during an off-the-record brown-bag lunch "whether or not it mattered to him that Mr. Raines had the support of the newsroom." And bureau reporters questioned if Mr. Raines was going to be truthful in answering written questions to a Wall Street Journal investigation into the paper.
Sources told The Observer that after the lunch, Mr. Sulzberger asked for the resignation of Messrs. Boyd and Raines. (Times spokeswoman Catherine Mathis denied the claim. "Howell and Gerald made the decision to resign yesterday," she said. "They thought it was in the best interest of the Times, and Arthur agreed.)
According to sources, Mr. Sulzberger received pressure from both family members–dismayed over the reported venom–and by members of The Times board, increasingly worried over what would be revealed in The Journal piece. Among the people said to be campaigning for Mr. Raines' resignation were cousin and Times Company vice chairman Michael Golden.
And Mr. Sulzberger's father, Arthur Ochs Sulzberger.
But "it was more than just dad," one Times source said.
Some thought that Mr. Raines' friendship with Arthur Sulzberger Jr. might allow Mr. Raines to finish his term, that his immense talent as an editor would create an opportunity for another big win for him, the kind he had after Sept. 11 and during the Iraq war.
However, according to a Times source, support from Arthur Sulzberger Jr. was not enough. The family that controls The New York Times is not monolithic in its support of the editors of the newspaper, as editors as disparate as A.M. Rosenthal and James Reston have discovered in the past century. In the past few weeks, members of the Sulzberger family were calling Times staffers, hoping to gauge the gravity of the situation there, and to assess the staff's faith both in Mr. Sulzberger, the publisher, and Mr. Raines.
Steve Rattner, a former Times reporter and close friend of the younger Sulzberger, declined a request for an interview but said: "This is obviously a horrible thing for any institution to have to go through, but in many cases, including this one, I am very optimistic that the institution will emerge stronger and healthier as a result of it."
Mr. Golden did not return a call seeking comment.
Indeed, according to one Times source, Mr. Raines, in the 24 hours leading up to the June 5 meeting, "did not sound like someone intending to quit." And yet, there he was, with Mr. Boyd and the Arthur Sulzbergers, of past and present, on the fourth floor of The Times, just outside the national desk. As the words were passed around the room, as staffers who had been getting their coffee up in the cafeteria, or were in the bathroom, or missed the first few minutes began to get the idea: this had never happened before in the history of the Times. It was ugly history, the kind that the New York Times liked to believe happened at the places it covered, being made.
So it was that Howell Raines fell, five weeks to the day after Mr. Blair's resignation.As he spoke, a television played elsewhere in the room; Serena Williams was on the screen."There's a great tennis match–as if anyone has time to watch this," Mr. Raines said.
After Mr. Raines, Mr. Boyd spoke, thanking the crowd for a great run at the paper; he hugged his wife.Mr. Boyd, said staffers, looked especially shaken. "He was fumbling his speech and his papers," said a 4th floor staffer in attendance. "He seemed much more physically affected by it. Gerald looked like somebody had punched him in the stomach."
Then Mr. Sulzberger Jr. got up. Pale, with blood-shot eyes, he recalled the highlights of Mr. Raines' career–his 1991 Times magazine feature, "Grady's Gift," and then Mr. Boyd's Pulitzer for the metro desk in 2001–the first one for that section since the 1950's.
Arthur Ochs Sulzberger, Sr., stood gauntly in the background while his son spoke.
He said the decision to resign was made by the two men. He said that they did it for the good of the 152-year-old paper. He wanted reporters to remember them for all the great things they had done. He summarized their achievements. Messrs. Sulzberger and Raines embraced. The meeting diffused, Mr. Raines left the building, with his wife, and as Jacques Steinberg reported in his story, posted quickly on the Times' own website, walked out into the chilly, wet summer day.
Staff members straggled from the newsroom, moving slowly. Some cried; others muttered among themselves. "It was a very devastatingly sad and moving moment," said a third-floor staffer. "He got up in the middle of the news room where he should have been talking all along and never did. Why he didn't use that platform throughout this period, I just don't understand. That's where speeches were made, it's not unheard of."
Then staffers returned to their desks: People gathered around TVs to watch CNN, which had film crews outside their West 43rd Street entrance, projecting images of other staffers who had "the misfortune to be going out for coffee," as one Times person put it. Some went out for air; Times staffers could be seen descending the stairway to the lobby, packs of cigarettes in hand, only to sigh with displeasure as they found a cordoned-off scrim of reporters and camera crews being held back by police outside the front doors. Many went outside anyway, and, as if to assert their rights as newspaper people, smoked.
But others were bitter and angry that some of their colleagues had amped up the Blair and Bragg debacles to such an outcome. The backlash had already set in. "It seems unfair," said one Times person. "A lot of this came from internal emails and soapbox sermonizing by reporters here with an axe to grind. They were given a floor to talk in Howard Kurtz's column in the Washington Post, and they did and they didn't realize what they were doing and they ruined this guy's life. He may have not been worshipped, but he did come in and do some good things."
Projects and changes implemented under Mr. Raines were now in disarray–or simply stopped in their tracks. "Howell was still making his impact felt on the paper," said a Times staffer. "There are so many things on hold now. Hundreds of things are frozen."
"It was not clear that Howell recognized what he had done wrong and until you recognize what you've done wrong, you can't make it right," another Times person said. "And as I said, it also became very clear in the last month, that whatever wonderful things Howell did, including seven Pulitzer prizes, there was a lot wrong. Not just Jason Blair. I think Howell was given as much time. Maybe more time than he should have been, but certainly a full amount of time to try to get back the confidence of the newsroom and he couldn't do it. As I said, if he were being fired for Jayson Blair per se, that would have happened three, four weeks ago. They knew Joe Lelyveld's phone number. None of this had to wait four weeks. It's all because, I think, everybody felt that Howell should be given a chance to get the water out of the ship. And he just couldn't do it."
After the meeting, Jerelle Kraus, an art director at the paper, when asked if people were happy said, "A drill came out of my mouth, I was so excited. This is a very exciting thing. He doesn't want to hurt the paper more than it has ever been hurt."
To the end, though, Mr. Raines had supporters. Former Times executive editor A.M. Rosenthal, whose management style many have sought to compare to Mr. Raines said, "The management of Howell Raines won the paper seven Pulitzer awards in one year. If that reflects a poor management style, they should patent it and sell it all over the world." And, Arthur Gelb, former managing editor of The Times said, "I think Howell Raines is one of the best editors I've ever worked with. I've known him since his bureau days. He was a first class writer and a first class editor. The tragedy is that he was caught in this awful situation that led to his resignation."
Metropolitan editor Jonathan Landman, while calling June 5 a "sad day," said: "In the end there are very good people here who will do everything in their power to make it better, to really succeed."
The entire meeting had lasted 10 minutes, a bitter punctuation in the 152-year history of the newspaper. But, said one staff member, "Howell said this very moving thing. He said he found the love of his life, and that he was going to be happy. And then he said 'I hope all of you live lives that you love, with the loves of your lives.'"
But the staffer said no one was sure if the love Mr. Raines was referring to was the New York Times or to his new wife.
–Frank DiGiacomo, Elon Green, Joe Hagan, Rebecca Traister and Alexandra Wolfe contributed to this article.