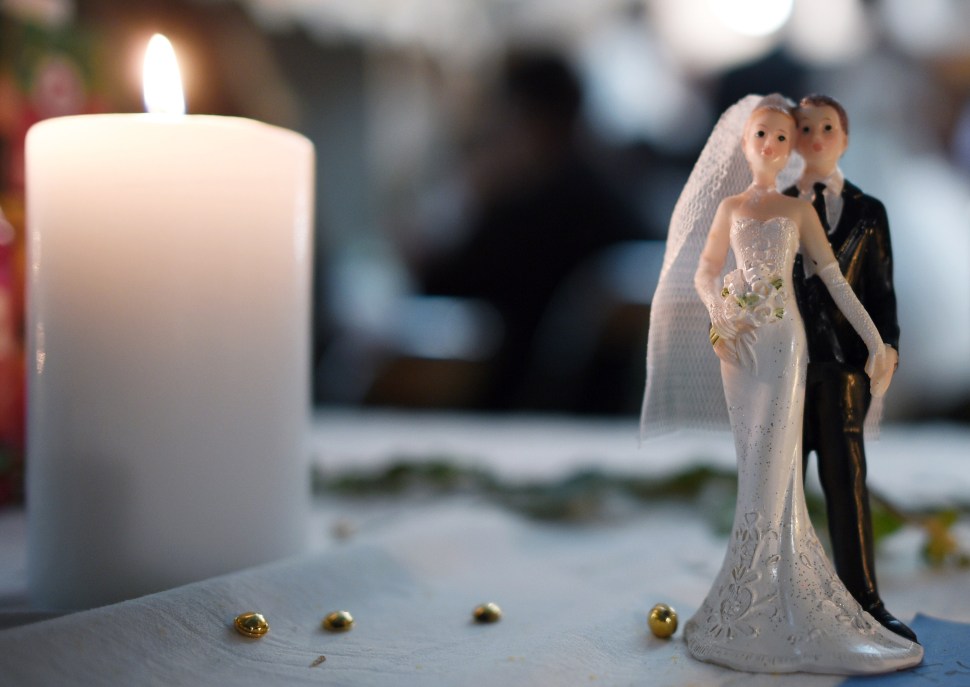 Christina Valhouli and John Vipond
Met: November 2002
Engaged: April 2004
Projected Wedding Date: summer 2005
Thanks to Christina Valhouli's sweet job as the travel writer for Forbes.com, she and management consultant John Vipond have been enjoying some of the world's swankiest hotels since the day they met. So let's give a shout-out to the fine staffs of Cayo Espanto in Belize, Peter Island in the British Virgin Islands and the Tides in Miami, among others, for laundering all those sheets.
Ms. Valhouli was on a press trip to Antigua, exploring a local dive bar just outside the gates of her luxury resort, when she found this very special "off-the-beaten-path" attraction: a muscular, aqua-eyed Scotsman in a Hawaiian shirt, visiting from London. "It was one of those moments where nobody else in the area matters and you just sort of lock eyes with someone," she gushed. " Brad Pitt could walk by and it wouldn't have mattered."
The pair agreed to meet a few days later at the island's monthly cliff-top bash at an 18th-century fort called Shirley Heights. In her dispatch to Forbes.com, Ms. Valhouli noted that the party "attracts the linen-pants set as well as backpackers, but be prepared to dance and drink a lot of rum punch."
"It was one of those perfect nights where you just hit it off," reported Mr. Vipond, though he also admitted that the evening was "a wee bit blurry as well, given the Antiguan rum and cokes."
A few weeks after Ms. Valhouli returned home to her Tudor City studio, she received an e-mail with the subject line "posh pinkies in silly shirts," a reference to the way they'd lifted their fingers while sipping drinks.
"I was like, 'Oh, that was your last name,'" she said.
Mr. Vipond booked it across the pond for Christmas, and they spent two weeks together, culminating in a ski trip to Montreal's Mont Tremblant, where the earth, presumably, moved. I could fall in love with this guy , Ms. Valhouli thought.
On Valentine's Day, they visited Skibo-the castle where Madonna wed Guy Richie, near Mr. Vipond's childhood home. He was properly charmed when Ms. Valhouli, a native Bostonian with only a learner's permit, bumbled through the Land Rover driving course there. "It was the blank look on her face when she was asked to reverse-park it," he said.
The couple was canoodling in the ocean at the Nisbet Plantation in Nevis when Ms. Valhouli suddenly spotted a shark fin in the distance and began trying to wrest herself from Mr. Vipond's insistent clutches. "I love you, yes," she said urgently, "but can we get to shore?"
Whereupon he performed a "rugby tackle" and forced a Tiffany Etoile–style solitaire upon her (actually a piece of costume jewelry, later replaced by a 1.26-carat round sparkler in an antique-style setting by Mimi So). They hustled back to land before Mr. Vipond's proposal became a scene out of Open Water .
It's not yet decided whether the wedding will be in Boston or Scotland, and as for the honeymoon-well, isn't Ms. Valhouli's entire life a honeymoon? "I never thought I'd end up marrying a Scottish guy I met in the Caribbean," she said.
Sally Ellyson and Kurt Jaskowiak
Met: September 2001
Engaged: April 4, 2004
Projected Wedding Date: Sept. 18, 2004
Sally Ellyson and Kurt Jaskowiak were trudging single-file down one of their favorite trails in the Mohunk Mountains near New Paltz, like the wholesome Park Slope couple they are. The sky was overcast. "It was this really gross day. My hair was a halo of frizz," said Ms. Ellyson, lead vocalist for the alt-country band Hem.
Meanwhile Mr. Jaskowiak, an associate creative director at Hill Holliday, an advertising firm, was frantically cell-phoning Ms. Ellyson's father (he failed) in a last-minute bid at traditionalism.
They came to a scenic overlook, and Mr. Jaskowiak said he had a rock in his shoe (now that's creative directing), then dropped to one knee with a rustic crunch and asked her to marry him. In her excitement, Ms. Ellyson almost pushed him over the precipice.
They will marry in Potomac, Va., near her hometown of Richmond, and honeymoon in the Greek Isles.
The union began inauspiciously after the couple met on good ol' Nerve.com. Ms. Ellyson, a ravishing redhead, posted a shadowy silhouette. The handsomely bespectacled Mr. Jaskowiak didn't post a picture at all. "I had a crush on him before I knew what he looked like," Ms. Ellyson said. "He'd write these charming, clever e-mails." But then they met in person at Ñ, the Soho tapas bar. "I was really hyper," she said, "and I thought he was a little too stiff and formal."
"I'm a little shy when I first meet people," he said. "I didn't know how I would ever be able to deal with someone with so much energy."
They were both trying to work on not writing people off too quickly, so they met again, with low expectations, for some Park Slope slop. "I finally recognized this engaging and smart person I had been e-mailing," Mr. Jaskowiak said. Following brunch, they took a long walk around Prospect Park, drank hot chocolate and shared their first kiss. "I went home starry-eyed and happy," Ms. Ellyson said.
In early 2003, she and her cat, Cow, moved from Cobble Hill to the one-bedroom Mr. Jaskowiak shares with his cat, Nina.
In the fall, Mr. Jaskowiak, an aspiring novelist, will start an M.F.A. program at the New School. But love comes before literature. "Asking Sally to marry me is the best decision I've ever made," he said. "That's it."
Kevin Lindberg and Naomi Nista
Met: 1997
Engaged: July 8, 2003
Projected Wedding Date: Sept. 25, 2004
Naomi Nista, 27, photo editor at the organize-your-life-prettily magazine Real Simple , is marrying Kevin Lindberg, 28, a designer for Raison Pure, a product-packaging company. We're sure they have lovely cupboards.
They met at Syracuse University after a mutual friend studying abroad told Ms. Nista, a creamy-skinned brunette junior, to look up Mr. Lindberg, a lanky blond fellow in the design program living a couple of doors down the street.
"Thanks for the introduction-Kevin is really cute!" Ms. Nista e-mailed her pal, not realizing that the latter and Kevin, upon whom she'd instantly developed a "ridiculous crush," were a little more than just friends. "I was kinda dating that girl," Mr. Lindberg said. "But not really . I mean, we never really broke up or anything because we were never really together." We've heard that line before, buddy ….
As for Ms. Nista, "I didn't really think of her beyond being a cute neighbor," Mr. Lindberg said. But when she returned for senior year, he continued, somehow "it just felt different." They began spending quality time in Syracuse (oxymoron?), eating at local dives and staying up late drinking tea on Ms. Nista's porch, where they enjoyed their first kiss on a sofa held together by duct tape.
After graduation, he settled in Soho while she shuffled among different neighborhoods, trying to find her groove. In 2000, they moved on up to Williamsburg (and are now planning to sink even further into Brooklyn's billowy bosom, all the way to Windsor Terrace).
Mr. Lindberg didn't propose until after securing permission from Ms. Nista's father. "He made this joke like, 'No, Kevin, absolutely not'-and I was so nervous I didn't realize he was kidding," said the young suitor. After the sweat dried, he packed a square princess-cut diamond in a platinum band along with the GORP for the couple's annual camping trip. "It was really weird, 'cause he kept snapping at me to lock the car when we were in rural Maine ," Ms. Nista said.
The question was popped on a rock ledge overlooking the ocean ("Don't drop it!" she cried, meaning the ring). It was "really foggy and beautiful," Mr. Lindberg said.
"Crummy," Ms. Nista said.
She'll wear a gown hand-crafted by her mother to their wedding at Eastman Hill Farm in Maine; afterwards, they'll honeymoon on the Isle of Capri and in Tuscany. "I'm not a good planner, and I never think of things like church bells and all that," said the groom-to-be. "The one thing that I knew for absolutely sure was that I couldn't imagine my life without Naomi in it or moving forward without her."
Born Yesterday
Diego Maxwell Marin
Aug. 7, 2004
3:58 p.m.
7 pounds, 11 ounces
New York Presbyterian Hospital
Rick Marin, 42, the "Beta Male" columnist for The New York Times Sunday Styles section, has fathered his first child with Ilene Rosenzweig, 39, his wife of a little over a year, a former Styles editor and co-founder of the books and lifestyle-products line Swell. Mom is already considering pitching a line of "cute kids' clothes and games" to Target, where Swell products are sold, and Dad is leaving the window open to mine their son as material though "I don't think 'Confessions of a Dad' are as interesting as 'Confessions of a Cad,'" he said, throwing in a practiced plug for his last book, Cad: Confessions of a Toxic Bachelor. The luscious-lipped, creamy-skinned kid has a long, lean build that makes him look "more writerly than jock-like," Mr. Marin said.
Riley Rose Boshnack
May 2, 2004
4:32 a.m.
6 pounds, 14 ounces
Lenox Hill Hospital
Another media miniature: New York magazine special-projects manager Amy Boshnack, 30, has produced a very special project with Jared Boshnack, 31, senior producer at the YES Network, a sports channel, to whom she's been married for nearly seven years. Ms. Boshnack is also athletic, swimming 70 laps a day until she was eight and a half months pregnant (hey, ya gotta be fit to work under Adam Moss!), and her beautiful baby has wavy light-brown locks, sea-blue eyes and a powerful grip. Now she just needs to work on that batting stance ….