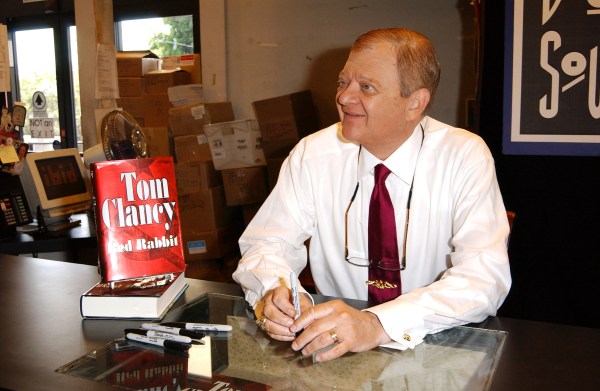 Alexandra Clancy, wife of suspense-fiction titan Tom Clancy, has purchased a 1,627-square-foot Upper East Side condo for $3.25 million, according to city deed-transfer records.
"Alexandra Clancy, individually, bought the apartment to replace a smaller one that she had sold earlier in the year," wrote a spokesperson via e-mail. "Mrs. Clancy has family in New York and has maintained an apartment for use in visiting the city."
She and her husband have other ties to the city. In June 1999, Mrs. Clancy (née Llewellyn), a former television reporter, married the best-selling novelist at St. Thomas Episcopal Church, followed by a lavish reception at the St. Regis Hotel. And Mr. Clancy bought his own Gotham pad a few years ago-a $2.685 million duplex penthouse at the Promenade at 530 East 76th Street.
But the couple lives permanently not far from Washington, D.C., in an idyllic Maryland home-the Peregrine Cliff mansion overlooking Chesapeake Bay, with over 400 acres of land. (There are ties there, too: Mrs. Clancy is the second cousin of former Secretary of State Colin Powell-in fact, he introduced his cousin to Mr. Clancy at a fund-raiser.)
Things have cooled down for the couple since their explosive affair. The press took a few swipes at the family-values-touting novelist when it was revealed that he had become romantically involved with an attractive young reporter-she's 20 years his junior-while still married to Wanda T. King. That marriage dissolved after 28 years and four children. Divorce proceedings became embroiled in legal disputes over the rights to Mr. Clancy's literary namesake, the Tom Clancy's Op-Center paperback book series.
Although Mr. Clancy's publishing empire has raked in millions, his bride was free to marry for love. Her father, J. Bruce Llewellyn, is chief executive of the Philadelphia Coca-Cola Bottling Co. In 1999, the prominent businessman even sold his new son-in-law a vacant plot of land in Martha's Vineyard for $1. In 2003, the author began construction on a Victorian-style summer house to be built on the property.
The continuing saga of the Jim Henson estate is inching closer to a final resolution. Representatives for the late puppet master went to contract last week in the "ballpark" of the $12.4 million asking price on the neo-Georgian townhouse located on the north side of 69th Street, between Lexington and Park avenues, that is being sold as part of the estate.
"We have a signed contract due to close in 40 to 60 days," said Paul Massey, founding partner of Massey Knakal Realty Services.
In February, The Observer reported that a prospective buyer was ready to grab it. The Church of Scientology had bid on the mansion, but the transaction fell through, according to sources close to the deal. The church hoped to move their Celebrity Centre from 82nd Street, but the Henson property wasn't large enough for their needs.
In the past few weeks, talk in the real-estate world abounded with speculation of a possible bidding war between two parties. Several top Upper East Side brokers believed a prominent foundation would take up residence in the Henson place.
"It's a house buyer," said Mr. Massey. And so the trend of taking mansions that had been renovated for institutional use and returning them to their single-family splendor continues on the Upper East Side.
This one is among the grander houses in the neighborhood. Long before the Muppets took Manhattan, the 16,000-square-foot, five-story mansion was built in 1929 for the family of Beekman Winthrop, a New York banker and onetime governor of Puerto Rico. The New York Pharmaceutical Association purchased the property a little over two decades later; the organization renovated the property for office space and several lecture rooms. Later, Mr. Henson's creations came to life in the townhouse.
Upper East Side
315 East 69th Street Two-bedroom, two-and-a-half-bathroom co-op. Asking: $1.795. Selling: $1.5 million. Charges: $2,062; 50 percent tax-deductible Time on the market: one month.
TWICE BITTEN A single thirtysomething finance professional picked up this two-bedroom co-op from someone who knows the building inside and out. "It's the second time I sold the apartment," said Sue Marcus, senior vice president of Century 21/William B. May Realty. "I have sold over 102 apartments in that building-some more than two or three times." This former renter was lucky to be the one buying it the second time around. The previous owner purchased the property five years ago and completed an ambitious renovation, gutting the place to enlarge the kitchen and the second bedroom. The original owner and his family had been living there since shortly after the place was built in 1962; the building went co-op in 1979. (Ms. Marcus herself has lived in the building since 1967.) The two-bedroom co-op is located on a tree-lined street and features marble baths, a dining room, bright interior space, a 24-hour doorman and north, east and south exposures.
Greenwich Village
86 Macdougal Street Four-story, 4,500-square-foot townhouse. Asking: $4.5 million. Selling: $4.74 million. Time on the market: 10 months.
THE PRICE IS-FINALLY-RIGHT After sitting on the market for six months at $6.5 million, the sellers of this 20-foot-wide, 4,500-square-foot house on Macdougal Street, who had lived there for 42 years, took a drastic step: They slashed the price by $1.6 million, and then by another $400,000 two months later. At that price, they found a buyer-a European family that plans to restore the building. "It was the right time to go to contract," said Bridget Restivo, senior vice president of Alice F. Mason Ltd., who represented the buyers. Accomplished British architect Christopher Smallwood will lead the renovation. One of the prized raw materials he has to work with is a rare private garden bordering Macdougal and Sullivan streets.