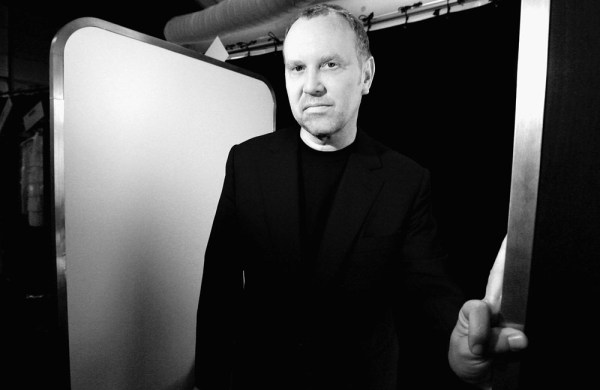 At the Costume Institute Gala at the Metropolitan Museum on May 2, you might have expected designer Michael Kors to be flanked by New York socialites. Instead, he turned up on the arm of Dukes of Hazzard star Jessica Simpson, who was wearing a strapless black silk frock emblazoned with loud scarlet flowers-Kors, but of course. For the after-party at Bungalow 8, Mr. Kors dressed Ms. Simpson in a beaded jacket, jeans and cowboy boots. "I love a girl who changes," he told The Observer later. "I love a girl who packs heavy."
Mr. Kors used to outfit a narrow slice of Manhattan, the upper echelon of women on the Upper East Side. But now he's throwing clothes on pop tarts and scenesters, stay-at-home moms in Brooklyn and career gals in the Midwest. Once, he boasted, he put Sigourney Weaver and Lil' Kim in the same dress (for different occasions, of course). "I've dressed everyone from Jessica Simpson to Aerin Lauder to my mom," he said proudly over iced tea in his midtown office on a recent Wednesday.
The blue-eyed, buzz-cut Mr. Kors, 45, has reached a curious turning point in his career. He has often been compared to Bill Blass, that former titan of American sportswear, and in many ways the two are similar: the cultlike following on Park Avenue, the development of an aesthetic somehow both WASP and jet set. But of late, Mr. Kors has taken a most un-Blassian turn: splitting his label into three lines (Michael Kors, Kors and Michael, the lower-priced collection he launched-with some distribution bumps-in 350 locations last fall); gyrating to Madonna backstage at his fall 2005 runway show; as a judge on the cheesy reality-TV show Project Runway; and squiring mass-market tootsies like Mrs. Nick Lachey to important society events. The principal unifying characteristic of his demographic is no longer a Spence education or a certain last name. And it's unclear, ultimately, what this will mean for his bottom line.
A Life of Lucky Charms
Michael Kors grew up in Merrick, Long Island, the only child of a single mother who remarried when he was 5 and who, at the height of the 1960's, eschewed bellbottoms and tie-dye in favor of simple sweaters and jeans. "She was never a slave to trends," he said.
Early on, little Michael was torn between being a performer and being a designer-a conflict that would serve him well as the two grew closer on the food chain in the 1990's. Joan Kors was bringing Michael to television auditions-he won a part in some Lucky Charms commercials-and to cocktail parties before he was even in kindergarten. "I was not like the average boy next-door," Mr. Kors said. "I wasn't home with my brothers and sisters. I wasn't playing baseball. I was like, 'Let's go shopping!'"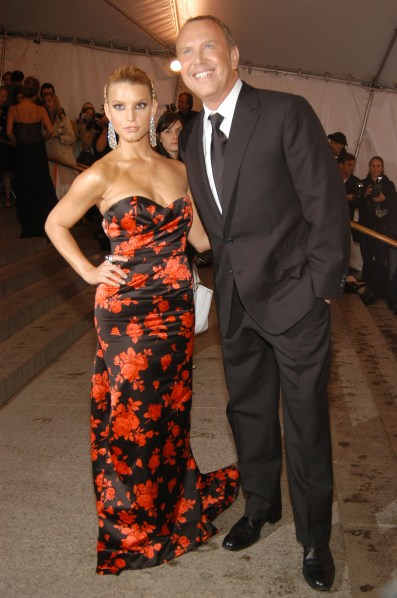 After high school, Mr. Kors enrolled in a two-year program at the Fashion Institute of Technology. One day during his first year, he said, a teacher pulled him aside and said, "Michael, you know what you want to do. Just go do it." Still a teenager, he began designing a collection for the now-defunct Lothar's boutique on 57th Street. "Being hors-d'oeuvre-and cocktail-party-oriented at 5 allowed me to start this journey at 19," he said. "But when I started my own business"-in 1981-"I was missing a lot of important information. I didn't even know what U.P.S. was. We delivered my first shipment to Bergdorf's in my aunt's Mercedes, with the clothes lying flat in the backseat 'cause I didn't want them to wrinkle. What do you do? You put it in a box? I had no idea."
Mr. Kors has come a long way from his aunt's Mercedes. Beginning in 1999, he was the creative director for the fashion house Celine, a division of LVMH, Moët Hennessy Louis Vuitton. (The collaboration dissolved in the spring of 2003.) He has won the CFDA awards for both Men's and Women's Designer of the Year-in 2003 and 1999, respectively-and is nominated this year for accessories, as well as being on the 450-person judging committee. The 2005 awards will be announced on June 6, and all three of the Best New Womenswear Designer nominees-Derek Lam, Peter Som and Behnaz Sarafpour-happen to have worked for or been mentored by Mr. Kors in some capacity. He is, increasingly, a kind of godfather of fashion. Yet "he never plays the big superstar," said designer George Simonton, a colleague of Mr. Kors' at the Fashion Institute of Technology and a fellow CFDA member. "He's always down-to-earth. He sits with us even though not all of us have household names like he does. It's refreshing to be around. He doesn't just waltz in and waltz out of meetings, like some."
In the spirit of democracy, Mr. Kors now makes not only men's and women's clothes, but watches, shoes, ties, belts and small leather goods. He has signature fragrances for both sexes and a third scent, Island Michael Kors, that will be available worldwide this fall. At this point, no matter your gender, income or geography, you can go out looking and smelling of Michael Kors.
The Cult of Kors
Mr. Kors' spreading himself so thin hasn't appeared to turn off his elite fan base yet-those women who actually pay $320 to teeter atop his three-inch-high gold leather-and-rope espadrilles, a key item this season.
Michael Kors women-though, these days, it's increasingly unclear who exactly a Michael Kors woman is-still treat him like a rock star. They stop him on the beach in St. Bart's and show off their Kors sarongs, said cosmetics heiress Aerin Lauder, who once sat with the designer on that beach and watched his fans parade by. They send him letters. They approach him on the street. They flock to his trunk shows, which he hosts at stores around the country, just as Mr. Blass used to do. ("I used to hear about Blass going out to lunch every day," mock-huffed Mr. Kors, who favors solo-sashimi in his office. "Where's my Bill Blass lunch?") Back in New York, like Calvin Klein, Isaac Mizrahi and Ralph Lauren before him-all New York–born Jews who found favor with the city's power elite-Mr. Kors, who is half-Scandinavian, half-Jewish, remains the arm candy of choice. "I met him through friends and immediately was completely enamored," said Ms. Lauder, who began wearing Michael Kors in her 20's. "He's just so nice and easy. And he really knows his customer well."
"I always feel like a queen when I go to an event with Michael," said Wendy Hirschberg Clurman, a former fashion director for Vogue and a longtime friend of Mr. Kors. He designed her wedding dress three years ago and attended her wedding in St. Bart's. "All those things you sort of don't get from-well, I don't want to put down my husband, because he's incredible, too-but Michael makes sure you know what shoes you're going to wear. He makes sure the dress is fit perfectly, that it's what you want to wear, that you feel great in it, that it's flattering. He picks you up. He's the perfect date, truly."
It's a big club. "He really does love women," said the actress Bebe Neuwirth, a friend of Mr. Kors who met him in an elevator at their apartment building a decade ago. "He prefers to celebrate women as opposed to dictate to women, as opposed to seeing a woman's form as something that needs to be beaten into a shape in his own vision."
Stefani Greenfield, the co-owner of the Scoop boutique chain and a good friend of the designer, also describes herself as a Kors freak. "A Michael Kors woman is a woman who celebrates her femininity," she said. "She's body-confident. She wants to make a statement but doesn't want to be screaming, 'Look at my clothes!' She is a woman who wants to be trend-inspired. And she's a loyal follower. Michael Kors women are cult-like."
Designer Kate Spade, who knows something herself about translating class for the masses, first met Mr. Kors at a karaoke bar in the Village (he's also been known to climb onto a piano and sing a few bars). "I remember seeing him and thinking, 'Oh, my God-that's Michael Kors!'" Ms. Spade said. "I was still an editor then, and he was so nice and encouraging. He's truly one of the most charming, humorous people I know. And such a showboat!"
'He Hasn't Changed'
These days, between meetings about spring/summer furs and veterinary appointments for his cat (the poor thing swallowed a large quantity of string recently; "I guess he just wanted to be close to textiles," Mr. Kors said), the designer spends a lot of his time showboating from continent to continent, with the help of an Ambien washed down with a glass of wine.
In December, when the tsunami hit, Mr. Kors, who tends to be shy about his private life, was vacationing (as he does every year) in Phuket, Thailand. For months, he has avoided talking about the experience because it felt too raw, he said.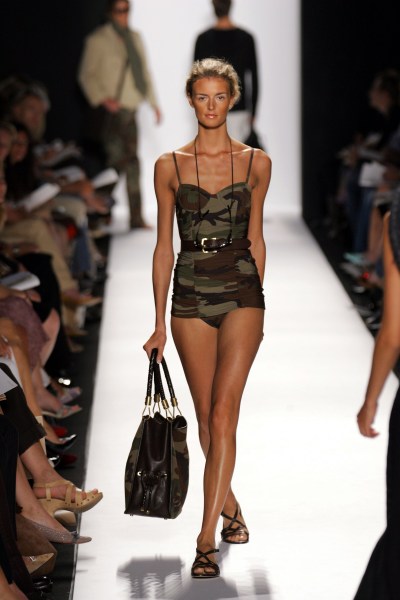 "It was very surreal," Mr. Kors said over the phone during a recent stopover in Capri. "I grew up on Long Island, going to the beach. I have a house on the ocean. I'm kind of used to looking at water. That day, I was having breakfast, sitting outside-and normally there's not a ripple in the water in Thailand; you never see anything less than bright green. I was looking at the water, and it was a perfect, sunny day, and I thought, 'Something's strange. The water's brown!'"
Forty-five minutes later, a housekeeper rushed out to tell him that an earthquake had hit. "Everywhere, there was this odd kind of shell-shocked feeling," he said. "When we were all evacuated, it turned into a Tower of Babel-people speaking German, French, Cantonese, Japanese, English. People say the world is small. When something like this happens, you think, 'Boy, the world really is small!'"
Many guests jetted home as soon as possible, but Mr. Kors said it was clear the hotel staff really needed guests to stay, for the financial support. So he stayed.
"At the time, I couldn't quite decide: Should we stay? Should we leave? What should we do? What's going on?" he recalled. "It was that odd feeling you have when something so horrible happens. Like New York after 9/11, when no one knew where to go, no one knew what to do."
But he'll go back again next year, he said. Because if Michael Kors is anything, he is consistent.
"He's not just consistent," Ms. Greenfield cooed. "He's iconographic. I don't think he's changed at all over the years"-and that's why he can get away with dressing so many different kinds of women, she said. "He hasn't changed as a designer; he hasn't changed as a man. He still has the same friends. He follows the same core formula."
He's unobjectionable. He's risk-averse. He's tan and friendly and impeccably managed by a team of skilled image-makers. And he believes the antidote to any sadness, the key to his personal joy, consists of a simple formula: good women, pretty clothes.
"You know when Holly Golightly says nothing bad could happen at Tiffany's?" Mr. Kors said. "I'm still of that belief: that when you're in a store, it just feels wonderful. I think it's the greatest thing in the world."