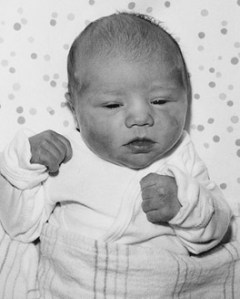 Alana
Marian Jones
May 17, 2005
11 a.m.
7 pounds
Beth Israel
Medical Center
Sippy
cups be damned! Little Alana Jones was named after the pattern of the elegant
Waterford crystal in her family's two-bedroom in Peter Cooper Village. "I
thought it was a pretty name," said mom Kerry Jones, 40, a teacher at the
Epiphany School near Stuyvesant Town. Luckily, the tyke is nowhere near as
fragile as her namesake. "She enjoys getting in her swing, and riding in her
carriage, and looking at the fan," Ms. Jones said. Alas, these are all solitary
pursuits: Older brother Michael Jones Jr., 6, is having some trouble sharing
the spotlight with the new addition. "He doesn't love her yet," Ms. Jones said.
"He's used to being the center of everyone's attention." Luckily, Michael Jones
Sr., 41, a lawyer at the New York State Attorney General's office, isn't too
busy to take his son to his morning Little League practice.