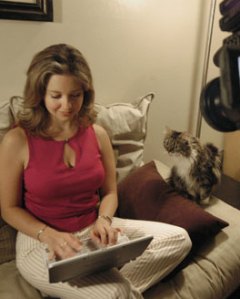 "Online dating sucks. Everybody's full of shit."
So says Carmine—a balding, middle-aged e-suitor who defies no stereotypes—in the first installment of ABC's five-part series Hooking Up. Having uttered that synoptic gem, Carmine then reaches across a lunch table and paws at his date's cleavage.
"Thank you," she says, horrified.
In its outlines, the exchange may sound like a typically cringe-inducing scene from a reality dating show—the kind of gaffe that gets followed by a cartoon anvil whomping the perpetrator's head. But in Hooking Up, the camera rolls on. There is no after-the-fact interview with the molested woman, no rose ceremony in which the tactless Carmine is expelled from the mansion.
That's because Hooking Up isn't reality; it's news. The show is a multi-part documentary from ABC News, following the mostly grim world of Internet romance through the perspective of 11 New York women.
"People think that news can't be entertaining, that it has to be earnest and like taking castor oil," said Terence Wrong, the show's executive producer. Mr. Wrong (yeah, yeah, Mr. Wrong) is a member of the elite McGrady Unit at ABC News, named for its leader, Phyllis McGrady. He has previously won three Emmys, two DuPont Silver Baton Awards and an Edward R. Murrow Award.
Now his camera is prowling the singles scene. And if the entertainment-TV flourishes are missing from the result, so are the news-TV ones: no distinguished-looking anchor analyzes the dating situation; after the groping incident, there is no voice-of-God narrator offering figures on the percentage of blind dates that end in unwanted touching. It's not traditional news—it's more … realistic.
The goal, Mr. Wrong said, was "to lose the objectivity of the ubiquitous voice, to really be enmeshed in the emotions, in the turmoil and drama as it happened."
That narrator-free approach is a luxury most news programming doesn't have. "Take the London bombings," Mr. Wrong said. "You want someone to come in and tell you what happened, who police think did it, what you should do. That's still the mandate of television news. That's the way the business is structured now. It's a very talent-dominated business."
The Hooking Up approach may not be the future of news programming, Mr. Wrong said. The technique is costly, time-consuming and ill-suited to many subjects. But the documentary is nevertheless a product of the times.
Reality TV has helped decimate news magazines, said Paul Sparrow, a veteran documentary filmmaker turned reality-show producer. The Wednesday edition of 60 Minutes is defunct; NBC has cut Dateline back to two hours a week; Ted Koppel is retiring in December, leaving Nightline's future unclear.
So, Mr. Sparrow said, "news shows are starting to try to fight back."
Hooking Up, then, comes at a time when television news is starting to take some cues from its reality-TV competitors. With study after study showing the public losing faith in the news media, networks are taking pains to win trust by borrowing the behind-the-scenes techniques of unscripted drama. Greta van Susteren, Chris Matthews, Brian Wilson and Keith Olbermann are blogging as if they were Real World housemates locked in the confessional room with an iMac. On July 12, CBS News president Andrew Heyward unveiled the network's revamped Web site, complete with an interactive blog—the Public Eye—whose editor may, in the name of transparency, film correspondents with handheld cameras as they call sources for their stories.
Hooking Up "is just an indication of how desperate networks are to reach younger audiences," said Ted Magder, the chairman of the department of culture and communication at New York University. "ABC used to be your parents' network. It was family-oriented entertainment targeting the parts of the United States between New York and L.A. NBC was always a little hipper. CBS was your grandparents' network. None of them are like that any more."
Hooking Up, he added, "is the sort of show that should be on Fox, right? But no! It's on ABC, and they're gonna bill it as news."
That's because it is news, said Mr. Wrong. Previously, the filmmaker has produced documentaries on Johns Hopkins Hospital, the NYPD, wars, rain forests and Charles Lindbergh. He has been a foreign correspondent for the news divisions of NBC and ABC.
The son of a sociologist, Mr. Wrong said he has been interested in online dating for years, since before the reality dating shows became popular. So, with the go-ahead from ABC News president David Westin, he began by interviewing more than 300 women who responded to his ads and e-mails seeking subjects for a kind of sociological exposé. He eventually chose 15 subjects who agreed to have a "lean, type-B" documentarian follow them around with a handheld digital camera, watching as they cruised Match.com or Craigslist for potential boyfriends and accompanying them on their (typically disastrous) dates.
There was the woman on that miserable date with Carmine. She is "Jen," later revealed to actually be named Lisa, one of the many liars, swindlers and punks who populate our city and spend their nights trawling dating sites, looking for love. It's hard not to get depressed watching these women as they swing from warmth to cruelty, from earnestness ("I think maybe this is the guy," says Amy of Chris, a neckless professional poker player she's known for a week) to mindlessness ("Maybe if I sleep with him, I'll get to know the real him," says Amy again, this time of David, a corporate consultant who loves his mother) to plain old desperation ("I'm looking for a husband," says our poor, promiscuous heroine at last. "This is not just for fun").
The outlook isn't all dark. Some of the documentary's subjects do find love online. Others find sex, or a suitable substitute. Amy, for her part, is taking Paxil.
"These women, you know, return to small apartments where they live alone, and it's lonely, and they want to find somebody—and, I mean, you root for them," said Mr. Wrong. "It's André Malraux," he added half-jokingly. "You know, La Condition Humaine."
And inasmuch as Bridget Jones was like a Chinese Communist during the early days of the Revolution—the analogy isn't completely without its merits—so Mr. Wrong is like Mr. Malraux. It's a sad, sorry thing to watch as his subjects deceive, betray and trample over each other in their quest for companionship.
There is Claire, the weepy publicist for Viagra, who goes out with Nick, a freelance photographer for The New York Times. On their first date, at a restaurant, he hands her a potted plant and says, "It'll probably die right away."
And there is Cynthia, the brassy hair stylist and designated floozy, who goes out with a British-rocker type who looks nothing like his dating-profile picture. "How old is that photo?" she asks him when they meet at a diner. "Fifteen years," he says, without missing a beat. In a voiceover, Cynthia offers her assessment: "He's a hippie. A strung-out hippie."
Some narrative lines are slightly more uplifting. Others are much worse. For one thing, there appears to be a preponderance of "straight" men seeking women in online dating. Maryam, a half-Iraqi, half-Iranian, full-on crazy single gal, goes out with Sam, an effeminate computer consultant. "Do people think you're gay?" she asks him. "Yeah," he responds, "sometimes. Often." And then there is Hunt, a particularly fey actor who goes out with Claire and tries way too hard to be interested in her. "My father's a physics teacher," she tells him. "I love physics," he replies.
More than the evening news or reality television, Mr. Wrong argues, the sociological documentary tells us about the way we live now—and if Hooking Up is any indication, it's a pretty dismal spectacle. "Big cities are lonely places," he said, when asked what he learned from his project. People are mean and stupid a lot of the time. "Virtually everybody wants to settle down," but the odds of finding love are slim. Particularly if you're looking online.
Or, as David, the corporate consultant, puts it after his second date with Amy: "Tonight, I will not be shag-a-dilly-dagging."
Oh, well. There's always tomorrow night.