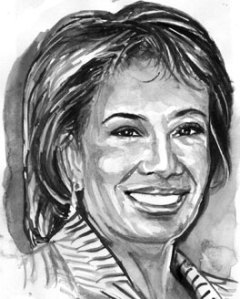 Westchester
District Attorney Jeanine Pirro—a putative Republican candidate for statewide office in 2006—has been moaning lately about the unfairness of being tarred with the sins and crimes, real and alleged, of her husband Albert, a convicted tax cheat.
"I'm
not here to talk about my husband!" she shouted in May at a Daily News reporter who asked about recent allegations that her husband had discussed one of her cases with an alleged mobster. "I'm my own person!"
She's
right. Ms. Pirro is her own person—which is why Republicans should eyeball her long and hard before they nominate her either for State Attorney General or for the U.S. Senate, two of the races she is currently mulling. At first glance, Ms.
Pirro presents a pretty package. Sure, she impresses as the hard-charging law enforcer who's the bane of Internet pedophiles. Sure, she bedazzles as the glamorous cable-television talking head with the pink skirt suits, bouffant coif and rapier tongue. Her controversial record in office, however, should give pause.
Ms.
Pirro—entirely on her own merits, without the ball-and-chain of Al—is an opposition researcher's dream, as readers of Westchester newspapers such as The Journal News can attest. Beloved in some county corners, she is reviled in others. In fact, some political strategists think that she's leaning toward a Senate race against Hillary Rodham Clinton precisely because the race for Attorney General—on its face, a more natural fit for her experience—would be a dicey proposition given her real and perceived missteps.
Some
think Ms. Pirro is seeking to put the past behind her, which is why she isn'
t
running for another term as D.A. this year.
"One
reason she doesn't want to run for D.A. again is that she doesn't want that distraction," said Marist College pollster Lee Miringoff. "She wants some separation politically."
And
why would she want that? A headline in the New York Post in 2004 read: "Pirro's Praise Helps Thieving Pol Beat Jail."
That was a reference to a letter she wrote on behalf of a Republican who had defrauded the government. Meanwhile, one of her assistants, the nephew of a friend and supporter, was arrested in Florida for a dustup in a hotel room with a female escort. Those charges were dropped, but the deputy resigned after The Journal News disclosed that he'd been arrested twice before Ms. Pirro hired him.
Then
there's the matter of a pending federal lawsuit, filed in 2003, alleging that the Mamaroneck police covered up a drunk-driving incident involving Ms.
Pirro's
husband. She has denied the allegations.
Meanwhile,
in 2002, a grand jury declined to hand up an indictment in the death of a young man who was killed during a fight at an underage drinking party in Harrison.
The party took place at the home of a couple of Ms. Pirro's campaign donors.
Friends of the young man—noting that a good district attorney can indict a ham sandwich, as the saying goes—have criticized Ms. Pirro over the non-indictment.
She blamed the jury.
Journal
News columnist Phil Reisman has criticized Ms. Pirro more than once for what he claims is her use of well-timed photo ops about Internet sex stings—"Pirro-uettes," he calls them—to deflect attention from bad press.
"For
a publicity-hungry prosecutor reeling from the fallout of some bad press, it would be tempting to reinforce one's image as an intrepid crime fighter and, more important, as a protector of defenseless children, by harvesting and cashing in on a drooling Internet predator," Mr. Reisman wrote after Ms.
Pirro
snagged her 104th alleged perv—conveniently, the same week as she was facing flak on other scores.
One
could go on, and someone has. Like Mrs. Clinton, the target of Edward Klein'
s
new dirt-fest, Ms. Pirro is the subject of a scandal-mongering tome, The Jeanine Machine, by S. Richard Blassberg, the former campaign manager of her
2001 opponent. Written in a breathless, contentious style, the self-published book claims that she has abused the rights of vulnerable defendants, among other faux pas. Trash and sour grapes though the book may be—Ms. Pirro has denounced it—it will be picked over.
Ms.
Pirro has had a ready—and often a convincing—answer for each question that has arisen about her conduct in office. She is the darling of the press, the acknowledged favorite of Republican state party chairman Stephen Minarik, and the reported choice of President George W. Bush's top advisor, Karl Rove, to run for Senate next year. But there are other worthy candidates who have declared their interest in running for the G.O.P. Senate nomination. They should be allowed to make their case. No doubt they will raise the problems with hers.