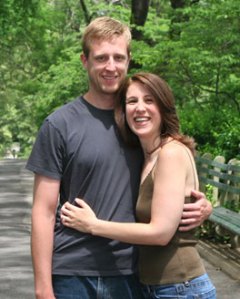 Eric Edell and Deborah Lester
Met: June 26, 2003
Engaged: May 27, 2005
Projected Wedding Date: March 18, 2006
When Deborah Lester's mother said, "Have I
got the man for you," young Ms. Lester couldn't help but suffer misgivings,
having already suffered through one harrowing blind date courtesy of Mom. "It
was a disaster," said the redheaded, porcelain-skinned politico (she works as a
community liaison in Assembly Speaker Sheldon Silver's office) and pastry chef,
28. "He was really nerdy."
But
Mama Lester was spreading the guilt like icing. "I told his mother you'd go out
with him!" she said.
Meanwhile,
Eric Edell, a dark-haired, dashing senior associate at the Carlyle Group, was
also getting nagged. "She's waiting for your call!" his mother told him.
The
reluctant fix-upees finally agreed to meet at Chow Bar in the West Village. Ms.
Lester informed Mr. Edell of her red hair, for easy identification.
He
arrived early. "Listen," he told the bar's owner, "I'm on a blind date. If she
comes in and she's cute and smiley and everything looks good, seat us at a
table." Otherwise, "I'll go to the bar and see how things go."
When
an unattractive redhead entered the bar, Mr. Edell froze, grabbing the owner's
arm and shaking his head emphatically. Then Ms. Lester appeared behind her.
D'oh!
"She
had this very bright, happy smile on," Mr. Edell said. "Adorable." The two
stayed till closing time.
On
another date soon after, they happily munched Magnolia Bakery cupcakes. Ms.
Lester learned the art of sugar flowers from her grandmother, a European
immigrant. "I would say I gained about 10 pounds in the first two and a half
weeks of dating," said Mr. Edell, 28, a health nut and runner. He got even
doughier after Ms. Lester earned a certificate in cake decorating from the New
School and opened up a side business, Perry Street Cakes.
In
the midst of weekly feedings, Mr. Edell began mulling marriage. Naturally, the
first thing he did was call Ms. Lester's mother. "I love your daughter very
much," he told her. "I'm not nervous in a 'what am I doing?' kind of way. I'm
nervous in an excited way. I've never been more sure of anything in my entire
life." Mama Lester burst into happy tears.
Mr.
Edell sorted through diamond-district dealers, then found the jewel that
"represented my heart": a round, brilliant-cut diamond solitaire in a
Tiffany-style setting. But he was baffled about how best to propose. "In New
York, trying to be original and thoughtful and creative and do something for
the first time is very challenging," he said. Then he remembered that his
sweetheart had once mentioned her idolatry of renowned Soho cake designer Ron
Ben-Israel.
Ms.
Lester had been finishing an order of 150 cupcakes for a wedding, which took
two all-nighters. Mr. Edell offered to buy a little, er, supplementation from another
bakery. She was furious. "What kind of vote of no confidence is that?" she
said.
After
she finished her delivery, Mr. Edell presented her with a cake box. "Just throw
them away," she said. "I don't want to open your vote-of-no-confidence
cupcakes."
She
finally lifted the tape, revealing a cake designed by Mr. Ben-Israel to
resemble a Tiffany's box, with a sugar ring placed inside. "Oh, my God,' she
said, eyes welling up.
While
Mr. Edell currently still schleps from his 27th Street apartment to visit his
fiancée, he plans to move into her West Village two-bedroom after the marriage.
The ceremony and reception will take place at the Pierre Hotel. Ms. Lester
probably won't be doing the baking. "I gave Ron the wink and the nod," Mr.
Edell said.
Jim Grates and Julie
Met:
June 16, 2001
Engaged:
May 31, 2005
Projected
Wedding Date: October 2005
Julie Siegel was waiting in line to play
pool at the King's Head Tavern on 14th Street when she spotted a rough-looking,
unshaven blond man smiling at her. His name was Jim Grates, he was accompanying
a couple he'd just helped move (to an apartment above the bar), and he wanted
her to join them in a game of doubles. The impromptu team won handily. "I was
so excited that I actually met a guy that was sarcastic, cute and, like, a real
guy," said Ms. Siegel, 37, a freckled brunette. "In New York, it's hard to meet
a guy who isn't a metrosexual." Tell us about it, sister ….
The
two of them exchanged numbers on cocktail napkins, but a month passed before
they met, at one of those anonymous Italian restaurants on Avenue A. She wore a
sexy black outfit; he was sporting worn jeans and scuffed sneakers. "There was
food coming out of his mouth, he had, like, zero manners," Ms. Siegel said.
"But I like that."
The
pair proceeded to drinks at Forbidden City, where they avoided the topic of
work; Mr. Grates, now 29 and looking for an advertising position, was between
gigs at the time, and Ms. Siegel, then head writer for ABC's The View, didn't
feel like sharing. He caught on, though, after he saw the giant Emmy resting on
the nightstand of her Upper East Side studio. "I'd love to make a hood ornament
out of that," he said. (Later, Ms. Siegel spent time as casting director for
Queer Eye for the Straight Guy.)
A
couple of years into their relationship, Mr. Grates brought Ms. Siegel to
Telluride, Colo., where she experienced her first five-hour hike. A year later,
they went hiking in Montana. "We saw bear poop—it was really scary," she said.
Even scarier: They saw an actual bear. She spent two hours clapping and singing
in an attempt to ward it off, to the general confusion of the surrounding
wildlife.
Having
secured permission from Ms. Siegel's father, Mr. Grates plotted to pop "the
question" during another hiking expedition in Zion National Park, Utah. Waiting
to board their flight, Ms. Siegel got a phone call from her mother. "Do you
really love him?" the latter asked. "Do you want anybody else to see you
naked?"
"God,
my mom was being so weird," Ms. Siegel said after hanging up.
Alas,
their destination was swarming with Memorial Day crowds. The couple had hiked
2,000 feet up the Angel's Landing trail in 100-degree weather when Ms. Siegel
was hit with that familiar urge. "I have to pee," she announced.
Mr.
Grates sprinted up the mountain and found a spot secluded enough to serve dual
purposes.
After
Ms. Siegel relieved herself, she turned around to find him rummaging intently
through his knapsack.
"What
are you looking for?" she asked,
"Uh,
nothing. Just, close your eyes, I have a surprise."
"I'm
like, Oh my God, is this going to be it?" Ms. Siegel said. She heard the
telltale "plop" of a ring box closing.
"We're
on top of the world and I want to spend the rest of my life with you. Will you
marry me?" Mr. Grates said, lifting the cloth from his sunglasses case to
reveal a shimmering .8-carat round brilliant, ideal-cut diamond set in white
gold. Ms. Siegel erupted in laughter and didn't answer him for five minutes.
"I
just got engaged!" she yelled to surrounding hikers.
Mr.
Grates is planning to move into Ms. Siegel's studio in the fall. Following
pressure from friends and family, a planned elopement in Hawaii has turned into
a destination wedding.
"All
single girls out there, learn how to play pool," advised the bride-to-be.