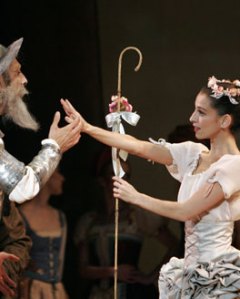 George
Balanchine's Don Quixote—that ambitious, mysterious work that fascinated and confused us all back when it was made in 1965—has just been restaged, by Suzanne Farrell, for the first time since it disappeared from the repertory in 1978. When it was made, Balanchine was 61, Farrell, his newest muse, was 19, and this extraordinary dance-drama was taken by everyone to be his unequivocal tribute to, and surrender to, her powers. Now 40 years have gone by.
Balanchine, of course, is dead. Farrell is approaching 60. And an entire generation has never seen it. Once it was retired, not many people can have believed they'd ever see it again. (I certainly didn't.) But Farrell, for whom it naturally has profound significance and to whom Balanchine left it in his will, has against all odds resurrected it for us. Combining her own small company with dancers from the National Ballet of Canada, she's presented it at the Kennedy Center in Washington (it will later be performed in Canada), and she 's done it superbly. With very little time to mount this elaborate production, and with dancers not many of whom approach the first rank, she's made the most plausible case possible for Don Quixote, as spectacle and as art.
From
the start, Don Quixote was seen as a problem, most of all by Balanchine himself—he was always fiddling with it: adding music, moving sections around, creating new dances. Audiences were perplexed by its unique and unexpected combination of drama, pageantry, religiosity, formal divertissement and the heightened passages he created for Farrell, as well as by the central character being a non-dancing role. The music, by Balanchine's old friend Nicolas Nabokov (they went back almost 40 years, and had been discussing this ballet for almost that long), took much of the blame for what was generally seen as a flawed effort. And yet Don Quixote was compelling, especially when on occasion Balanchine himself took the central role.
Act
I is the weakest. The servant girl Dulcinea, who lovingly ministers to the Don, also appears to him in the guise of the Virgin Mary. The hero, with his befuddled grasp of reality, sets off on his quest to vanquish injustice, accompanied by the faithful Sancho Panza. There's some generic peasant dancing in a town square, a juggler, a puppet show with children, a horse, a donkey and a remarkable solo for Dulcinea, who at this point appears as a young girl accused of complicity in a murder.
Act
II takes place at the court of a duke and duchess who maliciously welcome the mad Don as an honored guest only to encourage their courtiers to torment him.
Here we witness the bitter cruelty of Cervantes' Spain, but also the Don's courtesy, innocence and generosity. His innate chivalry keeps him from grasping that he's being made a fool of. There's an extended divertissement—a suite of ingenious formal dances (flamenco, Mauresque, Sicilienne et al.)—and finally an orchestrated assault on the Don by the masked courtiers, who prod him with their rapiers, blindfold him, leap on his back, pummel him, and leave him almost dead, after a surreally horrible final moment when one of them smears his eyes with a gout of whipped cream. During this powerful and deeply disturbing passage, Dulcinea appears as a vision of tenderness and consolation.
It's
the third act that explodes into brilliance. Surrounded by a formal group of maidens led by two demi-soloists and their cavaliers, Dulcinea—now divorced from any direct responsibility to the plot—performs one of the most intense and thrilling dances in all Balanchine. At first she's grave, but soon she erupts in a galvanic outpouring of ardor and despair. And now it becomes almost impossible to speak about "Dulcinea" rather than about Farrell. Here was Balanchine's first and most indelible presentation of her astounding qualities; here, almost at the start of their unprecedented collaboration, she was fully and magnificently identified.
Fortunately,
there's a murky film, unavailable to the public, of the first performance of Don Quixote. It features Balanchine and Farrell, and to watch it is to experience the miracle of his total grasp of her potential genius. If this were the only documentation of Farrell, you could infer her entire artistic life from it—it's as valuable as the famous filmed passages from the first act of Giselle that give us our only glimpse of the legendary Olga Spessivtseva.
Farrell's
performance is heart-stopping—the amazing off-balance lunges, the ravishing back-bends, the absolute fearless abandon, the total commitment to the gesture and the moment. Yes, she's still a baby, but she's also, already, a peerless ballerina, in complete charge of her body, her role and Balanchine.
This
dance is superbly constructed, the solos and the material for the corps effortlessly integrated, and for once Nabokov's music is appropriate—romantic and exciting in the right way. (At other times, it's pure movie music, and second-rate movie music at that.) The two dancers Farrell chose to portray Dulcinea carried things off with admirable aplomb and to good effect, despite the light-years disparity between their talent and Farrell's. Sonia Rodriguez is accurate and hard-working—she's an excellent executant—but she's essentially
unexciting: a ballerina, but a provincial one. Heather Ogden, second-cast, is younger and freer—both more innocent and more involving. How odd that Farrell, of all people, cast her second. After all, if Balanchine had stopped to consider status or age, he wouldn't have made Don Quixote on her in the first place.
After
the climactic third-act pas d'action, the ballet returns to its story—the final degrading assaults on Don Quixote; his famous delusional attack on the windmill; his grotesque journey home in a pig cage. His last fevered vision is of an ominous procession of church dignitaries, and then of Dulcinea, once again seen as the Virgin, welcoming the hero in his martyrdom. When he dies, she reappears as the simple peasant girl placing two wooden sticks in the shape of a cross on his body.
Balanchine,
as seen in the film, keeps the ballet from veering into self-pity—his Don is vigorous in his old age, bewildered rather than distraught or loony, aristocratic without being proud. Farrell's Momchil Mladenov is tall and thin (Balanchine's preference for the role), but at the start his body and movement style give him away as inappropriately young. He recovers, though, through focus and intelligence, and creates a credible Don.
Farrell
has handled the complicated stage business impeccably—scene flows into scene, the transformations and other special effects work easily, and the sets (by Zack Brown) are an improvement on the heavier aesthetic of Esteban Francés.
The
weakness in the production lies in the secondary performers. Although there are several pleasing dancers in the second-act divertissement and in the third act—Natalia Magnicaballi, Erin Mahoney, Shannon Parsley—they can't compare with Balanchine's 1965 company: dancers of the caliber of Patricia McBride, Suki Schorer, Mimi Paul, Patricia Neary, Marnee Morris, Gloria Govrin, Arthur Mitchell and on and on. It's a dazzling honor roll. That Farrell succeeded as well as she did with dancers considerably below this level of talent is a tribute to her teaching and coaching skills—no surprise to anyone who has watched her guide dancers over the past several years. One of the many things she learned from Balanchine is to cheerfully and honorably make the best of whatever resources are available, and her respect for her dancers has been repaid with their obvious devotion to her, and to him.
Just
as it did 40 years ago, Don Quixote leaves us fascinated, moved—and puzzled.
Back in the 60's and 70's, it was less easy to see it as a link in a chain of related works—related not because they're all dance-dramas but because they all center on a certain kind of male figure. Yes, Balanchine has given us the male glorious—Apollo, Oberon, the "Rubies" boy—and the male humorous and the impersonal cavalier. But surely we sense a more direct connection between him and a parade of men in extremis which begins with the Prodigal Son, debased by the vicious Siren, and proceeds through the romantic Poet undone by the fatal dazzle of the Sonnambula, the tragic Orpheus destroyed by Eurydice's importunities, and the desperate Schumann, succumbing to madness. Don Quixote, despite the loyalty and solace offered by his fantasy Dulcinea, is humiliated like the Prodigal, maddened like Schumann, and driven to death like the Poet and Orpheus.
What
sets Don Quixote apart from these other ballets is that there isn't a great deal of distance between Balanchine's own pain and the pain suffered by his
hero: He's so personally affected by the buffetings life inflicts on the Don—so obviously identifying with him—that he seems to be saying, "I don't deserve this." And then he rewards himself with Heaven.
We're
not used to a Balanchine so humanly exposed, and Farrell, at 19, could hardly have understood what Don Quixote was revealing. Her devoted reconstruction of it makes it clear that now she understands.
The
important practical question raised by her production is whether such a large-scale, problematic work can become a permanent part of the Balanchine repertory. Certainly it will stay alive as long as Farrell has the opportunity to present it, and perhaps there are major companies—the Kirov, say—who might take it on. It's even possible, I suppose, that Farrell and New York City Ballet might eventually accommodate each other. But is Don Quixote worth preserving? After all, other important Balanchine works have vanished—Cotillon, the full-length Le Baiser de la Fée, the early versions of Mozartiana, Balustrade, Bourrée Fantasque, The Seven Deadly Sins.
None
of these works, however, was as meaningful to him, or as revealing. The lesson we just learned in Washington is that although we didn't know we've been missing it since it vanished almost 30 years ago, Don Quixote does still matter, both for its own sake and because of its unique place in the Balanchine canon. When you're dealing with a supreme master—a Shakespeare, a Mozart—you need to be able to revisit his entire corpus of work. You need King Lear all the time, but every decade or so you also need Timon of Athens. Otherwise your understanding of a genius like Shakespeare––or Balanchine––is diminished, and so are you.