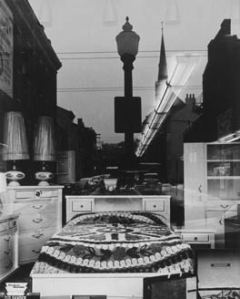 Five hundred works of art: Just thinking about taking in so many
during the course of one exhibition is enough to provoke a migraine. What
single artist has created that much, let alone that much worthy of serious
consideration? There's Edgar Degas. The retrospective of his paintings,
drawings, prints and sculptures seen at the Met in 1988 contained, if I recall
correctly, close to 400 items. That was some show. Then again, that was Degas,
the man with the Midas touch.
The
American photographer Lee Friedlander (born 1934) isn't an artist of Degas'
caliber, but that's not to say everything he touches doesn't turn to gold—or
something resembling it, anyway. The career-spanning retrospective of Mr.
Friedlander's works at the Museum of Modern Art contains 477 black-and-white
photographs and six in color. (There's a smattering of artist's books as well,
yet they come across more as historical documents and side projects than as
integral components of the oeuvre.)
It's
a testament to his remarkable gift that this enormous exhibition never loses
its momentum. Indeed, when the show does seem to sputter—for me, somewhere
around the three-quarter mark—one feels it is due more to the limitations of a
viewer's attention span than to the work itself. The curators have done their
job in providing flow. Groups of photographs are organized around specific
motifs: musicians, J.F.K., historical monuments, the female nude, office
workers, politics and sex, and—least compellingly because most self-conscious—self-portraiture.
The
themes aren't cut-and-dried; at times, they're called into question. In one
instance, a series of pieces dedicated to expanses of foliage is interrupted,
with hilarious subtlety, by a photograph of costumed revelers taking part in a
parade in Philadelphia. That this juxtaposition is no juxtaposition at all
demonstrates the consistency of Mr. Friedlander's eye.
Looking—or,
rather, reimagining how we look—is
his great subject; it is not a slight on his talent (though it is, perhaps, on
the scope of his art) to say that it is his only subject. And while it is, of
course, every artist's responsibility to help reorient us within our
surroundings, Mr. Friedlander succeeds at this endeavor with greater panache
than others.
His
pictures set the world awry, and only rarely without humor. Mr. Friedlander
toys with the act of looking by obscuring the viewer's vantage point. His
photographs thrust objects into our field of vision or refract them through
windows and doorways. A dry absurdity—Surrealism minus the theatricality and
psychological stigma—sets the tone.
Fleeting
images on television—an oversized eyeball, an actress mugging for the
camera—invade suburban environs with eerie intent. Inanimate objects, situated
within meticulously framed compositions, are endowed with preternatural
vitality. People and places are given their due yet remain peculiarly neutral.
A fire hydrant makes lascivious advances upon an alarm box; a pair of factory
workers are fused at the head; statuary becomes unsettlingly sentient; and the
view from the seat of a car is transformed into a prospect of an alien cosmos
known as America.
The
country's diversity of culture, people and landscape feeds Mr. Friedlander's
art, but it's a mistake to consider the photos a chronicle of—or a commentary
on—what it is to be American. (He's documented other places as well, Japan and
Italy prominent among them.) The pictures reveal a man for whom race and class
are constant if not pressing fascinations. Mr. Friedlander's love for American
idioms—the music of African-Americans, in particular—is manifest. Yet he isn't
Walker Evans or Garry Winogrand or Robert Frank; he doesn't plumb the character
of the land.
It
is our diversity as physical fact—whether expressed in the architectural jumble
of Manhattan, the arid expanses of Death Valley or his own backyard—that
attracts Mr. Friedlander's omnivorous, impassive lens. To borrow Cézanne's
famous comment on Monet, Mr. Friedlander "has only an eye, but my God what an
eye." That explains why we leave Friedlander surprisingly untaxed: The demands
the work places upon us are never truly personal or profound. Mr. Friedlander's
achievement is faceless and beautiful.
Friedlander
is at the Museum of Modern Art, 11 West 53rd Street, until Aug. 29.
Acquired Taste
An
untitled drawing by Mark Grotjahn, done with colored pencil on paper and seen
in the exhibition New Work/New
Acquisitions, strikes me as one of only two good things MoMA has spent its
money on in recent years. (The other is a large oil-on-paper by the justly
hyped and seemingly ubiquitous Neo Rauch.) How good is hard to tell.
Frankly,
it would be hard for Mr. Grotjahn's kaleidoscopic abstraction, with its tightly
ordered array of zooming, multicolored wedges, not to catch the eye. It is,
after all, surrounded by post-conceptualist bric-a-brac—this, that and the
other thing, redolent of nothing so much as the aesthetic bankruptcy of
contemporary taste. Anything that provides even the slimmest visual experience
would stand out in such a threadbare crowd.
It's
probably best to cut this Los Angeles–based artist some slack; let's see more
of the work before passing judgment. As for MoMA: Any institution that casts
doubt upon the ongoing relevance of abstract art—the museum's maddeningly equivocal
wall label describes Mr. Grotjahn as "belonging to a new, international
generation of artists who explore the viability of abstraction today"—deserves
to have its slack withdrawn.
New Work/New Acquisitions is at MoMA until Sept. 26.