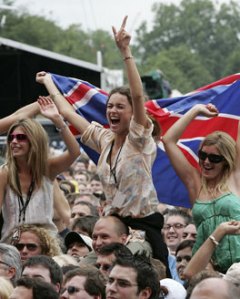 Hats off to my fellow countrymen and their stiff upper lips.
The unruffleable Brits handled last week's murderous terrorist attacks with their characteristic mix of bravery and Vera Drake–ish resignation. Londoners in particular have an extraordinary ability to endure all manner of disasters, especially after a pint … or five.
Like snaggly teeth, this trait is a peculiarly British thing. It's in the water, or the genes, or the now vastly improved food. More about the food later.
When, during the aftermath of last week's calamity, I heard those harrowing stories of people crying out for help from the rubble of King's Cross station, it was hard to escape the feeling that those particular imploring voices must surely belong to visiting Europeans. The typical Brit would be far more likely to say something like, for example, "I'm fine—just a light hemorrhage, a few missing digits and smattering of third-degree burns. Not to worry. Take care of that Italian lady with the singed eyebrows first."
Coincidentally, my bloke and I were holidaying in London just prior to the attacks. The Friday night before 7/7 found us in the now-infamous Tavistock Square, the site of the exploding bus, having drinks at the home of an artist friend with a group of caustic pals. We were enjoying that other great Brit trait: the compulsion to take the piss out of something while getting pissed (definition: drunk). Conversational topics ranged from the Live 8 concerts ("a load of idiots like Posh and Becks banging on sanctimoniously about Africa while wearing their $200,000 Jacob the Jeweler watches") to the upcoming Gay Pride weekend ("a bunch of fat drunks from Essex standing about in the rain on Old Compton Street"). Needless to say, a wonderful evening was had by all.
As soon as I saw news of the bombings on the telly, I contacted my Tavistock Square pal. Shocked but calm, he was confined to barracks. Not being one to waste time, he had put the kettle on, opened a packet of Jaffa Cakes (a great Brit standby during times of stress) and set about taking some digital pics of the wreckage from his window. He was sipping tea and speculating as to whether he might incorporate the images—tastefully, of course—into his art at some appropriate juncture in the future.
What is it that enables us Brits, when confronted by an onslaught of adversity and deprivation, to eschew all histrionics and reach for the teapot? Here's my theory: When something dire happens, I invariably experience the haunting feeling that reality has finally returned, and that the period of lighthearted abundance which preceded the catastrophe was somehow an illusion. Ah, this is more like it! This is how life is supposed to be. Twiddle the knobs on that crackly Bakelite radio: Winnie Churchill is about to give another speech.
We Brits—particularly those of us d'un certain age—have a deep-seated distrust of the second half of the 20th century; we strongly suspect, in our heart of hearts, that the package holidays to Ibiza, the umbrella drinks, the red-carpet Kylies and cheesy reality shows are merely elements of a temporary mirage. Soon, we'll all be back in Vera Drake land, and the sooner the better. In other words, we're ever so slightly nuts.
The other great thing about us Brits is our ability to commemorate these occasions without turning them into Hallmark-card clichés of maudlin sentimentality. When 7/7 rolls around again, there will be no saccharine outpourings; the fallen heroes will be remembered with dignified solemnity.
Apropos of which: On July 4, I attended the funeral of the brilliant Brit architect Peter Kent. Peter the great died tragically at the age of 49. Orchestrated by his loyal bloke Hamish Bowles, the editor of American Vogue, his funeral service was so magnificent, it actually made me look forward—albeit fleetingly—to my own. When I pop my clogs, I want lots of great, easy-to-understand poems, and ye olde English Hymns with nice tunes sung by rosy-cheeked choirboys, and a chic, rustic wicker coffin (very Tess of the D'Urbervilles!) just like Peter's. Peter, Hamish did you proud.
Now, a warning to any London-bound New Yorkers about that food. First let me say, once and for all, that English grub has changed out of all recognition from the boiled scrag end (definition: neck of lamb) of the Vera Drake years. If you were visiting London and happened to fancy a greasy fry-up or a lukewarm supper of graying shepherd's pie and boiled cabbage, you'd be hard-pressed to find it.
Now the bad news: Contemporary Brit cuisine is literally drowning in dogma. Instead of the lardy gravies of yore, Londoners now anoint their food with all kinds of heartfelt, politically correct verbiage: "We serve only fair-trade coffee"; "Our venison is hunted and can therefore not technically be described as organic"; "We strive to use ingredients with minimal food miles."
Re food miles: My gay sister and her partner have become ardent devotees of this new religion. They no longer purchase strawberries from Hungary or green beans from Kenya. Eating food which has burnt the minimum amount of jet fuel seems to be the goal. With this in mind, Shelagh and Anna now grow their own veggies in an allotment (definition: grim open ground where locals cultivate their own produce, usually located near railroad tracks).
Needless to say, there is much piss-taking controversy about the "food miles" issue: Cynics are quick to point out that the earnest organic farmer, driving four boxes of strawberries to market in her S.U.V., may well be using more energy per berry than those Marks and Spencer jet planes. Etc., etc. The whole thing is so demented and baroque, my Jonny and I found ourselves refusing to eat the raspberries my sister picked in her own backyard until we had quantified the energy it had taken to get them to the table: "Sorry, luv. Too man­y food yards for me."
Rule, Britannia!