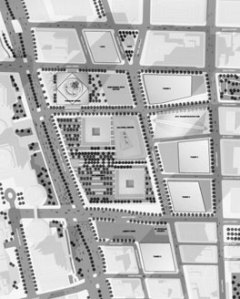 Governor
George Pataki and architect David Childs are so confident in the safety of the Freedom Tower that they said, during the June 29 love fest unveiling the building's redesign, they'd be happy to have their children work there.
Hear
that, Emily?
The
trouble is finding enough other people who will want not just to send their children there, but even work there themselves. Ten thousand of them.
City
and state officials are proclaiming the Freedom Tower to be the safest high-rise in the world, even if the bird's-eye view of the tower included in the press packet—which shows its centered antenna and circular support ring against the rooftop—offers the image of a target.
"I'm
not going to tell you that it's not a symbol," said James K. Kallstrom, Governor Pataki's advisor for counterterrorism. "It's been attacked twice before. We know that. It will be a lot stronger than it was before also."
But
after four years, three designs and numerous public forums, there's no turning back. The public aim of erecting some sort of defiant symbol of strength has certainly made it hard for developer Larry Silverstein to achieve his private aim of finding tenants. But he knew what he was getting into when he decided to go forward with the Freedom Tower on spec—that is, building it without an anchor tenant in place.
When
asked at the unveiling about prospective tenants for the 1,776-foot tower, Mr.
Silverstein first said, "It's a little bit early for the Freedom Tower tenancy.
That will come in due course. But for a building that will be finished in '
10,
you can expect tenant negotiations to be moving forward in a few years."
Asked
again a few minutes later, Mr. Silverstein delivered a more politic answer, saying that he'd had discussions with "very large block users"—in the private sector, no less.
But
Mr. Silverstein wouldn't name names.
The
design includes a number of key features meant to correct the deficiencies of the World Trade Center, though Mr. Childs was reluctant to explain what might happen to the structure if it were struck in an airplane attack.
"The
administration has made the decision to control the threat of an aerial impact from the airport," Mr. Childs told The Observer. He argued that it was impossible to come up with and protect against every possible scenario that could put a building at risk.
The
Freedom Tower is a behemoth, spiraling around a central core as large as 110 square feet, which will be wrapped in three feet of concrete and will enclose three stairways, elevators and communications equipment.
In
the Twin Towers, the core was made of little more than plasterboard. The fireproofing will be extra sticky, since investigators have postulated that the impact from the airplanes blew off the fireproofing at the World Trade Center, leaving its structural beams exposed.
But
much of the building's line of defense, especially that which was incorporated since the tower went back to the drawing board two months ago, focuses on a possible truck-bomb attack.
The
building will be set back at least 65 feet from the street—and Vesey and Fulton streets may be closed when terrorism threat levels are high, according to Mr.
Kallstrom. The bottom 200 feet of the tower will be sheathed in concrete and then covered in textured steel. The concrete base will comprise an 80-foot-tall lobby containing few windows and, on top of that, several floors for elevator machinery and other mechanisms.
The
Freedom Tower will be built and operated by Mr. Silverstein, but on land owned by the Port Authority of New York and New Jersey. The Port Authority is exempt from local building codes, and it also reviews and inspects structures itself.
Although the Port Authority has stressed that it abides by the New York City building code, a federal investigation last month determined that the Twin Towers didn't have enough stairwells, renewing calls for greater oversight.
"Why
would they want to be immune from building codes?" said Sally Regenhard, chairwoman of the Skyscraper Safety Campaign. "All the safety in the world is useless unless this building is subject to the oversight of the building department."
The
Port Authority contends that it had gained city approval in 1994 for the design of the World Trade Center's top floors, where, because of the large number of people normally expected to be occupying the rooftop restaurant and observation deck, the city's building code would have required four staircases instead of just three.
The
Freedom Tower would put the observation deck on top of the restaurant—the World Trade Center had one on either tower—but its designers say that it won't need the fourth staircase because each floor will be smaller and the capacity lower.
Also, according to Carl Galioto, technical partner at Skidmore Owings & Merrill, the Freedom Tower will incorporate additional staircases—how many has yet to be determined—on the top floors that will join the three main ones a few floors lower in the building.
"It
is our understanding that the Buildings and Fire Departments will be full participants in the review process," said Mr. Galioto, who is also a member of a committee reforming the city's building code.
The
last time someone in New York built a very tall building like this one on spec, they had a hard time filling it—and that was long before terrorism.
That
was when the Port Authority built the World Trade Center over three decades ago. At the time, the Port Authority and the State of New York ended up renting a lot of the space that had once been envisaged for world trade. The Port Authority was never able to live down that episode, and it isn't keen to repeat it now.
This
time, it doesn't really need to.
In
those early years, the Port Authority acted as its own developer and might as well have occupied any vacant space in the towers. But less than two months before Sept. 11, the Port Authority began leasing Mr. Silverstein the complex for about $10 million a month. Now the agency has no real incentive to move its offices back if it can find cheaper digs elsewhere.
Yet
the Port Authority has promised to come back as a good-will gesture. But unlike Governor Pataki—who has pledged to move his New York City office into the Freedom Tower once it opens—the Port Authority hasn't said where or when.
The
Port Authority's executive director, Kenneth J. Ringler Jr., has indicated that his agency would wait until Mr. Silverstein has built some of the other towers slated for the site—and that will be years after the Freedom Tower is completed in 2010.
"I
know Larry Silverstein is very eager to start on Tower 2," Mr. Ringler said recently. "Towers 3 and 4 will be market-driven. Hopefully we'll be able to expedite that, because it would be nice to build that infrastructure up.
Conceivably, the Port Authority could move into one of those towers. There's lot of options being discussed right now."
There's
another advantage to the Port Authority playing hard to get: Its presence might scare away the spit-polished investment bankers that Mr. Silverstein will need to pay what are expected to be premium rents there.
"If
the state is the only entity willing to go there, it will be seen as less than desirable," said M. Myers Mermel, chief executive of the tenant-side real-estate firm TenantWise.com. "Financial-services companies never want to be located in the same building as the government. It's not seen as a compatible mix with corporate activity."
Meanwhile,
another Silverstein building across the street from the Freedom Tower site,
7
World Trade Center, has become, fairly or not, the most famous city building where no one wants to rent. That building's 52 stories will be ready for occupancy by early next year. Its developer and broker are hoping that a package of incentives, along with existing goodies for renting on Port Authority land, will bring in the tenants who have so far been staying away.
Mr.
Mermel is confident that by the time the Freedom Tower is ready to open in five years, the world could be a very different place.
"At
the end of the day, there are usually two or three guys who are making the decision. You don't have to convince all 3,000 workers to go there," he said.
"If inducements are great enough, the top three guys of XYZ Company may decide that it's an O.K. place to be—which it is. We're not always going to be at war.
Our office buildings will not always be seen as being vulnerable."
A
New York Times/CBS News poll last week found that 43 percent of the city's residents said they'd be willing to work in the upper floors, an increase compared to two years earlier.
Hey,
that's 3.5 million men, women and children.
Don't
all rush at once.