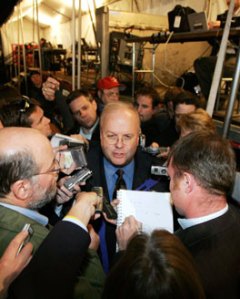 At lunchtime on July 11, as Time Inc. editor in chief Norman Pearlstine met with Time magazine's Washington bureau, one reporter confronted him with a computer printout. It was an e-mail from someone who had been an anonymous source for the magazine in the past.
What it said, according to one staffer who was present, was that in the wake of Mr. Pearlstine's agreement six days earlier to supply prosecutors with reporter Matthew Cooper's notes and e-mails, "the source wondered how they could deal with Time magazine again."
Mr. Pearlstine, in the midst of a tense and angry two-hour meeting, didn't display any shock. "Norm wasn't startled," the staffer said. "He said he knew this was the consequence of his decision."
Elsewhere in Washington, D.C., that day, White House press secretary Scott McClellan was being pummeled by another roomful of irate reporters. Newsweek had just reported that one of Mr. Cooper's e-mails confirmed that Presidential advisor and deputy chief of staff Karl Rove had leaked the identity of C.I.A. agent Valerie Plame to the media—a notion that Mr. McClellan, Mr. Rove and the President had all previously denied.
Two months before, Newsweek was the embattled party, denounced by the White House after it printed an anonymously sourced and incorrect item about Koran desecration at the government's prison facility in Guantánamo Bay. Now, reporter Michael Isikoff—who'd been behind the disastrous Koran item—had gotten the scoop on Mr. Cooper's e-mail, and Newsweek was leading the charge.
"With time, we'd break another story and remind people of the kind of journalism we do," Newsweek editor Mark Whitaker said, recalling the Koran debacle. "That's what we've done here."
Now Mr. Pearlstine is the one whose magazine's reputation needs shoring up. His decision to give up Mr. Cooper's confidential sources in the Plame case—even as The New York Times' Judith Miller headed to jail to protect hers—has raised voices inside and outside Time denouncing him as a media turncoat, a lawyer-minded boss who put corporate interest and legalisms ahead of journalistic principle.
"I don't think Norm should have been surprised with the reaction," Mr. Whitaker said. "The issue of confidential sources—at the end of the day, it's an all-or-nothing proposition. If you start making exceptions, then how are sources who have sensitive information going to think you wouldn't make an exception in their case? Whatever the legal arguments are, as a practical matter it's been made clear by his reporters that he's made their life more difficult."
And the reporters have been letting Mr. Pearlstine know it. Last Wednesday, after Mr. Cooper's final contempt hearing—in which, having reportedly concluded that Mr. Rove had released him from their confidentiality agreement, Mr. Cooper agreed to testify before the grand jury—managing editor Jim Kelly met with the bureau to take the temperature of the staff.
"I realized that Norm and [editorial director] John [Huey] should be here," Mr. Kelly said. "It's important that Norm and John hear and understand the consternation and anger that at least some of these folks felt in how the decision was made."
So that brought Mr. Pearlstine, Mr. Huey, Mr. Kelly and Time news director Howard Chua-Eoan to 12th Street NW in the District, to a sixth-floor conference room stocked with sandwiches, Cobb salad and cookies delivered from the Corner Bakery.
At the meeting, first reported in the July 12 Wall Street Journal, Mr. Pearlstine opened with brief remarks. The staff then peppered the boss with pointed questions—and, at times, open displays of vitriol.
"We were told not to hold back, and we didn't," a staffer present at the meeting said. "We made it very clear to Norm, when he would put on his lawyer's hat, we would put on our journalist's hat."
Staffers told Mr. Pearlstine that his decision to stop fighting the legal system was "a mistake" and "problematic," according to a person familiar with events at the meeting. They also asked Mr. Pearlstine to once again explain why he hadn't pursued a strategy of civil disobedience, the position embraced by Ms. Miller and Times publisher Arthur Sulzberger Jr.
Mr. Pearlstine replied that Time had run out of options. He stressed the unique set of circumstances that had led to his decision. As a named party to the case—unlike The Times—the magazine had to obey the law, he said.
Mr. Pearlstine described the decision as a watershed moment in a time of increasing pressure on journalistic freedoms.
The rules of journalism have changed, he told the staff, according to a witness. Time, he said, was the first casualty in an escalating campaign to constrain journalism organizations. The message, the source said, was that "we're in a different game here." No reporter, Mr. Pearlstine noted, had been subpoenaed in the course of reporting on Watergate.
Mr. Cooper was present for 90 minutes of the two-hour meeting, according to one person in the room. At one point, Mr. Cooper said that he respected Mr. Pearlstine's decision, but disagreed with it—sentiments he has expressed in multiple public statements.
"I reiterated," Mr. Cooper said when reached by phone July 12, "that I thought the decision, though honorably made, was a mistake."
At one point, Mr. Pearlstine—trying to find common ground—spun a series of different scenarios, asking the staff under which ones they would support unmasking a confidential source to the authorities. What if, for instance, the source had committed a crime by disclosing some information?
The staff rejected them all, according to a witness; nothing justified breaking a reporter-source agreement of confidentiality.
"Once you offer a source background, you have to go all the way," said a Time staffer who was at the meeting, explaining the exchange. "There is no degree. They were surprised how truly absolute we think that agreement is."
"Everybody felt better for having the confrontation," the Time staffer continued, "but we're all feeling this is going to be a long process."
The brass and the staff found one point of solidarity in their reaction to David Carr's July 11 New York Times column—in which, writing about Mr. Pearlstine, he labeled Time "a lifestyle bible that often leaves the more ambitious stories to others."
Citing a recent cover on interrogation tactics at Guantánamo Bay and a piece on suicide bombers, the Time staff took that as a low blow.
"It's patently absurd," Mr. Kelly said of the column. "Life is short; I'm not going to waste a lot of anger with this. It's particularly absurd coming after our Gitmo cover …. If I'm running a lifestyle bible, then I should be fired."
Mr. Cooper's lawyer, Richard A. Sauber, also took issue with a July 11 piece in The Times by Adam Liptak, "For Time Reporter, Decision to Testify Came After Frenzied Last-Minute Calls," which described the negotiations behind Mr. Cooper's reprieve.
"I thought it was inaccurate and misleading," Mr. Sauber said by phone on July 12. "They made it sound as if Matt Cooper was running around looking for a way out. There was no frenzy. There were two phone calls."
For Time's management, the damage control didn't stop with the July 11 meeting. Following the lunchtime discussion, Mr. Pearlstine and his fellow top editors boarded a Metroliner back to Manhattan. At 7:30 p.m., they convened with other editors at the Palm on West 50th Street to discuss the magazine's policy options going forward. They agreed that standards on anonymous sourcing, and policies about e-mail, need to be revised.
On July 13, Mr. Huey is scheduled to address Time's Los Angeles bureau.
With Time now taking its turn in the woodshed, Newsweek can relate to its rival's woes. "I've been there," Mr. Isikoff said. "It wasn't pleasant."
Mr. Isikoff acknowledged that to some extent, the memory of his discredited report lingered as he pursued the story that Mr. Rove had been Mr. Cooper's source.
"I'd be lying to be saying the shadow of that wasn't operating on some levels there," he said. "That said, clearly, when you're writing about the deputy White House chief of staff—and arguably the most powerful man in the White House—you have to be extra careful. But we'd handle this exactly the same way if the Koran incident didn't occur. We'd be careful."
It remains unclear how Newsweek got Mr. Cooper's internal e-mails—whether from Time or from special prosecutor Patrick J. Fitzgerald's previously leak-proof office.
"We don't know who the e-mails were forwarded to," Time's Mr. Kelly said. "We don't know how many people are in possession of them. I'm not shocked or surprised that what we handed over 10 days ago has been leaked."
–Rebecca Dana
New York Times pundit standings, July 4-11:
1. Frank Rich, score 23.0 [rank last week: 1st]
2. Thomas L. Friedman, 12.5 [2nd]
3. Bob Herbert, 8.0 [5th]
4. John Tierney, 7.0 [tie-7th]
5. Sarah Vowell, 5.0 [no rank]
6. Paul Krugman, 2.0 [4th]
7. Nicholas D. Kristof, 0.0 [3rd]
There goes the shutout! John Tierney, the Don Drysdale of not getting his op-eds e-mailed, breaks his string of consecutive scoreless columns with a July 5 piece that returned to his geographic and ideological roots. Arguing from the example of his old Pittsburgh home, the contrarian-libertarian pundit made his case that the worst way to renew an urban area is through urban-renewal projects. For once, New York Times readers were buying it—or at least forwarding it to their friends.
—T.S.