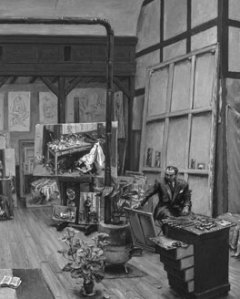 The French painter Jean Hélion (1904-1987), whose work is the focus of a compelling exhibition at the National Academy Museum, was a man of strong moral and intellectual passions—so strong, indeed, that when he changed the course of his art, turning to a highly charged realist style after achieving great distinction as an abstractionist, it proved to be a watershed event on both sides of the Atlantic. I think it's fair to say that abstract painting in France never fully recovered from Hélion's defection, while representational painting in New York was given a considerable boost even in the face of the internationally acclaimed Abstract Expressionism of the New York School.
Hélion's radical abandonment of abstraction in favor of representation had less to do with aesthetics than with his life experience. It was less a change of style than a change of heart—a change that derived from his experience as a P.O.W. in the Second World War. Prior to the war, he'd been living for several years in the United Sates, and it was during this period that he created his finest abstractions—paintings greatly influenced by Piet Mondrian, to be sure, but paintings nonetheless independent of Mondrianesque orthodoxy. In defiance of that orthodoxy, Hélion had introduced curved lines into his abstractions—a breach that Mondrian couldn't forgive. "Curved lines are too emotional," he informed Hélion, thus closing the door on what had been a close friendship.
Still, for sensibilities less absolute than Modrian's, Hélion's abstract paintings (curves and all) are an aesthetic delight. They also hint at more radical changes to come—changes in which Léger supplants Mondrian as a principal influence. In the second-floor gallery of the National Academy devoted to Hélion's "Early Years Abstraction," the artist can clearly be seen as one of the most accomplished abstract painters of the modern era.
It was the Second World War that changed all that. In 1940, Hélion left the United Sates to join the French Army. He was taken prisoner by the Germans but managed to escape and make his way back to America, where he soon published a book about his wartime tribulations, They Shall Not Have Me, in 1943. As a direct consequence of that harrowing experience, the entire outlook of his artistic vocation was altered. This is how the best art critic of that period, Henry McBride, responded to the radical turn in Hélion's work: "It represents a very great change of attitude toward his work and the change apparently has something to do with Hélion's captivity in Germany."
McBride went on to ask: "Did those two years of physical hardship and mental anguish bring him, as the saying is, 'back to earth?' Did his complete separation from the life-stream of Paris, from communion with his fellow-modernists, from civilized habits of all kinds, cause him to lose the faculty of dreaming? Did the nightmarish activities which he recounted so vividly in his remarkable book … cause him finally to conclude that a landscape cannot be so important as the people in it? Did he vow in certain frantic moments during his agonizing efforts to escape that, if he did escape, he'd devote himself to actual people rather than the harmonies that flit occasionally like music through their heads?
"At any rate, something like that is what has happened to his pictures. They are of people. They are heavily stylized, so heavily stylized that they come dangerously near to being wooden, like the marionettes that appear in certain of Eugene O'Neill's plays and in certain minor ballets. Could the artist, the startled bserver asks, have picked up a germ in Mittel-Europa? Or is he merely addressing his remarks to Mittel-Europa in a properly heavy language?"
At this distance in time, McBride's dismay may strike us as rather excessive, for Hélion's paintings of the figure are in most respects a high accomplishment. What alarmed McBride—that Hélion's return to representation signaled an end to modernism—hasn't happened, either. But McBride's 1944 review is a nice reminder of the esteem that Hélion enjoyed in that troubled period.
Jean Hélion remains on view at the National Academy Museum, 1083 Fifth Avenue at 89th Street, through Oct. 9, and is accompanied by an excellently produced catalog.