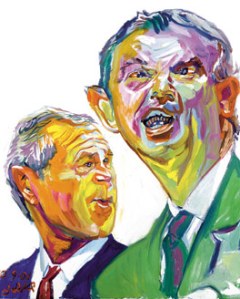 As the U.S. and Britain launched a furious attack on the Taliban and Al Qaeda in October 2001, Observer writers Terry Golway and Greg Sargent reflected on the profound sense of solidarity which developed between New Yorkers and the British—those at home across the Atlantic, and those expatriates who toiled in places like the Condé Nast building in Times Square. This week it seems appropriate to revisit the topic, as London mourns those killed in the terrorist attack of July 7. This story ran in the issue dated Oct. 15, 2001.
It used to be so easy to loathe the Brits who passed through customs at Kennedy Airport with their H1-B visas and went directly to Condé Nast headquarters, where they assumed the role of modern-day Greeks in the new Rome.
They assigned themselves the task of giving us culture. They chronicled the fabulous exploits of the new royalty of celebrity, and demanded that we pay attention to the vapid goings-on of the old royalty across the Atlantic.
They took our tabloids and turned them into tabloids. And they instructed coarse republicans in the fine art of recognizing their social superiors as … their social superiors.
The native-born pleaded the case for immigration reform, complained that the dumbing-down of American culture was a royalist plot hatched in the salons of Islington, snickered knowingly at Tom Wolfe's sendup of freeloading British journalists in Bonfire of the Vanities and cheered when Brooklyn-born Pete Hamill took over the Daily News (all too briefly) and cleared the place of Fleet Streeters.
These media types were not, of course, the British civilians we so admired in the terrible days of 1940, or the Tommies who fought with us in Normandy and Italy. They were the cynical, irony-enriched refugees of lost empire, devoid of immigrant dreams beyond the fantasy of free drinks, private car service, Hollywood parties and no-interest loans from the publishers of glossy magazines. They played on the cultural insecurities of their American patrons, guffawing, no doubt, all the while.
Then, on Sept. 11, none of this mattered anymore. The world was turned upside down, again. A military band played "The Star-Spangled Banner" during the changing of the guard outside Buckingham Palace. Postmodern irony–so much of it brought over in the first-class cabins of British Airways–was instantly purged from the culture; the cult of celebrity, from which so many British journalists drew succor and fees, was declared meaningless; the new heroes of America were not actors or supermodels, but firefighters, police, medical technicians, ironworkers–the sort of people British magazine editors considered part of the servant classes.
At the same time, the easy Anglophobia of the contrarian and the historically aggrieved collapsed–indeed, became almost seditious, as British Prime Minister Tony Blair rallied to the side of wounded, mourning America.
When the forces of outraged civilization–the phrase is Churchill's–began the assault on the Taliban on Oct. 7, the British and only the British were on the front lines with the United States. The Special Air Service paratroops, often condemned by Irish-American politicians in New York for their aggressive role in fighting the I.R.A., were said to be reconnoitering the Afghan countryside with American Special Operations forces. It was impossible not to be grateful–for Mr. Blair, for British resolution, for British arms.
"I've met Tony Blair a few times, including once in Blair House in Washington, and I find him to be an American with a British accent," said U.S. Representative Peter King, a Long Island Republican and a longtime critic of British policy in Ireland. "He is able to relate to Americans because he has none of the bluster and pomposity that you find in some conservative British politicians. I was on the House floor during President Bush's post–Sept. 11 speech, and Blair was in the gallery. I was watching him, and that's when you realized that this really is a moment in history, that this is a 21st-century version of Roosevelt and Churchill, and I think Blair realizes his obligation to history."
Other allies and other friends no doubt will supply troops and support for future missions, but only the British immediately risked, as we risk, the reply of fifth columnists lurking in the shadows. "I was sort of lukewarm towards the British before, but I'm more positive now that they're willing to go the extra mile and Tony Blair's willing to put his country in jeopardy," said Cynthia Cashman, a teacher at P.S. 69 in Queens.
Mr. Blair provided the ringing phrases that do not fall naturally from the clipped speeches of George W. Bush, and reminded us, in twilight-struggle rhetoric, that we have entered a new and dangerous time.
"This, of course, is a moment of utmost gravity for the world," he said. "None of the leaders involved in this action want war …. But we know that sometimes, to safeguard peace, we have to fight …. We will not let up or rest until our objectives are met in full."
Mr. Blair told the world that this was not just America's fight, that America would not stand alone in this troubling and frightening hour. The atrocity took place in New York; the outrage was global. And the Anglo-American alliance, the "special relationship" of old, once again would be a factor in world politics, and would not wither away under the choking constraints of European politics. "He's a ballsy guy," said Gerry Byrne, a New York filmmaker. "Now the British are a whisper away from being targets themselves."
At Tea & Sympathy, a British restaurant and gathering place for U.K. expats in Greenwich Village, owner Nicki Perry spoke about her pride as a Briton and a New Yorker. "Somebody asked me if I'm thinking of leaving [New York]," she said. "I said, 'You must be joking.' They could be fireballing my restaurant, and I'd be standing there with the American flag in one hand and the Union Jack in the other." Summoning her best Churchill-Thatcher defiance, she added: "Let them dare try to get rid of me."
Slouching Towards Berlin?
More than half a decade ago, the British press declared that the legacy of F.D.R. and Churchill, Ronald Reagan and Margaret Thatcher, was no more. The Clinton administration, it was said, had tilted American foreign policy towards Germany, the new colossus of the European Union, at Britain's expense. Mr. Clinton was no friend of then–Prime Minister John Major, whose Conservative Party had sent over operatives to America in 1992 in a failed bid to help Republicans re-elect George H.W. Bush. Mr. Clinton, in his pique, had invited the pariah Gerry Adams, president of Sinn Fein and, in British eyes, an apologist for terrorism, to the White House, had shaken his hand, had legitimized him and his aspirations.
The British media's bitterness betrayed the feelings of a spurned partner. It seemed in the 1990's that America was preparing to cast off the island nation as it searched for richer, bigger allies for the 21st century.
"There's a lot of resentment towards Americans because they are so rich and powerful and the big superpower," Ms. Perry said of her fellow British, at least those at home. "There's always been this jealousy and always been this ridiculous attitude that Americans are dumb, but I think this [Sept. 11 and its aftermath] is making people in Britain sit up and realize that Americans are not dumb."
Not only not dumb, but suddenly filled with renewed respect for the onetime colonial enemy turned, in President Bush's words, "staunch friend."
"When President Bush looked up at Blair during his speech and said, 'Thank you, friend,' he meant it," said Congressman King. "What we're seeing now is the best of the special relationship between America and Britain." Tony Blair's words have brought back memories of Anglo-America's most famous collaboration, inviting comparisons to the struggle we have lionized from the distance of half a century.
As the conflict widens and British and American forces are once again in the field together, Churchillian ideas of a common narrative among English-speaking peoples are bound to return to fashion. Indeed, in 1998, author Kevin Phillips noted in his book, The Cousins' Wars , that "the beginning of the twenty-first century looks to be a time when ethnocultural alignments–overseas Chinese joining with mainlanders, Islamic collaboration from the Balkans to the Malay Straits … are reemerging. To call Anglo-America … another likely grouping is an understatement."
Before Sept. 11, such an assertion might have been condemned for sins against diversity and multiculturalism.
Now, it offers reassurance-and inspiration.
–additional reporting by Blair Golson and Shazia Ahmad