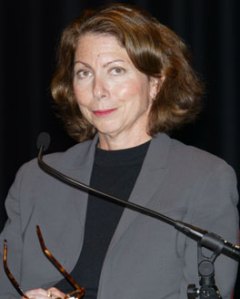 After
the Jayson Blair debacle two years ago, New York Times Washington, D.C., bureau chief Jill Abramson was tapped as one of two new managing editors who were meant to right the ship.
It's
taken that long for Ms. Abramson and husband Henry Griggs to settle in—to a
$1.65 million condo in pricey Tribeca.
First,
there was a house in Arlington, Va., that didn't sell until a year after her promotion. If it took a while it was worth the wait: The place, which they bought in 1985 for $140,000, sold at just over a $500,000 profit, according to county records.
Not
long afterward, in mid-February of this year, Ms. Abramson and Mr. Griggs signed a contract on the spacious Tribeca condo, but the deal didn't close till early June, according to city records.
The
1,650-square-foot loft is located in the Spice Building, a renovated warehouse in a fashionable downtown neighborhood. The five-story prewar building is adjacent to the Tribeca Film Center and a short stroll to the Hudson River and Washington Market Park, posh eatery Nobu and the ever-progressive P.S. 234.
The
Spice Building's custom-built roof deck has been in the works for some time, and should offer tenants excellent river views this summer.
The
couple's new pad features high ceilings, hardwood floors and exposed brick walls. Also, there are north and south exposures available through Marvin tilt-in windows.
One
of the unique features in this apartment is a floor-to-ceiling glass wall, complete with French doors that lead to what the listing describes as "The Great Room," a 500-square-foot soundproofed area that was once an artist's studio.
Each
of the two full marble and tiled bathrooms comes equipped with a decked Jacuzzi. Other amenities include pedestal sinks, a washer/dryer and even a bidet!
Broker
Sharon Held of the Corcoran Group represented Ms. Abramson. Jay and Irena Brownstein, also of the Corcoran Group, represented the sellers.
Ms.
Abramson could not be reached by press time.
Court
TV anchor Lisa Bloom spent two years searching for the ideal apartment, and finally found it. She recently purchased an Upper West Side condo for $1.55 million, according to deed-transfer records.
The
cable television star already lives in Manhattan (where her show is filmed), but was looking to upgrade, eventually settling on a prewar, full-service building.
While
Ms. Bloom will live there permanently with her family, she needs to keep one bedroom free at all times for the other person whose name is on the deed.
Ms. Bloom's
mother—high-powered L.A.-based attorney Gloria Allred—will use the apartment as a place to crash when visiting New York for a big case, to see the grand kids, or to discuss pressing legal matters on her daughter's daytime show, Trial Heat, of which she is a regular guest.
"My
mother is in New York a lot for business," said Ms. Bloom. "It's nice for her to have a homey place to stay."
Besides
saving room for mom, Ms. Bloom's primary concern when searching for a new apartment was proximity to her favorite part of city, Central Park.
"You
can't go to Central Park and be unhappy," she said.
An
avid runner, Ms. Bloom mentioned that while living in Brooklyn several years ago, she would forgo the lush, outer-borough parks and take the subway to run through Central Park.
However,
if arguing cases before the California Supreme Court, or hosting a television show wasn't enough, Ms. Bloom is currently preparing herself for yet another formidable challenge—running in the New York City Marathon.
Although
quite content with her real-estate purchase, Ms. Bloom purposely avoided Manhattan's co-op system, which she condemns with a ferocity better reserved for closing arguments.
"It
was important for me to have a condo, not a co-op, because I find the co-op board process to be offensive," said Ms. Bloom. "I really think that it is offensive that people can get together and vote on who their neighbors can be, and exclude them based on race, religion, sex, children—things that would be intolerable in other contexts that are somehow acceptable in the New York co-op world."
But
that leaves one obvious requirement for potential neighbors that Ms. Bloom is fine with.
"I'm
happy to have as my neighbor anyone that can afford to live there."
Talk
show host Montel Williams recently sold his Upper West Side penthouse for
$2.275 million, according to deed-transfer records. In 2000, Mr. Williams bought into Donald Trump's luxury condo development on Riverside Boulevard alongside other celebrities such as Bryant Gumbel and Dr. Ruth Westheimer.
The
Costas Kondylis–designed building offers numerous amenities, including a 24-hour doorman and white-glove concierge, health club and pool, conference room and children's playroom.
Mr.
Williams could not be reached by press time.
Recent
Transactions in the Real Estate Market
Upper
East Side
160 East 83rd Street
Five-bedroom,
three-bathroom townhouse.
Asking: $5.7 million.
Selling: $5.0 million.
Time on the market: 40
weeks.
PORTRAIT
OF A LEMON The former home of a renowned portraitist—whose powerful subjects included President Richard Nixon, Mayor John Lindsay and the Shah of Iran—recently sold for $700,000 below asking! The artist passed away in October 2003, and his estate first put the 4,000-square-foot townhouse on the market six months later for $7.95 million. However, after several months of languishing, the asking price was reduced greatly to a more buyer-friendly
$5.7
million. Currently configured as two duplex units, the new buyers plan extensive renovations that will combine them into one massive house (with future construction expected to double the size). Built in the 1880's, the four-story townhouse includes hardwood floors, high ceilings, three fireplaces, a dining room, family room, library and roof deck. However, the biggest selling point for the new buyers was the 56-foot-long private garden. "It is one of the larger private gardens in the city," said broker Michael Sands of Manhattan Apartments Inc., who represented the buyer.