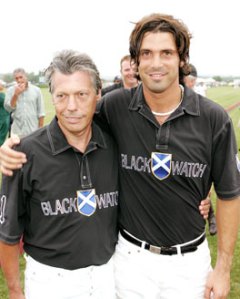 Those few who find themselves in a position to knowledgeably discuss the attendees of the Bridgehampton Polo Club games often talk in code. New Money. No Money. The Real People don't come anymore.
The interpretation of this code might lead one down some very dark social alleys. Still, more objective comments might be made about changes in the world of polo. In 2002, the pert and highly evolved Natalie Portman gave out the trophies to the sweaty, hunky winners. In 2003, it was down to Kim Cattrall.
On this Saturday just past, July 16, the first day of polo season, the very first match of the 10th Annual Mercedes-Benz Polo Challenge, none other than Victoria Gotti materialized out of extremely thin air to offhandedly dispatch trophies to the tasty riders.
"It's about as low as it can get when Victoria Gotti is giving out the award to the polo players," said Steven Gaines, the Hamptons society chronicler and author of The Sky's the Limit: Passion and Property in Manhattan, later. "It's gone from being Studio 54 on a bad night to being the Mud Club, literally and figuratively. There's nobody you want to see there, only plastic-surgery curiosities. It's really sad, and I don't want to go back."
From the other side of this new-Hamptons-versus-old-Hamptons class war, one on-the-scene party person said: "No one wants to see a bunch of Stepford wives in Lilly Pulitzer dresses."
The old guard is dead! The kids want to have fun, and they are hale of liver and hearty of wallet.
But what's odd about this new set is that, instead of making their own rituals, they've assimilated the rituals of the old guard. Why, we found ourselves wondering, do the young Jews and the twentysomething Gentiles alike of the Hamptons scene desire to put on the boring mantle of yesterday's hyper-WASP cachet? Who the hell actually wants to go to polo?
Of course, the polo match had begun just a few hours after a suicide bomber incorporated a fuel tanker into his plans in Musayyib, 60 kilometers south of Baghdad. Ninety or more people died in the explosion. So, all things considered, we can guiltlessly say it was a much happier experience to have been at the far less lethal civil war in the Hamptons.
A parade of Mercedes, Jags and Beemers—but mostly Mercedes—wound along a dirt-and-pebble path through the dung-scented fields of the Bridgehampton Polo Club. It looked something like the approach to a Renaissance Faire, where far away hung a magical tent.
"That looked like Nicole Richie and maybe a Hilton," said a khaki-panted kid guarding the V.I.P. parking. (In fact, La Hilton herself was in Greece with her Greek, undoubtedly doing something Greek.) The parking boys had dirty-blonde hair and light eyes and looked as if they'd been cloned from some carefully preserved WASP embryo—perhaps for body parts, à la The Island?
Under the big white tent, perched on a hill above a misty pond, there were none of the following: gloves, ascots, coats of arms, genteel bonnets. There was a chap in a seersucker suit, but everyone understood that he was wearing it with more than a soupçon of irony.
Oh, there were a few pedigreed types lolling about the V.I.P. tent: a Hearst girl here, on one gentleman a fearsome pairing of peach pants, black loafers and lime-green shirt—collar up!—and a few tow-headed tykes wobbling beside their parents' knees.
But, as expected, the patrician hordes, the feeble last waves of blue-veined aristocrats, did not show. They had long since willed this turf to the new set. Which is to say, the people who didn't own property on Gin Lane in the 1850's. Which is to say, to those who might be Italian or even, especially, Jewish.
And, yes, even to those who might be renters.
Like crazed archeologists desecrating a tomb, the new Hamptons set may confuse the vases for bowls, and they may crap in the sink, but they still mimic the rich meals depicted in the paintings and boldly put on the faded queer clothing. Like the soldiers in Saddam Hussein's palace, they can't get over just how nice it all is.
And they watch the men mount the horses, even if they don't know why. They applaud at approximately the right times.
On this particular Sabbath, the developer David Walentas and the financier Neil Hirsch had gathered their horses and Argentines on the field that lay before the tent. Mr. Hirsch is the president of the Bridgehampton Polo Club; Mr. Walentas, besides being a maverick real-estate developer, is the owner of the local Two Trees Farm. They were the kings of the field, it's true, which kept them in the saddle and out of social harm's way on the sidelines.
The actor Owen Wilson, imported as ceremonial host, wore a blue baseball hat scrunched down over his surfer-dude locks, khaki pants and a pale blue button-down with cheerful flowers appliquéd across the chest. It was the kind of shirt one might find on a Swiss hausfrau. His eyes were squinty all day long, as if he were always staring into the sun.
A comet's tail of paparazzi snapped photos of Mr. Wilson juggling the game's ceremonial first ball.
"You guys are like a sobriety test," Mr. Wilson said to the mob.
Woody Harrelson, in big, flappy stitched pants and a slightly Amish beard, stood behind Mr. Wilson. He held a small pool of a martini.
Mr. Wilson let go the white ball. It fell gently on the green field. The two gentile actors returned to the V.I.P. tent.
It was 4:20 p.m. The game had begun and would promptly be ignored. Piper-Heidsieck splits were sucked through straws. Fox411 gossip columnist Roger Friedman leaned against a Mercedes, his eyes slit like a pimp surveying his sweet, sweet bitches. Social Life publisher Justin Mitchell was photographed with four very, very young ladylets.
A special language floated about in the big, outrageously loud tent. "I'm holding what I have," said a real-estate man. "I D.J.'d Raoul's party last night," said a hip, long-haired fellow. Apparently, a $6,000 bar tab had been left in someone else's name the night before at this Raoul fellow's party. A big, bald, sweaty man didn't know from polo: "I only know horses that I can bet on. Yeah, closer to the city."
At the V.I.P. tent, the models Ines Rivero and Karolina Kurkova were oddly tall. "Campbell," said Jason Binn, the publisher of Gotham, Hamptons et al. He was clad all in white, like a guru or a cultist. "Jason Binn is calling," said New York Times Boldface columnist Campbell Robertson, without any affect at all. (Mr. Robertson would go on to heartily rip Mr. Binn in the July 19 Times.) Hors d'oeuvres and petits fours were piled on three-tier trays—treif, mostly. Mr. Binn leaned over and, like a zombie, touched Woody Harrelson's collarbone: brains, brains ….
The film director Terry George held back while the halftime stomping of the field's divots began. Girls with their boys set out wanly across the field and then right back again. A sweet little toddler named Lauren was lost, her parents nowhere to be found. It was 5:18 p.m. Red-winged blackbirds screeched in the overgrown hedges.
Last year, Strategic Group—owned by Noah Tepperberg and Jason Strauss—took over the event management for the Bridgehampton Polo Club. They handle nightclubs—and own Marquee—vodkas, seemingly everything if one enters a certain circuit. The two boys hover on opposing sides of 30, and they couldn't be more Hamptons New Guard if that was how they were marketing themselves. (And perhaps it is.)
But their signature is apparent at settings like this: They keep the playpen stocked with whichever vodka they're handling; they keep a certain amount of celebrity on hand; and, through the projection of an image of the endless party, they create a whirl, a magnetically attractive cluster. And when too many young people are swept into this cluster, they simply assimilate new venues, new nightclubs, new "hot" restaurants as clients. Room for one more!
Historical remnants, however, still circulate in this orbit.
Herb Roberts held his Yorkie, Lucky Boy, in his right hand. He was dressed in classic cowboy drag—brown cowboy boots, a white Stetson, a gold belt buckle shaped like two horses' heads, manes blowing in the wind. He looked like a kindlier Thurston Howell.
Mr. Roberts, who said he was in his 70's, filled us in on the history of polo: Mongolians, human heads, India, the British. A horse, he said, can cost between $10,000 and $50,000. Naturally, the players aren't nobility, by any stretch, though they do enjoy a certain fame as cocksmen and romantic heroes.
"No, many of the riders," Mr. Roberts said, "started out as grooms."
He recounted the pleasures of a long life with horses and waxed eloquent about the dignity of the game. A young dude with gelled brown hair and a blonde tattooed to his arm walked up and saluted old Mr. Roberts.
"I'm having a little lingerie party at midnight tonight," he said. "You should come by."
In a black Mercedes SLK280, a man named Shail Upadhya nestled into the cocoon-like leather seats. "I've been coming to polo ever since it started," Mr. Upadhya said, "because I have a house here in Southampton, and the fact that polo really started in India, where the maharajah is, and I used to hang out with maharajahs and these princely people who used to play polo when polo was polo. It wasn't Bridgehampton in those days."
Mr. Upadhya was dressed, as is his infamous custom, in a wild and garish linen suit of his own design: beige, with red, green, blue and ochre oval splotches stamped all over it. His face was the color of an ancient scroll, his hair dyed a matching parchment color. He described himself as being "in exile" from the monarchy in Nepal. Mr. Upadhya was nostalgic for an era of polo long before this one, taking it back to the British Raj, bonnets and Gatsby suits.
"Here you see a lot of paparazzi," he said. "All they want to do is take pictures of celebrities, and they want to get that one shot that will get them a million dollars. And a lot of the people I see here, they're in T-shirts, and they really don't know what polo is, or how to dress for polo. I've always dressed very elegantly for polo, because I know what it is."
Ah, back in the Bridgehampton days. "In the beginning, there were more glamorous people here—Donald Trump, whatever anyone thinks of him—and you would see the president of Revlon here," he said. "But those days are gone. Now, what you have here, I don't know where they come from. There are a lot of New Jersey people here, I see."
Next we flagged down Gwendolyn Gleason, enchanted by her large and pink feather-adorned hat. She is, it turns out, a hat designer. This was Ms. Gleason's first time at the Bridgehampton games—she lives now in Naples, Fla., and attends polo down there.
"Naples is very conservative, and it's old money," she said. "And they're a lot more understated and elegant. They're not as showy or extravagant, like the Kentucky Derby would be or something like that—if anything, women are more old-school. And also I find, like, here it's a lot younger crowd than it is, of course, down there."
A horn blast came that marked the end of a chukker or match or recognized a point (we've never been sure as to its polo-related meaning). But whenever it sounded, it was reminiscent of nothing so much as a shofar.
Does Bridgehampton polo reek of new money? "I don't even necessarily think it's newer," Ms. Gleason said. "I don't even think that half these people have money here."
And just where does polo fit into the new social status of the Hamptons Blank Generation? According to Brian Melzer and his friends, polo snuggles "right below Star Room in the Hamptons and above Vela in New York City. And then most people go to Vela," Mr. Melzer said, "which is a big nightclub in Manhattan, and then they come here after Friday night, after a big party. It's a big party on 21st Street."
"There's Vela and Snitch," clarified Nick Cohn, who works at the Brooklyn Museum. "And most people that are here congregate there on Friday night, and then you see a big parade of cars coming out to the Hamptons, and then they congregate here again on Saturday during the day. So we know a lot of the people here."
Gotcha. But we still had much to learn about polo—for instance, what were three nice Jewish boys doing on these fabled fields of goyishe glory?
"It's a very popular sport in Argentina," said Mr. Cohn, "which has a huge Jewish population."
"No one watches the polo," said another, Gavin Steinberg, who happens to be a partner in the hip-hop label Major Key.
"When I was writing this last book, I was trying to figure out where society lived," said Steven Gaines, long after all the fuss of the day of polo was over, after all the nightclubs had been attended, more bar tabs had been left for other, richer men to pay, more women had been mounted and more stories told, until, at last, the jawing of mouths was stilled by sleep. "And then I realized that the people we used to call society are almost completely dead. And, you know, who is society? It's very, very hard."
"There's new rich people," Mr. Gaines continued. "What we call society now is not the generation upon generation of great wealth; society now is people who really made it within the last generation. I mean, I guess Alfred Taubman's society. But, I mean, he's really a Jewish guy who started out with shopping malls …. It's not like he is the product of generations of some blue-blooded families. So I guess we have to consider guys like him society."
Yow!
And what's more, the new kids are perhaps actually displacing what's left of the old guard. "I once said to a lady—I guess she could be considered a society lady, you know, a well-known Upper East Side figure—have you ever been to Nick and Toni's? And she looked horrified. And she said, 'They don't want us there.' Which I thought was a very telling way to put it. And I'm sure it's true: To get a reservation at Nick and Toni's or one of those kind of restaurants, you have to kind of be showbizzy or own a fragrance company, or be a vice president of marketing at a clothing company.
"So I mean, the complexion of the Hamptons has changed, absolutely," Mr. Gaines concluded. "Now it's really about money. It's not about breeding, it's not about class, it's not about heritage—it's about money. And as my mother always said, 'Money doesn't care who it goes to.' She said it to me over and over again: 'Money doesn't care who it goes to.' Anybody can be rich and have money and have a house in the Hamptons. And you don't even have to have that to get into polo."
The Scholastic Inc. embargo on the new Harry Potter book had ended that weekend, and so a messenger arrived in the Hamptons from Manhattan at midnight with 125 copies—75 in the trunk and 50 in the backseat. At exactly the same time, a car bomber in Baghdad, one of a series, propelled himself into a group of Interior Ministry soldiers, killing three and wounding 10 civilians. Ms. Rowling's book, by the way, is reportedly very good.