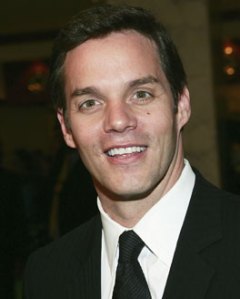 Former
CNN morning-show anchor Bill Hemmer still doesn't know—or hasn't said—what his
next gig will be. Since mid-May, he's been in "negotiations" with other
networks. (He's said to be a dark-horse candidate for the CBS Evening News.)
But
there are more pressing matters before the coltish anchor—like the summer of
'05.
Mr.
Hemmer recently sealed the deal on a Hamptons house for $1.75 million,
according to deed-transfer records. He paid $55,000 above asking for the lavish
spread, not far from Noyack Bay.
Let
the Summer of Bill begin!
At
just over 2,500 square feet, the contemporary home is located on almost 2.4
acres of rolling lawns and lush greenery. The vast open space offers plenty of
room for quiet contemplation, tending one's own garden and bootylicious
keggers.
The
four-bedroom home includes a two-story living room, a glass-walled dining room,
an eat-in kitchen, French doors and a den with a fireplace. There's also an
oversized heated pool outside with a brick terrace and a hot tub.
Listing
broker Geoff Hull, of Allan Schneider Associates, didn't return calls for
comment.
The
deal closed on June 3, just three days before CNN announced Miles O'Brien as
Mr. Hemmer's replacement on American Morning, one of many shakeups since
Jonathan Klein became CNN U.S. president last November.
Mr.
Hemmer—affectionately dubbed the "Chad Lad" for his Florida recount dispatches
in 2000—spent 10 years at CNN before his departure on June 17.
Through
his agent, Mr. Hemmer declined to comment on the purchase and on his job
prospects.
We
hope that summer fun doesn't turn dark on Mr. Hemmer, as it did for party boy
Michael Davis. Remember him?
He's
the guy at London Terrace who allegedly stole from tenants, walked through the
halls "half-naked" (which half? We always wonder), blasted music and had sex
with a homeless man in the showers of the co-op's health club.
In
a landmark case, Housing Court judge Gerald Lebovits permitted the co-op board
to terminate Mr. Davis' proprietary lease for "objectionable behavior."
It's
been a hard few months for London Terrace. In late December, cultural critic
and longtime resident Susan Sontag passed away. Less than two months later,
over 160 apartments at 465 West 23rd Street were left without use of their
stoves and ovens thanks to a gas line that was ruptured during the construction
of Amy Sacco's new restaurant, Bette. Also, in a multimillion-dollar lawsuit
against the board of managers, resident Cheri Dorr alleged that her studio
apartment was filled with mold and asbestos.
Currently Ms. Sacco's posh eatery is open for business, the gas is turned back on
upstairs, and Mr. Davis is finally gone, having recently sold his
500-square-foot studio for around $400,000—almost 10 times what he paid for it
in 1993.
"The
prime motivation was to truly assist this man in making sure that his best
interests were kept in mind," said Bruce Solomon, a vice president at
Prudential Douglas Elliman who represented the dispossessed Mr. Davis—and got
him quite a payday.
Mr.
Solomon also represented gallery owner Paula Cooper and her husband, publisher
John MacRae, in their recent purchase of photographer Annie Leibovitz's two
penthouses, as reported in the July 3 New
York Times. The art-loving couple now joins celebrity tenants Debbie Harry
and Chelsea Clinton in the 75-year-old co-op.
Chiqui
Gavilan and Marisa Chaves of the Corcoran Group represented Gwyeth Smith, an
equities trader, who was searching for a place in Manhattan.
Mr.
Davis' apartment—in a horrific state—was listed for $398,000. Although it
suited Mr. Smith's price range, the apartment came with a warning about the
dilapidated condition (garbage and vermin included).
Mr.
Smith brought a few family members over to determine whether the apartment was
worth the money. His stepfather, who has a history of restoring houses, and a
contractor cousin were enlisted to examine the studio (which is one floor above
Bette).
The
family experts deemed it structurally sound, and Mr. Smith bought it. He began
with bleach and completed a thorough scrubbing to eradicate the obnoxious odor.
He then cleared out all the appliances, put a new floor in the kitchen, sanded,
painted and performed the much-needed spackle work.
"For
the most part, it was cosmetic," said Mr. Smith, who is content with the
renovation so far and hopes to be moved in by the end of the month.
Over
at the Beekman Regent, a celebrity couple found a quicker way to pull in a buyer
for their luxury condo—simply drop the price.
In
February, television producer Shelly Ross and her husband, music executive
David Simone, put their 1,700-square-foot condo on the market for $2.85
million, listing it with brokers Sheila Lokitz and Elliot Lokitz of the
Corcoran Group.
But
after a few months, the apartment wouldn't budge, forcing a price drop to $2.5
million. That spurred interest from buyers, and the apartment has now gone to
contract and is expected to close in mid-September. Ms. Lokitz declined to
comment on the final price.
The
three-bedroom, three-bathroom apartment includes stainless-steel appliances,
cherrywood cabinetry, marble windowsills and mahogany hardwood floors.
The
white-glove building—home to celebrity chef Emeril Lagasse—features a 24-hour
doorman and concierge, a fitness center and a garage.
Ms.
Ross, who left Primetime Live
in March, produces programs
for ABC News. Mr. Simone is the former president of PolyGram Music Publishing.
Recent
Transactions in the Real Estate Market
Upper
East Side
300
East 77th Street
Three-bedroom,
three-and-a-half-bathroom condo.
Asking:
$3.3 million. Selling: $3.305 million.
Charges:
$1,672. Taxes: $3,600.
Time
on the market: nine months.
BARTER
OF SEVILLE  When Laurance Kaiser IV,
president of Key-Ventures Realty, showed this recently married couple a sleek
2,289-square-foot apartment in the Seville, they fell head over heels. The
kitchen features cherry cabinets, black granite countertops and a slate floor.
Located on a high floor, the apartment offers superb views with south, east and
west exposures. "It had great light, and it had an open view," said Eileen Foy
of Prudential Douglas Elliman, who represented the seller, a single, bicoastal
financial consultant who lives in New York and San Francisco. Designed by
Robert A.M. Stern Architects, the 32-story tower includes a doorman, swimming
pool, fitness club, media room, outdoor terrace and valet service.