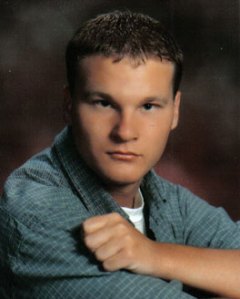 Back in high school, Ryan Mauro said, the kids nicknamed him "Government." He was often spotted nose-deep in a folder of mysterious, international documents, and the habit had a whiff of intrigue. Sometimes, amid streams of teenage slang, the affable, sandy-haired teenager would drop a word like "Wahhabism" or "Baathist." "Oh, that's government talk," his classmates would tease.
Last month, Mr. Mauro, 19, put high school behind him. But even before his graduation he was, by his own reckoning, the Youngest Hired Geopolitical Analyst in North America.
Early success had its costs. "My idiot friends would go in my book bag and be like, 'Oh, let's tear apart his yearbook,'" Mr. Mauro recalled July 17, lounging on a couch printed with English roses at his family's home in Wall Township, N.J. "Then they'd go, 'What's this? Postcards from Iraq? What?!'"
The postcards, like the folder, were part of Mr. Mauro's homemade dossier on international affairs. Its contents, including one article printed from a Singapore news site, also attracted adult attention.
"He was kind of a shy, demure kid," said Joe Tenaglia, a retired naval commander and the founder of Tactical Defense Concepts, a private maritime-security company, which pays Mr. Mauro to be a researcher. "He didn't say too much and he hands me this article and goes, 'It was on the Singapore Times for 15 minutes.' And I said, 'Holy shit! This is Al Qaeda's nuclear attack plan on America!'"
Mr. Mauro was 16 at the time. Mr. Tenaglia quickly decided to hire him.
Mr. Mauro had been studying international affairs since he was 12. Sept. 11, he recounts, had infused his hobby with new fire.
"I think it was the anger that drove me, and seeing how slowly things moved even after that," Mr. Mauro explained. "I mean, like, the intelligence reform took place, what, like four years, three years after it happened?"
Two years ago, at Mr. Tenaglia's suggestion, Ryan began making a name for himself on the Internet, where he hosts www.worldthreats.com, a compendium of analysis and commentary about the forces that may (or may not) be menacing the globe, from Iraqi sympathizers in Russia (see: "Russia Moved Iraqi WMDs") to bird-borne bioterrorism (see: "West Nile Virus: The Underreported Allegations"). His Web site's motto is "Investigating Your National Security," and the teenager's investigations sometimes strike gold. He began researching a Queens-based group of religious fundamentalists called the Islamic Thinkers Society in March. Last month, The New York Times and The Observer both published articles about the group.
Near his bed, Mr. Mauro keeps a manuscript of his nonfiction book project, Death to America: The Unreported Battle of Iraq. Death to America, based on his own research and dialogue with experts he met online, runs to 160 pages—in 10-point Arial, single-spaced.
Mr. Mauro is a firm believer in the value of "open-source intelligence"—information available publicly through the Internet and other media, which he said can fill in blanks that the F.B.I. and the C.I.A. have overlooked.
"I think what it all boils down to is the agencies, and just researchers in general. They don't really look at open-source information," Mr. Mauro said, with a world-weary sigh. "They kind of live in their own little bubble, and only what's classified is what they look at. Everything else, they think, is ridiculous," he concluded in frustration. "They see us as outsiders. We're really not, but … you know."
And so, in the spare hours of his last pre-college summer—when he's not playing with his dog, Maggie, or clerking at Hollywood Video—Mr. Mauro gets down to business. He does his research for Mr. Tenaglia, and squeezes in some pro-bono work as an analyst for the Northeast Intelligence Network (www.homelandsecurityus.com).
The network, which calls itself "NEIN" for short, is a coalition of volunteer investigators who attempt to smoke out terrorist threats with the power of the Internet. Members weigh in from computer terminals across the continent, offering warnings, predictions and homegrown analysis. NEIN even sells T-shirts. One of them is modeled after the swirly Pentium logo, but it reads "Infidel Inside."
Mr. Mauro has quickly become one of the group's most beloved analysts.
"I looked at Mr. Mauro's writing and his geopolitical analysis and I thought, 'Wow! This is fabulous information,'" recalled Douglas Hagmann, a Pennsylvania-based private detective and the founder of NEIN. Mr. Hagmann invited Mr. Mauro to join the network two years ago, after discovering the teenager's Web site—and after getting his parents' permission.
"It wasn't until I spoke to him that I realized he was 17," Mr. Hagmann marveled. But if the private eye was flabbergasted by Mr. Mauro's age at first, he got over it quickly. "If you're turning over good information, we're going to love you, whether you're 80 or 8," he said.
Mr. Mauro's parents are still bewildered by their son's pastime. He has been a featured guest on talk-radio shows and received invitations to visit Iraq, Egypt, Saudi Arabia and Israel (he doesn't even own a passport; so far they haven't let him go).
"Tell her how you won't let me go to other countries, Mom," Mr. Mauro urged his mother, Patti Mauro.
Ms. Mauro, a folk artist, was seated at the kitchen table, daubing pink paint on the wings of a chipped ceramic goose that a customer had brought back from Acapulco. Mr. Mauro's father, Glen Mauro, a mortgage banker and nondenominational minister, was taking an afternoon snooze upstairs. ("He didn't get this from me or my husband," Ms. Mauro had said a few moments earlier.)
"And he's not worldly!" Ms. Mauro said. "He thinks he's worldly, but he's not. Not physically. It's not like he's been out and around. It's not like we've been travelers or whatever …. And he's like, 'Guess where I'm going?' I'm like, 'Uhhhh, I don't think so.'"
Mr. Mauro attributes his passion to a combination of "natural curiosity" and a physical limitation: Born blind in his right eye, Mr. Mauro said he had to seek diversions that didn't require depth perception, at the age when most young boys are learning to play sports.
Thus Mr. Mauro found himself part of a grown-up community of armchair intelligence analysts. Since Sept. 11, self-taught civilian spooks have multiplied and banded together, forming a mutated version of the classic neighborhood watch.
F.B.I. special agent Jim Margolin, spokesperson for the bureau's New York division, said that the new cyber-spies aren't quite ready to supplant the pros.
"The word I got from our intelligence folks is—no offense to well-meaning people—it really has no effect very much at all on what we do," Mr. Margolin said. "I'm not aware of instances where we've been tipped off to stuff that's been of great value, or whatever, but we're not actively discouraging anybody."
Members of the open-source intelligence community like to point out the work of Shannen Rossmiller, a municipal judge in Conrad, Mont., who used the Internet to pose as an Algerian militant and snare a National Guardsman who seemed eager to share information about American troop movements. But their world also contains the likes of Steve Quayle, a popular analyst who posts his geopolitical insights on www.stevequayle.com alongside his theories about an ancient race of 36-foot giants—which, he believes, are concocting some sinister plans for mankind.
Still, federal officials are starting to believe that open-source intelligence, if carefully filtered, should play a larger role in national information gathering. Last month, President Bush announced plans to restructure the nation's intelligence agencies. Following repeated recommendations by the 9/11 commission, the blueprint included a new C.I.A. center for open-source intelligence.
Mr. Mauro's own center for intelligence is down in the basement. Despite his mother's protests—"It's a mess!"—he offered a tour.
Mr. Mauro led the way past some exercise equipment and a foosball table toward a corner. There, under a hanging disco ball, his computer desk was nestled. A picture of Amanda Bynes grinned cheerfully from the computer monitor.
Upstairs, Mr. Mauro showed off his bedroom bookshelves, packed with tomes about the War on Terror. Asked about a few Ann Coulter books, he confessed, "I don't like her. She hurts the debate." Michael Moore has also made his list of foes; his Web site features a picture of a toaster spitting out a flaming DVD copy of Fahrenheit 9/11.
Another shelf displayed a blue lava lamp perched next to a wooden crucifix ("I'm really Christian," explained Mr. Mauro). A framed poster of George W. Bush, slightly askew, stared out from the wall next to his bed.
Mr. Mauro said he thinks the poster is cool-looking, but he feels a bit betrayed by the president's second-term policies. Particularly, he said, he believes that Mr. Bush is missing opportunities to support burgeoning democratic movements in Iran and Syria.
"I've been disappointed—really, really disappointed," Mr. Mauro said. "I'm a big advocate for freedom in Iran and freedom in Syria. They just need a little bit of money, and vocal support, like Solidarity in Poland."
Neither the Republicans' nor the Democrats' policies have satisfied Mr. Mauro. "I feel like I got screwed over by both sides a little bit," he said.
This fall, Mr. Mauro will start taking classes at Brookdale Community College, where he can study political science within a 20-minute commute from home. He's not sure what he wants to do after that, but he's considering a career in academia.
Mr. Tenaglia said he thinks his researcher could have a future in government intelligence. But then again, he conceded, Mr. Mauro may not like that kind of life.
"I think he wants to be kind of a freelance kid," said Mr. Tenaglia. "How many 19-year-old kids will tell you they want to be unfettered by a bureaucracy?"
Mr. Mauro said he would have some major reservations about working for the C.I.A. or the F.B.I. "The more I look into it," he said, "the more I don't need the headache. It just seems easier to get things done by working in the open-source world."
But the world of open-source research is, at least in a physical sense, a rather solitary pursuit. For now, Mr. Mauro takes solace in the flood of e-mail and Web traffic he receives. He says he replies to every last note (except for the death threats, of which he's received three). He wants to give his readers hope, and that goes double for the Iranians. After Americans and Israelis, Mr. Mauro explained, Iranians send him the most e-mail.
"It's hard for me when I'm talking to these people, and they say, 'Hey, help's coming, right?'" Mr. Mauro said stoically. "And I'm like, 'I'm working on it. I'm doing what I can.'"