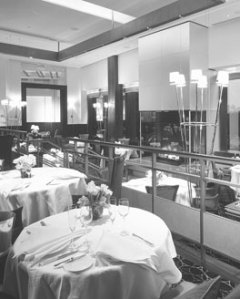 Dining at Per Se is a euphoric, dizzying experience. By the time I stepped out into the street, after a dinner that lasted an entire evening, I realized that I couldn't judge this restaurant on the same basis that I judge any other establishment. It exists in a category all its own.
Per Se has very little to do with eating food in the normal sense of the word. Nor is it anything like dining out in haute cuisine restaurants such as Alain Ducasse, Jean Georges or Daniel. It's an audience-participation show, scripted and directed by Thomas Keller and his executive chef, Jonathan Benno. As one dazzling dish after another emerges from the kitchen, you can't talk or even think about anything other than what's on the plate set down before you.
We ordered the tasting menu ($175). It began with Mr. Keller's famous canapé, salmon tartare, served like a scoop of ice cream in miniature cones flecked with black sesame seeds and filled with crème fraîche. Two vivid soups, sweet pea and melon, arrived at the bottom of deep, oversized white bowls. We sipped a few mouthfuls from chilled silver spoons and followed up with palate-clearing sorbets—beet with apple brunoise and a cucumber sorbet the color of white jade. The flavors were astonishing, more intense than the original fruits or vegetables with which they were concocted: This is often the key to what makes Mr. Keller's food so extraordinary.
"Oysters and pearls," announced the waiter, setting down a tiny portion of Caraquet oysters and tapioca topped with a scoop of sevruga caviar, a Keller signature that elicited sighs of rapture. Mini-agnolotti were showered with summer truffles, and a butter-poached lobster exhibited a sweetness that defied the imagination. No wonder the young couple at a nearby table (a young Phil Spector look-alike with a shapely blonde in a spangly tank top) remained speechless throughout their dinner.
And it's a long dinner, too—especially if you have the tasting menu, which lasted the same length of time as a performance of Wagner's Siegfried. It was 6 p.m. when four of us sat down on a Friday night (the only time we could get—as is routine for the restaurant, we booked our table two months in advance), and we staggered to our feet shortly after 11 o'clock.
There are just 16 tables at Per Se, which is in the Time Warner Center overlooking Central Park and Columbus Circle. The setting is a far cry from the bucolic reaches of Napa Valley, which is home to the French Laundry, Mr. Keller's other much-praised restaurant, where he spends two weeks out of every month. While the French Laundry is in a 19th-century house surrounded by vineyards, Per Se is on the fourth floor of a dull shopping mall.
The décor is sleek and corporate-looking, as befits Manhattan, designed by Adam Tihany in hues of gray and brown, with polished metal and glass surfaces and stained wood. Every detail has been seen to, from the little boudoir lamps moving on wire stalks like flowers, their shades discreetly stamped with laundry symbols, to the thick white linen napkins the size of square pillow shams, the huge floral arrangements in impossibly small vases, and the all-white crockery by Raynaud in fanciful shapes designed by Mr. Keller himself.
The efficient staff wears dark suits and blue Armani ties, and they're so numerous that it seemed as if a different person showed up with every course to tell us about the special "blue leg" chicken from the Summer Hill farms in California, or the cauliflower panna cotta topped with an oyster gelée, or the Wagyu beef that's flown in from Australia and served with squares of crisp bone marrow.
The dishes are presented like exhibits in a jewelry shop. Curved white plates are painted with minimalist splashes of sauce; vermillion piquillo pepper decorates a purple-skinned square inch of rouget; a daub of brilliant orange sets off a tender turbot cheek.
About three hours into the meal, I felt like one of those charity thermometers with a red line of "mercury" that rises inch by inch as money is raised. All of these tiny, impeccable dishes, three or four mouthfuls apiece, were starting to add up to a pretty filling sum.
Around 10 dishes along, the waiter set down a silver tray on the table. "Here we have four kinds of salt: Malden, Hawaii volcanic salt (it gets its red color from copper pots), Jurassic salt from Montana (over 30 million years old) and, in the wooden box, there's a Japanese salt."
The salts were accompaniments for two different preparations of foie gras, one of which was a terrine, a strip about six inches long and an inch wide, topped with a dark veneer of aspic that looked like a piece of varnished mahogany. "Those are poached Burlat cherries, those are pickled ramps, and that's a pistachio crumble," the waiter added, pointing to little piles on the plate. I have never tasted a foie gras terrine that was even close to as good as this.
Meanwhile, across Central Park, the buildings were glowing a pinkish-white in the reflection of the sunset. Below, a neon ring around Columbus Circle lit up the skateboarders twirling around. And we pressed on with one new dish after another.
Mr. Keller challenges the conservatives in his audience with a crispy croquette of sweetbread, a sliver of lamb tongue with sweet corn and a scrambled pheasant's egg topped with a truffle coulis. After we'd had these and many other dishes too numerous to name (although I must mention the incredible pompano with madras curry and almonds), a waiter brought a whole roast chicken to the table. I was stunned. The red on my thermometer had reached the top. But summer truffles had been placed under the skin of this fabulous bird, of which we only got a couple of sublime, heavily perfumed inches, with onions and peas.
Then, merciful heaven, there was more! Saddle of lamb with potato purée and Swiss chard and Wagyu beef, so good that it nearly reduced one of my friends to tears. He called me first thing the next day to ask where he could buy some more of that beef and confessed to me that he'd lain awake that night ("like a turtle turned on its back") thinking about it.
After a cheese course came a crescendo of desserts, beginning with "liquid pain perdu" with passion caramel served in a spoon. A small chocolate egg with a hard shell cracked open to reveal melting chocolate with green mint sorbet inside. A "Snickers bar" was made with milk chocolate, salted caramel and peanuts.
After dinner, my friends and I stood for a while on Columbus Circle in a daze. Per Se gets four stars, of course. As I said before, though, food this wonderful defies comparison and exhibits greatness in and of itself. This restaurant stands alone—but that's the meaning of the expression per se, isn't it?