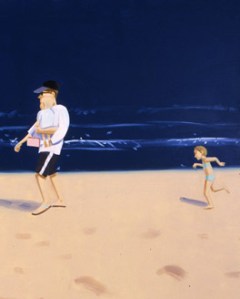 For
the American painter Alex Katz (born 1927), this has been a remarkable summer.
In June, the Colby College Museum of Art in Waterville, Me., organized a
comprehensive exhibition of the artist's diminutive collages (over 70 in
number), most of them dating from the 1950's; and in July, the Farnsworth Art
Museum in Rockland, Me., mounted a spectacular show of some 20-odd examples of
Mr. Katz's large-scale paintings of Maine subjects, called—what else?—Alex Katz in Maine. This second show
also includes a selection of oil studies and drawings in ink and watercolor.
Together, the two exhibitions constitute a major event—not only for Maine but
for the history of American art.
It
can now no longer be doubted that Mr. Katz is one of our most accomplished
living artists, a painter who has deftly transformed a conventional pictorial
interest—the light and landscape of coastal Maine—into pictures that are truly
original. I'm referring both to the small-scale collages, with their casual
glimpses of the artist's life, and to the mural-size paintings with their
multiple figures. The latter are also brilliantly realized portraits of his
circle of family and friends, some of them well-known artists and writers.
With
an insouciance that often reminds us of the New York poets Frank O'Hara and
John Ashbery, Mr. Katz brings to his Maine subjects the flavor of Manhattan art
life. This is not the Maine of Winslow Homer or Rockwell Kent or the Wyeth
clan. Mr. Katz's Maine is less scenic and more oriented to both daily life and
the life of art. As Suzette Lane McAvoy, the curator of Alex Katz in Maine, writes in the show's catalog: "Katz's Maine is
not the tourist view of crashing surf and lighthouses; it is at once more
intimate, and more universal." More cosmopolitan, too, but certainly intimate
in its evocation of family life. The artist's wife, Ada, is a frequent subject
for his iconic portraits, as is his son, Vincent—even the dog, Sunny, is
included in this pictorial chronicle of a family romance.
The
Maine/Manhattan connection in Mr. Katz's work has its origins in the earliest
stages of the artist's career. In 1949, while still an art student at the
Cooper Union in Manhattan, Mr. Katz spent a summer session at the Skowhegan
School of Painting and Sculpture in Skowhegan, Me., and this marked the crucial
turning point in his artistic development. "At Skowhegan," he recalls, "I tried
plein-air painting and found my subject matter and a reason to devote my life
to painting. The sensation of painting from the back of my head was a high that
I followed until the present." As Mr. Katz has also written: "My intention was
to make something fresh and post-abstract."
"Post-abstract"
is, of course, a reference to the dominance of Abstract-Expressionist painting
in the 1940's and 50's—a dominance that many art students and even some senior
artists found difficult to resist. Except in one respect—his affinity for the
oversize scale and ambition of Abstract Expressionism—Mr. Katz did indeed
succeed in resisting the Abstract-Expressionist aesthetic. He adopted the Ab-Ex
scale to his own very ambitious representative style; indeed, in paintings like
Wildflowers 3 (1993) and Walking on the Beach (2002)—both 192
inches wide—he produced works far greater in size than most Ab-Ex efforts.
In
this independent, "post-abstract" endeavor, what did Maine contribute to Mr.
Katz's breakaway achievement? His own answer to this question is unequivocal:
"It was [in] Skowhegan that I first got involved with Maine light which is richer
and darker than the light in Impressionist paintings. Being able to see Maine
light helped me separate myself from European painting and find my own eyes."
Given
both the quality and the scale of Mr. Katz's achievement, isn't it time for a
comprehensive, up-to-date retrospective in a New York art museum? After seeing
these two exhibitions in Maine, I certainly think so. Not only would such a
retrospective be a major art event, but probably very popular as well.
Meanwhile,
Alex Katz: Collages remains on view
at the Colby College Museum of Art in Waterville, Me., through Sept. 18; and Alex Katz in Maine can be seen at the
Farnsworth Art Museum in Rockland, Me., through Oct. 16.