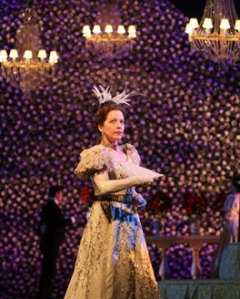 Big
changes are rumbling through the Berkshires this summer, where the most revered
and rewarded summer theater in America is launching its 51st season with a
facelift that is hailed by some as a fancy new beginning and compared by others
to the launching of the Titanic. In
October 2003, when Michael Ritchie, the popular and respected artistic director
of the award-winning Williamstown Theatre Festival for the past nine years,
announced that he was moving west to run the Center Theater Group in Los
Angeles, the theater world was rocked so violently that you could feel the
shock waves all the way from Massachusetts to Malibu. The search for a
successor was equivalent to the casting quest for Scarlett O'Hara. Now, to the
sound of trumpets and the popping of champagne corks, a year and a half and 50
million dollars later, W.T.F. is celebrating the debut of both its new artistic
director, Roger Rees, and two new state-of-the-art theaters, and the launch of
the 51st season with Lady Windermere's
Fan, an 1892 play by Oscar Wilde. All proving, I guess, that
everything old is new again.
Or vice versa. Either way, feelings are mixed—and understandably so.
On
opening night, Mr. Rees, an accomplished actor-director who has always been on
the flashier side of the footlights, found himself sweating out the perusal of
board members, big spenders and the reviewing press, bowing to the shakers and
shapers who finance the landmark W.T.F. scholarship, endowment, training,
apprentice and free theater programs, while trying to coordinate a two-month
season of professional productions that will (hopefully) meet the increasingly
critical demands of a paying audience that has come to expect the best, all of
whom arrive annually to unfairly judge this one summer festival by Broadway
standards. Mr. Rees might be the man who can please them all at the same time.
There is no more talented or versatile actor than this amiable veteran of the
Royal Shakespeare Company, best known to theatergoers as the star of the famous
eight-hour Broadway marathon version of Nicholas
Nickleby and to TV addicts as a regular on Cheers. A few seasons ago at W.T.F., he directed and starred (with
Bebe Neuwirth) in the best Taming of the
Shrew I've ever seen. This is the good news.
The
bad news is that Mr. Rees didn't direct the season opener himself, instead just
overseeing it from his office window. The production of Lady Windermere's Fan with Moisés Kaufman at the helm is a dreary,
plodding and sometimes inaudible disappointment. At the moment, the only thing
worth applauding is the new stage it appears on, and that has its detractors,
too. Gone are the graceful and inviting white columns at the end of a verdant
lawn where the Main Stage used to be. The exterior of the new ultra-modern
structure is an architectural monolith of glass and steel—an ugly and jarring
contrast to the traditional elegance and beauty of the Williams College campus
that surrounds it. The smaller, experimental Nikos stage, where new plays are
tried out each summer by such esteemed playwrights as Terence McNally, John
Guare, A.R. Gurney and Warren Leight, was demolished and moved into the
expanded space where the old Main Stage used to be, increased in size to seat
173 customers instead of the old 96. But while the exteriors look more like a
cold and academic geology auditorium, the interiors are an improvement in terms
of comfort, acoustics and playing space, which is large yet intimate, with rows
of boxes and two tiers of balconies.
In
the process of all this change, gone is the summer "family" of accomplished
actors, directors and set designers that had established squatters' rights on
the Williams campus and made W.T.F. legendary. Blythe Danner, Gwyneth Paltrow,
Hope Davis, Campbell Scott, Marsha Mason, Olympia Dukakis, Joanne Woodward,
Paul Newman, Ethan Hawke and Marian Seldes are among the members of the world's
most illustrious repertory company that lured audiences and kept critics
raving. They have all left the building, along with directors like Scott Ellis
and Nicholas Martin and set designers like John Lee Beatty (for this season, at
least). The season, reduced to four productions instead of the traditional
five, features casts I've never heard of, mostly comprising the sort of TV
performers who might lure a younger crowd. This isn't necessarily a bad thing,
but it's clear that the audience of seasoned fans who have put W.T.F. on the
map might fall away and a new audience will have to be cultivated. The grousing
on opening night was audible on every level, although I did overhear repeated
rave reviews for the new ladies' room. 
In
the long haul, all that really matters is quality. Sadly, there isn't much of
it in Lady Windermere's Fan. Moisés
Kaufman, who scored with the successful Off Broadway production of Gross Indecency: The Three Trials of Oscar
Wilde, would appear on the surface to be an ideal choice to direct the
first play written by his literary idol. Alas, this production is merely
competent. Where is the bitchy humor with which Oscar Wilde plunged a needle
into the puritanism of Victorian society and then soothed it over with the
salve of moral redemption? Mr. Kaufman directs it like it was Hedda Gabler. Written prior to The Importance of Being Earnest ,
the writer's most celebrated
work, it tells the tedious story of two women whose lives intersect
serendipitously: Lady Windermere, a naïve young newlywed, falls prey to London
gossip about her husband's relationship with an older woman of dubious
character named Mrs. Erlynne and determines to destroy her rival's social
ambitions. Discovering entries in her husband's account book that look
suspiciously like blackmail payoffs, Lady Windermere is mortified when her
distinguished husband invites the hussy to their home for a party. In one of
the play's best scenes, she threatens to insult the intruder by slapping her
across the face with her elaborate heirloom lace fan. Arriving at the flat of a
flirtatious knave to engage in some sin of her own, Lady Windermere is saved
from the foolishness of her impulses by Mrs. Erlynne and escapes, but it's too
late. The men arrive, inebriated and accompanied by Lord Windermere, and find
that the lady has left her heirloom fan behind. Now it's up to the older woman
to save the young wife's reputation from a scandal by claiming that she thought
the fan was her own. Lady Windermere owes her future happiness to Mrs. Erlynne,
never learning that she's the mother who abandoned her 20 years earlier. And so
we have a drawing-room comedy about a daughter who lives by her ideals and a
mother who lives by her instinct for survival, clashing head-on in what passes
for a stuffy wholesale romp. It's not Wilde's greatest play, but it is the one
that harvested a cornucopia of the wit and wisdom that have turned, through the
years, into clichés. "Scandal is gossip made tedious by morality." "We are all
in the gutter, but some of us are looking at the stars." "In this world, there
are only two tragedies: one is not getting what one wants … and the other is
getting it." You heard 'em here first.
Alas,
the bubbly impact never fizzes. The actors in this production are all playing
it on one low-beam level in what often sounds like a hum. Jean Smart, the only
member of this cast I've ever heard of, has developed an impressive dramatic
range since she appeared on the hit TV sitcom Designing Women, but even she was so subdued on opening night that
her Mrs. Erlynne couldn't be heard beyond the third row. (Dixie Carter is
currently playing the same role to glowing notices in Washington, D.C., and one
can only imagine what chemistry Blythe Danner would have created in the role, with
Gwyneth Paltrow as Lady Windermere.) Nobody else in the production has either
the necessary style or demeanor to bring Oscar Wilde to life with dash and
assurance; the sets are starkly garish (vases of red roses against an odd
expanse of royal blue draperies and chandeliers bobbing up and down on curious
ropes); and though the costumes are elegant, there isn't one actor onstage who
wore them with any flourish. No matter. One wishes Roger Rees every supportive
good wish in his efforts to continue and enhance the exemplary artistry and
celebratory sense of expectation and excitement the world has come to expect in
Williamstown. He has new productions by Caryl Churchill, Tom Stoppard and
William Inge on the way. Things will pick up. But right now, the summer is off
to a hopeful, well-intentioned but tedious start—something Oscar Wilde himself
would find difficult to cheer.
Another War
At
the movies, nothing is happening to improve the lousiest summer in history. But
The Beautiful Country, sincerely
directed by Norway's Hans Petter Moland and beautifully shot by Jane Campion's
cinematographer, Stuart Dryburgh, in Hanoi, Manhattan and Texas, is certainly a
worthwhile attention-grabber. A young man named Binh (Damien Nguyen) lives a
life of shame and ridicule as a social outcast called bui doi—a derogatory term
meaning "less than dust," which is applied to Vietnamese children with American
fathers. After a life of intolerable servitude at the breaking point where
misery meets suicide, Binh escapes with his younger half-brother Tam in a
crowded fishing boat across the China Sea and, for 125 minutes and thousands of
miles, endures the tortures of the damned, knowing that if he gets through the
ordeal alive and finally reaches Texas, his father will be Nick Nolte. To countless
numbers of people I know, this would be a good reason to turn back.
But
Binh is undaunted, running from the police for the accidental death of his
mother's harsh employer, beaten and bloodied by the cruel captain of the boat
people (Tim Roth), befriended by a prostitute named Ling (played by lovely Bai
Ling, who captivated critics as Richard Gere's co-star in Jon Avnet's thriller Red Corner), and captured by Snakehead
(Temuera Morrison), the villainous leader of a gang of modern flesh-peddling
slave traders trafficking in illegal human refugees. While disease and
starvation and a diet of rotting rice claims the life of little Tam, Binh and
Ling survive this harrowing journey. By the time they finally land on U.S.
soil, they find America is not "the beautiful country" of their dreams
nourished by travel magazines and Hollywood movies. When they wade at last into
New York in the middle of the night, Ling fades into the neon as a Times Square
hooker, but Binh plunges on, hitchhiking all the way to a ranch in the Texas
Panhandle, where—surprise, surprise—the grizzled old, blind war veteran in
boots nailing together the cattle fences and bunking in an abandoned trailer in
the cactus just waiting for a roommate turns out to be … oh, never mind.
This
movie has small ambitions and big emotions, a lean but honest and detailed
script by Sabina Murray, and marvelous performances by everyone involved,
whether they speak English or Vietnamese. I especially liked Mr. Nguyen, a
Vietnamese actor who, like Binh, left Vietnam in a small boat and made it to a
detention camp in the Philippines in 1974, later settling in Southern
California. The authenticity and experience he brings to this role are
invaluable. One small problem is the time frame: The film takes place in 1990,
but the war ended in 1975, and the 1987 Amerasian Homecoming Act made it
unnecessary for children born in Southeast Asia with American G.I. fathers to
ever suffer the humiliation and violence of "boat people" status again. So the
horrors that Binh goes through seem to exist solely for the sake of narrative
fury. Though the brutal catalog of postwar experiences endured by the innocent
war victims that America plundered and then left behind serves as a sort of
left-wing emotional shorthand, the movie pricks the conscience in powerful ways
that reminded me of The Killing Fields,
and the integrity and moving effect of The
Beautiful Country is never in doubt.