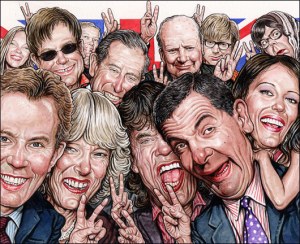 As cataclysms go, it was indelibly British from start to finish. First, there was the weather: a light drizzle of rain. Then there was the iconography: double-decker buses and brollies and bombs wrapped in packages that "looked like a brown jumper on the platform," as one observer put it. Nothing could have been further from the Hollywood panache of Sept. 11, with its screaming jetliners, pluming clouds of masonry and Godzilla-esque screaming crowds. If 7/7—as some newspapers insisted on trying to baptize it—were a movie, it was one of those British movies with arts-council funding, starring Hugh Grant before he got famous. It was a very polite kind of an apocalypse.
"Nobody pushed or shoved, nobody shouted or laughed, nobody seemed impatient," noted The Times. A previously unknown group, the Secret Organization Group of Al Qaeda of Jihad Organization in Europe, took credit for the bombings on the Internet—"Britain is now burning with fear, terror and panic in its northern, southern, eastern, and western quarters"—although for the majority of people, the only real consequence was a long walk home and a case of blisters.
The next day, it was business as normal. Queen and REM postponed concerts, but the stock market fluttered only briefly, and during the evening rush hour, the very same bus route that had been bombed the day before was filled with people reading about it in their newspapers. At least two newspapers recommended that Londoners listen to Noël Coward songs to help them recover. One columnist even professed to find all the police talk of "serious incidents" "oddly reassuring"—so reminiscent was it of past bomb threats by the I.R.A. "Eight percent of the people in this bar aren't even talking about it," noted one puzzled tourist from San Francisco. Even nearer the epicenter of the attacks, the mood was much the same: either resolute calm, eerie numbness or frank indifference, depending on how you looked at it. "There is so much police, it's very safe-feeling," noted one German tourist. "They had it under such control, it almost seemed like a non-event," chimed another. Not since Jeeves dismissed the First World War to Bertie Wooster as "some slight friction threatening in the Balkans" have Britons made so light of evident catastrophe.
Who would have thought it? After all this time, the British stiff upper lip—long since thought to have gone the way of the droopy walrus mustaches that used to adorn it—was found to be alive and well and ordering itself a swift scotch at the nearest bar.
The last few years have seen several similar retro resuscitations in British cultural life, from Britpop (the Beatles go pop) to New Labor (the old Labor Party goes "Third Way") to the films of Richard Curtis (English buffoonery goes Hollywood). As for the world-famous stiff upper lip (sang-froid, phlegm, bulldog spirit, call it what you will) nobody quite knows when or why it was supposed to have disappeared—the spread of therapy? The erosion of the class system?—although scholars of emotional constipation point to the death of Lady Diana as the watershed moment when modern Britain first let it all hang out. Even more significant than the displays of grief shown in the streets was the public pressure put on the royals to follow suit. When the queen refused to address the nation, let alone crack a tear at her balcony, the tabloid-fueled indignation was such that Charles Moore, the editor of the conservative Daily Telegraph, was left spluttering, "It simply is not the way that these things are done."
Last week, the queen had obviously found a cause she could rally to with a little more enthusiasm than bothersome daughters-in-law. "They will not change our way of life," she proclaimed, while visiting a hospital. But the hero of the hour, now as then, turned out to be Tony Blair, who caught the national mood perfectly, just as he had done after Diana's death. Perhaps mindful of President George W. Bush's goat-story debacle, Mr. Blair flew down from Gleneagles to reassure Londoners the moment he heard of the bombings and returned to the G-8 summit full of Churchillian pith and vigor: "When they try to intimidate us, we will not be intimidated. When they seek to change our country … we will not be changed. When they try to divide our people or weaken our resolve, we will not be divided. And our resolve will hold firm."
Elsewhere, journalists scoured high and low for heroes of the hour: men and women who had risen, bloody but unbowed, in the nation's hour of need—a task only slightly hindered by the British tendency to downplay even national disaster as something of an embarrassment. "People started to scream because there was a burning smell, and everyone—to cut a long story short—thought they were going to die," said one passenger. It's that Fawlty-esque "to cut a long story short" that is so heartening: It's what British people say when they're worried about being a frightful bore.
The closest the press came to finding a hero was an AOL employee named Paul Dadge, whose ghostly face, as he helped a survivor of the Edgware Road explosion, was plastered all over the front page of The Times. Inside, he dismissed the attack as "nothing more than an inconvenience." "The atmosphere was extremely calm," he noted. "It was quite surreal, in a way, because in the Metropole Hotel, there were people having business meetings who didn't know what had happened." His comment called to mind Auden's famous poem, "Musee des Beaux Arts," in which he noted that even "dreadful martyrdom" runs its course in "some untidy spot / Where the dogs go on with their doggy life and the torturer's horse / Scratches its innocent behind on a tree." When it comes to getting on with one's doggy life—not to mention scratching their innocent behinds—nobody does it quite like the British.
On the first day of the Battle of the Somme, one army captain handed out four soccer balls to his regiment and offered a prize to the company that could kick one closest to the German trenches; both the captain and his regiment were mowed down instantly. One of the balls now sits in London's Imperial War Museum—whether as a tribute to British bravery or foolhardiness is hard to say. Britain seems to delight in blurring the distinction. What the rest of the world might be tempted to call denial, or displacement activity, or a straightforward death wish, the British immortalize as part of their national character, as celebrated in such films as London Can Take It—a nine-minute documentary about the resilience of British citizens during the Blitz—and the famous broadcasts from London by Edward R. Murrow, CBS's bureau chief in London, about "you know, stiff upper lip and all that sort of thing."
Some were stiffer than others. Portly litterateur Cyril Connolly was dragooned into service as part of the Home Guard and asked to patrol blocks, marshal civilians indoors and extinguish fires—only to fail magnificently in all three tasks. After the war, Evelyn Waugh sent a copy of one of his books to Connolly with the inscription: "To Cyril. Who Kept the Home Fires Burning." More typical, perhaps, was M.P Harold Nicolson, who wrote in his dairy after an air raid: "I am nerveless, and yet I am conscious that when I hear a motor in the empty streets I tauten myself lest it be a bomb screaming towards me. Underneath, the fibres of one's nerve-resistance must be sapped." This stratified reaction to terror is exactly what psychologist Melitta Schmideberg noted when she concluded in 1942 that "the majority of the population adapted itself to the new Blitz reality … by acquiring new standards of safety and danger and by gradually learning to take the bombing as an unpleasant but unavoidable part of life."
We do not want for contemporary correlatives of this. In Israel, the damage from café and bus bombings is typically cleared within hours, while a recent report found that tourism had actually increased in Madrid since the bombings. In London, thanks to the 116 bombs set by the I.R.A. between 1971 and 2001, every child knows to keep an eye out for suspicious packages, and Londoners have learned to accept the miniaturization of public trash receptacles and the lack of coin-operated lockers in train stations. Since 9/11, they have been repeatedly reminded that they would almost certainly become the targets of an attack. "When, not if," they were told by the head of counterterrorism—words echoed by Tony Blair himself. In this alone, perhaps, were the events of last week like a movie: It had to be the most keenly awaited terrorist shock in recent history.
"Now the disaster was upon us, it had an air of weary inevitability, and it looked familiar, as though it had happened long ago," wrote Ian McEwan in The Guardian. "How could we have forgotten that this was always going to happen?" One survivor of the bus blast said she felt "relief" that London had finally become the victim of a terrorist attack: "People are really upset, but some people are glad it's happened, because we've been waiting for so long." All of which rather blunted attempts to sharpen up the knives of controversy. One Guardian columnist intoned direly that "the bloody trail of blame leads straight to 10 Downing Street," while George Galloway, an outspoken critic of Mr. Blair, said that, "tragically, Londoners have now paid the price of the government ignoring" all the obvious warnings. But when Mr. Blair insisted that "all the surveillance in the world" couldn't prevent determined terrorists from attacking Britain, most Londoners appeared to believe him. An online survey eliciting the opinions of 1,854 adults across the country found that Mr. Blair's' approval rating had flipped from negative to positive for the first time in five years, up from a mediocre 32 percent at the beginning of this year to a creditable 49 percent last Friday. The proportion wanting British troops brought home quickly had fallen, and the proportion wanting Britain to retain its close ties with the U.S. had risen.
Perhaps most tellingly of all: The proportion fearing that they themselves or a close family member or friend might be killed or injured in such an attack hadn't risen significantly. Just 1 percent of respondents expected to make big changes as a result of the bombings and most—88 percent—intended to make few changes or none at all. As one Times writer reasoned: "In a large city the odds are very much in your favour: it will almost always be somebody else who gets unlucky." Here, then, was the slightly more callous truth behind all the talk of Blitz spirit and stiff upper lips: Most Londoners had performed a quick bit of mental calculus and decided that if it was going to happen again, it was probably going to happen to some other poor sod.
The British people "won't be terrorized by terrorism" said Mr. Blair, although the rather less palatable truth was that they weren't terrorized by terrorism because the terrorism in question wasn't very terrorizing—not just in scale, but in conception. Sept. 11 came out of a clear blue sky in spectacular fashion, but the hell that was loosed by the terrorists in London unfurled, for the most part, 70 feet below ground. "We've been kind of lucky with only 33 dead, when you look at New York and Madrid," said one survivor. One newspaper columnist even thought "it was a good thing" that the bombs had gone off in Britain rather than in the U.S., where it would have been "used by the Bush administration as an argument for locking people up indefinitely, taking away Americans' civil liberties, and perhaps even for invading some other unsuspecting country. One bomb in an American city, and it would have a free run down to 2008." The debt owed the British people for swallowing this particular grenade may be greater than we thought.