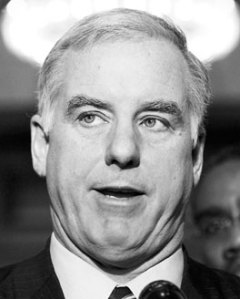 Every year, when the mercury hits 90 degrees and the line for Nick and Toni's backs up to Manhattan, the deep-pocketed donor set goes into full and giddy money-raising swing. (Never mind the McCain-Feingold Act—campaign-finance what?—with its talk of excising money from politics.) Merging conscience with that age-old desire for clout, they open their homes to their favorite Senators or sally forth to the neighbor's for an intimate dinner with the next wunderkind Congressman. Once there, they open their wallets, they talk political shop, and at the end of the evening, they clap themselves on the back for a cause well supported.
For all the frenzy, however, it's worth noting that this summer's slate of events is somewhat slimmer than in recent years—certainly slimmer than last year, with its nonstop parade of Presidential fund-raisers. At the same time, most of these parties are being thrown for Democrats, with only a handful of Republican fund-raisers sprinkled in for good measure.
Robert Hornak, chairman of the Urban Republican Coalition, chalked this discrepancy up to what he called "different lifestyles."
"Republicans tend to have more demanding jobs, and they don't take off for long stretches of time to spend summer out in the Hamptons," he said when reached on vacation in Florida.
But Robert Zimmerman, an active donor and Democratic National Committeeman, was quick to shoot back: "Why should they throw a party when they could just call Halliburton?"
Herewith, then, a list of some of this summer's swankest non-Halliburton fund-raisers.
Margo and Robert Alexander host D.N.C. chairman Howard Dean
Amagansett, Long Island
Price: $5,000 per couple
Saturday, July 9, 7 p.m.
Stock-trading power couple Margo and Robert Alexander remained devout Deaniacs throughout the 2004 Democratic primaries, even during the dark days following the idiotically overhyped Dean scream. So while some members of the upper crust continue to quake at his freewheeling ways, it came as little surprise when the couple opened up their stone-and-glass Xanadu for a Democratic National Committee fund-raiser several weeks ago. Eighteen guests attended the dinner, including Neuberger Berman chief investment guru Jack Rivkin, Democratic high-rollers Betsy and Alan Cohn, former New York Democratic State Committee chair Judith Hope and attorney Susan Uris Halpern (daughter of skyscraper developer Harold Uris). Each couple was asked to plunk down $5,000, in exchange for which they were treated to a delicate nouvelle-Chinese spread prepared by caterer Karen Lee and a speech by the D.N.C. chief. "People were impressed with Dean. I think they admired his honesty," said one guest. Afterward, the good doctor zipped to his mom's East Hampton homestead for sweet dreams about large checks.
David Goodhand and Joshua Dunkelman host chairman Dean
The Pines, Fire Island
Price: $2,500 per person
Sunday, July 10, 10 a.m. to noon
While the people may have the power, as Dr. Dean is fond of saying, the 40 or so guests who anted up for this early-bird fund-raiser proved that they have the checkbooks. For the cost of a weeklong stay on Fire Island or a two-week trip to Paris, guests were treated to a rousing speech on grassroots party-building as well as an al fresco breakfast courtesy of retired Microsoft exec David Goodhand and Joshua Dunkelman. The event's organizers—D.N.C. treasurer Andrew Tobias, fashion designer Charles Nolan and budding New York operative Corey Johnson—looked on proudly from the sidelines.
Later, when the clock struck 12, the chairman migrated to the ocean side of the island for a $50 fund-raiser at the beachfront home of longtime Dean devotee Brandon Fradd. Mr. Fradd is a doctor turned hedge-fund manager and, according to the GenForum genealogy Web site, a direct descendent of Queen Mathilde of Scotland (congrats, Mr. Fradd!). His event drew 150 supporters and, coupled with the Goodhand-Dunkelman gathering, wrangled some $80,000 for the DNC.
Michael and Annie Falk host Attorney General Eliot Spitzer
Southampton, Long Island
Price: $1,000 per person (general admission); $10,000 per person (host committee)
Saturday, July 16, 6:30 p.m.
Challengers, schmallengers. Who needs 'em? Certainly not Attorney General Eliot Spitzer, who seems to have modeled the campaign-finance strategy for his 2006 Gubernatorial bid after Colin Powell's infamous doctrine of "overwhelming force": be big, be bold, and obliterate the competition before they even exist.
Less than 16 months before E-Day, Mr. Spitzer still doesn't have a single serious challenger. No Soviet Union to his United States, no Apollo Creed to his Rocky Balboa. But that still hasn't stopped him from stockpiling cash as if it were an advanced weapons system.
And so it was, on a recent Saturday evening, that the lantern-jawed A.G. found himself standing on a plush Southampton lawn, pressing thousands of dollars' worth of eager palms.
The lawn—and the elegant house that came with it—belonged to financier Michael Falk and his wife, Annie, who shared official co-host responsibilities with Democratic rainmaker William Samuels. Some 75 guests milled about the grounds, schmoozing, sipping cocktails and nibbling caterer Diane Gordon's delectable treats. At some point during the money-scented night, former magazine babe Christie Brinkley asked a "very good" question about nuclear power, according to Mr. Samuels.
By the end of the evening, Mr. Spitzer had added yet another $150,000 to his campaign arsenal.
Howard Gittis hosts Senator John McCain
Southampton, Long Island
Price: Your presence is present enough
Saturday, July 23, 6:00 p.m.
Last Saturday night, the subtle perfume of political patronage hung around corporate kingpin Howard Gittis' place in the Hamptons, as financial titans gathered to schmooze—but not to tithe!—Republican Senator John McCain. The guests, a hundred strong, included Peter Cohen, the founder of Ramius Capital Group, and mergers-and acquisitions avatar Henry Kravis. They showed up for cocktails at 6 p.m. and stayed for dinner.
"It was not a fund-raiser, just a meet-and-greet," explained one attendee, who spoke under strict conditions of anonymity.  Hmmmm … not a fund-raiser? Sounds like fiscal foreplay, at least!
Senator McCain addressed the moneyed mass in a 10-minute talk, tackling topics from the war in Iraq to Supreme Court nominations to immigration. Our source described the Senator's discourse as "very lively," though it couldn't have been lively enough to awaken his guests' wallets, which slept soundly in their pockets all evening.
William Samuels and Vincent Roberti host Representative Nancy Pelosi
Southampton, Long Island
Price: Your presence is present enough
Saturday, July 23, 6 to 9 p.m.
In 2004, film financier Vincent Roberti and veteran Democratic big shot William Samuels joined forces to produce Going Up River, an election-season documentary that was meant to convey all the great things about their friend John Kerry that he couldn't seem to convey himself. The film didn't lead quite where they'd hoped—namely to the White House—but now they're joining forces again, this time on behalf of their politician pal Nancy Pelosi.
On July 23, Mr. Roberts and Mr. Samuels sponsored a festive meet-and-greet for the Democratic Minority Leader, who was on a whirlwind get-to-know-the-rainmakers tour through the East End. The dinner took place at Mr. Samuels' Hill Street home, where guests like toy manufacturer Steven Greenfield and power publicist Peggy Siegel got to talk political shop with Ms. Pelosi. "Part of what she's doing at events like this is, she's not raising money," said Mr. Samuels. "She's brainstorming with people about how we can build the base."
Still, The Observer has a sneaking suspicion that the solicitation letters won't be long in coming. "She has to raise $105 million between now and Election Day. That's $1 million a week," Mr. Roberts conceded.
Lisa and Richard Perry host Representative Pelosi
North Haven, Long Island
Price: Your presence is present enough
Sunday, July 24, 2:30 to 4:30 p.m.
The palatial North Haven manse of hedge-fund guru Richard Perry and his philanthropist wife Lisa might once have been a cloistered bayside monastery, but the atmosphere at this Sunday afternoon meet-and-greet was more high-tea-by-the-Thames than monk-like austerity. During an intimate two-hour reception, a dozen or so guests munched bite-sized cucumber sandwiches and buttery scones while sipping lemonade and peppering the minority leader with questions about everything from Democratic messaging to the Supreme Court battle. (So this is what it's like to be an A-list Dem!)
Later, when guests had finished tea and crumpets, they event-hopped to a Sag Harbor fund-raiser for the Eleanor Roosevelt Legacy Committee, which was attended by Kerry Kennedy, Democratic Party doyenne Judith Hope and dueling Attorney General candidates Mark Green and Denise O'Donnell.
The Committee to Re-elect Vito Fossella hosts Representative Vito Fossella
Staten Island, New York
Price: $250 per person
Monday, July 25, 6:30 to 9:30 p.m.
The Democrats have the Hamptons, the Republicans have the Isle of Staten. The borough's charms, and its Republican Congressman, attracted Vice President Dick Cheney, who described Representative Vito Fossella as "simply one of the best."
Around 800 guests, including Long Island Congressman Peter King and Michael Long, state chair of the Conservative Party, dined and drank in the ballroom of the Excelsior Grand on Hylan Boulevard. Or, as Mr. Fossella put it, "Staten Island's undisclosed location."
Veal and tilapia were served amidst talk of terrorism. "When [the Vice President] talks so passionately about the need to protect our country, fight the war on terror and bring the war to the people who want to hurt us, people respond very positively to that," reflected Craig Donner, a spokesman for Mr. Fossella. The event broke its fund-raising goal, topping $250,000.
Robert and Laura Sillerman host DSCC chair Charles Schumer
Southampton, Long Island
Price: $26,700 per person
Saturday, July 30, 6 p.m. cocktails, 7 p.m. dinner
Ka-ching! That's the sound that Senator Charles Schumer, who recently took over the reins of the Democratic Senate Campaign Committee, can expect to hear when he waltzes through the doors of media macher Robert F.X. Sillerman's Meadow Lane retreat. The event is just one of several high-dollar benefits the Senator has thrown since accepting the post, and it may help explain how the DSCC has managed to trounce its Republican counterpart in recent months. Guests wishing to attend the Sillermans' bash have been asked to part with the tuition for their eldest child's first year of college—or else simply their eldest child—but in exchange they've been promised an evening of scintillating conversation with literary luminaries Frank McCourt and Billy Collins (a former U.S. poet laureate, you poor cultureless sop!). No word yet, however, on whether Elvis, whose estate Mr. Sillerman recently purchased, will make a surprise return from the beyond to croon "Love Me Tender" to the stunned guests. Now that would be worth the price of entry!
Nazee and Joe Moinian host Senator Hillary Rodham Clinton
Quogue, Long Island
Price: $2,500 to $4,200 per person
Friday, Aug. 5, 4:30 to 6:30 p.m.
Senator Clinton kicks off her 2005 magical money tour through the East End of Long Island with this cocktail-hour reception at the summer home of real-estate mover-and-shaker Joe Moinian and his wife Nazee. Despite the old-money setting—think lock-jawed ladies in Lilly Pulitzer—the Moinians are relatively new to the fund-raising circuit. They burst onto the scene just last year in a blaze of $2,000 and $10,000 contributions to John Kerry, Dick Gephardt and the Democratic National Committee, but already they're making a play for a bigger role. Next up? A spot on some favored candidate's finance committee, no doubt.
Helpful hint: Although the cocktail party is ostensibly a fund-raiser for the Senator's 2006 re-election bid, expect lots of wink-winking and nudge-nudging about 2008.
Ambassador Carl Spielvogel and Barbaralee Diamonstein-Spielvogel host Senator Clinton
Southampton, Long Island
Price: $4,200
Friday, Aug. 5, 7 to 9 p.m.
Party-hopping alert! Just when the Moinians' cocktail bash has begun ramping towards ecstasy; when you've dipped into your fourth vodka tonic and finally worked up the nerve to ask the guest of honor that big question—no, not the one about voting for the Iraq war, but the one about that cute suit she's wearing—the Hill-and-Bill show relocates to the chichi precincts of Southampton's Gin Lane. There, at an estate named Longview, the Carl and Barbaralee Diamonstein-Spielvogels have ordered up an intimate spread for 40 or so of Mrs. Clinton's most ardent (and deep-pocketed) supporters. The Spielvogels are themselves diehard Clintonistas, veteran check-writers whose support during the early days earned the mister an ambassadorship in Slovakia during Bill's second term. To this day, they preside over the fund-raising circuit like landed aristocracy, and their August event should be chock-full of muckety-mucks.
But Bubba-lovers and Hillaryites beware: If you want a place at the Spielvogels' table, you had better start groveling. The event is already SOLD OUT!
Donna Karan and Nancy Corzine host Senator Clinton
East Hampton, Long Island
Price: $2,500 to $4,200 per person
Saturday, Aug. 6, 11:30 a.m. to 1:30 p.m.
Now here's a brunch that's expensive even by the Hamptons' hyper-inflated standards. At $2,500 to $4,200 a plate, the two-hour Hillary fest shakes out to between five and eight years worth of weekly Second Avenue Deli brunches—or one serious case of heartburn.
Fortunately for Mrs. Clinton, the ladies of Lily Pond Lane and Georgica Road don't tend to worry about pinching pennies (calories, yes; pennies, no). To wit: The event's hostesses, fashion maven Donna Karan and interior-design queen Nancy Corzine (not to be confused with Senator Jon Corzine's mom, also named Nancy), have already begun rounding up some of their most fabulous friends, including jeweler Judith Ripka and leather-goods supplier Mark Locks. Thus far, the buzz is promising. The event is set to take place at Ms. Karan's bayside estate (with two swimming pools!).
Ambassador Elizabeth and Smith Bagley host Senator Clinton
Nantucket, Mass.
Price: a lot
Friday, Aug. 12
There once was a Dem in Nantucket, who raised campaign cash by the bucket. And they called her Ambassador Elizabeth Frawley Bagley.
So the name doesn't rhyme. Who cares? Certainly not Hillary Clinton, for whom Ms. Bagley and her husband, R.J. Reynolds Tobacco heir Smith Bagley, are planning a posh fund-raiser at their Nantucket mansion. Ms. Bagley, who served as the Clinton-era ambassador to Portugal, has hosted Hillary bashes before. At one fund-raiser in 2000, some two dozen guests paid $10,000 or more apiece to attend a dinner at Mille Fleurs, the Bagleys' stately Georgetown home.
And lest you doubt that those Bagleys know how to get down, the power party couple once drew fire for fêting Cuban refugee Elian Gonzales and his family with one of their elaborate Washington gatherings. Neighbors were angered by the tight security and scarce parking on their block; pols were more concerned about the boy's devolution into an international celebrity plaything.
The forecast for Aug. 12 predicts weather that's less politically stormy, albeit with sudden downpours of cash. Bring your best umbrella.
Carol and Frank Biondi host Senator Clinton
Edgartown, Martha's Vineyard
Price: $1,000 per person
Saturday, Aug. 13 from 5 to 7 p.m.
F.O.B.'s and F.O.H.'s, ahoy! It's party time again at the sprawling Katama Road residence of former Universal Studios honcho-in-chief Frank Biondi and his wife, child-health advocate Carol Biondi. The Biondis have been hoisting party tents in the Clintons' honor since the halcyon days of White House coffee klatches and Lincoln Bedroom slumber parties, and if this year's Clinton fest is anything like parties past, guests can expect emerald lawns, clinking cocktail glasses and a giddy happy-days-are-almost-here-again feel. Maria Cuomo Cole and her shoe-king husband, Kenneth Cole, have both signed on to the host committee, as has Clinton confidante Vernon Jordan, Hollywood honeys Ted Danson and Mary Steenburgen and NBC Sports czar Dick Ebersol and his wife, actress Susan St. James (remember Kate and Allie?). This year, the host list also includes the entrepreneur-turned-aristocrat Lady Lynn Forester de Rothschild. Like the Republicans, the Democrats do love their nobility.
Jamie Drake hosts Manhattan Borough President candidate
Brian Ellner
East Hampton, Long Island
Price: $150 per person
Saturday, August 13, 7:30 to 9:30 p.m.
In a well-feathered display of political panache, designer Jamie Drake is planning a fab-u-lous cocktail party at his East Hampton estate to raise money for Democrat Brian Ellner, a candidate for Manhattan Borough President.
Mr. Drake, whose clients have ranged from Madonna to Michael Bloomberg, will host the $150-a-head soiree with his partner, Jason Witcher. They're expecting between 50 and 75 guests. "I, for one, can't wait to see the interior of Jamie's house," gushed campaign manager David Meadvin. 
According to Mr. Drake, who speaks of himself in the third person when excited, the home is full of "Jamie Drake's signature color, celebrating his love of the new American glamour." His interiors, he explained, are a festival of yellow and turquoise. There's also plenty of pink outside to match the hibiscus blooms in his garden, where drinks will be served, weather permitting.
"Gosh, I don't know what the menu is yet, but I'm sure we'll have a specialty drink called the Ellner Cooler … because he is so coooool," Mr. Drake ad-libbed. What does one put in an Ellner Cooler? "I don't know yet," Mr. Drake said. There was a thoughtful pause before the political liquor kicked in.  "I think something sweet, and something spicy, and something wise."