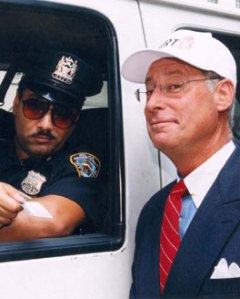 First Roger Ailes took over part of Lachlan Murdoch's old job. Now, according to a News Corp. staffer, Mr. Ailes is taking Lachlan's old office—on the eighth floor of company headquarters, one door down from Rupert Murdoch himself.
Even without the new digs, Mr. Ailes' appointment earlier this month to head the Fox Television Stations group marks him as the ascendant figure in the post-Lachlan realignment of News Corp.
Mr. Ailes' newest territory is the most profitable unit of News Corp., bringing in $900 million in operating income last year, or more than one quarter of the company's total operating income. But unlike the Fox Broadcasting Company or the Fox News Channel, it remains one of the more vaguely known parts of the Murdoch empire, with no Homer Simpson or Bill O'Reilly to embody it.
The station group has been around since 1986, when Mr. Murdoch began buying up local television stations to carry his Fox network programming around the country.
Eventually, buying affiliates from independent owners and from other station groups, News Corp. amassed 35 stations. Among those were pairs of stations in nine markets—including New York, Los Angeles and Chicago—which allowed Fox to save money by sharing a certain amount of staff.
All told, the Fox Stations Group now accounts for around 20 percent of the Fox network's affiliates and employs some 5,300 people. It is the second-largest station group in the country, behind only Viacom's station group.
Yet it has largely remained an aggregation of individual stations, not a streamlined national brand reaching out to local communities. Said one high-ranking executive who has worked both with Mr. Ailes and in local television, "That's what's missing at Fox, and that's the first thing Roger's gonna try to do."
Mr. Ailes, a product of Warren, Ohio, has a history of connecting to small-town America. After producing the Ohio-based Mike Douglas show, the young Mr. Ailes made his name by putting Richard Nixon on television in 1968, making him look appealing to local viewers.
Building a station-group identity would be another feat of packaging. Right now, the affiliates get two hours of prime-time programming from Fox on weekdays, seven hours of kids and nighttime programming on Saturdays, four hours on Sundays, and an assortment of sports events and specials. That's less than what ABC, NBC and CBS offer their affiliates, because the Big Three also have morning and late-night shows and national evening newscasts.
The individual Fox affiliates fill up the rest of the day with local newscasts and syndicated programming, either first-run or reruns.
In another bit of centralization, Mr. Ailes will also oversee Twentieth Television, which produces some of this first-run syndicated programming and distributes off-network programming.
And Mr. Ailes will remain busy running the top-ranking Fox News Channel he helped build from scratch. But to varying degrees, the job of heading a stations group can be a hands-off job.
Mr. Ailes' rough organizational equivalent at Sinclair, which owns 61 stations (including 20 Fox affiliates), would be David Smith, the company's president and C.E.O. Mr. Smith is described by his company as a big picture, long-term strategic thinker; day-to-day operations are run by chief operating officer Steve Marks. Mr. Marks is an approximate analog to Jack Abernethy, C.E.O. of the Fox Stations Group, and Mr. Ailes' right-hand man and former deputy at Fox News Channel.
Each Fox Group station has a general manager, who reports up the corporate ladder to Mr. Abernethy, who reports to Mr. Ailes, who reports jointly to Mr. Murdoch and News Corp. president and chief operating officer Peter Chernin.
Much has already been made about the initial challenges that Mr. Ailes will face in the job: what to do (if anything) with morning and late-night time slots; how to convince Nielsen to change its people meters to boost Fox-friendly urban-viewership numbers; how to make local news more watchable; how (or whether) to proceed with the development of a Fox business channel; how to balance his new responsibilities with his old ones at Fox News.
Said one insider: "I don't think there will be time for a lot of golf."
Over linguine with truffle oil and two Dewar's on the rocks, Henry S. Schleiff laid out his vision for the future of television news: less God-like monotone, more Nancy Grace.
"The audience doesn't need a didactic voice," Mr. Schleiff said. "The audience wants a friend who's smart, who's credible, who's Diogenes—but a cool Diogenes—who says, 'Here's the story. Here's my way in. Agree or disagree, but here's my analysis.'"
Henry S. Schleiff is not—at the moment—a broadcast-news executive. He is chairman of Court TV and, at 57, one of the nation's leading purveyors of human misadventure.
Though he was talking about Edward R. Murrow, his network broadcasts salacious trials interspersed with antagonistic commentary and programming themed around the judicial system.
And it works: In seven years, Mr. Schleiff has boosted Court TV's viewership by 55 million people. He has become a queen-maker to the slightly off-kilter (on Ms. Grace, one of his most popular anchors, his stated position is "You go girl!"). He has given America more Scott Peterson and Michael Jackson than it can handle—or not quite enough.
Consequently, and because his capacity for self-promotion is as discomfittingly perfect as his smile, Mr. Schleiff has become one of those hot shots whom everyone assumes has preordered curtains to fit the windows on the executive floor of 30 Rock. He has been talked about as a possible successor to Neal Shapiro as president of NBC News, or of a conglomerate that also includes CNBC and MSNBC. He is also rumored to have his eye on Jonathan Klein's job as president of CNN.
That he has no discernable network news background doesn't seem to factor in (though, as Frank Biondi, his onetime mentor and the former chairman of Viacom, said, "News folks can get awfully snippy at that").
Said one broadcast network executive: "One of the biggest parlor games in Manhattan is guessing what big job Henry Schleiff is going to do next."
While Mr. Schleiff doesn't openly participate in this game, he is an enthusiastic spectator: sitting back, sipping scotch, subtly goading the gossip with evasive one-liners and non-denial denials. His official word on other jobs is: "I don't see anything right now on the horizon that I think personally and totally selfishly would provide as much fun, challenge and interest as I see coming up on Court TV."
In the words of Susan Krakower, the senior vice president of prime-time programming at CNBC and a close friend and former employee of Mr. Schleiff's: "That's a bunch of bullshit if I ever heard it."
Mr. Schleiff is not some newfangled television executive. On the contrary, he is distinctly old-fashioned, of the same mold as Leslie Moonves, Fred Silverman and Brandon Tartikoff.
"I would say he was born with a William Paley gene and a Shecky Green gene," said Brian Williams, the anchor of NBC Nightly News and a Schleiff acolyte. "He was born with a ton of personality and the ability to navigate a room full of very important people and an industry where knives are always drawn. I will say he has an increasingly rare quality in television. I think he has vision."
That vision may have carried him as far a person can go at Court TV. When Mr. Schleiff took over in 1998, the channel was ranked 44th of 44 ad-supported, Nielsen-rated television networks. Once a channel by lawyers and for lawyers, it had become a channel by lawyers and for whatever insomniacs and potheads happened to cruise by, to the tune of a 0.1 rating, on average. Now it regularly rates a 0.9 and frequently ranks in the top 12.
"The good thing about cable is it's still the Wild West," Mr. Schleiff said one recent morning in his tchotchke-laden corner office at Court TV headquarters in midtown. Behind him, a television on mute showed a man on trial for attempted homicide, apparently involving some drunken gunplay. The accused fidgeted on the stand. Mr. Schleiff twitched gleefully in his armchair. "You can still experiment with cable. You can still try things. As long as you understand what your audience comes to you for, they give you pretty wide leeway."
In his first moves as head of the network, Mr. Schleiff bought the rights to popular syndicated dramas, such as Homicide, and set about wooing personalities, including Catherine Crier and Dominick Dunne, to host their own shows.
"Henry pays attention," said Ms. Crier, who had worked at Court TV previously and was lured back in October 1999. "He makes a point of working with people, not working over them, which happens to be my own personal managing philosophy. I find it inspiring."
"He's great to work for if you're a woman," said Ms. Krakower. "My job with Henry was the last job I ever loved."
"Henry is one of the most charming people I've ever met," said Mr. Dunne. "He is hilariously funny. He misses nothing. I happen to be several of those things myself. We got along from the first day that we met."
Mr. Schleiff, he said, calls him "Domster."
In fact, Mr. Schleiff has pet names for many of his adult male friends. At lunch one day at Michael's, from his regular table—table 27—Mr. Schleiff identified the grizzled industry types around the room as if they were Labrador puppies in a cardboard box. In the course of this tour, CBS publicist Gil Schwartz, a man known to occasionally display the temperament and facial expressions of a bear, was described as "adorable."
Between bites of his regular Cobb salad, Mr. Schleiff talked about his latest project: Court TV's recent rebranding. Through a complicated process of television meiosis, a single network divided into two this summer: Court TV News, which includes the daytime trial coverage; and Seriously Entertaining, which includes the original series and movies shown at night. First the headlines, then the loosely fictionalized programming that's been ripped from them.
"I think the stories that we can cover on Court TV are just so right for these times," he said. "People get the importance of it. People get the value of seeing these trials. And if you tell the story well, if you combine compelling execution with high stakes and importance, then I think you have the prescription for a very successful network."
Or a somewhat more successful network newscast?
When Mr. Schleiff talks about how to improve television news, he does it in the way Dan Rather might address the challenges of writing a sitcom: by going with what he knows. That may mean glossing over sticking points for television newshounds—such as the issue of leadership on the evening news, of an anchor who tells viewers which stories are most important—in favor of a programmer's sensibility. How do you get more eyeballs at 6:30? Give the people what they want: drama, pathos, the good stuff.
That's not to say Mr. Schleiff is in favor of replacing political coverage with pop-star molestation-trial analysis. He said that he's most proud of the advocacy work he's done since coming to Court TV: the Voting Rights Act symposium he went to in Washington recently; the cases he has argued—unsuccessfully as of late—to open up federal courtrooms to video cameras; the laws he has fought to change; the other advocates he has honored.
"He's a bright light in the media world, where there aren't too many bright lights these days," said Sherron S. Watkins, the Enron whistle-blower and the recipient of a Court TV Scales of Justice award. "I think he's trying to maintain a network that does things a little differently," she said, "that doesn't necessarily cater to the imperative to keep everything short, quick and entertaining."
Mr. Schleiff grew up on Long Island, the child of a financier and a stay-at-home mom. Little Henry traveled a smooth trajectory from the cradle to the University of Pennsylvania to the Manhattan office of Davis, Polk & Wardwell.
During his six years at Davis Polk, he subscribed to Variety and took up writing freelance for Saturday Night Live. He had exactly two pieces of material accepted, for Guido Sarducci sketches, and neither, by his own admission, drew any great laughs. The experience did give him an opportunity to interact with writers and comedians, and it allowed him time to hone a specialty in dead-Pope humor. "There's a very narrow window for that—only about once every 20 years when you can use this stuff," he said. "But it's timeless."
In 1978, Mr. Schleiff went to work at Viacom, where he had a long career that involved several different jobs where he oversaw the production of many famous shows, and one notable but less famous Simpsons cousin called Twisted Puppet Theatre.
In 1998, Time Warner chief executive Richard Parsons approached him about the Court TV job. Per Mr. Schleiff's request, Mr. Biondi said that he called Mr. Parsons with a reference: "There's not one other job for C.E.O. in the country that I'd recommend Henry for, other than this one. He's got something your network needs desperately: a sense of humor."
Or, as Mr. Dunne, the Domster, put it: "So many television executives are withdrawn from everything. But Henry just mixes with everybody; it's all the same to him. His humor's the same. There's people who save their funniest stuff for their most important friends, you know? And he's the antithesis of that."
Nothing seems to delight Mr. Schleiff more than flaunting his wit on the Manhattan and Hamptons party circuits. "I love New York City," he said. "I love the pace of it. I love the people. I love the action, the turmoil. I would be hard-pressed to live anywhere else."
To demonstrate his cocktail-party bona fides, and to sweet-talk the Mayor into a project about New York's counterterrorism plans, Mr. Schleiff went one recent evening to a party for the New York entertainment community at Gracie Mansion.
Immediately upon arrival, Mr. Schleiff began a fruitless quest for scotch. Along the way, he figure-eighted through the party, swapping jokes with Homicide producer Tom Fontana, making nice with Cindy Adams and chatting up Katherine Oliver, the commissioner for the Mayor's Office of Film, Theatre and Broadcasting. His three-person entourage jogged to keep up.
Settling for white wine, he looped through the backyard tent, remembered everybody's name, took a picture with Mayor Bloomberg.
Toward the end of the evening, a William Morris agent, all winks and nudges, approached with the latest rumor. "I heard your name in the trade winds," he said. Mr. Schleiff smiled his neon-white, too-perfect smile. "Oh, everybody's always talking," he said, in a way that was almost convincingly sheepish. "But really, who knows?"