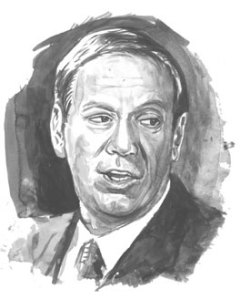 Michael Balboni knows how to move. For years, the state senator from the northwestern corner of Nassau County has bounced like a pinball from one end of the state to the other, showing the Republican flag and sharing the anti-terrorism expertise he has gained as chairman of the Senate's Veterans, Homeland Security and Military Affairs Committee. His travels have earned him the sobriquet "Senator Statewide." He hopes that, slingshot-like, they'll catapult him into statewide office in 2006.
Until Governor George Pataki bowed out of running for a fourth term, Mr. Balboni was said to be eyeing the post of state attorney general. Now he doesn't want to be pinned down. "I haven't formed a candidate committee for a particular position," he said.
Some strategists think the darkly handsome, television-friendly Mr. Balboni, 46, has the mojo for a shot at whatever he desires. With a solid suburban base in a region that supplies 17 percent of the state's votes, he boasts of having raised $1.2 million in the past 18 months. He comes with a ready-made message: not just the homeland-security chops, but a series of ideas for government reform.
Some years ago, Nassau County's finances, mismanaged by local Republicans, famously tanked. Mr. Balboni can take some credit for pulling the county out of the hole by funneling it state dollars. The fiscal reforms the county went through contain lessons for dozens of counties and municipalities around the state that teeter on the brink of insolvency. (This message also will likely form the basis of a gubernatorial bid by Democratic Nassau County Executive Thomas Suozzi.) Among other cost-saving measures, Mr. Balboni talks about consolidating sewer, garbage and water districts into the structures of towns and villages. "Twenty-five years ago, people wanted responsive government," he said. "We've loaded on all these levels of government, and we're paying for them."
Mr. Balboni "translates well to Queens, Staten Island, parts of Brooklyn," said Michael Tobman, a strategist who used to work for Senator Charles Schumer. "He's a known quantity in Albany but not always in lockstep with the Republican leadership. He plays well in Buffalo. He does well in Rochester. Editorial boards will like him."
For a Republican, Mr. Balboni is a raging moderate. Planned Parenthood of Nassau County congratulated him for being the only senator from Long Island to vote in favor of the emergency contraception measure that Mr. Pataki—his eye on the 2008 G.O.P. Presidential primaries—recently vetoed. The labor-oriented Working Families Party endorsed him for voting to raise the minimum wage. The New York State Rifle and Pistol Association Political Action Committee cites him on a list of political targets. In a district with a 5-4 Democratic registration advantage, he said, "I'm not elected if I don't get Democrat support."
Even so, Mr. Balboni asserted that he has "a Republican philosophy" on economic development. "In 16 years in the Legislature, I voted for one tax increase, but that has been repealed," he said.
When Wise Guys caught up with Mr. Balboni last week, he was schlepping around the city, talking about homeland-security measures for subways, trains and buses. But that wasn't the only issue on his mind. He laid into the "rampant fraud and waste" that recently was discovered in the Medicaid system. "That hurts us on a national level," he said. "I've seen the perspective others have of New York. They don't think we're spending responsibly." If he does run for state attorney general, he said he would run the office "more like the federal attorney general," with an emphasis on anti-terrorism and civil rights.
As for the Governor's race, other folks with credentials have their eyes on it as well. Mr. Balboni gives them their due.
"John Faso would make a terrific gubernatorial candidate," he said, praising the former Assembly minority leader, who has been mentioned as a possible Republican aspirant next year. But Mr. Balboni clearly thinks that he, too, would make a good candidate for Governor.
There are some roadblocks to all this ambition. According to Newsday, Senate Majority Leader Joseph Bruno supposedly doesn't want Mr. Balboni to run for statewide office because he's afraid that if Mr. Balboni left the Senate, his seat would fall to a Democrat, further eroding the G.O.P.'s majority there.
Because Mr. Pataki didn't groom any successors as he vacillated between another term and a national run, the state G.O.P. is in squalor. For mid-level officials like Mr. Balboni, the climate could be better. The star-struck party chairman, Stephen Minarik, openly pines for the deus ex machina of big-name saviors such as Rudolph Giuliani rather than putting his shoulder to the wheel to develop the lesser-known, but still promising, candidates he has. Somehow, though, one senses that Mr. Balboni will find his way clear. For, without a doubt, Michael Balboni knows how to move.