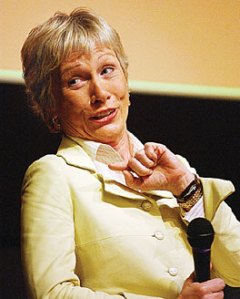 "I had become an expert at airbrushing," said 56-year-old Barbara Corcoran. "I was never going to get old on a billboard."
Indeed, the image of the pixie-like founder and, until recently, chairman of Manhattan real-estate behemoth the Corcoran Group (who can look a bit like Sandy Duncan in the 1979 Broadway revival of Peter Pan) has been flashing its airbrushed whites everywhere in Manhattan for some 30 years with no significant sign of aging. "Where do you want to live?" the copy reads, as though in the treacherous world of New York real estate, that really were the operative consideration.
And now, like a cart that has taken off without its horse, she's formally given up being the most visible marketing tool of Manhattan's most visible brokerage—to increase her visibility.
Last Friday, Ms. Corcoran resigned as chairwoman of the company she founded in 1978 with $1,000 borrowed from her boyfriend, then sold to the publicly traded national real-estate juggernaut NRT in 2001 for a reported $70 million, to begin a new career as a television producer and personality.
The always boisterous Ms. Corcoran has never been media-shy, yet the news trickled out with a whimper—a press release circulated a little after 3 p.m. on a hot Friday in August, as the windows of empty buildings up and down Park Avenue began to darken.
Three days after the announcement, Ms. Corcoran found herself in New Zealand, on a layover en route to Sydney, Australia, where she was preparing two speeches for real-estate brokers down under.
But her immediate thoughts are on Barbara Corcoran Productions, the six-person television production company currently taking up space on the 11th floor of the Corcoran Group's Madison Avenue headquarters.
"You can't hear yourself think, but it feels to me exactly the way the Corcoran Group felt when it was just a baby—bursting out of the seams, with energy bouncing off the walls," she told The Observer in a phone interview. "I have to say that each of the people in my team is so talented and so underpaid—just like the beginning of the Corcoran Group."
And just like the Corcoran Group, which she began in a rented office with no furniture (only telephones), her staff is composed mostly of twentysomethings lacking either real-estate or television experience.
She talks about them with the same folksy enthusiasm that dominates her quirky, best-selling business-inspirational book, If You Don't Have Big Breasts, Put Ribbons On Your Pigtails.
"One credential might be if they were a straight D- and F-student," she said, laughing. "They haven't had their success yet, so let them have it with me."
Of course, the current digs are only temporary. Ms. Corcoran has rented space in a Flatiron-district office building, and her six staffers will move in shortly.
Over the past six months, the production team has created several four- to six-minute segments for Good Morning America, The View and Today. (Topics ranged from a Desperate Housewives–inspired "Sexiest Suburbs" to the best Spanish villas and ski homes).
"I find that our viewers respond very well to her clarity and intelligence, which is delivered in an unintimidating manner," said G.M.A. senior broadcast producer Jessica Stedman Guff. "Even though she's a phenomenal success story, she could be your best friend."
Ms. Corcoran treads far from the Suze Orman–style "tough love" approach in her morning television tips. Returning to the work force after taking care of the kids full-time? Ms. Corcoran recommends extensive Google searches to explore one's interests. "Well, it's hard to determine what you love until you see all the possibilities," she told G.M.A. viewers last spring. On another episode, she discussed how to cut down dreaded office bullies: "So if someone tried something and fails, I make them a hero rather than putting them down, and that's opposite to a bully culture."
Now, full-scale television programs are on the docket, with no concrete plans for expanding the company to make it happen.
"With the Corcoran Group, the day I started, I never had a long-term plan, I never had a business plan—never anything on paper," she said.
Currently, Ms. Corcoran is mulling over three possible reality-show pitches, none of which she'd reveal. However, one thing she does expect to create is a reality show set in the real-estate world. (Not, she said, an Apprentice spin-off.)
It's a market that seems to keep growing, with endless programs on house-buying and house-selling clogging up HGTV, TLC and even the networks.
"Her entry in mainstream media is, in terms of the real-estate bubble, the existence or nonexistence of the real-estate bubble," said media analyst Andrew Tyndall. He believes that the increase in real-estate news coverage and home-makeover shows opens up an opportunity for Ms. Corcoran to make a similar leap into popular culture that another real-estate mogul famously made.
"She's not a trailblazer," Mr. Tyndall said. "We're seeing signs of this in prime-time television. This is the latest in a succession rather than her being cutting-edge."
And like real estate—a sector that mean old adults like Alan Greenspan insist will soon collapse if serious action isn't taken—Ms. Corcoran is cheery about her prospects in the competitive area.
"I had a picture that I would be the queen of New York real estate from the first day," she said. "Now I see myself as a very viable television guest or host or whatever. I see it in my mind's eye."
Ms. Corcoran is still primarily devoted to real estate—both onscreen and off. After all, she's still an investor. She recently closed on her first property in the South Bronx, which has been recently dubbed a burgeoning market. (And not surprisingly, the real-estate maven thinks the bubble talk is a lot of nonsense.) She remains very active in another Manhattan hot spot, too.
"I think the image of Harlem being 'risky' or 'too late to buy there' are both wrong. I very aggressively pursue properties in Harlem. I bought three properties in the last four months in Harlem. I love Harlem."
In April, her purchase of a three-story building in Red Hook—another hot area—was reported in The New York Times.
"I made my own problem. The minute that article appeared, I was competing with everybody and anybody to see the properties over there. Unfortunate for me personally, but very good for Red Hook. So maybe I should shut up …. [Otherwise] we're going to have a rush on Harlem."
Outside of real-estate matters, Ms. Corcoran recently dipped her toe into more controversial waters, giving political opinions on the Fox News Channel.
"On Fox, it's very prejudiced toward politics more than it is real estate. Everything from George Bush to the pullout on the Gaza Strip. They ask me anything. Oil prices. Technology."
Ms. Corcoran used to prepare for hours to become well-versed on the hot-button issues of the moment, but now she reads only a few articles before taking on fiercely ideological foes.
"I think I do operate out of a common-sense space versus some political genius," said Ms. Corcoran regarding her cable-news debates. And (believe it or not) the Fox News crowd considers her to be a bleeding-heart liberal, a term she's just getting accustomed to.
"I thought a liberal believed in abortion, but that's as far as it went. But I now know that liberals usually don't like George Bush, [and] I'm one of those. I'm usually very contrary to whoever's over there."
Now her staffers have less than three months to plan the farewell celebration.
"All I hope is, it's not a gold corporate watch. I just hope it's something bizarre and ridiculous so we can talk about it for years."
Like a recent two-day pajama party she threw in a mountain resort for 35 Corcoran "old-timers."
"Everyone said it was the most fun party we've ever had," she said. "It's funny to be a 50-year-old woman walking around a hotel in your pajamas when everyone else is in a suit. It's so thrilling!"