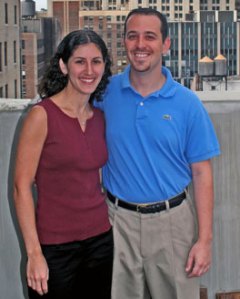 Lauren Berger and Stuart Ruderfer
Met: August 2000
Engaged: July 2, 2005
Projected Wedding Date: Fall 2006
Sometimes, ladies, it pays to date the boss.
Stuart Ruderfer, co-founder of a marketing company called Civic Entertainment Group, hired Lauren Berger fresh out of the University of Pennsylvania. His partner was impressed that the blond interviewee had been president of her sorority. "Don't ask me which one," said Ms. Berger, 27, sipping a glass of Cabernet recently with Mr. Ruderfer, 34, at Café Raffaella in the West Village.
She moved to a studio in Murray Hill and was soon working late nights as part of the Civic "team" (which consisted of six people). At around 9 o'clock most evenings, Mr. Ruderfer would get ravenously hungry and take her out to places like Tamarind and Peter Luger. "Whereas I could go home and have a bowl of cereal!" Ms. Berger said. Often, they'd split a bottle of wine. "My friends would be like, 'I don't think that's normal,'" she said. "I was like, 'What's not normal? We go out for dinner, we have a great time, we have a bottle of wine and sometimes we go for a drink after.'"
"But we'd be working," put in the dark and chiseled Mr. Ruderfer, whose pink shirt nicely complemented his suntan and pearly teeth.
Once, they got into a fight when he questioned her reliability. Later, he called to apologize while she was at a girlfriend's house.
"That was the weirdest conversation," the pal said. "That was your boss?"
"Yeah," Ms. Berger answered sheepishly.
On a business trip to L.A., the frisky co-workers checked into separate rooms at the Four Seasons. "Lauren wanted to give me some tips on brushing my hair," Mr. Ruderfer said. "She recommended some product, and I thought, 'Well, that's unique, for one of our employees to be doing that, but O.K.—now I have better hair."
They drank cocktails, ate dinner and repaired to his room, where they watched Nelly Furtado performing at the Salt Lake City Olympics and—well, we'll let you imagine the rest.
Soon afterwards, it was agreed that Ms. Berger should find other employment. She is now manager of event marketing at a company called NYC Big Events, which, alas, hasn't left her much time to plan her own wedding. "We're not registered," said Mr. Ruderfer, who moved from Park Avenue to join her in Murray Hill (they bought a one-bedroom in the same building).
He proposed during another business trip to L.A. (it also happened to be the weekend of her birthday), arranging a surprise room upgrade back at the Four Seasons. When they arrived, Ms. Berger noticed candles lit in the entryway. "I thought, 'That's weird,'" she said.
Inside the room, there were dozens of roses, a breakfast spread (including her favorite, bagels and lox), a bottle of champagne, a Nelly Furtado soundtrack and a telltale little black box from Jerry Blickman Jewelers in Rockefeller Center that contained an emerald-cut diamond yummily sandwiched between two baguettes.
After Ms. Berger bawled for what she said was 10 minutes—"It was two!" Mr. Ruderfer corrected—he dropped to one knee.
"This is our time to move on together to the next step in the journey that will be the rest of our lives," he said. "Will you marry me?"
Ilana Kubel and Matthew Engel
Met: Aug 1, 2004
Engaged: July 2, 2005
Projected Wedding Date: May 28, 2006
Ilana Kubel never thought much of dating per se. "I always felt I'd rather spend a Friday night hanging out with my friends," said Ms. Kubel, 27, a slender, curly-haired brunette who works as a financial analyst for Revlon.
So she had no one but herself to blame when she was dismally seated at a "couples" table during a friend's schmancy wedding at Cipriani 42nd Street. Luckily, a friend began chatting up an eligible bachelor on her behalf. Ms. Kubel ended the evening chatting for two hours at Whiskey Blue with Matthew Engel, a dark-haired, goateed real-estate manager at Langsam Property Services, his father's business. Tired from the festivities, they parted chastely.
In a move almost unheard of for a Manhattan male, he decided to e-mail her at 10 a.m. the next morning. "You have that whole thing where you're supposed to wait," said Mr. Engel, 28, "but I thought, You know what? I had a great time!" Atta boy!
Their first real date was at Mediterraneo, a restaurant on the Upper East Side and a convenient midpoint between his one-bedroom apartment on 82nd and her share on 73rd. I hope I remember what he looks like, Ms. Kubel thought as she approached.
The nervous tension melted as soon as she discovered that her date was a Mets fan. For his part, Mr. Engel was thrilled when Ms. Kubel ordered two beers (burp) and a burger deluxe on their second date. "Even if she didn't finish it," he said.
"Before I knew it, we had gone out five or six times," Ms. Kubel said. "It was like we'd always been friends."
After about five months, the Kubel family, which hails from Oceanside, met the Port Washington Engels over Italian food at La Piccola Liguria. The evening was a smashing success. "It took our mothers 20 minutes to realize there were other people at the table," Mr. Engel said.
Soon afterwards, together with his parents and older brother, he selected a 1.83-carat round-cut diamond solitaire set in platinum at Markson's in the diamond district and smuggled it home, giving his sweetheart a rose to conceal his excitement.
He busted out the bauble during a hike in Taughannock Falls (that's upstate—Ms. Kubel went to Cornell and is a nature enthusiast), after a lively discussion of what it would be like to fall off the edge of the cliff they were traversing.
When the newly affianced couple walked down to the lake, they discovered a picnic spread of chocolate and champagne (along with two Tiffany champagne glasses), left by two friends who'd been filled in on the plan, along with a loud crowd of applauding Independence Day hikers. "I spent the entire day with this huge, ridiculous smile on my face," Ms. Kubel said.
Their wedding ceremony will take place at the Inn at East Wind on Long Island. In the meantime, they've been enjoying playing with the electronic registration guns at Bloomie's, Fortunoff and Williams-Sonoma. Mr. Engel is eager to decorate his recently purchased two-bedroom Upper East Side apartment. Ms. Kubel will join him there once her lease runs out.
"I didn't think twice about getting engaged," she said, "and we're sitting there for an hour trying to figure out what kind of pots and pans to buy."