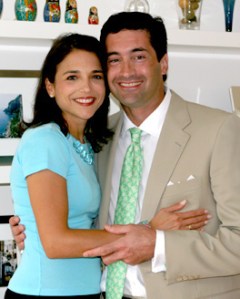 Linda Marino and Theo Spilka
Met: April 1, 2004
Engaged: Feb. 17, 2005
Projected Wedding Date: Oct. 30, 2005
This is gonna be one heck of a sweet-smelling marriage! Theo Spilka, 43, vice president at Firmenich, a manufacturer of flavors and fragrance products, is marrying Linda Marino, 38, worldwide marketing director for Ralph Lauren fragrances, including the musky floral, Romance.
They met at a March of Dimes' black-tie fund-raising gala at the Waldorf. Mr. Spilka was talking to a client when Ms. Marino, a slender brunette with high cheekbones, glided over in a flared red dress—"She wore it well," he said—having recognized him vaguely from industry newsletters. He was thoroughly mesmerized. Ms. Marino, meanwhile, was impressed with his unwavering brown-eyed gaze, clean-shaven square jaw and a physique toned by horseback riding. "I was thinking, 'Who is that cute guy?'" she said.
But Mr. Spilka was a bit wary. His first marriage ended in divorce, leaving him a single father to 13-year-old twins (boy and girl) and a 17-year-old son. "Some women assume they have to take on some type of motherly response," he said. "I'm like, 'What are they talking about? The children have a mother.'" Not to mention a devoted dad who taught his daughter how to shave her legs!
Six weeks after politely badgering a mutual acquaintance for her number, he called and asked Ms. Marino for a date that very evening. Alas, she was scheduled to visit her sister in Old Tappan, N.J. "I'll drive you," he said.
A month later, before going to see Madonna's "Reinvention" tour stop at Madison Square Garden, Ms. Marino met Mr. Spilka's children. "They were very welcoming to me," she said. The couple returned to see the Material Matron four times (?!) in various cities, once with his daughter in tow.
When Mr. Spilka picked up Ms. Marino at her office in midtown for a late Valentine's Day celebration, she spotted a rectangular Tiffany box protruding from his pocket. Well, it's the wrong shape, she thought.
"Where are we going?" she asked as he pulled her into the Wall Street Heliport. "We're not going on a helicopter, are we?"
He nodded enthusiastically.
"I'm not getting in there," said Ms. Marino, a woman of sense. As they flew directly above the Statue of Liberty, Ms. Marino dug her nails into Mr. Spilka's wrist, refusing to look at the view.
After circling a couple of times, the pilot announced that they had to head back. "You picked a good night for flying," he commented as the copter leveled off over Governors Island.
"Yeah," Mr. Spilka said. "And a good night to ask Linda to marry me!" Ms. Marino's beautiful blue eyes widened.
The couple disembarked to loud applause from the heliport staff, which had heard the whole thing over the dispatch radio. In the V.I.P. lounge, Mr. Spilka got down on both knees and opened the Tiffany box to reveal a ring of his own design from Sharp Jewelers: a six-pronged, three-carat, brilliant-cut diamond set in platinum. Unfortunately, it was three sizes too large. But that's an easy fix.
The pair headed to the Bubble Lounge to celebrate with champagne, followed by dinner at Nobu (Mr. Spilka is a friend of Mr. Matsuhisa, the owner).
Ms. Marino will be the fourth generation in her family to marry at St. Michael's Church in Paterson, N.J., with a reception to follow in Battery Gardens. After the wedding, she will leave her studio in the theater district to move into Mr. Spilka's house in Ridgewood, N.J.—hey, marriage is about compromise, right? While his kids are thrilled to welcome her into the family, his horse, Nostrovia, is having some issues.
"She's jealous of me," Ms. Marino said.
Michael Jannetti and Veronica Vargas
Met: November 2000
Engaged: Dec. 24, 2002
Projected Wedding Date: Sept. 10, 2005
Starting a new shift in downtown Brooklyn, Detective Michael Jannetti spotted a Fire Department ambulance parked down the block and pulled his car in next to it. "Hey, Mike," said the ambulance driver, leaning out the window. "Meet my new partner!"
Veronica Vargas (va-va-va-voom!) leaned forward and waved shyly. Her long, curly brown locks were pulled back in a ponytail and her green eyes were dancing with mischief. "I couldn't even tell you what was going through my mind," said the buff, brown-haired Mr. Jannetti, 35, who also works with handicapped kids and does fund-raising for New York Fire Department and Police Department widows and orphans. "I wanted to marry her that day."
But despite being a big, brawny cop, he couldn't drum up the nerve ask her out. Sometimes the pair would work together on calls, though, going out as part of a large collective of emergency workers.
When she bought her first car, a secondhand Honda CR-V, she eagerly drove it over to him to show off. Mr. Jannetti's stomach was growling, so they headed to Nino's Pizza and discussed their love of music over a couple of chicken cutlets. "Everything that she said she liked, I was into," Mr. Jannetti said. "I never thought anybody could be so compatible." Turns out they're also both fond of frozen drinks. "You can say that again," he said, patting a slight and endearing paunch. "It's not good."
On their first official date, they enjoyed hot wings at Cody's American Bar and Grill on Court Street, ending the evening with a smooch. Thereafter, when they weren't actually together, they were communicating digitally. "We had to get Nextels," Mr. Jannetti said, "because it would cost us so much money on regular phones—it was killing me!"
A typical vacation: long drives down South. "I never thought I was the type of person who'd enjoy being in a car for 16 hours instead of jumping on a plane for four," Mr. Jannetti said. But "watching the Florida sun reflect off her while she's sleeping …. She has this glow. I love it so much." Awww ….
After two years of schlepping his stuff back and forth, Mr. Jannetti moved from a bachelor pad in Maspeth, Queens, to Ms. Vargas' family home in Williamsburg. So when Ms. Vargas walked into a precinct get-together at Cody's, she wasn't particularly surprised to see her mother and father sitting there along with a bunch of co-workers. That is, until Mr. Jannetti dropped to one knee.
"I think you knew this day was coming," he said, presenting her with a 2.5-carat marquis-cut diamond from Zales. "Will you marry me?"
"Yeeeah?" Ms. Vargas whispered tentatively, as if the victim of a practical joke. Throughout the night, ambulance and police cars pulled up to the scene of the crime, filled with emergency personnel bearing congratulations.
"I was so shocked," said the 24-year-old bride-to-be. "He got me good."
The wedding will take place at Regina Pacis Church, near where Mr. Jannetti grew up, and the reception will be at Russo's on the Bay in Howard Beach. After that, the couple is planning to move into a house of their own in Staten Island, a planned sanctuary from their high-stress jobs. "If you took the job home, you'd lose it," Mr. Jannetti said.