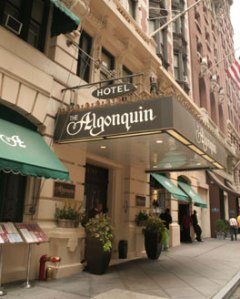 David Colby sat in the café of Coliseum Books, just blocks from the Algonquin Hotel where he'd spent his youth, describing his plans to take the old place back.
Real-estate powerhouse Cushman & Wakefield, the firm that sold the Plaza Hotel, has been hired to get top dollar for the Algonquin for their clients, Miller Global Properties. They'd purchased the hotel, home of Dorothy Parker's famed round table and daily lunch stop for New Yorker editor William Shawn, in 2002 for around $40 million.
Since they quietly put the hotel on the market in late June—the fourth time it's been for sale in less than 20 years—the 43-year-old grandchild of long-time owners Ben and Mary Bodne has made it his full-time job to accomplish what wasn't accomplished at the Plaza: to rile the public—and galvanize a few deep-pocketed preservationists—to save the hotel from the Plaza's fate.
Currently, Mr. Colby is trying to bring together a consortium of investors to purchase the hotel and foster what he dubs "an Algonquin renaissance."
It began with a letter-writing campaign.
"I fear the inglorious fate that awaits the Algonquin if it falls prey to a real estate investment trust," reads a letter sent by Mr. Colby to potential investors, and published July 18—without his knowledge—on the media blog FishbowlNY. "These companies are typically detached from any emotional aspect of hotels, its staffs and historic legacy," continued the lengthy diatribe.
When he was 8 years old, Mr. Colby recalled, his family moved from the suburbs of Long Island into midtown's Algonquin Hotel, the renowned literary lunch spot and Broadway hangout. Now with protruding stubble and gray streaks in his short, dark hair, and wearing a striped Penguin polo shirt, Mr. Colby spoke with intensity, his eyes lighting up behind tan glasses as he remembered the time he spent in the Algonquin.
"We played Twister at the Algonquin," he said of his boyhood days in the legendary hotel. "We didn't need the platform; we just used all the different diagrams in the lobby."
But Mr. Colby isn't only reminiscing; these boyhood tales of life at the Algonquin are crucial in his efforts to raise the money he needs to buy the old place back.
"Once you walk inside, and you are connected to the ownership, something comes over you," he said. "Even if you never had read the Eloise stories of the Plaza, it just automatically came to you that this was your playground. This was your sandbox, and it's the Algonquin Hotel."
For Mr. Colby, getting his sandbox back will come at a hefty price. With the real-estate boom still in full swing, coupled with a shortage of quality hotels on the market, he expects the price to jump to between $60 million and $70 million.
One real-estate investment specialist is skeptical of his chances. "If he has got to play on a level playing field, a history of family ownership isn't going to do anything for him," said Douglas Harmon, managing director of Eastdil Realty. "Price, speed and credibility are going to drive the deal. Very few people—when you're selling real estate—have any soft feelings for history."
For their part, the current sellers say Mr. Colby's fears—that the building will be converted to condos and fall into the oubliette of midtown hotel history—are unfounded.
"I am pretty much 100 percent sure that won't happen," said hotel specialist Tom McConnell, senior managing director at Cushman & Wakefield. "It will be a hotel for the rest of our lifetime."
Mr. McConnell said the Algonquin is having the best year in its history, and reaping the benefits of increased tourism throughout the city this summer.
But there are other reasons why the Algonquin might not be converted into condos. The three top ones: location, location and location.
The 12-story building, which is on a block with several other hotels, is certainly not as ideal as the Plaza for residential use—lacking the spectacular views, larger units and proximity to Central Park. Located on West 44th Street, between Fifth and Sixth avenues, it is close to highbrow dives like the newly expanded Harvard Club and DB Bistro Moderne, and it offers tourists a short walk to Times Square. Lastly, the Algonquin is much smaller, containing only 174 rooms to the Plaza's 800.
Regardless of whether he is truly stopping a condo conversion, Mr. Colby believes that the hotel belongs with his family, who owned it from 1946 to 1987.
"It's a very romantic notion, but my grandfather was a hayseed from the South. He married my grandmother, honeymooned in New York, and the Algonquin was one of the hot spots. They walked into the Algonquin, and it was love at first sight," said Mr. Colby. "My grandfather, upon leaving the Algonquin, said to my grandmother that they would return to the Algonquin one day, and that he would buy it for her."
In 1946, Bodne initially tried throwing some of his oil money into major-league baseball, but he was outbid by crooner Bing Crosby.
"Since he couldn't buy the Pittsburgh Pirates, he remembered that promise he had made my grandmother."
After fulfilling that newlyweds' promise, the couple moved to Manhattan. They stayed for the rest of their lives.
"The Algonquin over the last 18 years—since my grandparents sold it—has been off-shore or out-of-state ownerships, absentee ownerships with management companies. There was never any kind of cohesion, just one turnover after another."
Mr. Colby does have a point. In 1987, Bodne sold the property to Aoki Corporation at a moment when Japanese investors were snatching up iconic New York properties, such as Rockefeller Center. While Aoki may not have effectively marketed the Algonquin's cultural cachet, the company did put in about $22 million on less noticeable improvements, like new elevators.
Ten years later, Aoki sold the Algonquin for $32.6 million to Olympus Real Estate out of Dallas. Also having little success with the once-prominent landmark, Olympus sold it to the Denver-based Miller Global Properties, which quickly rounded up Algonquin regulars in focus groups to determine how best to market the hotel. They picked Mr. Colby's brain.
"It was sort of my return to the Algonquin. [I] hadn't been there for a while, and when I walked into the lobby, for me, automatically, I'm transformed."
For a while, it seemed like a partnership of sorts had developed between the precocious kid who learned to field ground balls in the Algonquin's lobby, and the new owners who were looking to merge the glorious past with modern improvements. But after a proposed centennial celebration fell apart in 2002, the relationship became frayed, according to Mr. Colby. "Since then, they could say that I'm a pebble in their shoe."
Understandably left out of the decision-making process, Mr. Colby criticizes the current ownership.
"I had ideas of stretching the Algonquin brand name and reaching out to the community, the literary crowd, the theater crowd. Used to be that all the New Yorker people would come there. Where have they gone?"
While David Remnick and company may have found other lunchtime hangouts, Miller Global has revived The New Yorker in other ways.
As legend has it, the magazine began with a card game, known as the "Thanatopsis Pleasures and Inside Straight Club." Founder and editor Harold Ross got yeast heir Raoul Fleischmann to open up his wallet and fund the high-minded magazine. The shout and murmurs have continued to this day.
In keeping with tradition, Talk of the Town, a musical version of those witty round-tablers, is performed twice a week in the Oak Room. Onstage, legendary figures trade clever quips and occasionally burst into song.
In October 2004, the hotel tried a glitzy plan that received tons of publicity: They started selling a $10,000 martini with a diamond included (two people actually bought it). A smart publicity stunt, the pricey cocktail helped revive the Algonquin's image of luxury, difficult to do given the number of boutique hotels springing up, such as the Hotel Gansevoort. With modern luxury hotels now loaning out iPods, the Algonquin has started doing the same—with best-selling books and round-table biographies downloaded inside.
Gimmicks aside, Miller Global closed down the hotel last summer to deal with a much-needed renovation, spending $4 million to upgrade the hotel with everything from fresh carpeting to new beds in the guest rooms.
Yet for Mr. Colby, these improvements aren't enough.
"I wanted to be in the inner circle and have a position where I could revive the Algonquin. It never really came together for us."
Miller Global executives didn't return calls for comment.
Mr. Colby's foray into the hotel business isn't motivated solely by nostalgia. Obviously, no investor is going to shell out millions of dollars for a handful of anecdotes. With an associate's degree from New York University in hospitality management, Mr. Colby also has real-world experience working at the Algonquin and other establishments, including the Beverly Hills Hotel. He sees nothing but possibility in the Algonquin.
"The hotel can be timeless. The influence that it can have can be incredible. The people that would be attracted to the things that the Algonquin can do—will do, I know it, if I have a part in it—would transcend anything that has ever been done with the Algonquin, and perhaps any other hotel. Period."
Lofty goals, indeed.
Now if only he could get his hands on that $60 million.