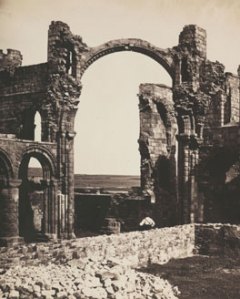 The most striking photograph included in All the Mighty World: The Photographs of Roger Fenton, 1852-1860, an exhibition on display in the Robert Lehman Wing of the Metropolitan Museum of Art, is neither the best thing in the British photographer's oeuvre nor the most beautiful. Captain Lord Balgonie, Grenadier Guards (1855) is among a number of photos by Fenton (1819-1869) devoted to the Crimean War, a documentary project commissioned by a Manchester publisher and blessed by Prince Albert.
Furrowing his brow, bags under his eyes and hair unkempt, Captain Lord Balgonie stands at uneasy repose, as if he were unsure of how to steady his weight. His clothes are shabby and nondescript. Looking intently into the distance, he appears momentarily lost in thought. The present, we feel, weighs heavily upon him, the future even more so. His features register both distress and drive. Despair is a given.
Contrast Captain Lord Balgonie, Grenadier Guards with General Bosquet (1855), in which the title figure addresses the camera's gaze with a practiced and steely artifice. It's a visage that admits to no doubt or vulnerability. (Fenton's skewed framing of the general between a darkened doorway and an oddly opaque window does, however, undercut the presiding air of authority.)
By hanging the pictures side by side, the curators at the Met set up a simplistic, if not entirely unjustifiable, perspective on the distinction between war-as-reality and war-as-noble-pursuit. What that distinction elides is the unsparing determination apparent in both men's faces. It's also worth mentioning that photographing human beings wasn't really Fenton's strong suit. The portrait of Lord Balgonie is remarkable partly for the light it shines on the limits of human endurance and partly because it is so atypical of the artist's vision.
Indeed, when taking stock of Fenton's oeuvre, it becomes clear that people were quite peripheral to his aesthetic. The dutiful and stiff portraits of Queen Victoria's children, a ghillie (a hunting and fishing guide) and himself are barely notable for their period charm. The "Orientalist" photos—staged panoramas of ethnic types wearing turbans, smoking pipes and lounging in exotic repose—are shamelessly hokey in their bid to elevate photography to the status of painting (think Delacroix and Ingres). They may be representative of the vogue for exoticism in Victorian England, but they are embarrassing in their lack of authenticity or pictorial invention. A photograph of an antique sculpture—a hermaphrodite feeding a bird, from the British Museum's collection—exhibits more animism than Fenton's pictures of flesh-and-blood subjects do.
He didn't fare much better with fruit. Despite what the people at the Met might say, photographs like Decanter and Fruit and Flowers and Fruit (both 1860) do not "demonstrate the capacity of photography to equal—and even surpass—painting in its many traditional roles." They demonstrate only that Fenton consciously aped the customs of 17th-century Dutch painting. Notwithstanding the abundant array of textures, Fenton's still-life photographs are rather humdrum—fetching in their own way, but innocuous in terms of composition, variety and intensity.
The claim that Fenton holds on history, and our attention, comes with his photographs of nature and architecture, particularly ruins. Clearly attracted to their scale and magnitude, Fenton precisely choreographed his subjects—whether they be the remains of Lindisfarne Priory in Scotland, the "long walk" to Windsor Castle or an outcropping of rocks—within the frame of the lens so that the resulting pictures encompass much more than they would seem capable of holding. At times, the photographs seem about to burst forth from their borders.
Figures dot these vistas, yet only as markers of scale. As such, they are diminished by the world that surrounds them. Abbeys, cathedrals and mountain streams are endowed with an unnerving independence. In Fenton's art, the primacy of humankind is a fiction and the civilized world is a ghost town. In View from the Foot of the Round Tower (1860), a transparent figure shimmers on the right and a barely discernible troop of soldiers inhabit the middle distance. All are interlopers upon a setting indifferent to their presence and purpose. It's a sublimely inhospitable photo.
Fenton's light is keening and diffuse in character, cleansing and crisp in effect. In this regard, comparisons to the paintings of Joseph William Mallord Turner don't seem entirely out of hand. It's in pieces like The Double Bridge on the Machno (1857), Westminster from Waterloo Bridge (ca. 1858) and Landscape with Clouds (1856), with its blinding sweep of sky, that Fenton pulls off his longstanding aspiration to prove that photography could indeed rival painting and drawing.
That struggle might seem a quaint pursuit in our media-besotted age, but Fenton's finest work can still intoxicate with its heady mix of grandeur, nobility and resolve. "Further than this the art of photography cannot be possibly carried"—so said a Fenton enthusiast of the time and, boy, was he wrong. Yet that enthusiasm nonetheless attests to the beauty of, if not "all the mighty world," then Fenton's corner of it.
All the Mighty World: The Photographs of Roger Fenton, 1852-1860 is at the Metropolitan Museum of Art, 1000 Fifth Avenue, until Aug. 21.