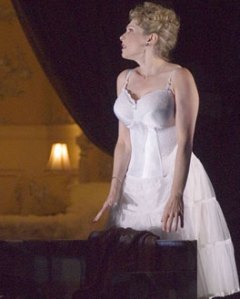 Opera, it might be said, is a kind of madhouse: Musically, it pushes vocal capacities to the breaking point; dramatically, its protagonists are often in the grip of something so grievous that suicide may be the only way out. In Cooperstown, N.Y., where Glimmerglass Opera is celebrating its 30th season, operatic derangement is in full swing.
In Poulenc's La Voix Humaine ("The Human Voice"), a woman falls to pieces during a desperate phone conversation with her faithless lover. In Donizetti's Lucie de Lammermoor (the French version of the more familiar Lucia di Lammermoor), the heroine indulges in opera's most famous "mad scene" before taking her life. In Britten's Death in Venice, a celebrated, austere writer becomes so obsessed with a beautiful youth that he allows himself to die in an outbreak of cholera. In Mozart's Così Fan Tutte, a cynical hoax unleashes passions that scramble the engagement vows of four young lovers (I have yet to see the Glimmerglass production). To paraphrase the Sondheim lyric, the theme this summer seems to be "losing control while falling apart."
La Voix Humaine is the second half of a French double bill that begins with a trifle: Massenet's Le Portrait de Manon, a pallid sequel to the intoxicating, full-length Manon, in which an embittered Chevalier des Grieux finds peace long after the death of his wayward courtesan. Perhaps a staging more perfumed with fin-de-siècle wistfulness would have masked the scent of mothballs, but I doubt it. Poulenc's one-act monodrama, on the other hand, has lost none of the insidious glamour that I remember from the classic 1959 recording with Denise Duval, the soprano for whom it was written.
In few operas are music and text so well joined. With microscopic voyeurism, Jean Cocteau's play examined a young and elegant Parisian woman clinging to the disembodied voice of her "chéri," who has abandoned her. This was caviar to Poulenc, whose personality combined a bourgeois homosexual's refinement with a Roman Catholic's penchant for self-punishment. Poulenc's limpid melodies aspire to an elevation they never quite reach, and he was perfectly suited to bringing out the not-so-latent sadomasochism in both the Cocteau text and a heroine who luxuriates in her own pain.
Wisely, the Glimmerglass production didn't try to update the action to the age of the cell phone. David Newell's glossy, uncluttered set, Miranda Hoffman's pert organdy couture and Robert Wierzel's melodramatic lighting kept the piece firmly rooted in the 1950's, when a woman changed dresses and matching shoes according to her mood.
Denise Duval, who was the composer's close friend, has long been regarded as the unsurpassable Elle, the opera's only audible voice. But at Glimmerglass, Amy Burton—supported by the sensitive conducting of Stewart Robertson—seemed to me just about ideal in this extraordinarily taxing role, arresting in her desperate solitude, like a cat miserably in heat, and expressive in her easy handling of the torrential French text. Ms. Burton's Elle was the most compelling performance I've seen by this City Opera stalwart, whom I have previously admired more for intelligence than allure. Here, she has it all.
I was less convinced by the decision of the director, Sam Helfrich, to mute the presence of the other key character onstage: the telephone, which sits throughout on a table, its receiver off the hook. Instead of listening to the call itself, we eavesdrop on the woman as she replays (or perhaps merely imagines) the conversation. This Proustian approach adds to the sense of internal breakdown and allows for greater freedom of stage movement, as Ms. Burton prowled the apartment from bedroom to refrigerator.
But Cocteau's libretto specifies that the telephone be used both to chart the woman's turmoil and to sharpen the opera's fundamental irony—which is that the most useful of modern conveniences can be worse than useless in the most human of predicaments. In the stage directions, the telephone raises the woman's hopes when it rings after she's inexplicably been cut off. It provides cold comfort when she takes it to bed. And it signals that it may even become a means of suicide when at one point she winds the cord around her neck. In this otherwise masterly production, La Voix Humaine still packs a wallop—at least one feminist friend confessed to being "devastated" by it. But I suspect that it would have been even more devastating if it hadn't gone cordless.
Donizetti's French version of Lucia di Lammermoor had its premiere in Paris in 1839, and it hasn't, as far as I know, been performed in this country for nearly a 100 years. The composer's relentlessly tuneful style, which is like a faucet you can't turn off, is Italian to the core and somewhat incongruous with French speech (which, in any event, seemed largely absent from the Glimmerglass performance). Even so, the French Lucie is, in several respects, an improvement over the original—more dramatically compressed; more generous about Henri, the weak, overbearing brother (who now has a brutish lieutenant, Gilbert); and more focused on the isolation of the hapless heroine, who now lacks her female companion, Alisa.
Lillian Groag's production, which was vigorously conducted by Beatrice Jona Affron, distilled the Gothic gloom of the Sir Walter Scott novel into a claustrophobic hothouse of tilted mirrors. (The designer was John Conklin.) This had the effect of concentrating one's attention on the title character, in the person of a young American soprano, Sarah Coburn. When Ms. Coburn fetchingly sang the title role in Gilbert and Sullivan's Patience last summer, she gave no indication that she was up to one of the most demanding coloratura assignments in opera. But she turns out to have qualities that have made legends out of so many of her predecessors, from Adelina Patti to Maria Callas: stage charisma, a thrilling upper register and, crucially, a fearlessness about abandoning herself to opera's most abandoned heroine.
On a blistering Sunday afternoon, this was not a completely satisfying performance. Ms. Coburn's mad scene was stagy, with lots of fingerpointing at the hallucinatory "bird" of the accompanying flute. I heard nothing in her brilliant top notes that resembled a melting pianissimo. In the lower registers, she indulged in some mannered crooning reminiscent of today's most vocally willful diva, Renée Fleming. But this is a palpably exciting voice, and if the rest of the cast seemed a little dazed by her (the best of them was the steadily impassioned Edgard of Raúl Hernández), that's as it should be. Ms. Coburn is a budding prima donna of exceptional promise.
When the Met staged Britten's Death in Venice in 1974, the work seemed small in the huge red auditorium, despite a superb musical performance, led by the composer's longtime partner and vocal muse, Sir Peter Pears. In the intimacy of Glimmerglass' 900-seat theater, Britten's most enigmatic work for the stage fills the house gloriously.
In librettist Myfanwy Piper's adaptation of Thomas Mann's novella, the cast of characters includes tourists, a strawberry seller, strolling players, a travel agent, gondoliers, the god Apollo and a half-dozen Mephistophelean characters, ranging from an elderly fop to the Voice of Dionysus, who function as agents of doom (all six are sung by one baritone). The "action," however, takes place entirely inside the head of the doomed protagonist, the novelist Gustav von Aschenbach. With a running time of two hours and 45 minutes, this must be the longest—and richest—operatic monologue ever written. It begins (there's no overture) with the blocked writer thinking aloud: He sings, "My mind beats on," and those four words take us into an internal universe of clandestine desire that comes to signify as much as the public universe ushered in by the opening four notes of Beethoven's Fifth Symphony.
Mann's story (in Michael Henry Heim's recent, brilliant translation) situates Aschenbach in a state of "torpid discontent"—a condition that no composer was better equipped than Britten to explore. His music ratchets up the Olympian detachment of Mann's prose to a tense turbulence that is expressive on enough levels for a dozen operas: the city's mysterious, watery foundations; the disease-ridden sirocco; echoes of the Platonic dialogue about whether beauty is a path to wisdom or chaos; Aschenbach's attempts to get an intellectual grip on the "perilous sweetness" of his obsession, which are set to an eerie piano accompaniment that rebukes him while indulging his imagination. And much more.
Most of Britten's operas represent an ongoing dialogue with himself and with the public—art made to explain himself as a passionate dissenter from a world devoted to war and as a flawed individual, conflicted by his search for grace and the pederastic desires of his homosexuality (desires he managed to suppress). By the time Britten composed Death in Venice, four years before his death in 1976, he had distilled his unmistakable musical language—spidery, translucent, fraught with treacherous sensuality—into an expressionism comparable in its brazen immediacy to Titian's last painting, Apollo's Slaying of Marsyas. As the god did with the satyr, Britten's opera flays.
If the Glimmerglass staging doesn't quite fulfill the work's strange power, it makes an awfully good stab at it. Tazewell Thompson's production (with sets by Donald Eastman) shrewdly situates the fluid events in a single setting—the lobby of a decaying grand hotel whose back panels open to reveal the stupefying Venetian light. Led by Stewart Robertson, the young Glimmerglass orchestra overcame an initial tentativeness to bring real fire to this rigorously demanding score. William Burden sang the marathon role of Aschenbach with unfailing sensitivity—though the youthful attractiveness of his tenor (so different from the hollowed-out eloquence of Pears) worked against our belief in a man in his twilight years. As the six agents of doom, David Pittsinger proved a nimbly sinister chameleon.
I found Scott Chiba as Tadzio, the object of Aschenbach's fatal attraction, problematic. Given that his appearances are accompanied by exotic orchestral colors that reflect Britten's longstanding interest in Balinese gamelan music, the casting of an Asian actor as the Polish boy made some sense—and would have made more sense if Asian performers had also been cast as his mother and sisters. Mr. Chiba is unquestionably eye-catching, but he projected the air of an experienced stage creature who's used to being looked at. He struck me as altogether too knowing to convey what is most disturbing about Death in Venice. In this, Britten's last and most overtly autobiographical opera, the composer looked more deeply into the concern that had informed his best earlier work, from Peter Grimes to The Turn of the Screw—the corruption of innocence. Here, the corruption resides in innocence itself.