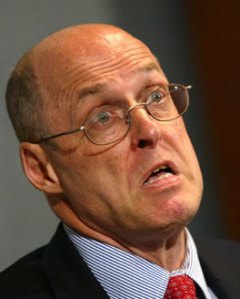 According to two officials involved in the negotiations with the investment bank Goldman Sachs to build a new $2 billion headquarters adjacent to Ground Zero, C.E.O. Henry Paulson has secured a financial guarantee from the city and state, exacting penalties if authorities fail to enact a comprehensive security plan for the World Trade Center neighborhood.
The five months of negotiations with Goldman Sachs began when the company threatened to pull out of building its planned Greenwich Street tower on April 4, because of the city's plan to build a tunnel and run West Street beneath the complex. Goldman opposed the tunnel, since it would send speeding cars out of its mouth right outside the entrance to its 40-story headquarters. How could such a tunnel be satisfactorily secured?
With significant sweeteners, they appeared on Aug. 16 to be close to striking a deal, if the security provision can be worked out.
Details of the deal will be unclear until it is final. But Assembly Speaker Sheldon Silver said the city and state would actually pay money into an escrow account, while Deputy Mayor Daniel Doctoroff said that it was premature to discuss the specific mechanism. An escrow account, he said, was a "not inaccurate" characterization, though.
"They wanted to make sure that there was a process for developing a security plan for the World Trade Center as well as for lower Manhattan generally, and that process will take shape over the next several months," Mr. Doctoroff said. "Basically to the extent the city and state don't live up to promises then there will be penalties."
He continued, "The security plan involves the NYPD coming up with a more comprehensive approach to security than has been there, with the cooperation of Jim Kallstrom, the Governor's security adviser."
From the beginning, one question has plagued the rebuilding effort downtown: Who could possibly want to work on the site of our national grievance in the international war on terror? Isn't it surely a major future target?
When Goldman announced its change of plans in April, the answer was not looking good. Larry Silverstein appeared to have no real tenants for his building next-door, at 7 World Trade Center. And Goldman was backing out.
That makes this security guarantee, though one of several enticements offered to the firm to stick with their plan to build downtown, the most significant one. And it was, according to sources, among the more complicated to pull off.
Aides to the Governor and the Mayor—principally John Cahill, Mr. Pataki's representative at Ground Zero, and Joshua Sirefman, Mr. Doctoroff's chief of staff—went to work on Goldman almost right away, and within weeks the Governor had abandoned the West Street tunnel and then revised the Freedom Tower plan. The city and the state assembled a package of tax breaks, some codified in Mr. Silver's so-called Marshall Plan for Lower Manhattan, others tailored especially for Goldman. Altogether the investment bank gets a roughly $250 million signing bonus for staying with the home team.
In the days since The New York Times broke the story on Aug. 11, the numerous offices and agencies involved have been scrambling to affix the final stamp and seal. On Monday the Empire State Development Corporation approved giving $23 million in federal grant money on the condition that Goldman moves 8,100 jobs to the site. Another $2 million follows if Goldman creates another 800. A subsidiary panel, the Liberty Development Corporation, also approved $1.65 billion in triple tax-free Liberty Bonds—a full $650 million more than Goldman had been slated to receive last September, according to Deborah Wetzel, a spokesperson for the ESDC. Assuming a discount of one percentage point a year for 30 years, the entire Liberty Bond package is worth $100 million in today's dollars, according to the nonpartisan Independent Budget Office.
Meanwhile, the Battery Park City Authority, which owns the two-acre parcel, has been meeting to finalize the lease. The authority abruptly cancelled an emergency session Tuesday—and press conference afterward—because of "unresolved issues," according to authority spokeswoman Leticia M. Remauro. Other sources said the authority is waiting to receive a report from city Comptroller William C. Thompson Jr. about the economic impact of the incentives. Indeed, everyone is waiting for that report.
The total discretionary incentives amount to about $114 million, Mr. Doctoroff said, with the city's portion representing $42 million. All told, the city and state are offering $60 million more than they had before things fell apart.
"The reality is, that's what Liberty Bonds are to be used for, and we certainly have excess capacity there." Mr. Doctoroff said. "There were additional discretionary incentives in part to compensate Goldman for the expenses it was incurring as a result of the delay."
Mr. Doctoroff said Goldman would be paying 15 percent more in payments in lieu of taxes than is the World Financial Center next-door, on a per-square-foot basis.
What made Goldman's signing bonus so unusual was that the company was not about to leave town, nor add all that many jobs. Goldman's traders are so reluctant to leave Manhattan, in fact, that the company has a half-empty building in Jersey City, and two other properties there that it has yet to develop. In April, Goldman spokesman Peter Rose told The Observer, "We will only look in Manhattan" and "The only incentives we have asked for are the standard incentives for any corporation."
Mr. Doctoroff said that he never worried that Goldman would abandon New York entirely, but that it might move some jobs elsewhere.
"I did think that there was a realistic possibility that they would remain in place and they would begin carving off pieces off operations, important parts of their trading operations, and moving them over across the river to Jersey City where they have a building ready to go," he said. "What we have here for the city is a very good deal. The cost is spread out over 10, 20 years, and the payback period is over the next couple of years."
ESDC chairman Charles Gargano, who took part in some discussions, said that while Goldman never threatened to leave for Jersey City, "Word was getting around that they had this space and they might want to use it."
In addition to the 800 new jobs tied to the federal grant, Goldman has said it plans to create 4,000 jobs in New York City in the next 15 years—but that projection has long been the case and is not enforceable. The original incentive deal, struck last year, required Goldman to preserve its New York City workforce of 9,178 employees through 2028.
Rather, the new incentives appear to have been designed to bring Goldman to the table now—a little before the Sept. 11 anniversary and a few months before the Mayor stands for re-election—rather than later.
"I think it is the price we are paying for the lack of leadership downtown," said Nicole Gelinas, a senior fellow at the Manhattan Institute. "The tax-break portion is something that if the state and city had shown leadership on the security issue earlier, they would not have had to give Goldman this package. Instead of giving tax breaks to companies in different parts of the city, they should lower the tax burden for businesses throughout the city."
Other government watchdogs criticized the stealth with which the final pieces of the puzzle have been put together, in particular the sleight of hand by which the Liberty Development Corporation amended its Liberty Bond allocation upward from $1 billion to $1.65 billion without a public hearing, or public notice, first.
"Talk about disdain for public input. It's completely counterproductive, said Bettina Damiani, project director of Good Jobs New York. "I would like to think that the law would not allow you to increase a subsidy deal by half a billion and call it a done deal without having a public hearing first."
Mr. Gargano said the public had plenty of opportunity to provide input on issues such as the master plan for the World Trade Center, but "You can't have the public responding to every decision that has to be made. It's just impossible. It's not workable."
Individuals familiar with Goldman's inner workings say it is a thoughtful, deliberative company that would have been happy to have sat on its hands until the security situation at Ground Zero sorted itself out—but that it was also eager to strike a deal because construction costs in New York are rising. Real-estate experts say that Goldman could not have found many spaces in midtown to comply with its requirements: two million square feet of state-of-the-art commercial space that it could own itself and fit out to accommodate the high-ceilinged, wide-open trading floors that architects Pei Cobb and Freed had designed for Site 26 at Battery Park City.
Most likely, Goldman would have had to demolish a property and rebuild, which is not easy to do if a lease is expiring in a few years. One site frequently mentioned was the Hotel Pennsylvania at 33rd Street and Seventh Avenue, but the owner, Vornado Realty Trust, was not interested in selling nor had it been contacted by Goldman, according to hotel spokesman Jerry Grymek.
"They would tend to be in more remote locations, like the Con Ed site on the East Side, which might be rechristened for an office building," said Robert L. Freedman, president and C.E.O. of GVA Williams, a real-estate-services firm. "The area between Second Avenue and Broadway is so dense that you've got to be creative in what I call 'vertical assembly,' but clearly they were very hard pressed."
That much said, Mr. Freedman and other representatives of the business community applauded the deal at a time when Larry Silverstein is still looking for a major tenant for 7 World Trade Center and when lower Manhattan rents for class-A space lag midtown's by about $15 per square foot.
"The investment you make in incentives will be paid out many times over by bringing others to the World Trade Center site," said Kathryn S. Wylde, the president and C.E.O. of the Partnership for New York City. "Companies headquartered downtown are thrilled, not just because Goldman is satisfied the public agencies can pull off a major redevelopment effort, but it shows they are confident that the Freedom Tower can be built and that Goldman is not going to have to put up its building from a permanent construction site."
It was Goldman's announcement in April that prompted the Governor to take more of a hands-on approach to lower Manhattan development, beginning with the weekly press conferences and the appointment of his chief of staff, Mr. Cahill, as his downtown czar. By that point, Goldman had already spent millions of dollars on architectural and engineering drawings but remained unhappy because Governor Pataki had not yet decided whether to go forward with putting West Street underground—a move that was meant to connect Battery Park City with Ground Zero, but which also made Goldman executives fret about traffic speeding right outside the entrance to its headquarters.
Mayor Bloomberg, right after getting elected, said that any business that had to worry about the "incremental margin" that differences in tax rates presented, "you don't have a business." Goldman can hardly be accused of being in that position—it ended last year with $4.55 billion in net earnings, which raises the question just why the country's premier investment bank needed help in the first place.
Maybe it didn't, but Mr. Silver said that building a new headquarters is a decision that the next C.E.O. of Goldman Sachs will not be able to reverse.
"This represents a multi-billion commitment by a world-renowned institution that basically says downtown Manhattan will be the financial capital of the world for a long time to come," he said. "That's what the message is and that is very, very important and critical at this state almost four years after Sept. 11, 2001."