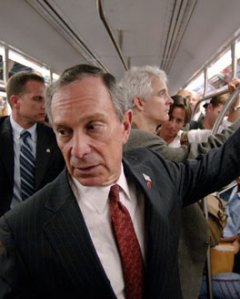 Sitting in front of a digital clock that counted down the seconds to Election Day, Francois Jean-Pierre, an elegantly dressed 61-year-old Haitian man, recently spent his Monday night off in a crowded call center on the 19th floor of a swank building in midtown Manhattan.
Surrounded by walls papered in maps, handwritten rally placards and collages honoring Mayor Michael Bloomberg, he joined about 40 other people reciting the same pitch into the receivers of their tan telephones.
They are Bloomberg's army, and this is their war room.
Women penned notes, men chewed some last morsels of sandwiches, and a large-screen television flickered against the wall.
Suddenly, Mr. Jean-Pierre hung up his handset and smacked a silver bell on his desk with self-satisfied relish. Its chime summoned a burst of applause.
Another volunteer had been recruited.
"It's not easy to get people involved," said Mr. Jean-Pierre.
You wouldn't think so from the claims Mr. Bloomberg's campaign staff has been making. According to them, Mr. Jean-Pierre is one of 25,000 volunteers working for his re-election. And call by call, leaflet by leaflet and doorbell by doorbell, they are deepening their ranks and enlisting on a scale never before seen in New York City politics.
"I'm planting a seed," said George Sotiroff, another volunteer making calls Monday night in Bloomberg's campaign headquarters.
Mr. Bloomberg's campaign managers said those seeds will eventually bloom into the City's largest-ever volunteer field campaign, which they say will be the most marked improvement on the Mayor's first successful bid in 2001. And his staff still earnestly talks about doubling their already staggering ranks of volunteers.
The numbers inspire anything from awe to derision and deep suspicion, depending on whom you ask.
Most everyone agrees that for an incumbent candidate with such an insurmountable advantage when it comes to cash, with mass mailings, television and radio advertisements all in his arsenal, floating a figure of 25,000 volunteers projects an almost existential new dimension of Mr. Bloomberg's power.
"Obviously, they are trying to project inevitability by putting this volunteer number out there, and if it really is true it would be one of the most extraordinary volunteer operations in New York City history," said Jonathan Rosen, a partner in Berlin Rosen Ltd., a public-affairs and campaign-management consultancy that has worked on Democratic campaigns for state Senate seats, the Howard Dean bid and the Mark Green runoff.
The Mayor's opponents in this campaign—whose volunteer numbers tend to be in the hundreds—are especially skeptical.
"He's trying to create the aura of a juggernaut," said Tom Ognibene, a Republican candidate for Mayor. "This is a person who has to be assured that he is doing the right thing when he is doing the wrong thing. It's the emperor has no clothes, but he has to be reassured that they look beautiful. He's trying to say this is not about my money, where the fact of the matter is that this is about your money, Mr. Mayor."
"Twenty-five thousand is an extraordinary number and it can be used to offset the fact that he is wealthy. It makes the candidate feel folksy," said Hank Sheinkopf, a veteran Democratic campaign manager. Indeed, new volunteers are greeted with handwritten notes, inviting them to "spread the Mayor's message," as if they were helping Johnny Appleseed, not a media-mogul Mayor with unprecedented access to the airwaves.
The headline of August's monthly newsletter, "The Bloomberg Volunteer," blares: "A Record 25,000 New Yorkers Sign Up to Volunteer to Help Re-Elect Mayor Bloomberg."
But many critics are wondering what constitutes a volunteer.
"The burden is on them when they throw around huge numbers to demonstrate what these huge numbers of people are actually doing," said Brian Hardwick, a campaign manager for Council Speaker Gifford Miller, a Democratic candidate for Mayor. "It's obviously an attempt to make it look like they have more support than they actually do."
Mr. Bloomberg's campaign says that the full brunt of the volunteer army will be felt as the clock ticks closer to Election Day in November. The city will then be awash in pamphlets and buttons, with volunteers at the exit of every subway stop, on the precipice of every polling station.
But many of the volunteers seem to exist purely to multiply. The Manhattan headquarters alone makes about 5,000 calls a day on average, and thousands more New Yorkers are recruited from the Mayor's Web site, which is available in 11 languages.
"Do you think anyone is going on his Web site and say, 'Oh my god, he is so cool'? I don't think so," said Jill Harris, an expert in field operations who has worked on numerous Democratic campaigns in New York City and in other states. "He's got a ton of money so he can call everybody …. The question is whether that translates to people doing things. It's a question of definition and a question of what their follow-up will be."
The zeal to recruit new volunteers can verge on the cultish. On Monday evening, in Mr. Bloomberg's lobby with its buffed wood floors, staffers pecking at BlackBerries and jars full of peppermints and Bloomberg buttons, a young man arrived asking for campaign literature. A blond woman quickly greeted him with a brick-sized stack of pamphlets, but he said he only needed 10 or so.
"I collect political memorabilia," he said.
Unfazed, the woman recognized his Alabama accent, said she was from Texas, and soon asked him, "Do you want some more? You could pass them out. Do you want to volunteer?"
"Sure," he said.
Brooklyn Wants More Coffee
It was back in February when Mayor Michael Bloomberg first stepped onto a stage at B.B. King's Blues Club & Grill in Times Square and pledged to an audience packed with cheering supporters that he would draft 50,000 volunteers to help vitalize his re-election bid.
But that flashy night is many months and many miles away from the Bay Ridge section of Brooklyn, where on a scorching Friday morning Kiriakos Kakouros, a 69-year-old Bloomberg volunteer, stood in the borough's empty, cavernous campaign headquarters to show a new recruit the ropes.
"All you gotta do is answer the telephone and take messages," Mr. Kakouros explained in his heavy Greek accent. He led the new guy across the red brick storefront lined with colorful handwritten signs reading "Mayor Mike Makes Magic" and "Brooklyn Wants Mike for Mayor." The air-conditioning hummed and zoning maps blanketed the room's red walls. "The sodas are back here."
"Make coffee," chimed in Praxitelis Madimenos, 68, who explained that he was not a volunteer and had just stopped by to visit his friend and countryman. "You have nice air-conditioning, nice coffee, so why not? You know how many times he has tried to drag me in?" Mr. Madimenos joked. "With gold, you know?"
There is no question that Mr. Bloomberg has uniquely deep pockets to lavish those volunteers with attention. He spent $74 million on his last campaign, and even as an incumbent enjoying a comfortable lead in the polls, he is on track to spend even more. At least some of that seems destined to keep his army of volunteers caffeinated.
Bob Friedman, an executive at the Coffee Distributing Corp., said they deliver "a couple thousand dollars a month" in coffee, cookies and candies to Mr. Bloomberg's headquarters on West 40th Street. "Knowing Bloomberg—we used to service his headquarters—he treats his employees very well and gives them whatever snacks they need. In return, they wind up working harder."
According to records posted on the Campaign Finance Board's searchable database, Mr. Bloomberg's campaign has spent thousands of dollars on orders to Baguettes and Company, the Nassau-based Coffee Distributing Corp. and the Coca-Cola Company.
"It's entirely possible they are active, committed volunteers," said Christy Setzer, a spokeswoman for leading Democrat challenger, Fernando Ferrer. "I doubt it. These are not people that go out and campaign with him."
Ms. Setzer said that the volunteers for the Ferrer campaign numbered in the hundreds, but that they were fully committed and active. "[Bloomberg] has unlimited resources to put a lot of television ads on the air and send glossy brochures and drive a lot of people to his Web sites. But that doesn't translate to a base of support."
But despite the apparent lethargy in the Brooklyn office, Mr. Kakouros serves the crucial function of swelling the ranks of the volunteers, and while Bloomberg's definition of a volunteer is much less rigorous—you only have to be willing to work to be considered a volunteer—that casual approach could prove to be devastatingly effective.
"It pays incredibly high yield because [volunteers] feel like they own the campaign," said Mr. Rosen. "Like people who don't play for the Yankees take it to heart when you insult their favorite player, these people take it to heart when you insult their candidate."
Indeed, Mr. Kakouros exhibited a great degree of team spirit on Friday morning.
"All the politicians need volunteers," he said. "I'm only thinking what's good for the public. I don't care if he has money. He needs it."
Ted Dragon, a 49-year-old lawyer whom Mr. Kakouros was showing around, agreed. "Mike has the right to have volunteers as much as anyone else."