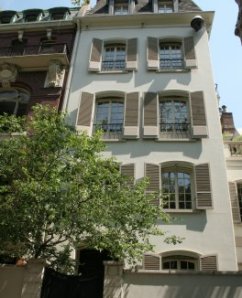 The storied Upper East Side townhouse that just entered the market for $26.5 million was attracting enough attention before anyone knew it was the former home of the philanthropist Paul Mellon.
His widow, Rachel (Bunny) Lambert Mellon, who currently lives in northern Virginia, put the 70th Street townhouse up for sale with brokers Kirk Henckels and Jo Hardin of Stribling and Associates. Mr. Henckels didn't return calls for comment; however, the lavish (and renowned) residence is expected to move quickly, according to one luxury specialist.
At 9,400 square feet, the townhouse includes two master suites, three smaller bedrooms, a study, five staff rooms, and an elevator—yet its most exquisite feature might lie outside its walls.
Ms. Mellon, a noted designer and horticulturist, once redesigned the White House Rose Garden for her good friend, former First Lady Jacqueline Kennedy. Not surprisingly, her own home includes a beautifully maintained garden. The entertaining rooms are ideally suited for leading guests out onto the third-floor courtyard terrace to overlook the 1,600-square-foot French garden and lush greenery.
In 1965, Mellon demolished two 1860 roughhouses to build the 40-foot-wide mansion. The Stribling Web site describes the style as "French-inspired." However, as the AIA Guide to New York City mentions, the Paul Mellon house offers a "charming stuccoed confection of 'French Provincial' that France itself never experienced."
The high price prompted the real-estate blog, Curbed, to put out an A.P.B. on the identity of the owner—and one reader guessed right.
Currently, only two single family homes have sold for over $20 million, with Woody Allen's $24.5 million Carnegie Hill townhouse setting the record last summer. (Though the East 64th Street mansion that belonged to the late Gianni Versace is a contender, currently under contract for close to $30 million.)
"We're now going to begin to see townhouse sales over $20 million as a much more common thing," said a high-end broker who is closely watching this property. "Now there are nine bona fide single-family homes being listed at over $20 million."
Unlike the two previous townhouses that eclipsed $20 million, however, the Mellon house is asking far more per square foot (for example, $1,100 more per square foot than Mr. Allen's place).
Regardless, several high-end brokers believe that the $26.5 million asking price can be reached, thanks to the residence's unique style and excellent condition—and, of course, the attachment to Mellon brings significant provenance.
Mellon died in February 1999, at the age of 91, and is best known for his many philanthropic efforts. The son of Gilded Age industrialist Andrew Mellon, he inherited the family fortune and put it to very worthy public use. Throughout his lifetime (and later, through his will), Mellon's numerous donations topped $1 billion, including sizable gifts to the National Gallery of Art in Washington, D.C., the Frick Collection, the Massachusetts Audubon Society and Yale University, his alma mater.
Although she never had a huge inheritance to work with, Court TV News anchor Jami Floyd is elated with her current real-estate purchase.
"I grew up in Mitchell-Lama," said Ms. Floyd. "I never dreamed I could afford a four-bedroom apartment near Riverside Drive."
For this Lower East Side kid raised in subsidized housing, a downtown dream is now an uptown reality. One week ago, Ms. Floyd closed on a classic seven for $1.3 million, and now is undertaking a massive renovation.
The search for the perfect home lasted three years and included all of Manhattan's typical real-estate woes: unsuccessful bidding wars and countless open houses. Ironically, despite searching all over the city with her beloved broker, it turned out her ideal place wasn't even listed on the market.
Ms. Floyd first heard about her future home while having coffee in Sag Harbor. A friend knew of an abandoned apartment that was owned by a distinguished Freudian psychoanalyst, who had been residing in a New Jersey nursing home for five years.
Initially, the owner's son was reluctant to sell the 86th Street apartment, but he eventually conceded that Ms. Floyd wasn't out to flip the property overnight. Although frowned upon in any building, such a quick turnover would have sent a shock to the co-op board's system, considering that the owner had resided there since the building opened—in 1924!
Through a direct deal with the owner's son, Ms. Floyd purchased the apartment for $150,000 more than her initial bid of $1.15 million. (The seller even kept his word to Ms. Floyd despite a higher offer coming in before the contract was signed.) The four-bedroom apartment will house Ms. Floyd and her husband, their two young children and even an au pair. So much for public housing!
But now comes the hard part. Except for some minor electrical work, nothing has been updated since the Coolidge administration.
"The bones of it are fabulous, but it needs a complete gut renovation," said Ms. Floyd, who is discovering much in the process.
"The carpet had been down for a very, very long time; the foam underneath had just turned to powder." However, the powder was brushed away, revealing pristine parquet floors.
Perhaps because she's on television, hosting the network's daytime program, Trial Heat, it seemed logical to look for help on the small screen. So Ms. Floyd hired Ray Romano—no, not the one that everybody loves, but the contractor on Town Haul, a home-makeover show on the Learning Channel.
Television personalities aside, Ms. Floyd will also rely on family members to complete the imposing renovation. In addition to being an artist and decorator, Ms. Floyd's father was chief architect for the late restaurateur Warner LeRoy. Her father's creativity was put to work on New York institutions like Tavern on the Green and Maxwell's Plum—and even on LeRoy's famed apartment in the Dakota.
Indeed, Ms. Floyd hopes to complete a "massive six-month renovation" in "six weeks," so that the kids will be well situated before the new school year. In addition to a loving family environment, the large-scale renovation should yield one other important result.
"I think, when all is said and down, it will be a $2 million apartment," said Ms. Floyd.