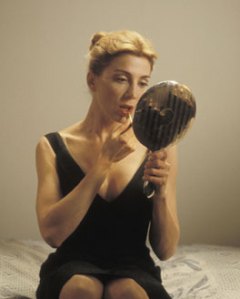 Dizzy from the lure of trade winds on sandy beaches, wicker lounges on cool front porches and lobsters from Maine, my summer holiday beckons. Before I go, here are a few of the beat-the-heat movies that will get you through the rest of August.
The top choice is Asylum, a brilliant adaptation of Patrick McGrath's celebrated and meticulously morbid novel about the tragic consequences of misguided erotic obsession, set in the unlikeliest of places—a mental institution in the Yorkshire moors. Natasha Richardson, both the star and executive producer, has devoted years to this project, demonstrating an obsession of her own that surmounted one daunting obstacle after another. The result of her faith and tenacity is a leanly structured, richly detailed and artistically thrilling work that is one of the most important films of the year.
David Mackenzie, who directed the atmospheric but pointless and pretentious Young Adam, and the distinguished playwright Patrick Marber (Closer) have both done an admirable job of capturing the Gothic gloom, moral decay and insidious malice, as well as the weird elegance, of the novel. Patrick McGrath is the son of a psychiatrist who became the superintendent of the infamous hospital known as the Broadmoor Criminal Lunatic Asylum when the author was 6 years old. He spent his childhood on the grounds of the terrifying Victorian mental hospital, which was closed in order to be converted into luxury apartments only a few months before shooting began. Most of his novels are based on incidents that happened behind the stained glass windows of its imposing walls and inside its dark and tormented corridors. Two other films have been made from his creepy but mesmerizing and critically acclaimed novels: The Grotesque and Spider. Visually, emotionally and creatively, this is the most successful adaptation of his work to date. I certainly hope more is forthcoming, for he is a born storyteller, and his writing is in a class by itself.
The plot of Asylum is deceptively simple. Natasha Richardson plays Stella, the bored, aristocratic wife of Dr. Max Raphael (Hugh Bonneville), the newly appointed head of an imposing maximum-security asylum in the remote moors of Northern England in 1959. Their marriage has grown stale, but Stella leaves London and accompanies her husband to his new assignment in this maudlin wilderness for the sake of their 10-year-old son Charlie. Instead of a fresh start, the nervous, high-strung Stella, with her upper-class manners and stylish clothes, grows depressed and lonely in an atmosphere where she is clearly out of place. Dominated by Dr. Peter Cleave (Ian McKellen), a cold, withered bachelor who controls the lives of the most extreme cases and is irrationally jealous of her husband's position, as well as by the gossipy wives of the other doctors, who thrive on such repressions as the annual dance where alcohol in the fruit cake is clearly forbidden for fear that it might stimulate the patients, the hospital soon becomes a prison of loneliness and ennui for Stella.
Gradually, she becomes intrigued with a handsome, soft-spoken hospital trustee who works in the garden repairing the Raphaels' conservatory and seems different from the rest. Edgar is a sculptor who has been under Dr. Cleave's watchful scrutiny for six years. He is kind, gentle, courteous, refined and sympathetic. As played by virile new star-in-the-ascendancy Marton Csokas, he is also irresistibly sexy. Stella is told that Edgar is incarcerated for murdering his wife, but she finds herself attracted to his sensuality anyway. After Edgar rescues Charlie in a fall from a tree, Stella's confusion and gratitude turn into an affair so feverish that she risks everything to find affection in an ambiance of lunacy. Her relationship with the sinister Dr. Cleave turns into a battle of wits—she for her lover's soul, the doctor for his patient's mind. Eventually, she helps Edgar escape, follows him to London, destroys her marriage, wrecks her husband's career, deserts her son, and surrenders to a passion so intense it eventually consumes her own sanity.
We begin to see the psychological problems that landed Edgar in the asylum in the first place, but even with her own life in danger, Stella is trapped by the collapse of her own better judgment. From here, it's a downward spiral as Stella sinks deeper into the abyss of self-destruction, moving closer to madness herself. This gives the evil Dr. Cleave the opportunity he's been praying for—a chance to slither back into their lives like a snake and vent his own perverse sexual longings for both Edgar and Stella by dragging them into his custody with the help of the police. By the time this haunting tale reaches its unforgettable climax, an inevitable series of tragedies turn Stella into a patient herself—in the same asylum. Prepare to be shattered.
Some will question the logic behind Stella's sacrifices. But the script is so carefully and skillfully analytical that you understand her every strength and weakness (not to mention her motivations) when she breaks the rules by committing a sexual infidelity with a patient from a lower social structure, scandalizes the suffocating class-conscious society around her, wrecks her husband's reputation, compromises the integrity of the hospital, and then becomes a fugitive from the law, sheltering her lover out of loyalty while ruining her life. I don't think I've ever seen sexual obsession depicted so realistically on the screen. The two films that come close are Robert Rossen's Lilith and Gillian Armstrong's Mrs. Soffel, with Diane Keaton as the repressed wife of a prison warden in Pittsburgh who fell in love and went on the lam with a convicted killer (played by Mel Gibson). But Asylum is more involving and disturbing. Damaged people can be beautiful, like Jean Seberg in Lilith. But the wrong kind of misguided emotional involvement with one always eventually comes with an enormous price tag.
I kid you not: This is a relentlessly depressing movie. But there is greatness in every shadow.
There is always something awesome to marvel at in the chiaroscuro of Giles Nuttgens' cinematography. One minute the man whose camerawork made The Deep End so special is chilling your blood with the labyrinthine decadence of the asylum, the next minute he captures a reflection in a crystal champagne glass lit by the moon in the bleak loneliness of Stella's garden.
The performances are all splendid: Ms. Richardson finds the right mixture of vulnerability and strength that was curiously missing from her robust and indestructible Blanche in the recent, disastrous Broadway revival of A Streetcar Named Desire. Moving from the navy blue shadows of the hospital into the sunlight of the outer flowerbeds, she's a study in contrasts, ripe for conquest. New Zealand heartthrob Marton Csokas, a hunk who can also act, is the penultimate tension-reliever to shape her secret longings into a pulsating, erotically charged frenzy—a dashing mix of toxic rage and gentle complacency with the rugged beauty of the old stars from the past who hold everything captive, including the camera. The charisma between them is palpable. Mr. McKellen, an acknowledged icon in the history of acting, is a subtle portrait of evil masquerading as benevolence. This is his best and most surprising role since he played the Nazi war criminal in Apt Pupil. With jaundiced skin, locked jaw and poisonous eyes, he is the narrative force of the film—a cruel aesthete growing from benign father figure into manipulative, passionless control freak who lives through the passions of others. Hugh Bonneville, as the weak, stuffy, preoccupied husband who sends his wife into the arms of another man, is betrayed for obvious reasons, but his ultimate defeat earns sympathy in a difficult role.
What a strange thing to experience a film this challenging in the middle of August. Will anyone see it? I don't know, but I have seen it twice, and that is a rare endorsement indeed. Powerful, haunting and beautifully crafted, Asylum deserves attention, praise, respect, admiration and Oscars.
Spy Game
Pinch me, I must be dreaming. The Constant Gardener, a sprawling saga of international intrigue with a love story that surpasses time and death, is another summer surprise of unusual value. Based on a romantic thriller by John Le Carré and filmed on location in Berlin, London and Kenya, it's the first commercial, big-budget mainstream film by Fernando Meirelles, the award-winning Brazilian director of City of God. He more than fulfills that early promise and seems destined for prominence.
The Constant Gardener is as different from City of God as Châteauneuf du Pape is from Dr. Pepper, yet despite the rich patina of its careful composition and lovely camerawork when it focuses on the emotions of the two central characters, it has the same flamed-out, crude, raw, brutal, improvisational quality as City of God when it takes on the poverty, struggle and Third World chaos of the Nairobi slums. The story: After a dull speech, a pompous, self-involved British diplomat named Justin Quayle (Ralph Fiennes) clashes with a hostile student named Tessa (Rachel Weisz) who asks rude questions about Great Britain's involvement in Iraq. By nightfall, they're in the sheets, and a few weeks later they're married and on their way to Justin's new post with the British High Commission in South Africa.
Unambitious and ignorant of the African plight, the mild-mannered Justin spends his time puttering in his garden, fertilizing his exotic collection of tropical flowers while his passionate, opinionated activist wife embarrasses him professionally, pushing for government testing for H.I.V. and exposing the corruption of the pharmaceutical industry in the price-gouging of drugs needed to fight the growing AIDS epidemic. Tessa's research leads to the British Foreign Office, whose profitable abuse of the African people as a test market for dangerous experimental drugs could lead to an international scandal. She's on a mission to expose the extortions demanded by the drug cartels when she is murdered by unknown assailants.
The foreign office is certain that Justin will shrug his shoulders and leave the mystery to his superiors. They are dead wrong. Fueled by the need to redeem himself for losing faith in her, this passive, anally retentive gardener, grief-stricken by the death of the only woman he ever loved, overcomes his sense of propriety and becomes a new man, dedicated to finishing Tessa's work, even if it means challenging Her Majesty's Government, trashing his diplomatic career and endangering his own life. In the end, he discovers that Tessa was a pawn in a government conspiracy—and now they're out to silence him, too. The movie has the suspense of a first-rate spy game, the love story surges with a heartbeat of its own, and the facts about the cost in human life of the criminal efforts of profit-making governments to make pharmaceuticals as financially negotiable a commodity as oil has a chilling effect on the conscience. There's much to absorb here, all played out against a teeming canvas of human turmoil, in a blistering human drama that is positively electrifying.
Bayou Bunk
The Skeleton Key is a deranged horror flick about voodoo in the moss-covered, alligator-infested Louisiana bayous that seizes attention for a while and then trickles away in a gumbo of silly mumbo-jumbo no more frightening than a Mardi Gras mask. Kate Hudson is a hospice nurse from New Jersey who finds herself down in New Orleans answering a want ad. The job: working for a drawling relic of the Old South (Gena Rowlands) and her gnarled, paralyzed and mute husband (John Hurt) in a crumbling, collapsing antebellum plantation so noxious even the pigs won't come near it. Haunted by the ghosts of two murderous witch doctors who were lynched on the grounds 90 years ago, the mordant old mausoleum has 30 rooms and no mirrors. It also has a skeleton key that unlocks every door, but there's one in the attic it will not open, and there's something alive behind it.
Ms. Hudson, who has more guts than brains, just doesn't know when to grab her backpack and head for Bourbon Street until it's too late. This movie features howling storms, fires, evil spells behind every Corinthian column, and a good cast of wasted people like Ms. Rowlands, Mr. Hurt and Peter Sarsgaard that is reason enough to place their agents under house arrest. For all the good it did to film everything in the most photogenic city in America, all you hear and see of New Orleans is a soupçon of Dixieland jazz and a glimpse of the St. Charles Avenue streetcar.
Grimm Stuff
The Brothers Grimm has nothing to do with the real lives of the famous storytelling siblings for which it is named. Instead, it's just more moronic jabberwocky from the flamboyant Terry Gilliam, with Matt Damon and Heath Ledger as two fictional con artists posing as demon exorcists named Will and Jake Grimm, who roam the hamlets and pubs of French-occupied Germany, collecting and spreading fables and charging big marks to exterminate trolls, break magic spells, and rid superstitious villagers of child rapists and werewolves, while the audience is treated to inserts of Hansel, Gretel, Red Riding Hood, the Gingerbread Man and other unsavory fairytale figments of the imagination the brothers will later use for material in books that will make no money for centuries. Mr. Gilliam has no clear idea what he's doing, so the movie is nothing more than noise, costumes and disjointed special effects that do not make an acceptable substitute for the sense of tempo the rest of the film sorely lacks. For action, there's a centuries-old witch who feeds on the blood of young virgins, upstaged by a series of comic effects that intrude on any semblance of narrative purpose. The actors are all abysmal, including Gilliam alumnus Jonathan Pryce. The cornball dialogue by Ehren Kruger consists of one-liners like "Zis is zee life" and "Burn zem!" In his dirndl and his long, blonde spit curls, Matt Damon looks like Heidi on steroids. Maybe there's an audience for this hash, but it's too boring for children, too silly for adults, and too Grimm for words.