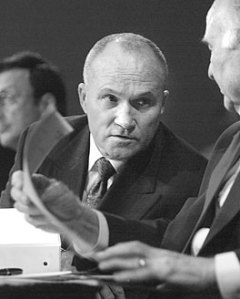 On a recent Tuesday morning, Raoul Daruwala glanced down at the bustle of lower Broadway through conference-room windows and drew the blinds closed.
Seated around an oval conference table in the center of the room were three computer scientists, two toxicologists and one policy expert. As their eyes adjusted to the dampening light, the six experts fixed their gaze on a screen at the end of the room, where a preview of the catastrophe they had joined to plot unfolded.
Colored dots, each representing a human being exposed to a poisoning agent, turned green, orange and then a fatal red as they moved through the city. In his orange kurta, his thick hair knotted in a bun, Mr. Daruwala, a 36-year-old Indian computer specialist, demonstrated the beginnings of his doomsday plan.
"This could be a bio model, anthrax or smallpox," one intrigued toxicologist interjected.
"Or an explosion of gas—sarin!" gasped another.
Or just an especially scary school project at New York University, one of the growing number of New York's private institutions that have received funds from the Department of Homeland Security to conduct eerie, but essential, research into nightmarish terrorist-attack scenarios.
Mr. Daruwala is a key part of N.Y.U.'s Center for Catastrophe Preparedness and Response (CCPR), which received a $14 million Congressional grant through the Department of Homeland Security, in part to create a computer model that simulates an attack on a large urban area similar to New York. The center belongs to the booming, if morbid, industry of disaster preparation that has become increasingly relevant and flush in federal and private funding since Sept. 11.
Now, in the wake of the recent attacks in London, briefcases are searched at New York subway stops—something that wasn't even considered in the months immediately following the World Trade Center attack—"go bags" are actually packed under office desks.
And the security racket has become more crowded than ever, both with New York's earnest guardians and opportunistic profiteers.
City institutions like N.Y.U., Columbia University, the M.T.A. and a swath of private foundations are playing war games and making important contributions to the city's disaster planning as they jockey for a piece of the Department of Homeland Security's $30 billion budget.
"Homeland Security says 85 percent of critical infrastructure is in private hands," said Paula Olsiewski, a grant officer at the Alfred P. Sloan Foundation, which has awarded $23 million in preparedness grants, many of them for bioterror, since 2000. "You need to work with citizens and business and a whole spectrum of organizations if you really want to take on preparedness."
"Every day I get 10 proposals," said Joseph F. Bruno, the commissioner of the city's Office of Emergency Management, referring to both credible institutions and crooks looking for funding for their disaster projects. "There are all types of people trying to make money off this business. There's tons of money in this.
"But this business," he added, "is too important."
And many in the private sector are taking their role as New York's saviors seriously—so much so that they've even started thinking and talking like the bad guys.
"Since London, we have been talking: Why just one event—why not simultaneous?" said N.Y.U.'s policy expert Clare Coleman, a former chief of staff for U.S. Representative Nita Lowey and staffer for Senator Chuck Schumer, who evacuated colleagues from the Capitol on Sept. 11. "Why not Penn Station and Grand Central at the same time? Should we use an explosive agent in one place and a biological agent in another?
"Now we are focusing on the Port Authority. They get tourist traffic, commuter traffic. We're interested in sarin gas, though a radiological agent will get you the most casualties."
N.Y.U. has called on all of its 14 colleges to help tackle a raft of problems posed by the brutal new world—everything from legal issues to training private corporations in case of an emergency.
Columbia University's two-year-old National Center for Disaster Preparedness at the Mailman School for Public Health also serves as a consultant to both the O.E.M. and Department of Health. The program receives about $4 million in aid, mostly from the Department of Homeland Security.
Its recent projects have ranged from studying the impact of major catastrophes on children and how best to evacuate skyscrapers to helping market the city's "Ready New York" disaster-preparation guides.
And those efforts seem to be paying off. A June poll conducted by the Marist College Institute for Public Opinion at the behest of the O.E.M. estimated that an astonishing 88 percent of New Yorkers have stocked at least some emergencies supplies at home, while 55 percent have packed go bags.
"People are starting to say, 'Maybe there is something to this,'" said the O.E.M.'s Commissioner Bruno. "It's a long curve here, and it takes a while for people to change their habits. We moved the curve more quickly."
But the new wave of private interest in disaster preparedness has its critics—even among practitioners.
Dr. Irwin Redlener, who runs Columbia's program, argued that while the poll numbers were encouraging, a deadly cocktail of federal irresponsibility and greedy hacks in the private sector had dangerously contaminated the field of disaster preparation.
"I have been working in public health for more than 30 years," said Dr. Redlener. "In my experience, I have never seen so much money appropriated and spent with so little accountability and understanding of what we have actually purchased."
In the halcyon days before Sept. 11, small groups of academics and government experts specializing in terror-related catastrophes inhabited the paranoid fringes of their fields. In the last few years, they have emerged from the shadows.
"They [academics] are always looking for ways to make their academic research relevant," said Brad Penuel, the N.Y.U. program's executive officer, who added that professors and policy wonks were eager to break out of their ivory towers. "What is more relevant than what we are bringing to the table?"
But Dr. Redlener warned that perhaps too many self-proclaimed security experts are coming out of the woodwork.
"All of a sudden, there was a lot of interest and a lot of money," said Dr. Redlener. "At disaster-preparedness conferences, there are rows and rows of booths of vendors selling educational materials, Web-based or DVD-based learning modules, next-generation face masks, new communications systems, disaster-management software tools—you name it. It's become a niche industry for people jumping on the bandwagon. So the quality control is not what it should be, but the marketing is great. It's the sideshow of disaster preparedness."
Center stage is located in a converted warehouse smack under the Brooklyn Bridge.
There, the current headquarters of the O.E.M. are spread out over two floors on the Brooklyn waterfront, where a spectacular view of lower Manhattan's altered skyline serves as a constant reminder of the gravity of its mission.
In the garage, an American flag is draped over a state-of-the-art emergency-planning vehicle that looks like a blue and white school bus. Treadmills stand idle in the corner. Yellow and green hardhats color the office cubicles, advanced computers in the center's watch command track every ambulance careening through the city, and special Bat Phones are directly wired to Mayor Bloomberg's office.
On the sprawling floor of the Emergency Operations Center, there are empty seats and blank computer screens for up to 90 of the city's agencies, many of them private, such as the Real Estate Board of New York, building owners' and managers' associations, the business-improvement districts and security-industries associations.
During a recent visit, maps detailing the most densely populated neighborhoods of the city flickered on computer screens in the floor's corner. Mr. Bruno and scores of his staff sat in the middle of the room, listening to a presentation about hurricane threats to the Eastern Seaboard. When disaster strikes, the O.E.M. staff takes the central position on a raised podium.
But the O.E.M. seems to some emergency experts to have been knocked off its pedestal since the days when Mayor Rudolph Giuliani primed the office with power.
Jerome M. Hauer, the former head of the O.E.M. under Mr. Giuliani, wrote in a 2004 Op-Ed piece in The New York Times that, contrary to the vision of the O.E.M. upon its establishment in 1996, "the office will now function like a 'think tank,' a sort of planning agency, instead of response agency. This comes at a time when the mayor is also concentrating more power within the Police Department to prepare for emergencies."
Mr. Bruno refuted that characterization.
"Do I think we now have a lesser role? No," he said. "Under Giuliani, he relied heavily on O.E.M.—clearly O.E.M. played a major role. But we still do. It has not diminished. I report directly to the Mayor."
It is into this political fray that so many private companies and institutions have been invited. About 30 of the O.E.M.'s 115-member staff are funded by grants from the private sector. According to Mr. Bruno, $250,000 recently came in from a large computer company, which he declined to name.
And when it comes to mock drills, like blowing up Shea Stadium or unleashing hell in the city's subways, the O.E.M. turns to private companies to carry out maneuvers that are mostly paid for by Homeland Security grants.
"One of the great services of private institutions is a sense of continuity. We are there; we do this day in and day out. The funding might go away, but we are there," said Carlton Brown, who runs the emergency-management department for Titan National Security Solutions, which executed the Shea Stadium drill in March 2004.
For Mr. Brown, the rapidly congesting field is also a cause for concern.
"Just look at the large number of dollars made available by Homeland Security, and you see why so many companies have hung out shingles saying, 'We're in this business; we can help you.' It's becoming very crowded."
In this much more competitive world, private institutions are becoming more aggressive—and more specialized. N.Y.U. has bolstered its research with field reconnaissance.
"I took the tour of Madison Square Garden," said N.Y.U.'s Ms. Coleman. "They never once counted heads. I had a story all prepared for if they asked me why I was taking the tour: 'I'm a crazy lunatic sports fan.' But they never asked.
"'What time do children's events start?' I asked. 'How many children would there be?' The doctors [on the N.Y.U. team] were interested in a pediatric impact."
Ms. Coleman said that she counted multiple exits to duck into; she also had access to the kitchen, noticed no surveillance cameras and was "encouraged to take pictures."
"I asked about the air-conditioning systems. I wanted to know if they shared a common ventilation system. I could have dropped a vial; they never looked into my purse."
In the end, the tour was extremely satisfying, she said. "In an hour, we had gathered ridiculous amounts of information."
When asked to comment on Ms. Coleman's findings, a Madison Square Garden spokesperson said, "The safety and security of Madison Square Garden customers is our No. 1 priority, and we do not discuss specific security measures."
Work like this seems especially pertinent with the number of private institutions that are likely targets. And the Mayor has now called upon private businesses to do more to guarantee the safety of their employees and visitors.
"I just want the folks who protect New York to say, 'Interesting,'" said Ms. Coleman, who added that her past advocacy for controversial topics like abortion rights was nowhere near as tough to discuss over the dinner table as mass annihilation. "When I get my nails done and they ask me, 'So what do you do?', I say, 'Medical research'— and hope and hope they don't say, 'What kind?'"
Some of that research may take on a political complexion as it advances. Civil-liberties groups are already worried that the profiling of Middle Eastern commuters will sneak in through the back door of the M.T.A.'s and Port Authority's recent bag-search protocols.
The N.Y.U. program is already profiling—though arguably for a noble purpose. Their studies show that Asian-Americans tend to be more respectful of government and pay heed to public-service announcements, while Hispanics trust family members more and African-Americans rely on religious leaders to spread the word. The information is used to determine how best to disseminate information on disaster preparedness to different ethnic groups throughout the city.
How such research will be received when its details become a part of the public discourse remains to be seen. But as Ms. Coleman confessed, the whole project by definition involves a kind of flying blind.
"Part of it is that we don't know where the next event will be," she said, adding that despite that daunting new reality, New Yorkers and the city's institutions have made strides in preparedness. "I'm an optimist by nature," she added. "I think you need to be."
King Drawing Closer To Coveted Security Post
Long Island's Republican Congressman Peter T. King said this week that his campaign to become the next chairman of the House Committee on Homeland Security has won over enough voters to bring the coveted post within his grasp.
Mr. King told The Observer his chances were "better than 50-50" after sending letters and personally meeting with most of the Republican steering committee's 28 members. "It's by no stretch a sure thing—it's a long summer. But if the vote were today, I think I'd win."
The position is important for New York because city officials have complained that they're not getting a rightful share of federal Homeland Security dollars. It has become a common chorus of lament among politicians and security officials here that in 2004, the federal government allotted $37.74 per capita to Wyoming compared to $5.11 for New York.
"New York is in the crosshairs of the terrorists. This issue is really life or death," said Mr. King, who said that he expects the committee's current chairman, Chris Cox, to be confirmed as President Bush's choice to head the Securities and Exchange Commission very soon, paving the way for a chairmanship vote in mid-September. "I don't think Congress really appreciates that. Homeland Security often becomes more of a pork-barrel issue."
The government recently shifted more of its anti-terrorism funding to the country's largest cities, but there's still a baseline allotment to every state regardless of risk. The House recently passed a bill, supported by Mr. King, that would increase funding to cities considered at high risk of attack. Under the House bill, 90 percent of federal security funds would be spent in those cities. "It would dramatically improve New York's situation," said Mr. King.
But the Senate—where small-state interests are strong—passed a bill of its own, keeping the spending figure for vulnerable cities closer to 60 percent of overall funding. The House and Senate will have to come to an agreement in the fall.
"They won't make a deal," predicted one Congressional staffer from New York, who added that Mr. King was widely seen as in the running to win the chairman's position. "The only deal is to split it down the middle—and that's ridiculous."
Another Congressional staffer, also from New York, agreed that Mr. King was undoubtedly one of the more prominent candidates for the job, especially given that his main Republican rival, Representative Don Young of Alaska, voted against making the committee permanent. Washington insiders also noted that the traditionally independent-minded Mr. King has been snuggling up to the Republican leadership lately in the hopes of winning points—and votes—for loyalty.
"He was very outspoken in his defense of Karl Rove," one staffer remarked, referring to Mr. King's sharp criticism of attacks on the President's key advisor following news that Mr. Rove may have leaked the identity of a C.I.A. agent to the press. "It could be heartfelt, but it certainly doesn't hurt."
On July 26, Mr. King, who is currently chairman of the Homeland Security Subcommittee on Emergency Preparedness, continued his campaign push by holding a hearing called "The London Attacks: Training to Respond in a Mass Transit Environment."
"I'm selling several things," said Mr. King. "After World War II, the Republicans became the party of national defense. Today we have to be the party of homeland security. It's for the right reason and for political reasons—for one time, they go together."