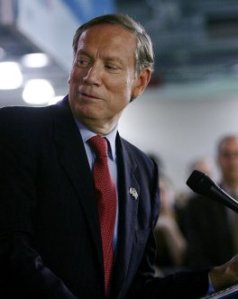 New York's political class prepared to relieve itself Wed., July 27, of its longtime uncertainty over Gov. George Pataki's political future: according to one source, he was to announce imminently that he would not run for a fourth term in 2006.
Now Mr. Pataki may become a Presidential candidate–less man than business. Less has been said of Pataki Inc., the set of companies, groups and individuals whose livelihood has depended on him for more than a decade. It's not one of the two dominant American political corporations: Bush and Sons and Amalgamated Clinton and Co. It's in the second tier—a regional powerhouse with the scope of Denny's or Hyundai, and it has prospered since the incorporation in 1980 of its privately held predecessor firm, D'Amato Ltd.
But now Pataki Inc.'s sole product line, George Elmer Pataki, appears on the verge of losing its only market, New York State. Its stock rallies and falls on faint fluctuations in public-opinion polls that all show Mr. Pataki a loser to Democrat Eliot Spitzer in next year's gubernatorial election. One subsidiary, the New York State Republican Party, is keeping the lights on, but without a clear shot at either of the top offices up for grabs next year—Governor and U.S. Senator—the political-pundit equivalent of ratings agencies have downgraded its bonds to junk status.
Within Pataki Inc., executives are debating a set of high-risk options. One is the launch of a new, streamlined spin-off on an unpromising national market. Expansion into other products, notably a lucrative anti-Hillary line, is another. But for thousands of staffers, political appointees and lobbyists, even these prospects have downsizing written all over them, and they're approaching the next 15 months with an apprehension familiar to any member of the United Auto Workers.
"History is always a good teacher," said Lynn Mueller, a longtime Albany Republican political consultant who recalled the transition between Hugh Carey and Mario Cuomo, and between Mr. Cuomo and Mr. Pataki. "Once the incumbent Governor leaves, the people who've worked for him and around him … tend to be marginalized because there are new people who show up, even when they're in the same party."
After more than 10 years in office, Mr. Pataki hasn't left a clear policy legacy. Taxes are somewhat lower than when he arrived, but state government isn't substantially smaller. The death penalty has been reinstated, but the laws establishing it were recently ruled unconstitutional by the state's highest court. His form of Republicanism—not averse to compromise with the left—hasn't caught on nationally. And as with the man he replaced, Mr. Cuomo, power has steadily flowed from the structures of his political party to the Governor's office, leaving the state Republican Party little more than the second or third arm of the Governor's political operation.
"The apparatus that was built up around him did not go into building the party—it went into going out and making money," a senior New York Republican complained.
But that doesn't mean Mr. Pataki has no institutional legacy. He has established a wide set of lucrative businesses—Pataki Inc., so to speak—which begins with the lobbying firm Park Strategies, run by his mentor, former Senator Alfonse D'Amato. Then there's Mercury Public Affairs, a lobbying and political-consulting firm based in New York City that houses former senior aides to the Governor. Mercury and another political consultant, Arthur Finkelstein, are paid from a variety of campaign funds in New York, Washington, D.C., and Virginia. There is also Mr. Pataki's Westchester law firm, Plunkett Jaffe, which does lucrative legal work for the state in addition to its thriving lobbying practice. Pataki Inc. has an upstate arm run by John O'Mara, a sometime lobbyist who also serves as the Governor's representative in dealing with Indian tribes; and a humming political fund-raising business run out of a Lexington Avenue office by Cathy Blaney.
Some of these Pataki Inc. subsidiaries have already shown signs that they see the end of a good run. Mercury, for example, has been rapidly diversifying its operations. And eyebrows went up in Albany when Plunkett Jaffe recently shrunk its Albany office. (William Plunkett, one of the firm's partners, didn't respond to a message seeking an explanation of the change.)
Only a small share of the fees accumulated by these Pataki Inc. subsidiaries are required to be disclosed—those that are aimed at lobbying on specific legislation. Since last July, for example, Mercury declared more than $1.3 million in such fees, and Plunkett more than $300,000, according to forms on file with the New York State Temporary Commission on Lobbying.
But the firms aren't required to disclose their fees for lobbying on behalf of state contractors. The Daily News reported in June that "in the state Department of Transportation alone, lobbyists schmoozed the agency on nearly $1.3 billion in contracts in the past two years."
In any case, the executives in Pataki Inc., as in any major corporation, are unlikely to feel much of a personal pinch from the decline of their company. Mr. Pataki's chief political advisors are Mercury's Kieran Mahoney, his longtime collaborator Mr. Finkelstein, and the Governor's former communications director, Zenia Mucha. (To Mr. Pataki's critics, the three compose what New York Post Albany bureau chief Fred Dicker recently called a "cynical troika.")
Mr. Mahoney's Mercury Public Affairs is Pataki Inc.'s boutique property, and it has been preparing for life after the Governor for years. In 2003, it sold out to Omnicom, a giant global advertising firm, and last year affiliated itself with another Omnicom subsidiary, the public relations firm Fleishman-Hilliard.
"We are a national public-affairs firm," said Michael McKeon, a former communications director for Mr. Pataki who is now a partner in Mercury Public Affairs. "We have an office in D.C. and clients across the country—California, Texas, Maryland, Florida. We do races beyond New York, including, currently, the Governor's race in Illinois."
The firm recently worked on a national campaign for tort reform, and the staffers in its Washington office come out of national politics, not Mr. Pataki's New York organization, Mr. McKeon said.
"We're going to continue to thrive going forward," he added. "We hope to be helpful to the Governor in whatever decisions he makes."
The arm of the business that seems most threatened by Mr. Pataki's possible retirement or defeat next year, however, is Mercury's lobbying business. It recently attracted unwelcome attention when the Daily News noted that the firm's Web site touted the credentials of partner Tom Doherty, a former appointments secretary for Mr. Pataki. In that job, the Web site bragged, "Mr. Doherty advised the governor in making all appointments to state departments and agencies, commissions, committees, task forces and boards. He has located, interviewed and evaluated all candidates for positions appointed by the governor."
Mr. McKeon said he wouldn't go into detail on what share of Mercury's business is lobbying, and Mr. Doherty declined to comment on the news reports. The quote no longer appears on Mercury's Web site.
Mr. Finkelstein, a specialist in television advertisements that denounced opponents as "too liberal," has seen his business flag in recent years. Even Mr. Pataki, a longtime client, distanced himself from the openly gay consultant after he was quoted in an Israeli newspaper grumbling that "the Republican Party has become the party of the Christian right."
Now, Mr. Finkelstein's main American venture (he also has business in Israel) is Stop Her Now, a federal committee aimed at preventing Senator Hillary Clinton from becoming President. The group's executive director, William Black, didn't return a call seeking Stop Her Now's most recent fund-raising totals.
As for Ms. Mucha, a former D'Amato aide who was once a feared presence among Albany's press corps when she was the Governor's communications director, she sold her Pataki Inc. stock while it was still at its peak: She moved from Albany to a job with ABC in 2000. She is now a senior vice president for corporate communications at the Walt Disney Company.
At the middle level of Pataki Inc., the future is less certain. Lobbyists like Mr. Doherty and Patrick McCarthy, another senior Pataki aide who now works at a top Albany lobbying shop, could see their contacts vanish, though people close to them argue that their skills are more important than who they know.
And Ms. Blaney could lose her status as a necessary stop for any Republican, from President George W. Bush on down, planning a fund-raiser in New York City. Republicans say she and her operation will accompany Mr. Pataki on any bid to go national—but without a patron's grip on Albany's vast government, it is unclear if Ms. Blaney can hold onto her dominant position.
Grim Prospects
Lower down Pataki Inc.'s pecking order, as with any troubled corporation, things are grimmer.
Albany Republicans—who would speak only on the condition of anonymity to avoid antagonizing Mr. Pataki's inner circle—said it has already become hard to hire skilled people into Mr. Pataki's governmental and political organizations.
"The smart ones have done their résumés and are looking for jobs already. Some are operating under the belief that they have a strong enough relationship with someone in the Democratic Party to stay, but that's just people being in denial," said one veteran Albany Republican, noting that many anticipate a Democratic victory next year. "And some people close to the second floor [where Mr. Pataki's office is located] believe that they're going to the White House."
(Mr. Pataki hasn't made an official decision about his plans for 2006. A senior Republican said the Governor has been conducting his own public-opinion polls to determine his chances of winning re-election, and he's also been spending time in Iowa as he tests the waters for a 2008 run for President. The British bookie William Hill recently listed Mr. Pataki with a respectable 25-1 shot at the White House.)
Underscoring Pataki Inc.'s weakness is a set of new Republican start-ups that have strained relations with their fellow Republicans. Secretary of State Randy Daniels, the only serious, all-but-declared candidate for Governor should Mr. Pataki not seek a fourth term, has been written off by Mr. Pataki's circle, and in turn has assembled a team of political aides either exiled from, or never part of, Pataki Inc. Ed Cox, whose Senate campaign is up and running, has brought in advisors from Albany and Washington without roots in Mr. Pataki's organization.
The one man who seems unperturbed amid Pataki Inc.'s rocky stretch is Mr. D'Amato, who plucked Mr. Pataki from obscurity in 1994 and whose political organization the Governor inherited.
D'Amato Ltd., it seems, has been quietly hedging its investments in Mr. Pataki. The former Senator's brother, Armand, has been seen at Mr. Spitzer's fund-raisers. Alfonse D'Amato's former chief of staff, John Zagame, has even been listed as a co-host of Spitzer 2006 events.
Mr. D'Amato wouldn't return a call seeking comment on his relationship with Mr. Spitzer, but an aide to the former Senator told The Observer that Mr. D'Amato and Mr. Spitzer have been "friends for a number of years."
—Additional reporting by Anna Lindow