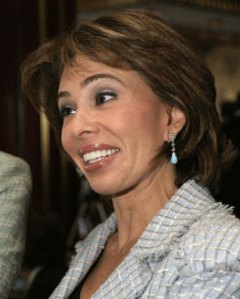 On Aug. 9, the eve of her official plunge into the New York Senate race, Jeanine Pirro stepped out onto Fifth Avenue around 20th Street, looking very glamorous and a little lost.
"Where's my guy? Where's my guy?" she exclaimed, after nearly bounding into the wrong black Chevy Tahoe, the all-but-official transport of Albany Republicans.
She'd been at the nearby offices of Mercury Public Affairs, which has been handling her public relations since 1993, and where she was preparing for her big Aug. 10 announcement.
Dressed in a black skirt, stilettos and a cream suit jacket pinned at the lapel with a sparkling American flag, Ms. Pirro clutched her cluttered schedule and hefted a pink leather tote. The bag bulged with newspapers. Her name and face were splashed on their front pages.
"I'm going to CNN, I'm going to do Wolf Blitzer, and I'm working on my announcement speech for tomorrow," she said. "What I'm trying to do is make sure that the announcement speech encompasses who I really am, what I'm about and what my plan is for New York on my first day out of the box."
The 54-year-old district attorney had spent the previous week mulling possible bids for Governor of New York or State Attorney General, but settled on the toughest race of the lot, taking on the Democrats' poster girl, Senator Hillary Rodham Clinton.
The contest between these two tough political women, with their wayward husbands and Beltway helmet hairdos, promises to be the knock-down, drag-out brawl of the political season.
And the excitement in New York political circles—once again, all eyes on us!—is electric.
"I wouldn't be in it if Icouldn't win it," Ms. Pirro asserted as she circled the sidewalk in search of her car. "I'm a New Yorker and I'm a fighter."
Flashing her New York credentials might evoke the finally ineffective carpetbagger charges that Rick Lazio lobbed at the former First Lady in the 2000 race.
But now they carry added weight, as Senator Clinton is widely seen as girding for a Presidential run in 2008, which would yank her prematurely out of New York. Ms. Pirro's game is surely better than Mr. Lazio's, but the playing field's also a lot better.
Ms. Pirro has already shown her mettle during three terms as the tough-as-nails district attorney of Westchester County, where her specialty has been snaring child molesters. As a favored guest commentator on Fox News, she is pretty and poised, but far from fragile. She supports the death penalty, yet her willingness to lean left of some G.O.P. social positions—Ms. Pirro, for example, is passionately pro-choice and champions gay rights—makes her Senate candidacy plausible in a predominantly Democratic state.
But she comes with baggage: a husband named Albert. Mr. Pirro was convicted on charges of income-tax fraud in 2000 and spent 11 months in jail. This spring, he was accused of sharing information from one of Ms. Pirro's criminal cases with a reputed mobster. Ms. Pirro has argued, however, that voters will judge her on her record, not on her husband. Some pundits are starting to agree.
"It's hard to attack her for her husband's behavior," said Hank Sheinkopf, a Democratic political consultant. "That's one of the reasons they chose her—because if you do that, then you've got to attack the former President for his behavior, and that ain't going to work."
Ms. Pirro pops out like a movie star on a crowded city street against the G.O.P.'s gray, bedraggled political bench. Back in 1997, around the time she began attracting national notice, she was included on People magazine's "50 Most Beautiful People" list. Now more than ever, Ms. Pirro is poised to play a central role in national Republican politics.
And even if the part is martyrdom, it may be one of the greatest political gigs a New York Republican could ask for.
"I think that she is going to lose upward," said Scott Levenson, president of the Advance Group, a political consulting firm. "By losing she wins, by taking on a king like Hillary Clinton."
In the likely case that Ms. Pirro fails to beat Senator Clinton, Republicans across the country are at least counting on her to give the incumbent a good bruising. If the campaign leaves Senator Clinton too scarred to run for President in 2008, the Democratic field will widen drastically. All told, the show is finally stirring some political enthusiasm into a dreary summer.
"You know how the papers are going to love this, two harridans mixing it up," said Fred Siegel, a history professor at Cooper Union. "This could be the equivalent of mud wrestling for fraternity boys."
And to think, Ms. Pirro nearly deprived New York of the summer's most engrossing spectacle by chasing a more modest office.
"You know, I listened to all the pundits and the pollsters, and I decided to just go with my heart and do it," she said.
She was also listening to Washington. On the afternoon of July 29, she met with Senator Elizabeth Dole of North Carolina, who leads the National Republican Senatorial Committee.
"She spoke just generally about her interest in running," said Brian Nick, a spokesman for the committee. "I can't say if Ms. Pirro knew or did not know she would be running at that time. But I can tell you that Senator Dole didn't do anything to discourage her."
Despite reports that President Bush's chief political strategist, Karl Rove, had hand-picked Ms. Pirro to run, her aides insisted that she had never met with him during her deliberations.
But Ms. Pirro hasn't reached out to Rick Lazio either, and he's the only Republican who has ever gone head to head with Senator Clinton in an election.
"I'm pretty agnostic about it, you know—I'm happy to do it if people think it is helpful, but I have no particular drive or need to do it for my own sake," Mr. Lazio told The Observer when asked about a possible sit-down with Ms. Pirro. Looking back on his own campaign, he reflected, "There are plenty of lessons to be learned."
When Republican candidate Howard Mills took his lumps from Charles Schumer in the 2004 Senate race, he was rewarded with—or at least bandaged in—a position in Mr. Pataki's government as Superintendent of Insurance. But now that Mr. Pataki has said that he won't seek another term, and Democrat contender and current State Attorney General Eliot Spitzer looks so likely to take his place, one wonders: Is there a soft place for Ms. Pirro to land if she does indeed fall?
After weeks of suspense, even within her own party, she began calling state Republican leaders on Friday—with a teaser. She'd be in Albany on Wednesday, she said, to announce her candidacy for office.
"She didn't tell us for what at the time," said Vincent Reda, chairman of the Rockland County Republican Committee.
Come Sunday evening, she began to spread the word.
Jim Gurfein, owner of Mediaspa, which built Ms. Pirro's campaign Web site, said the site's final content remained a mystery until the end.
"First it was commissioned as a D.A. race, then at the last minute we were asked to make this into a Senate race," he said. "It ruined my Sunday night."
Some Republicans didn't get the call until Monday morning, including Mr. Reda.
"She basically called and said, 'Mr. Chairman, I have made a decision to run for the U.S. Senate,' and I said, 'Amen,'" he recalled.
And some people didn't get the call until Monday afternoon.
"On my way to Washington, when I landed, I got a voice mail saying that in fact she'd told the world that she was going to go for United States Senate," said Mike Long, chairman of the New York Conservative Party. "She didn't give me a heads-up. She did call me, though—after all the press was starting to call."
Soon money will be flooding the lately sleepy, dumpy New York Republican Party from midtown to the Adirondacks, as the contest has equally deep significance for both parties. Republicans badly need to show that the G.O.P. is alive and kicking in the post-Pataki era, and the country's Democrats don't want their national star tarnished and scratched by Ms. Pirro.
"Both sides are going to be pumping a lot of money into this fight," said Mr. Reda.
Indeed, one can almost hear the coming stampede of the 527 cavalry, sabers flashing. Even modest estimates put the necessary cash infusion for Ms. Pirro's campaign at around $40 million to start, which is about how much Mr. Lazio spent in his somewhat anemic challenge to Mrs. Clinton.
"Listen, this is going to be the most expensive campaign for Senate in the history, I believe, of the United States," said Michael Edelman, a Republican analyst and Pirro ally. "Eighty million, $100 million each? I don't know. Lots. The money's probably being FedExed to Jeanine as we speak from all over the country."
Members of the state's Republican hierarchy are hoping that those funds will serve as an investment to help eventually deepen a bench of G.O.P. candidates that many political analysts believe is woefully thin on talent. By staging a good fight, the logic goes, the nation's Republicans will direct their attention, and their checks, to New York.
And their campaign contributions will have at least as much to do with revulsion for Mrs. Clinton as enthusiasm for Ms. Pirro.
"Hillary Clinton is still the No. 1 fund-raising bugaboo for conservative-right causes in America," said David Birdsell, a political scientist at Baruch College. "And if your name is associated with hers, you become tapped into, very quickly, a national fund-raising network that could be extraordinary."
And the reverse is also true.
"If she becomes credible, the interesting thing here will not be the Republican money she sucks up, but the Democratic money that has to come to New York," said Mr. Siegel. "The hope of the Republicans is probably that this will force the Democrats to divert money from other states."
While the sight of Mrs. Clinton swooping back into New York for another election has some Republicans sharpening their knives, they are desperately trying to avoid bloodying each other up with infighting before the battle even begins.
"[Jeanine Pirro] is too liberal. She cannot get the base of the Republican Party, and she cannot get the base of the Conservative Party," said Edward Cox, a rival Republican candidate for the Senate, who noted that Ms. Clinton is perhaps the leading Democratic Presidential candidate.
"What can Jeanine respond to that? What can she say? 'I have been a prosecutor in Westchester County'?"
Such sarcasm doesn't evoke the open and amiable process that the state's Republican hierarchy is hoping for.
"We can't afford to have a primary," said Stephen Minarik, chairman of the state Republican Party, who wants to have the G.O.P. candidates in place by the first of the year. Mr. Minarik was one of 46 county chairs who sent Ms. Pirro a letter recently inviting her to "join the fight for all New Yorkers and declare your candidacy for the United States Senate."
Primary be damned: Ms. Pirro wants to cut to the chase. Standing on Fifth Avenue this Tuesday, after hours spent reviewing her speech, she scoffed at the idea of a face-off between Republicans.
"I'm going to be running against Hillary Clinton," she said defiantly. "I have the support of 46 of the chairmen out of 60 in my party. So my support in the Republican Party runs deep and wide."
And that will remain true whether she wins or loses this Senate race.