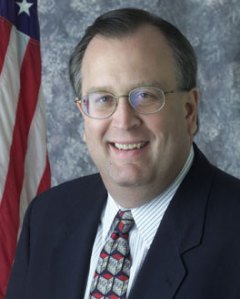 Stephen J. Minarik III, the brawling chairman of the embattled state Republican Party, came to politics in high school.
The year was 1976, and a teacher brought Mr. Minarik and his classmates to a rally in his native Rochester, where the Democratic Presidential nominee, Jimmy Carter, was addressing a large crowd.
Cue the sepia tones.
"I was booing and throwing stuff at him," Mr. Minarik recalled fondly in a recent telephone interview from his home in Rochester. "We were kind of disturbing the rally. I don't remember what we threw at him. I know we had stuff."
After a decade of leadership by the mild Governor George Pataki and his genteel handpicked chairman, Sandy Treadwell, the squarish, indifferently clad and single-minded Mr. Minarik is—depending on whom you ask—a revelation, a dynamo, a thug or a clown. Since taking over the state party last November, the onetime chairman of the Monroe County G.O.P. has been scolded by the Governor for suggesting that Democrats are terrorist sympathizers; has picked fights with candidates for the Republican gubernatorial nomination; and has pleaded haplessly for everyone from Colin Powell to Rudolph Giuliani to run for Governor next year.
To Mr. Minarik's admirers, he's a rough genius, a "Monroe County Karl Rove," in the words of State Senator Michael Nozzolio, or—given his colorful public personality—an upstate Lee Atwater. His record in Rochester is, in political terms, difficult to argue with: With only a slight Republican registration advantage, and working both as a paid political consultant and as county chairman, he took nearly all of the county's important offices away from the ruling Democrats and built a formidable organization.
But to Mr. Minarik's detractors, who are legion, he's more of a hayseed Howard Dean, a man whose take-no-prisoners style may play well with the Republican base in Rochester, but whose partisan warfare will only alienate moderate Democratic voters—the sort of voters Republicans need to win statewide office. Democratic voters outnumber Republicans by about 5 to 3 in New York State.
"His first steps were missteps," said Hank Sheinkopf, a Democratic political consultant.
The proving grounds for Mr. Minarik will be the 2006 elections, in which U.S. Senator Hillary Clinton and gubernatorial candidate Eliot Spitzer, both Democrats, will be overwhelming favorites.
Meanwhile, Mr. Minarik, who says he wants to avoid party primaries, has been offering the gubernatorial nomination to stars like Mr. Giuliani and Mr. Powell—people who have expressed no interest in running for state office. He even suggested that Rochester businessman Tom Golisano, a harsh critic of Mr. Pataki, could make a strong Republican candidate—a stance he backed away from when speaking with The Observer.
"He's not a Republican—that's the first problem that we face," Mr. Minarik said of Mr. Golisano, who has run for Governor twice on the Independence Party line. "I want to run a Republican for Governor. I've never had a conversation in my entire existence with Tom Golisano. He's going to have to reach out to us if he wants to run [as a Republican]."
Mr. Minarik may have also made enemies of fellow Republicans. An aide to Secretary of State Randy Daniels, who is actively seeking the party's gubernatorial nomination, recently suggested that Mr. Minarik is a racist for opposing Mr. Daniels' candidacy. (Mr. Daniels is African-American.) Mr. Minarik said Mr. Daniels, who isn't well known among the rank and file around the state, couldn't raise enough money to win.
The chairman also pressed Westchester County District Attorney Jeanine Pirro to run for the Senate against Mrs. Clinton. In doing so, he dismissed the candidacy of attorney Ed Cox, who is Richard Nixon's son-in-law. But it appears as though Ms. Pirro will pass on the chance to take on Mrs. Clinton, opting instead to run for State Attorney General. As a result, Mr. Minarik has shifted gears.
"Ed Cox is a quality candidate. Ed Cox is a great candidate. I support Ed," he said. "If Ed Cox is our candidate, I'll be a happy man."
The net effect, so far, has been to foster the impression that next year's Republican field consists of a batch of second-, third- and fourth-choice candidates, save for the long-deliberating Ms. Pirro.
But while Mr. Minarik has inspired sniping within and without the Republican Party, he's never traded on personal popularity. "He couldn't be elected dogcatcher," said one admirer.
In order to understand Mr. Minarik's approach to the supercharged 2006 election cycle, you have to start with Rochester, a Great Lakes city of 220,000 closer geographically and culturally to Pittsburgh than it is to New York.
Mr. Minarik lives in a modest house in a Rochester suburb with his wife, a state judge, and their four children. He is 45 and has spent his entire professional life in politics, as a staffer for the county legislature, a private political consultant and as chairman of the Monroe County Republican Party.
Before Mr. Minarik took control of the party in 1991, Monroe County was a Democratic stronghold. Despite a small Republican registration advantage, Democrats controlled the county legislature and the county executive's office.
He started getting attention around the state that year when his candidate, Bob King, was elected county executive. He retook the county legislature and moved on to sweep up judicial positions and local officials thanks to a well-oiled fund-raising machine.
One secret to his success, he said, is a virtue that the state Republican Party lacks: discipline.
"People seem to thrive on being a naysayer," he complained. "Back [in Monroe County], we have eliminated the naysayer function."
How?
"Well, we have hanging trees in our area," he said, pausing for effect.
Mr. Minarik describes himself as "a hard-core right-winger"—"I should be the leader of the Conservative Party, frankly," he conceded—but he's no ideological warrior. His loyalty, allies and enemies alike say, begins and ends with the Republican Party, and he cares more about winning than about any particular principle. He's an enthusiastic backer of New York's liberal Mayor, Michael Bloomberg.
"I see Steve doing anything to win an election," said Howard Relin, the former Monroe County District Attorney and a Democrat.
Indeed, it was his focus on winning races that led him to break ground in recruiting women candidates in Monroe County, a place where politics has been dominated by men.
"Steve was one of the first around here to recognize how strong women could run," Mr. Relin said.
The phrase that Monroe County Democrats apply most often to their nemesis is "over the top." There was, for instance, the time Mr. Minarik referred to a defeated rival as a "cross-eyed bitch."
"She was a pain in the butt," Mr. Minarik explained. "And it was said in the euphoria of our tremendous victories that year."
"Steve doesn't really believe in nuance very much when it comes to campaigns," said Assemblyman Joe Morelle, his Democratic counterpart in Monroe County. "It's pretty much smash-mouth politics. But people generally shouldn't underestimate him—that's my experience."
It was Mr. Minarik's innovation to introduce the attack advertisement into judicial contests, defeating a judge by publicizing an allegation of sexual harassment.
And he had no compunction about denouncing a local legislator for bringing the death of his daughter into a political campaign.
Mr. Minarik also faced occasional criticism for profiting from a system in which he recruited candidates who then used his political-consulting services.
But while his tactics may have been crude and blunt, they also worked. Last year, the Democratic mayor of Rochester, Bill Johnson, appeared to be gaining ground in a race for county executive when an advertisement hit the airwaves depicting a Pacman-style creature, representing the city, gobbling up suburban school districts.
"My first reaction was that it was not very artfully done. It seemed cartoonish," Mr. Morelle said. Then they saw the floor fall out from the Democrat's suburban support. Mr. Johnson lost.
An Unlikely Choice
Mr. Minarik wasn't an obvious choice to lead the state party when the chairmanship became vacant late last year. He's not a shareholder in Pataki Inc., as the network of government and private financial interests around the Governor is known. Though he'd done well off politics in Rochester and in occasional contracts for State Senate races, he was not a part of the Pataki machine.
Mr. Minarik, however, had the advantage of leading perhaps the strongest county organization in the state, and Mr. Pataki had known him from years of being picked up at the Greater Rochester International Airport by the energetic Monroe County chairman. And the state party was beginning to resemble the sagging county organization that Mr. Minarik revived in 1991.
"They've asked him to captain a leaky boat," said the Republican political consultant Roger Stone, who has worked for Mr. Golisano in the past.
The party he was handed was $400,000 in debt from the 2004 election—a contest in which its token U.S. Senate candidate, Assemblyman Howard Mills, had suffered an unprecedented drubbing at the hands of Senator Charles Schumer. The New York Post was carrying weekly complaints from "senior Republicans"—sometimes named, sometimes unnamed—about the shambles the party had become.
By Mr. Minarik's typically immodest evaluation, "I don't think I've made any mistakes" since taking over the state party. In February, he made national news with an attack linking the newly installed chairman of the Democratic National Committee, Howard Dean, to Lynne Stewart, a lawyer convicted of aiding terrorists.
"Howard Dean is the personification of today's national Democratic Party: elite, radical, out of control and sadly out of touch with ordinary Americans," he said in a statement. "The Democrats simply have refused to learn the lessons of the past two election cycles, and now they can be accurately called the party of Barbara Boxer, Lynne Stewart and Howard Dean."
Mr. Minarik's statement won him a public rebuke from Mr. Pataki, but no retraction was forthcoming.
"I stand by those comments 100 percent," he said, though he did express some embarrassment at a photograph his aides circulated with the false claim that it depicted Mrs. Clinton with Ms. Stewart. "That was not my deal, believe me," Mr. Minarik said.
"He may not be used to dealing with some of the metropolitan media people," said Mike Long, the Conservative Party chairman.
Some Republicans, however, have begun to whisper that Mr. Minarik's job already is in jeopardy. County chairs beat back a Minarik proposal to consolidate party power in a smaller executive committee earlier this year, and many have been unhappy with his treatment of Mr. Daniels.
The criticism, however, seems unlikely to undo the Republican chief.
"One thing that Steve is not lacking in is ego," said a former Monroe County Democratic leader, Mollie Clifton.
Mr. Minarik himself echoed that sentiment when asked if he modeled himself on any national figures—Mr. Rove for example.
"In this business, you have to think you're the best, or what good are you?" he said. "Frankly, I think I'm pretty damn good."
–Additional reporting by Anna Lindow