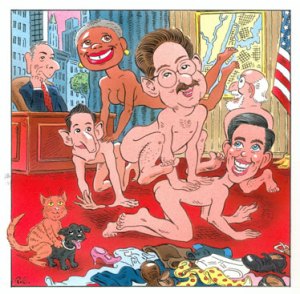 On a good day, you can squint at the four Democrats seeking to be the next Mayor of New York and the fifth Democrat trying to hold onto that job, and see a group worthy of the world's greatest city. There's the up-by-his bootstraps Latino pioneer; the woman whose politics were forged beside Martin Luther King Jr.; the tribune of the outer boroughs; the smart young scion of the Manhattan elite—all competing against the self-made business titan who came to office to manage New York back, as his expensive television advertisements remind us, from the rubble of Sept. 11.
But then we brush away the summer sweat, open our eyes a little wider into the heat-induced pique and wonder: Is this it?
The race for Mayor of New York is set amid a rare flowering of New York politics. The city is host to the Clintons and Rudy, Chuck and Eliot, all major players on the American stage. As Bob Kerrey's brief flirtation with the Democratic nomination for Mayor underscored, there are more interesting political figures retired here than the ones running for Mayor. Here's a field for you: Bill Clinton, Bob Kerrey, Bill Weld, Robert Rubin—and throw in the Texan Phil Gramm, who quietly occupies an office at a city investment bank.
And yet, in November, these titans of American politics, along with the rest of us, will face the bewildering choice between Michael Bloomberg and one of four Democrats—Fernando Ferrer, C. Virginia Fields, Gifford Miller and Anthony Weiner—as well as a nominal Conservative challenger, Tom Ognibene. It's a group less than the sum of its résumés, a collection of weaknesses and absences paralyzed by a Mayor whose warm river of money has washed away ideology and bought an ample supply of friends.
On Tuesday, Aug. 16, the four Democratic contenders slogged their way through their first televised debate inside Jazz at Lincoln Center, hoping that this evening would give them their breakout moment. Outside, their supporters waved signs and chanted catchy slogans like "Go, Miller, Go!" But these signs were ultimately dwarfed by a larger sign—a car advertisement hanging from a window of the Time Warner Center that said: "Inside. The Future Revealed."
Ironic? Tragic? Farcical?
Well, comic at least.
This season's Mayoral cock-up reminds us of an old joke, and a new movie.
It goes a little something like this:
A family walks into a talent agency late one summer afternoon. There's a father, mother, son, daughter and dog. The father says to the talent agent, "We have a really amazing act. You should represent us."
The agent replies, "Sorry, I don't represent family acts. They're a little too cute."
The mother protests, "Sir, if you just see our act, we know you'd want to represent us."
The agent says, "OK., OK., I'll take a look."
At this point, the father gives a whistle and—well, you know what happens next: The family falls into formation and the wild dysfunctional rumpus begins. There is incest and bestiality, coprophilia and coprophagia, sadism, masochism, troilism, frotteurism and the most outrageous display of onanistic exhibitionism since Genesis 38. On and on it goes, until the family—father, mother, daughter, son and dog—fall to the ground in an exhausted heap of sweat and excrement. As a final act, the father lights the dog on fire.
For the longest time, the agent just sits in silence, staring at the spent huddle of the family. Finally, he manages, "That's a hell of an act. What do you call it?"
And the father says, "The Democrats!"
Herewith, then, in alphabetical order—conveniently the same as their order in the polls—they are:
Fernando Ferrer
In Howard Beach in the spring, the candidate ordered up a Grey Goose. Before a gala atop Local 1199's midtown tower, he had a beer. And last Sunday, a Rolling Rock helped with the heat and the crowd.
Maybe drinking on the trail is just a sign of Freddy's membership in an older generation of clubhouse politicians. Or maybe it's because the man just doesn't like doing this. He doesn't drink to excess, but the occasional sip seems to take the edge off a process that makes him testy, bored and condescending by turns.
And oh, the edge. The chip on Mr. Ferrer's shoulder, product of who knows what grievances, grows with the season, always weighted down by the Great Wrong of 2001—a photocopied cartoon from the New York Post, which showed him kissing the inflated posterior of his key campaign ally, Al Sharpton.
The problem is the gap between the Freddy of his supporters' dreams and the life-sized candidate. The ideal Freddy is an expansive figure: a Hispanic favorite son who is also a New York favorite son, child of a universal, upwardly mobile experience.
But the real Mr. Ferrer is opaque, his interior strictly off-limits. He parries questions about his faith and his personal life, and he parries questions about what he'll do as Mayor.
"I know you need a story for 6 o'clock tonight, but that's not it," is a variation on his standard comeback.
Freddy Ferrer has been at this a long time. Back in 1997, his then-guru, Dick Morris, was pitching him as a white-ethnic, calling him "Fred" to all who would listen. In 2001, a new guru, Roberto Ramirez, came closer to casting him as a Hispanic pioneer. But the problem isn't his shifting political identities (ask Bill Clinton); it's the lingering question—even among people around him—of what, exactly, is inside the suit.
Eventually, you stop asking. And there are those who appreciate the candidate for what he is. One former aide, for example, recently shared the ultimate backhanded compliment about Mr. Ferrer:
He was a perfect candidate to work for, the aide recalled. Tell him where to go, and he'd go there. He was, the aide said, "easy to manage."
C. Virginia Fields
Ms. Fields finishes a press conference, and the reporters huddle: What exactly was she talking about?
It's not her clear, slow Birmingham drawl that causes the problem. It's her sentences, which meander here and there and end, as often as not, with a favorite phrase: " … and so forth."
For example, Ms. Fields faces her defining superficial New York political crisis: A former political consultant, drummed out of the campaign for producing a controversial flier, has turned into an antagonist. The candidate is asked to give The New York Times an account of his position in the campaign:
"Joe was a strategic adviser on a number of issues related to matters of that and so forth."
Got it?
The meandering habit of speech reflected, for much of the year, her campaign, as Ms. Fields displayed an alarming instinct to offer ad hoc promises in response to very specific questions. In a nearly empty theater at Hunter College earlier this year, she pledged money to build dormitories for City College students, a line heard neither before nor since.
On the trail, her rhetoric is nearly impenetrable. Discussing a plan to spend more on seniors last week, she applied the formula of never using one word where 10 would do:
"We will be providing leadership to make better use of those resources."
Meanwhile, her interactions with the public can be positively Reaganesque in their detachment, as when she approached the aforementioned group of seniors sitting at a game table. It was strewn with cards bearing the word "BINGO" on the back.
Ms. Fields: And what is this game? What is the name of this game?
Woman: Bingo.
Ms. Fields: Oh, this is bingo?
Bingo!
Gifford Miller
Say what you will about Ms. Fields: She is at home in the pews of that classic tabernacle of New York politics, the black church (if not at their bingo nights).
And so, unexpectedly, is Gifford Miller, the young Speaker of the New York City Council and the last best hope of New York's old WASP elite to put a favorite son into City Hall.
As he hit the black-church circuit in Brooklyn and Queens earlier this year, in fact, Gifford Miller was a bit too comfortable, and his comfort made his handlers and reporters alike wince. The Upper East Sider's speech shifted into the cadences of a black preacher, and his words picked up a touch of Wilson Pickett, complete with dropped "G's" and broad vowels.
One last hymn of praise and then, thankfully, he was off again with his burly entourage to the next event, and the next accent. ("All these bodyguards—as if anyone would bother him," sniped Henry Stern, the former Parks Commissioner.)
Mr. Miller's peppy new campaign spot embraces his youth—"People may think I look young," he declares, skipping down the steps of City Hall—but his problem isn't that he's a novice; it's that his crash course in politics worked too well, and he's just too good at playing the pol. His youth has bred caution. He turned up at a small labor endorsement in City Hall Park this week with nine paragraphs of carefully printed notes; he read them, suffered a kiss from a leader of union retirees, and then quickly pulled off the green union hat he'd had stuck on his head.
Two years ago, Mr. Miller's campaign was golden. Piece by piece, deal by deal, he had assembled a flock of favors, piled up the campaign cash and assembled a political operation that was humming away, in part in a "bat cave" atop a tall black tower across the street from City Hall.
But when it came time to hit the trail earlier this year, Mr. Miller had just one thing to say. And he wasn't even sure how to say it.
"I love this city" was how, for a while, he'd begin his stump speech. "I love this city. I love this city. I love this city."
He's pitched himself as a generational champion: "Generation G," they're calling it. Seriously.
But is this what the generation reared on Kurt Cobain really wants—calculation, caution and passionless ambition?
Anthony Weiner
At 40 years old, Congressman Anthony Weiner, of both Queens and Brooklyn, has the kind of glossy, overachieving résumé that would make even the fussiest Jewish mother burst with pride. Aide to the esteemed Senator Chuck Schumer? Yep, he's done that. Two-term member of New York's City Council? You betcha. Honorable member of the United States Congress? Indeed, by the time he was 34!
And yet, for all of these high-octane achievements, Mr. Weiner seems to suffer from a certain gravitas gap. Perhaps it's the bar-mitzvah photos he's plastered across his campaign literature; perhaps it's his parents' constant presence on the campaign trail; or perhaps it's his penchant for Grossinger's-style one-liners—but with just three weeks left until the primary, Mr. Weiner has yet to prove that his bid for Mayor is anything more than a Borscht Belt joke.
"Anthony was always serious," Mr. Weiner's mom, Frances, gushed during a recent press conference. But even Mr. Weiner couldn't help but add the obvious tagline: "Despite the conventional wisdom."
For a time, we'll confess, we appreciated the Congressman's nod to a bygone era of Catskills-circuit humor. After all, every campaign could use a bit of comic relief now and again; and in a race where so many of the candidates seem to suffer from a serious charisma deficiency, the Congressman's blunt style and comic timing were a breath of fresh air.
But recently, we've begun to weary of Mr. Weiner's shtick. Kind of like the Congressman's dad, who dozed off during one of his son's "major policy addresses." And like his mother, who's been known to correct her son's facts mid–press conference, we've begun to doubt the depth of the candidate's self-proclaimed wonkishness.
This serious-guy side of his personality has been on calculated display of late, as the long and leathery Mr. Weiner has rolled out the kind of full-court offensive he could only have learned at the feet of Senator Schumer. Borrowing a page from his mentor's playbook, he's scheduled a battery of press conferences, each designed to highlight one of the narrow planks of his Mayoral platform, each helpfully illustrated by some cutesy gimmick: a foot-high stack of city budget documents, his retired-schoolteacher mother looking quaint and matronly in a floral skirt and white sunhat.
But for all that, it's hard to escape the feeling that Mr. Weiner is little more than Mr. Schumer's skinny Mini-Me, a flyweight mimic of the muscular old bruiser. His tax plan, for instance, is a back-of-the-envelope calculation lopping 10 percent off the top of the city's tax rates. At one recent presser—an announcement of Mr. Weiner's plans for "real fiscal responsibility"—the would-be Mayor made the classic, technical but telling mistake of confusing the capital budget for the expense budget.
But perhaps this is what happens when a candidate relies too heavily on a Woody Allen–style formula for his campaign script: While his goal may be the sidesplitting genius of a movie like Manhattan, he is just as likely to find himself starring in The Curse of the Jade Scorpion.
Michael Bloomberg
After some thought, we're forced to blame this mess on the Mayor, uninspiring and insurmountable in equal parts. His election held promise: He had a playboy reputation and a habit of bawdy candor, and there was some hope that the soap opera of the Giuliani years would give way to screwball sex comedy à la There's Something About Mary.
Mr. Bloomberg has, instead, accomplished a feat unknown since the days of Abe Beame: He's boring.
His aides will argue that boring is exactly what New York needed after Sept. 11, and maybe they're right. Boring is how you want your crime rate. Veteran civil servants, meanwhile, celebrate their new freedom to leave promptly at 5 p.m. and to enjoy their long weekends in peace.
But can we really love a Mayor who has recorded his tinny radio show from an undisclosed (but probably Caribbean) location? Whose public events are so predictable that reporters often skip them entirely? Unthinkable in the days of Rudy.
We could forgive—even enjoy—the way in which the Mayor has calmed City Hall and lowered the blood pressure of thousands of bureaucrats. But he has also muted the volume on the city's political debate. Some vital organ has been drained of blood.
It isn't just his à la carte ideology, which allows him to claim, in expensive mailings about his education record, that he's both a big-spending liberal (in the mailings that go to liberals) and a frugal, high-standards conservative (those mailings turn up in Staten Island and Queens).
It's also the money. Democrats complain—fairly—that the Mayor may well spend nine figures on his re-election, but that's only half the story. Mr. Bloomberg has also demonstrated how much good will cash can buy, with a steadily increasing flow of philanthropy that ensures the affection of members of the cultural elite, local ethnic leaders and other likely critics. In 2004, his aides said, he gave $139.3 million to 843 different organizations.
The re-election campaign is currently on autopilot, humming along at a rate that may allow some of Mr. Bloomberg's political consultants to buy their own Bermuda mansions. Endorsements last a few minutes. A heckler is quickly hustled away by police. Press releases, at one Harlem event, are available only in Chinese—but it doesn't really matter.
Mr. Bloomberg arrived with ambition, but without direction. We were never sure why he ran in the first place. And four years later, we still aren't sure. He will leave us, likely after four more years, with a ban on smoking and a seriously nifty new 311 telephone service. But what else are we going to remember when, at 5 p.m. on Jan. 1, 2010, they turn out the lights in the bullpen?
—Anna Lindow contributed to this report