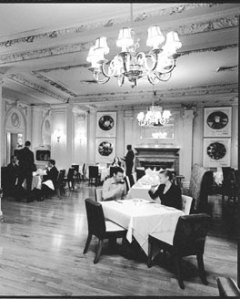 Table XII is on the ground floor of the Lombardy Hotel, which was once a house owned by the newspaper baron William Randolph Hearst. It's one of the most opulent Beaux-Arts dining rooms in the city, with a marble fireplace, gilded ceilings, chandeliers, elaborately carved moldings and a parquet floor. The recently renovated restaurant is the fourth opened in this location by the Scotto family (who also own Fresco by Scotto) since they took over the restaurant in 1997. It's an unexpected place to find the elusive Italian chef Sandro Fioriti.
Mr. Fioriti opened Sandro's, his first New York restaurant, in the 80's. Then he disappeared for nearly a decade before resurfacing first at his eponymously named trattoria in Chelsea five years ago, and later at Serafina on the Upper East Side. He cooked in his restaurants as if he were serving dinner to friends in his own home, and his expansive personality and simple but wonderful food led to a following of fans that was akin to a cult. He introduced New Yorkers to the best fried artichokes they'd ever eaten, to spaghetti with lemon sauce and chicken livers in balsamic vinegar. When Mayor Bloomberg banned smoking in restaurants, Mr. Fioriti, a cigar aficionado, impishly put tobacco in his gnocchi, steak sauce and even the panna cotta.
Now, at Table XII, some of the old buoyancy seems to have gone. My experiences here were erratic, beginning with the service. One night, we were charmed by a Brazilian waiter who had only been there a couple of weeks; another night, we had to put up with one of the rudest waiters I've encountered in a long time. By the end of dinner, when he tossed the bill down on the table and walked away without a word, I could cheerfully have run after him and stuffed it down his throat.
He seemed annoyed from the start, when I asked if there was a more interesting white wine available by the glass than the two offered on the list. He became even more irritated when, after listening to a dizzying recitation of over a dozen specials, I asked him to repeat the main courses. He sighed and pursed his lips and reeled them off staccato as if addressing an obtuse child: "Sole! … Branzino! … "
He was reading from a printed list. Why not print it out for the customers and put it inside the menu?
The food is hit-or-miss, too. Things start well with the arrival of good breads, charcuterie and cheese. Some dishes, such as the spaghetti al limone and the grilled veal paillard—served with great spinach and creamy mashed potatoes—were every bit as wonderful and immediate as they were when I tasted them several years ago. The branzino, however, was perfectly nice but not stellar.
I should have known better than to order strawberry risotto sprinkled with petals of flowers, but I was curious. It was jarringly sweet, crunchy and strange. I left it after a few mouthfuls, and the waiter swept the plate away without comment. A Sandro "signature," tagliolini with melon and anchovies, was equally bizarre. The pasta itself—perfectly cooked silken strips—was irreproachable. It was swamped by the cantaloupe, though, and the bare hint of anchovy wasn't enough to temper the excessive sweetness. A few mouthfuls were enough.
"It reminds me of a story about Samuel Johnson, when he was listening to someone playing a composition on the violin," my companion said after a taste. "When a friend explained that it was a very difficult piece to play, Johnson replied, 'I wish it were impossible.'"
An overpowering smell of strong, sweet perfume (Jungle Gardenia?) pervaded the corner of the room where we sat. The culprit was a woman who could have been anywhere from 40 to 80 years old, her entire face frozen solid and devoid of any expression at all. Mercifully, she and her three elderly male friends soon left. Taking their place were a man and his tanned blond companion, whose amazing breast augmentation was bursting over a tiny white tank top.
"That man across the way looks like Gene Hackman playing the role of a retired Mafia hit man," my companion said. "Have you noticed there's not a single man here not wearing black?" He was right. "Of course, it's black-on-black, not the black of the downtown artists of the 1980's."
As we tasted each dish, we began to wonder if Sandro had taken the night off. Zucchini flowers were buried inside a leathery, greasy batter. They came with artichokes, also deep-fried, that were nothing like the ones he made at his Chelsea trattoria. My companion had ordered a Milanese—a pounded veal chop topped with arugula, tomato and sliced onion. It was good, but it lacked personality. "It's like decent hotel food—you don't discern the presence of the chef's hand," my friend said. I tried the Chilean sea bass. It was soft and watery, but served with delicious chunks of stewed eggplant. For dessert, we had a pleasant lemon sponge cake and panna cotta drizzled with balsamic vinegar.
My companion, who used to live in Italy, had become increasingly cross as the meal progressed. "Sandro probably doesn't feel he needs to be here because the 'foodies' have gone to their summers in Tuscany," he said. "They're over there discovering the region's specialties: the awful, unsalted Tuscan bread and the local pecorino—day-old pecorino, month-old pecorino, three-month-old pecorino, pecorino that's been left on the counter for a week …" His voice trailed off. Sandro had made his entrance.
The chef came into the dining room like the genial host of a country taverna, striding from table to table, a Falstaffian figure in a white T-shirt and bright orange-pink pants held up with suspenders. I felt sorry that the food wasn't better, and as he made his rounds, I couldn't help thinking that Mr. Fioriti should spend more time at the stove. His dishes seem to demand his own personal touch; otherwise, they tend to disappoint. What would Dr. Johnson have to say if he went to a concert and the trickiest passages were played by an understudy?