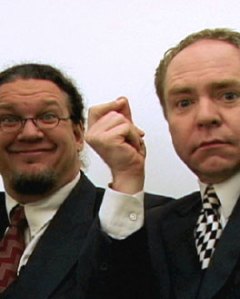 Before I try to explain why you will probably enjoy seeing and hearing—particularly hearing—stand-up comic Paul Provenza's and magician-auteur Penn Gillette's The Aristocrats, I should unburden myself of my own thoughts and experiences in the realm of filthy jokes, four-letter words, excremental, sacrilegious, racist, homophobic and otherwise politically incorrect humor, stand-up comics and other forms of bad taste.
For starters, after a polite, no-soap-in-mouth childhood, and a repressed adolescence and early manhood, I began habitually using the F-word when I was in the Army during the Korean War. It was used in its adjectival form to describe how awful everything was. That is to say, it was used routinely and reflexively, without any heightened emotion attached to it. It was so ingrained in the troop mentality that when I went home on a pass, I would shock the family by casually saying, "Pass the [F-word] salt, please." I wonder if the troops in Iraq are linguistically so inclined when they start talking about the sandstorms in Baghdad. You can't tell from the news reports, but then you never could in all the journalistic coverage of conflicts from World War II through Korea, Vietnam and the first Gulf War. In each instance, "our boys" would never use such language.
Even the cable channels—which are comparatively wide open in their narrow-cast, non-broadcast way—sometimes bleep out the F- and S-words, at least on Comedy Central with Jon Stewart (curiously tentative in The Aristocrats) and other luminaries. Even a milder barnyard epithet like "bullshit" was bleeped out during a CNN debate between conservative journalist Robert Novak and liberal spokesman James Carville, just before Mr. Novak walked off the set in a hissy fit.
The point is that nothing is bleeped out in The Aristocrats, and that in itself is oddly liberating at a time when the American ayatollahs of religious fundamentalism are girding their loins for battle. As it happens, I wrote for close to 30 years for a paper, The Village Voice, in which four-letter words occasionally appeared, much to the consternation of some of my more casual acquaintances, who thought they were praising me for my forbearance. The truth was that, far from being a member in good standing in the bohemian counterculture of the Village, I was busily cultivating the romantic roses and lilies in the gardens of American and international cinema, seen from the perspective of an accidental auteurist.
Even so, I was quoted by the late Walter Winchell in one of his syndicated columns for an old cockney joke I retold in The Voice in my customarily inhibited manner. It goes something like this: One cockney in a bar asks another cockney what he did last night. The second cockney answers: "I picked up this [F-word] whore, took her to a [F-word] hotel, tore off all her [F-word] clothes …. " The first cockney asks, "Then what did you do?" The second cockney answers: "We had sexual intercourse." What I was thinking of was how unexciting the use of the F-word had been in my Army days.
Yet by the time of Raging Bull in 1980, Martin Scorsese, Paul Schrader and Mardik Martin had unleashed the full comic and dramatic fury of the F-word in American movies through the brilliant delivery of Robert De Niro and Joe Pesci. There are enough people in Hollywood to this day who will keep Mr. Scorsese from ever winning an Oscar for having crossed the line into a forbidden zone of realism. I once asked Richard Price, the lucid chronicler of the lower depths, if his street people actually used all the four-letter words he had streaming out of their mouths. He proceeded to render an impromptu exchange that convinced me once and for all that he knew whereof he wrote.
The climax of The Aristocrats, if not its entire raison d'être, takes place at a 2001 Friars Roast of Hugh Hefner, at which Gilbert Gottfried, a very aggressive comedian of whom I was previously unaware, delivers the joke at a time shortly after 9/11, when most people were walking on eggshells to avoid offense. I must confess that I never heard of this "joke" until I started reading all the reviews. The title of this movie is the punch line of the joke, after a man walks into a talent agent's office to describe or demonstrate a "family act" he is presenting, in which, in various versions, his wife, children, family dog and sometimes grandparents are involved in unspeakably obscene acts mobilizing every available orifice and every form of liquid or solid emanating from same. Some retellings draw blood, literally. After this lengthy description or demonstration of every form of depravity imaginable, the talent agent asks with some trepidation what the act is called. With a proud hand-flourish, the architect of all this unspeakability declares: "The Aristocrats!"
Some comedians didn't get the point of the punch line—particularly in America, where the notion of aristocracy is a bit fuzzy. Some comedians suggested instead "The Sophisticates." This, too, was not without its defenders, in between the ever more outrageous embellishments to the set-up. Remember, this is a joke that was supposedly told only by initiates in comedy to their colleagues after all the paying customers had gone home. Even if you've become a little weary of the seemingly endless procession of stand-up comedians on the cable channels, as I have, fear not: Mr. Provenza and Mr. Gillette cut between the scores of joke-tellers with great rapidity, so no one stays on long enough to become tedious. There is a staggering variety of put-ons, put-downs, deadpans, pseudo-sulks and many blowings of lines, pseudo or unintentional—you tell me.
Nonetheless, there is also a warm feeling of collegiality at work here, without any suggestion of a caste system separating the household names and faces from the lesser-known practitioners of the craft. Many of the performers I recognized; many I didn't. Some of the women were especially effective, because women aren't supposed to be partial to this kind of raunchy farce.
George Carlin, the respected elder statesman of smut, is a recurrent philosophical commentator on the implications arising from the joke's punch line and all that preceded it through the ages, but Mr. Carlin has been pushing the envelope of verboten vocabulary for so long that the envelope itself has been shredded beyond recognition. Drew Carey, of all people, seemed the most genial and light-hearted of all the comedians. A magician named Eric Mead told the joke with card tricks that truly impressed me with their crispness and authority. Robin Williams suppressed his potential virtuosity to stay in the collegial spirit of the occasion.
I was saddened by how old the Smothers Brothers looked, and how rusty their timing had become. But who am I to complain? Never send to know for whom the bell tolls, and all that. Hence, when Don Rickles pops up to complain boastfully that he's never told jokes—which is certainly true, because he spent the duration of his act insulting people—I was almost disappointed that he didn't take on any (or all) of the people in the show; now that would have been a gas. As it is, Mr. Rickles isn't as collegial as the others in the film, but who would have expected him to be?
See it if you aren't too jaded to appreciate a few laughs in these mostly mirthless times.
The Deepest Wounds
Keith A. Beauchamp's The Untold Story of Emmett Louis Till has literally reopened a case of lynch-mob butchery that took place 50 years ago in Money, Miss. In August 1955, Mamie Till Mobley of Chicago sent her only child, 14-year-old Emmett Louis Till, to visit relatives in the Mississippi Delta who worked in the cotton fields. Eight days later, Emmett was abducted at the point of a gun from his great-uncle's home, brutally beaten and murdered, and his body dumped in the Tallahatchie River. The two accused murderers, Roy Bryant and J.W. Milan, were quickly acquitted by an all-white male jury in Money, Miss. Bryant and Milan later confessed to the murder to William Bradford Huie of Look Magazine. The two men were paid $4,000 for their story. In May 2004, the Justice Department announced that it was reopening the case, largely on the basis of the revelations in Mr. Beauchamp's film. On June 1, the F.B.I. exhumed Emmett Till's body, since no autopsy had ever been performed after it had been recovered from the Tallahatchie River. (Wasn't there a famous folk song about someone jumping off the Tallahatchie Bridge? The song was certainly not about Emmett Till.)
One wonders why an autopsy was ordered, since both the accused murderers are dead and any possible co-conspirators are to be found in Mississippi, not in Emmett's grave. The actual murder took place during the Eisenhower administration—hardly a hotbed of civil-rights activism. The only dominant personality in the film is Emmett's mother, Mamie Till-Mobley, who died in 2003, after lending Mr. Beauchamp invaluable assistance in his nine-year effort to make his film and reopen the case. Till-Mobley is an electrifying presence on the screen as she makes the courageous decision to open Emmett's casket at the mass funeral in Chicago. If the pictures circulated worldwide of Emmett's butchered face weren't enough to energize the Eisenhower Justice Department, then nothing ever could. I am ashamed of myself for not having paid more attention to this atrocity when it happened. Mississippi seemed so far away at the time.
One horrible detail retold by Till-Mobley in her defiant, articulate and eloquent old age was her memory of the white children in the courtroom "armed" with cap pistols which they pointed and fired—bang-bang!—at her, to the laughing delight of their parents. The filmmaker is no stranger to racial violence himself: While he was studying law in Baton Rouge, La., he was assaulted by an undercover policeman for dancing with a white woman. This incident led him to leave Louisiana for New York City, where he decided to become a filmmaker. I can't recommend the film strongly enough, but I'm afraid that too many of the wrong people will choose not to see it. On this occasion, however, the rest of us can stand to assume a little more guilt for a 14-year-old boy who didn't deserve to meet such a brutal, violent death merely for whistling at a white woman.
No Remorse
Eric Van Looy's The Memory of a Killer, from a screenplay by Mr. Van Looy and Werner De Smedt, based on the novel by Jef Geernerts, was originally called something like the Alzheimer Murder Case, since its leading character is an international hit man suffering from the early stages of Alzheimer's, a brain disease of which the only treatment—in the best of cases—consists merely in slowing down the evolution to dementia. The afflicted hit man, Angelo Ledda (Jan Decleir), has already been forced to scrawl the numbers of his hotel rooms on his arm so that he won't forget them on his "business" travels around the world.
Ledda's home base is Marseille, and when he's given an assignment for two murders in Belgium, he realizes that this will probably be his last contract. Upon his arrival in Antwerp, he very quickly eliminates his first victim, a top government official. When detectives Eric Vincke (Koen de Bouw) and Freddy Verstuyft (Werner De Smedt) are appointed to investigate the murder, they are stymied at every turn by the corruption in the municipal government.
Meanwhile, Ledda has discovered to his horror that his second assigned victim is a 12-year-old girl. He breaks his contract, and when his secret employers hire other assassins to kill him and the little girl (succeeding only with the latter), Ledda sets out on a personal mission to use the little time remaining to him to destroy the criminal superiors in positions of trust. Soon there are corpses strewn all over Antwerp as Eric and Freddy try to locate the elusive Ledda.
This Belgian noir has many inside jokes about tourists being fixated on Bruges when Antwerp has more to offer, as well as the tensions between Flemish-speaking Belgians and French-speaking Belgians. The cat-and-mouse game ends in a stalemate of political uncertainty, but Ledda and Eric manage to find common ground in their mutual quest for justice. This thriller is more textured than the usual exercise in its genre. See it.
Retail Addiction
Jun Ichikawa's Tony Takitani, from his own screenplay, based on a short story by Haruki Murakami, is the very stylized tale of a child given a non-Japanese name. His war-veteran father believes that with the name Tony, the child will grow up with an advantage in currying favor with the victorious Americans. Instead, Tony is shunned by his classmates for his strange un-Japanese name, and adapts to his loneliness so well that he grows panicky at the prospect of a life spent in solitude. When he meets Eiko (Rie Miyazawa), he persuades her to marry him even though he's 15 years older.
Before their marriage, she confesses a passion for beautiful clothes; they fill out what she perceives as her empty personality. For a time, Eiko and Tony are happy, but her obsession with clothes becomes stronger and stronger until they are forced to devote an entire room to her wardrobe. When he persuades her to at least start returning some of the clothes, she agrees at first, but then reneges—until, suddenly and ironically, tragedy strikes. A gentle breeze of absurdism floats through this lyrically understated story. Its sadness is little short of magical.