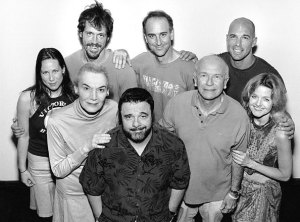 Behind a door in an apartment building in the West 70's lives a man who has been anonymously pleasuring women—sexually, that is—over the past year. They know him only as Doctor M.
By day, this unassuming 41-year-old self-described "regular Jewish guy" is no doctor at all, but a writer for a media company. He is pleasantly average-looking and sports a clean-cut look: polo shirts, cargo shorts, wire-rim glasses, short brown hair flecked with gray. And thanks to weekends at his Hamptons share, he wears a tan.
"Nobody would have the slightest idea that I have this whole other life," said Doctor M. in his monotone, nasal, Queens-accented voice. (He spoke with The Observer under the condition that neither his identity, nor that of his "patients," would be revealed.)
It started in September 2004. Trying to sell extra Morrissey tickets on the Craigslist Web site, he came across "Casual Encounters," the section where people looking for sex find each other, or try to. He wrote a generic ad; there were no responses. Then he saw a posting for a doctor/patient fantasy scenario on the Craigslist San Francisco site. "It was poorly written, very short, but it gave me the idea," he said.
He began to write his own ad, which grew to 1,200 words, including: "Unappreciated by a selfish partner? In-between a relationship? Whatever your situation, the Doctor understands …. During your session, the Doctor (who will be dressed in a white lab coat, jacket and tie) will begin by asking you a series of personal questions regarding your experiences and perspectives on a variety of intimate behaviors …. In his 'waiting room' you will find recent editions of People magazine, Vogue, The Wall Street Journal, Psychology Today and U.S. News & World Report …. Easy Listening will be emanating from the stereo as in accordance with law." Wavering between the ridiculous and the perverse, he wrote: "Donning white latex gloves, The Doctor will continue his exploration, probing your anal region to evaluate your level of sensitivity, comfort or alarm. The Doctor is equipped with a variety of sterilized, battery-powered vibrational instruments and may deploy them as he sees fit."
To his astonishment, within hours of posting the ad, a woman e-mailed, and a visit was scheduled for the following evening.
She turned out to be an attractive 35-year-old Eastern European nanny from Riverdale. Armed with only a stethoscope and a clipboard, he accommodated her sexual requests and thought, "Oh my God, this is really happening." The next morning, he checked his e-mail—another woman was interested.
More e-mails arrived. In the following weeks, he zigzagged across the city, buying boxes of white latex gloves, wet wipes and Trojans from Duane Reade. He purchased a lab coat, a triangular sex pillow called the Liberator and a string of Christmas lights. Vibrators, lubricants and massage oil all went into his brand-new black doctor's bag, along with a spanking paddle from Urban Outfitters. Questions for his patients were refined and typed up.
"In the beginning," he said, "posting ads was like being on crack. I wasn't spending any money—I wasn't even leaving my apartment—and I had women willing to come over, sometimes with a bottle of wine, and take off their clothes, based on something I wrote."
The majority of the women have been, he said, average to attractive to very hot; one particular visitor was "a knockout—when I opened the door, I almost plotzed." So far, he added, about 30 women have had a session. About 25 percent have come back for a second. About 50 percent of the women ended up having intercourse with him during the session. However, on two occasions when the women arrived, they looked so unnerved sitting on the sofa that he asked them, "Would you like to leave?" And they did. Two other women that The Observer spoke with said they were disappointed that his apartment didn't look more like a real doctor's office. (And perhaps his modest digs and Ikea furniture weren't exactly what some women were expecting when conjuring a "doctor fantasy.")
But still.
"I haven't had as many different sexual experiences my entire life as I've had in this year," he said. "I've had my share of craziness, girlfriends, and a large part of my 30's, I was with just one person."
He hit one snag: Several women had fantasies involving stirrups. But he didn't want to spend $5,000 on a gynecological chair. So he rigged up his own pair, fashioned out of two black, padded, teardrop-shaped exercise armbands from Paragon Sporting Goods.
"They look at them at first," he said, "and their eyes pop out of their heads. I think most of them are intrigued.
"I try and tap into whatever mishegoss they're into," he continued. "Some of them like exposing their genitals and having them looked at with a flashlight, or being put in a vulnerable position with their ass up in the air.
"Maybe I'm not always getting off," he said, "but it's still not bad having a girl show up. She takes off her clothes; I get to touch her and play with her body. If they want to have sex with me, that is icing on the cake. I can think of worse ways to spend an evening."
To request an appointment, the prospective patient must e-mail a photo as well as her age, height and weight. In turn, he e-mails his standard 1950's-style black-and-white portrait, in which he heartily grips a stethoscope. During the mandatory phone call—to make sure she's female, since there have been hoaxers—they agree on a date and time.
He gives himself about half an hour before each visit to mentally get into doctor mode and to run down the checklist: clean bathroom, line up vibrators, adjust lighting, light candles and violet incense, clean sheets on bed, get out robe, wine and wine glasses, shower, reread e-mail correspondences, lay out cheese-and-cracker platter. The Doctor greets each woman at his door in full regalia.
"They are all very nervous when they first come in. Part of my job is to make them feel comfortable and at ease," he said. He stations the woman on a black leather couch; he offers her a glass of wine, and marijuana is also available. As she looks around, she'll see that his apartment is a studio apartment with the usual things (coffee table, bed, floor halogen light, 34-inch flat-screen TV, some plants, framed posters). The lights are off, except for red Christmas lights, a string of mini Japanese lanterns and flickering candles. The TV is tuned to the Time Warner Adult Alternative Music channel.
Clipboard in hand, he asks a battery of questions, such as: "What brings you to the Doctor today? … Which sex acts do you find distasteful or objectionable? … How often do you masturbate? … Have you ever had an S.T.D.?"
After about half an hour of the sexually charged question-and-answer period, he places his hand on her shoulder and "listens" to her heart through his stethoscope—and, according to the Doctor, knees often wobble.
"There is a dominant/submissive element," he said. "They want someone doing all the work, taking the initiative."
The woman is then instructed to go into the changing room—his bright little bathroom—and undress (save panties), then don a velour black-and-white-striped robe, one of two he keeps in rotation. When she returns, the doctor has disrobed to his boxers and lab coat (or he remains clothed, at the woman's request). He instructs her to lie facedown on his bed, where he has already laid out a towel, as he "doesn't want their juices on my blanket." The massage commences as he sits perched atop the woman's ass.
"After the full body massage, which can be 20 minutes to a half hour, I go to the butt, squeezing it," he said. "I'll pull the panties aside. It's usually very wet. I'll say, 'Lift your hips, please'—by that time, they'll just be begging for it. I can just see by the way they're wiggling their butts, they want to be touched already, but I get there very slowly."
The rainbow coalition of vibrators is lined up at full attention on the blond Ikea shelf next to the bed: a veiny "humongous dick," a butt plug, the Hitachi Magic Wand (which requires an extension chord), and the Pocket Rocket and Mr. Rabbit. Next are the Trojans, a box of gloves, wet wipes, paddle, lubricants and oils—unscented, so as not to raise suspicion should the patient have a mate.
"Most of them tell me that no one has spent so much time on them," he said. "I make them the center of my attention, without asking for reciprocation. I think they might feel a little guilty in the end—'I've got to let this guy fuck me now, because he spent an hour and a half stimulating me'—and they're relieved that I didn't turn out to be an ax murderer."
Post-massage, a hedonistic medley of sex acts may occur. Once he used a plastic speculum (the woman brought it over herself). Sessions last up to four hours with favored patients and a mere hour for the "yucky" ones, as he put it. (A handful of patients sent photos taken several years prior, or lied when stating their weight. With those patients, he said, he wears the latex gloves throughout the entire visit.)
During the session, he takes notes—"used vibrator, 4 orgasms"—which he transfers to his computer and stores with the woman's photo and e-mail address.
What about his love life?
"I absolutely want to get married," he said, adding that he would gladly put his "practice" aside, as he's done during the brief times he dated someone over the past year. "But I figure, while I'm not now, let me take advantage of this window of opportunity."
The big question, of course, is what woman in her right mind would play doctor with a stranger in his apartment in New York City? He said the women who have responded are primarily in their 30's (the youngest being 26, the oldest 50) well-educated, professional, and work in fields such as Internet technology, law, production and the arts. Some are married or involved, while others are single. None of the women who spoke with The Observer used the word "sexy" to describe Doctor M., and in person he comes across as an unlikely libertine.
A 36-year-old television producer who said she gets told she has "a Playboy body" agreed to be interviewed by e-mail.
She wrote that she booked her first visit when she realized that she was getting turned on by reading his ad: "It was very detail-oriented, and he was out to pleasure women, not just himself."
Before going, she gave a friend Doctor M.'s phone number, photo and address, and set a call-in time as a safety precaution. As she approached his building—literally shaking with fright and sexual excitement, she recalled—"I was saying to myself, 'What the hell am I doing? I can get laid very easily. What am I doing here?' Yet when the Doctor opened the door, my gut said he was O.K., and my mind said I could beat the hell out of him if I needed to."
She described Doctor M. as a warm, younger Eugene Levy type. If not exactly like her knee surgeon (whom she had fantasized about), she recalled being confident that "Doctor M. would be just fine for pleasuring me."
Less than a year later, because her boyfriend "sucked in bed," she scheduled a follow-up with the agenda of achieving a squirting orgasm—something she'd been made aware of from Sex and the City. Although it wasn't achieved, she didn't care; the doctor had "brought out the big guns" and given it his all. She said she had felt some guilt: "Never at any time did I give the Doctor any pleasure or kiss him on the mouth. But I did get over that guilt quickly." After three and a half hours, when the awkward moment came for her to say goodbye, she just shook his hand.
Another two-time patient—a bubbly-sounding, self-described "hot" 48-year-old actress and former cruise-ship entertainer—agreed to be interviewed over the phone. "This scenario, it's as freaky as I've gotten," she said. She said she was taken by the Doctor's ability to write, and the humor in his ad. "I should have been worried, but I wasn't," she said. "I'm not 22, I'm 48—I can sense when something is shady, and I didn't have that sense from him. It was a blast, and he's very witty. It just delivered—it was every bit as fun and sexy as I hoped for. I was not used." She booked her follow-up visit about a month later, although that one proved to be not quite as erotic since, she said, she knew what to expect.
One 37-year-old lawyer said that she'd encountered the Doctor's ad after she'd just broken up a six-year relationship with a woman. She was finding herself attracted to men and had started sleeping with one. It was "sexual, but not sensuous," she said. When she came across the Doctor's ad, she recalled, she told herself: "You have to do this." Was it men in general that were unsatisfying, or were the particular men she'd been with duds?
She added that in her life, she'd had more than one bad experience with real doctors—i.e., inappropriate touching. She explained her doctor fantasy: "It's going to a doctor's office where I'm in control, and the doctor's sexual pleasure is not more important than mine."
She admitted, "I'm not sure it wasn't an insane thing to do. What made me feel safe going there? I tried asking enough questions to ferret out if he was a psycho creep. His answers were intelligent, articulate, and from the tone of his voice, he seemed like a kind person. I figured women have been going over there and they are still alive, otherwise I would have read about it."
Doctor M. said that, with some patients, "If they wanted to expand this above and beyond this little fantasy, I would be willing—but most of them don't. They don't look at me that way: Oh, this could be my next husband. I could just imagine—'So, where did you two meet?'"
He did try and date one patient, a lively 28-year-old woman new to the city. She came over with the intention of being a patient, but the scenario "skeeved" her out, the Doctor said; but they ended up fooling around. So he asked her out; they went to a play in Tribeca and to dinner in the meatpacking district. But the dynamic wasn't the same. "We were not connecting at all," he said. "I pretty much decided then, it's not a good idea to try and date these women."
On paper, Doctor M. would seem to be the sort of man that many thirtysomething, marriage-minded New York women would love to date. But he hasn't found that to be the case.
"Women say they always want to meet somebody, but at bars and clubs, they huddle in masses—you can't break into their little world," he said. "There might be players out there who are as savvy at meeting women through traditional means as I am through this back-door method. If I were at a bar and I said, 'How often do you masturbate?', I'd get smacked across the face!"
—Nina Roberts