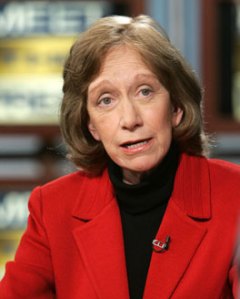 If book publishing is a horse race, this fall we're being treated to a Nobel trifecta. In September, we have Slow Man (Viking), a bag of tricks from the newest laureate, J.M. Coetzee (b. 1940); in October, Memories of My Melancholy Whores (Knopf), a typically sonorous title from Gabriel García Márquez (b. 1928); and in November, Get a Life (Farrar, Straus and Giroux) by Nadine Gordimer (b. 1923)—remember her? If you're only prepared to back one laureate, I'd put my money on Mr. Coetzee, the youngster. The new novel is not as grim as the unforgettable Disgrace (1999)—and not as powerful, either—but Mr. Coetzee, who writes beautifully and seems to know just about everything, always goes the distance.
Before you place your bets, consider some other contenders with excellent track records: In his new book, The City of Falling Angels (Penguin), John Berendt has done for Venice what he did for Savannah in Midnight in the Garden of Good and Evil (1994); the astonishing, irreplaceable Joan Didion, who said goodbye to California in her last book, Where I Was From (2003), says goodbye to her husband of 40 years, the late John Gregory Dunne, in The Year of Magical Thinking (Knopf); and the indefatigable John Updike delivers his 52nd book, Still Looking: Essays on American Art (Knopf). Talk about stamina ….
"A horse! A horse! my kingdom for a horse!" It's a big season for Shakespeare: The prolific Peter Ackroyd tackles the Bard head-on with Shakespeare: The Biography (Doubleday), whereas Columbia professor James Shapiro looks for an angle in A Year in the Life of William Shakespeare: 1599 (HarperCollins). And a great Shakespearean gets a hefty authorized biography in Terry Coleman's Olivier (Holt).
There's even a push-me-pull-you in the running, a true tag-team effort that brings back to life the impeccable charm of Dean Martin: Dean & Me (A Love Story) (Doubleday), by Jerry Lewis and James Kaplan.
Politics, like horseracing, is all about winners and losers. Doris Kearns Goodwin, looking for a comeback after her brush with plagiarism, is offering up Team of Rivals: The Political Genius of Abraham Lincoln (Simon and Schuster). Wisecracking liberal pundit Al Franken, looking to capitalize on the discomfort of the big fat liars he loves to lampoon, has decided to tell The Truth (With Jokes) (Dutton).
Dark horses, anyone? The dangerously frank Mary Gaitskill is publishing her first novel in seven years, Veronica (Pantheon); Edward St. Aubyn, a well-kept literary secret, follows up his trilogy, Some Hope (2003), with Mother's Milk (Open City); and acerbic book critic Walter Kirn, by now a practiced satirist, serves up his fourth novel, Mission to America (Doubleday).
Let's put aside, even as we stretch for the finish line, the idea of handicapping a race. Some things are more important than winning, and sometimes there simply is no winner. But there is an essential book this fall, a book we can't do without: The Assassins' Gate: America in Iraq (Farrar, Straus and Giroux) by George Packer, a supremely intelligent, even-handed, profoundly troubling look at a conflict from which no one will emerge victorious.
Adam Begley is the books editor of The Observer.