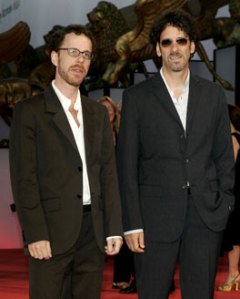 It's been a bad year for movies, especially summer blockbusters, and most fans probably look toward the upcoming rental season thinking: "I didn't want to see it then, I don't want to see it now." But sure enough, the silliest of flicks start to look tempting once you eliminate the $10.50 ticket price … even if they involve the U.N.
And so we kick off the fall DVD season with The Interpreter (Oct. 4), the serious—and super-earnest—U.N. suspense thriller starring Nicole Kidman and Sean Penn. Next comes Ridley Scott's Kingdom of Heaven (Oct. 11), with Orlando Bloom: Sexy as he is, this is a poor man's Gladiator. The film that rejuvenated the Batman franchise, Batman Begins (Oct. 18) is an intense, gripping psychodrama; the only thing not impressive about the film were its action sequences, which makes it perfect for the small screen. If things get too heady for you come November, dumb it down with Steven Spielberg's War of the Worlds (Nov. 22) and the all-around sexy Mr. and Mrs. Smith (Nov. 29), and watch Brad Pitt and Angelina Jolie fall in love (for real) while they beat the crap out of each other.
But if this summer's blockbusters can't hold your interest, there are always those from eight years ago. The Titanic Special Collector's Edition arrives on Oct. 25 with an alternate ending entitled "Brock's Epiphany": 29 never-before-seen deleted scenes, commentary by director James Cameron and, of course, the deal breaker, the music video for Celine Dion's "My Heart Will Go On."
This autumn will also be an auteurist's delight with the Alfred Hitchcock Masterpiece Collection (Oct. 4) and the Coen Brothers Collection (Oct. 18). For a paltry $83.99 (according to Amazon), you can own Rear Window, The Man Who Knew Too Much, Vertigo, Psycho, The Birds, and nine other tales of suspense and mayhem, all encased in—what else?—"ultra-premium velvet packaging." All 14 films have been digitally remastered, and they come with a 36-page collectible book. (Did you know Hitch used chocolate syrup as blood in the shower scene of Psycho? Get out!) As the Coen Brothers owe much to the ol' Master of Suspense, it is fitting that their own collection should arrive soon after his, even if it is but a shell of the Coen Brothers oeuvre: The Big Lebowski (Collector's Edition), Intolerable Cruelty, Blood Simple and The Man Who Wasn't There. What, no Fargo? No Raising Arizona? Well, let's just say, "Dude, the DVD collection's life is in your hands. The DVD collection's life is in your hands."
Then there's a spate of half-hearted DVD boxed sets, the ones that just don't live up to their billing or were obviously not worth turning into a collection in the first place. First up is the Brat Pack Movies and Music Collection (Nov. 1): Sixteen Candles. Check. The Breakfast Club. Check. Weird Science. Wha?! No Pretty in Pink?
The Single White Female 2-Pack (Oct. 25) comes with the original and its sequel. (Yes, there was a sequel.) Oh, and this one really gets me angry, there is the Monty Python Box Set (Nov. 15): Monty Python and the Holy Grail, And Now for Something Completely Different and … The Adventures of Baron Munchausen? Just because it was directed by Terry Gilliam and stars Eric Idle doesn't make it Monty Python. C'mon, that's just lame.
Other offerings will just clog up your Netflix queue—movies that you feel you should see, but will never actually get around to watching. (Like trying to read Moby-Dick.) The fall starts with two homoerotic tales of romance (one overt, the other not so much): Pawel Pawlikowski's unlikely teenage pairing in My Summer of Love (Oct. 4) and Catherine Hardwicke's skateboarding biopic, Lords of Dogtown (Sept. 27). These dovetail nicely with Miranda July's Me and You and Everyone We Know (Oct. 11), an idiosyncratic relationship comedy with plenty of drama, too. Mark Wexler's Tell Them Who You Are (Oct. 18), his intimate documentary about his father, the famed cinematographer Haskell Wexler, is as much a character study as it is an eye-opening analysis of father-son relationships. Oddly enough, that can almost be said of the documentary March of the Penguins (Nov. 29), too. Quadriplegic rugby players display their physical prowess in Murderball (Nov. 29), another solid documentary from last summer.
As the days grow cold and dark and depressing, consider—comedy! Family Guy looks to continue its impressive run of DVD sales with Family Guy Presents Stewie Griffin—The Untold Story (Sept. 27), a three-episode story arc that never aired. Those who put the show back on the air by buying the old seasons on DVD won't pass this one up. Before there was Seth MacFarlane, though, there was Mike Judge: The King of the Hill creator has his own Beavis & Butt-head (remember them?) collection (Nov. 8) and a special edition of Office Space coming out on Nov. 1.
Lastly, Evil Dead 2 director Sam Raimi provides commentary on that film's Book of the Dead Limited Edition DVD (Sept. 27). He's the guy who did Spider-Man, so perhaps he'll let everyone else in on the secret to making a decent summer blockbuster.